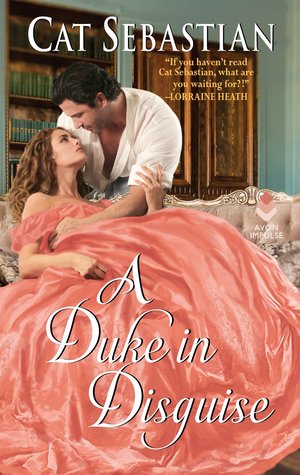 Title
: A Duke in Disguise
Series
: Regency Imposters #2
Author
: Cat Sebastian
Format
: Paperback/eBook, 216 pages
Publication
: April 9th 2019 by Avon Impulse
ASIN
: B076ZGT6HQ
Links
:
Goodreads
|
Amazon
|
B&N
Source
: Edelweiss
Reviewer
: Kimberly
Rating
: 3 out of 5 Wine Glasses
One reluctant heir

If anyone else had asked for his help publishing a naughty novel, Ash would have had the sense to say no. But he's never been able to deny Verity Plum. Now he has his hands full illustrating a book and trying his damnedest not to fall in love with his best friend. The last thing he needs is to discover he's a duke's lost heir. Without a family or a proper education, he's had to fight for his place in the world, and the idea of it—and Verity—being taken away from him chills him to the bone.

One radical bookseller

All Verity wants is to keep her brother out of prison, her business afloat, and her hands off Ash. Lately it seems she's not getting anything she wants. She knows from bitter experience that she isn't cut out for romance, but the more time she spends with Ash, the more she wonders if maybe she's been wrong about herself.

One disaster waiting to happen

Ash has a month before his identity is exposed, and he plans to spend it with Verity. As they explore their long-buried passion, it becomes harder for Ash to face the music. Can Verity accept who Ash must become or will he turn away the only woman he's ever loved?
Kimberly's Thoughts:
He held out a hairpin.
"When did you start carrying those in your pocket?" she asked, recalling that this was not the first time he had produced a timely hairpin. A very faint blush darkened Ash's cheekbones and Verity felt her lips curl upward in response.
"I find them all over the house," he said. "You ought to consider what conditions you're subjecting your hairpins to if they'd rather plummet to their death than work for you. Here," he said, lifting a loose tendril of hair. "You expect your pins to do the work of subjugating the masses. It's oppression. Your hair clearly wants to be free."
Second in the Regency Imposters series, A Duke in Disguise, stars Verity Plum and John "Ash" Ashby. Verity runs Plum & Co., a publishing company and her long-time friend Ash does illustrations for them. I have not read the first in the series, so I'm not sure if these two were introduced there or if some of their story was already given but I felt a little lost in the beginning, as if I should already have some comfort with these people and their world.
Verity's brother likes to flirt with writing, just about line crossing, seditious editorials, so we have her worried about him and the worry of trying to get him to leave the country. Ash is friends with both of them, which is why he has tried to keep to himself his deep feelings for Verity. When Verity asks him to draw accompanying illustrations to an erotic leaning book, the sexual tension heats up between the two. The beginning was mostly about the danger to the brother, letting the reader's know about Ash's long standing feelings for Verity, and Verity starting to warm to the idea of exploring a different kind of relationship with Ash. It was a bit of a bumpy start, as I mentioned, it felt like I should already know these characters and their world and it wasn't until around the mid-way mark that I finally felt placed in the story.
He was going to lose everything that made him who he was.
By the mid-way point, the brother has been dealt with and along with the hesitant touch and go between Verity and Ash, we get a switching of gears with Ash. In a very serendipitous occurrence, he gets commissioned to draw plants for a Lady, who turns out to be his aunt. Ash grew-up in foster care until pre-teens was apprenticed to a man named Roger. For how close and loving his relationship seemed to be with Roger, the reader never gets to meet Roger or see him with Ash, which left an emotional hole in the story for me.
Turns out his aunt faked his death, after his uncle pushed him down the stairs, to protect him because Ash is actually the heir to the Arundel dukedom. His father was put into an asylum because he suffered from, what we would call today, epileptic seizures, which Ash also occasionally suffers from. Ash's uncle is a very cardboard cut-out villain, who acts like a mindless brute when he appears on page. His grandfather, who apparently dotted on him when he was a child but barely wants to speak to him now, also ended up feeling like a frivolous character. These two were supposed to round out this storyline but ended up feeling very empty. Ash's aunt gets more page time and has more quality to her character and I would love to see her get a happy ending of her own in the future.
She was necessary to him, and he thought he might be necessary to her.
Ash doesn't act on his feelings for Verity because he doesn't want to ruin the friendship he has with her or her brother. Verity is more of a self-contained person, not wanting to lose her independence, which ties into her vulnerability in being emotionally hurt and how society is currently structured to give all the power to men over women. She had a previous relationship with a woman but ended it after the other woman developed deeper feelings than Verity had. She also doesn't want to jeopardize her friendship with Ash, as the story goes on she begins to realize how important he is to her. Add in how she is against the injustices of a monarchy government and the nobility and you can see the conflicts affecting these two.
When Ash learns he is the Arundel heir, he decides to give himself a month to act on his feelings for Verity, as he doesn't think she will want to see him again once he becomes a part of the nobility. I didn't enjoy this lying by omission to Verity plot and as it folded pretty quickly, I thought it was a weak way to get these two in bed together. I enjoyed Verity's hardness and Ash's congenial personality mesh but with the rocky beginning and then Ash dealing with the dukedom, I had a problem really diving into their characters and feeling them as a couple. It felt like everything was at once impossible for them to be together and then suddenly they were, I didn't feel their emotional journey to get there, which is what I enjoy the most in romances.
And yet, for Ash, she thought she could live with almost anything that let them be together.
The story had a rocky beginning and a busy plot that didn't always have well rounded supporting characters. However, I did enjoy the author's writing style and this world does have some intriguing threads and characters; Ash's aunt, Verity's brother, and one of their friends, Amelia, who writes about infamous historical figures in scandalous settings. I felt Verity and Ash's friendship but I'm not sure I made it to their romance.
Suggested Reading Order: