Tuesday April 16, 2019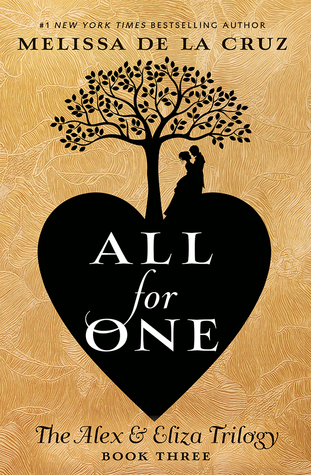 All For One
(Alex & Eliza #3)
by Melissa de la Cruz
Hardcover, 368 pages
Published April 16th 2019 by G.P. Putnam's Sons Books for Young Readers
ISBN 0525515887
In this dazzling finale to the trilogy that began with the New York Times bestselling Alex & Eliza: A Love Story, the curtain closes on the epic romance of Alexander Hamilton and Elizabeth Schuyler

1785. New York, New York.

As a young nation begins to take shape, Alexander Hamilton and Elizabeth Schuyler are on top of the world. They're the toast of the town, keeping New York City buzzing with tales of their lavish parties, of Eliza's legendary wit, and of Alex's brilliant legal mind.

But new additions to Alex & Eliza's little family mean change is afoot in the Hamilton household. When they agree to take in an orphaned teenage girl along with Eliza's oldest brother, John Schuyler, Eliza can't help but attempt a match. It's not long before sparks start to fly…if only Eliza can keep herself from interfering too much in the course of true love. After all, she and Alex have an arrival of their own to plan for, though Alex's latest case brings a perilous threat that may destroy everything.

The sweeping love story of Alexander Hamilton and Elizabeth Schuyler comes to a close in All for One, the riveting final installment of the New York Times bestselling Alex & Eliza trilogy.
Before We Were Wicked
(Ken Swift #2)
by Eric Jerome Dickey
Hardcover, 352 pages
Published April 16th 2019 by Dutton Books
ISBN 1524744034
New York Times bestselling author Eric Jerome Dickey reveals how one chance meeting can change everything in this engrossing, sexy tale of star-crossed lust.

They say the love of money is the root of all evil, but for Ken Swift, it's the love of a woman.

Ken is twenty-one, hurting people for cash to try to pay his way through college, when he lays eyes on Jimi Lee, the woman who will change the course of his entire life. What's meant to be a one-night stand with the Harvard-bound beauty turns into an explosion of sexual chemistry that neither can quit. And when Jimi Lee becomes pregnant, their two very different worlds collide in ways they never could have anticipated.

Passion, infidelity, and raw emotion combine in Eric Jerome Dickey's poignant, erotic portrait of a relationship: the rise, the fall, and the scars--and desire--that never fade.
Under the Table
by Stephanie Evanovich
Hardcover, 336 pages
Expected publication: April 16th 2019 by William Morrow
ISBN 0062415921
The New York Times bestselling author of Big Girl Panties puts a modern twist on My Fair Lady in this funny, romantic confection in which a canny young woman makes over her awkward millionaire client . . . with some hot, sexy, and surprising results.

Suffocating in a dead-end marriage, Midwesterner Zoey Sullivan fled to New York and moved in with her little sister Ruth, a carefree, vivacious beauty with a string of eligible bachelors at her beck and call. Giving herself three months in the city to clear her head and find a direction, Zoey dodges calls from her ex Derek, and distracts herself by cooking and catering a few private dinners and parties. Pursuing her passion for cooking was never an option when she was with Derek, and now Zoey relishes her independence.

When Zoey's meets reclusive millionaire Tristan Malloy, she's blown away by his kitchen—a marble and stainless steel temple worthy of the culinary gods—and charmed by his impeccable gentlemanly manners. But despite his firm body, handsome looks, and piles of cash, Tristan—a computer programmer—is shy and more than a little socially awkward. Zoey is sure that Tristan has all the right raw ingredients—and she's the right person to spice them up turn him into a delectable dish.

But Zoey's unprepared for just how well her makeover works. Tristan turns out to be even sexier once he's gained a little confidence and the right wardrobe. Beneath the gorgeous package, Tristan is a great guy who deserves a woman who really appreciates him. Slowly but surely, Zoey realizes she may have found her perfect match—but does Tristan even know how her feelings have changed? Is that warm look in his eyes gratitude for the new and exciting world she's ushered him into, or something more? And what will happen when Zoey's ex comes to town, looking to win her back?
Roar
by Cecelia Ahern
Hardcover, 288 pages
Published April 16th 2019 by Grand Central Publishing
ISBN 1538730960
From the bestselling author of P.S., I Love You, a fiercely feminist story collection that illuminates--sometimes in fantastical ways--how women of all kinds navigate the world today.

In this singular and imaginative story collection, Cecelia Ahern explores the endless ways in which women blaze through adversity with wit, resourcefulness, and compassion. Ahern takes the familiar aspects of women's lives--the routines, the embarrassments, the desires--and elevates these moments to the outlandish and hilarious with her astute blend of magical realism and social insight.

One woman is tortured by sinister bite marks that appear on her skin; another is swallowed up by the floor during a mortifying presentation; yet another resolves to return and exchange her boring husband at the store where she originally acquired him. The women at the center of this curious universe learn that their reality is shaped not only by how others perceive them, but also how they perceive the power within themselves.

By turns sly, whimsical, and affecting, these thirty short stories are a dynamic examination of what it means to be a woman in this very moment. Like women themselves, each story can stand alone; yet together, they have a combined power to shift consciousness, inspire others, and create a multi-voiced ROAR that will not be ignored.