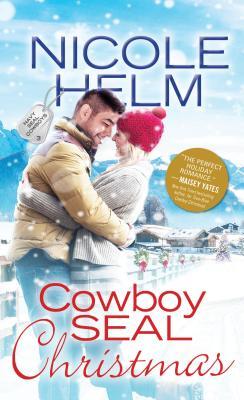 Cowboy SEAL Christmas
(Navy SEAL Cowboys #3)
by Nicole Helm
Mass Market Paperback, 320 pages
Published September 4th 2018 by Sourcebooks Casablanca
ISBN 1492641596
Three former Navy SEALs
Injured in the line of duty
Desperate for a new beginning...
Searching for a place to call their own.

Single mom and Revival Ranch's on-site therapist Monica Finley has dedicated her life to helping brave servicemen and women, but former Navy SEAL Gabe Cortez is the one man whose shell she just can't crack. Yet with the holidays fast approaching, she may finally have a plan. In a bid to get Gabe to open up, she'll ask for as much help as possible―cutting down the Christmas tree, stringing lights, the whole nine yards.

Who could possibly be a Grinch with so much holiday cheer in the air?

Gabe has always hated Christmas―the holiday never fails to remind him just how alone he truly is. But the more time he spends with Monica and her young son, the more he finds himself drawn to their cozy little family...and the more he begins to realize his long-suppressed Christmas dreams may finally be coming true.
Excerpt:
"Yes. Picking out a book for someone shows that you know them, and you have some clue as to what they like. It shows you're paying attention, and that you like them."
"So, what book are you going to get me?"
She tapped her chin, pretending to ponder it. "Maybe I'll find one on the great art of narcissism."
He chuckled good-naturedly.
"You can stay here and play your video games."
"Nah, I'll look at books."
So they walked over to the book section of the store, and Monica tried very hard to concentrate on finding a book that her mother would like, and then her father. It was admittedly hard to concentrate with six-foot-something of former Navy SEAL just…lurking.
Which was silly. She was used to tough military men in her life. She'd been raised with one, then married to one, and none of that lurking had ever affected her. Not like this.
Sex camel. Sex camel. Only one cure for a sex camel.
"Hell," she muttered.
"What's that?"
"Nothing. Nothing. I think I'm going to have to order something for my dad. None of this really works. Besides, it's nearly five, and we should head over to the florist."
"Here. Try this one." He handed her a book.
She took the heavy, dry-looking tome. She wrinkled her nose at the black-and-white picture on the front. It was some complicated-looking nonfiction book about the role of presidents during wars of the twentieth century.
Damn Gabe Cortez.
"How did you know he'd like this?" she demanded.
Gabe shrugged, taking it upon himself to push the cart toward the front of the store while she trailed behind.
"Marines are all the same. Like all that bullshit about politics and war. Like it's complicated and not always a dick-measuring contest."
"Is that all war is?"
"Is to me."
"I don't believe that." He looked sharply over his shoulder at her, but she simply held his gaze. "You don't join the military if you think that."
"First of all, you don't know the first thing about why I joined the military. Second, a lot of guys think it once they've been through one. Because you don't come out unscathed from that. You either double down on what you believe, or you realize it's all a bunch of bullshit."
"So, you're the enlightened, I suppose."
"No, it's not enlightened. It's just how you deal. One way's not better than the other."
He always managed to surprise her. She was used to uncompromising military men, and there was an element of that to him. But it was somehow…open-minded. There was a lack of judgment. Gabe seemed to believe in survival however you managed it. Considering that was at the heart of her therapy mission, it was impossible not to admire him for it.
"So why did you join the military?" she asked, unable to resist. It wasn't a therapist's question either. No, this was a Monica question. She wanted to know, as a person, about his person.
She wasn't sure what to do with that, but he smiled. Not those bitter ones meant to push her back a few paces, but one of his charming smiles. The ones he flashed her before he said something…suggestive. Her cheeks heated against her will and that foreign flutter from last night was back in full force.
"Sorry, sweetheart. That's not a question I answer for just anybody."
"Oh," she said, trying to sound calm and not at all affected as she started putting her items on the conveyer belt of the checkout line. "What would an anybody have to do to become a somebody?" She steeled all her courage and calm and self-possession and looked pointedly at him.
But that grin didn't change any, except maybe turn the air a little hotter. Which was impossible. All this heat was a figment of her over-wintered imagination.
"I'm not sure. No one ever has. But you're more than welcome to take on the challenge."
That word wound though her. Challenge. She never, ever backed down from a challenge. It was one of those things her parents had insisted she learn to do: face any challenge, any hardship, any responsibility.
And she had. Over and over again. But this was different, because she had a bad feeling his challenge would involve nakedness.
Oh, remember male nakedness? That was nice. His would be very, very nice.
The cashier cleared her throat and Monica blushed even deeper. "Sorry," she mumbled, fumbling to pull her credit card out of her purse. She centered herself with the rote actions of sliding the card through the reader and taking the receipt as Gabe loaded up the cart with her bags.
As they walked out of the store, side by side, Monica kept her gaze forward. "I might take that challenge," she said hastily as they reached the truck.
"You might fail."
She looked up at him and gave him a very carefully blank smile. She knew it irritated him by the way his lips firmed and his jaw tightened.
"I might," she agreed, validated somehow when he was the one to break eye contact and finish loading the bags into the truck bed. "But I also might not," she added, heading for the passenger side door.
The fact that Gabe didn't slide into the driver's seat for another minute or so was very validating indeed.
About the Author:
Nicole Helm is the bestselling author of down-to-earth contemporary romance and fast-paced romantic suspense. From farmers to cowboys, midwest to the west, she writes stories about people finding themselves and finding love in the process.

She lives with her husband and two young sons in Missouri enjoying Cardinals baseball and dreams about someday owning a barn.

You can contact her via email: Nicole@nicolehelm.com or visit her website: www.nicolehelm.com

You can sign up for Nicole's monthly newsletter at http://eepurl.com/V973n
TOUR-WIDE GIVEAWAY:
a Rafflecopter giveaway