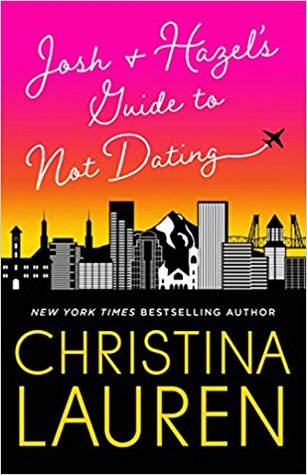 Title:
Josh and Hazel's Guide to Not Dating
Author:
Christina Lauren
Format:
Paperback, 309 pages
Published:
September 4th 2018 by Gallery Books
ISBN:
1501165852
Links:
Goodreads
|
Amazon
|
B&N
Source:
NetGalley
Reviewer:
Crystal
Rating:
4 out of 5 Wine Glasses
Hazel Camille Bradford knows she's a lot to take—and frankly, most men aren't up to the challenge. If her army of pets and thrill for the absurd don't send them running, her lack of filter means she'll say exactly the wrong thing in a delicate moment. Their loss. She's a good soul in search of honest fun.

Josh Im has known Hazel since college, where her zany playfulness proved completely incompatible with his mellow restraint. From the first night they met—when she gracelessly threw up on his shoes—to when she sent him an unintelligible email while in a post-surgical haze, Josh has always thought of Hazel more as a spectacle than a peer. But now, ten years later, after a cheating girlfriend has turned his life upside down, going out with Hazel is a breath of fresh air.

Not that Josh and Hazel date. At least, not each other. Because setting each other up on progressively terrible double blind dates means there's nothing between them...right?
Crystal's Thoughts:
Christine Lauren is sure to delight readers with their latest romantic comedy,
Josh and Hazel's Guide to Not Dating
. I thoroughly enjoyed this charming and campy friends-to-lovers anecdote!
Hazel and Josh first met in college, and each time was an encounter that neither will forget! Seven years later, their paths have crossed again. Hazel, now a third grade teacher, is still the impetuous, free-spirit she has always been and Josh continues to be the perfect package. How can Hazel
not
crush on this sweet and sexy physical therapist? She knows that two people as opposite as them though can never work, her parents were prime examples of that delusion. So what better way to help a friend out, and remove him from the "available" shelf, then find Josh his Mrs. Right? What ensues is a hilarious sitcom of blind dates gone wrong and an uphill battle of burying their ever present attraction to each other.
Josh and Hazel's Guide to Not Dating
was a delightful story with a refreshing and colorful cast of characters. I finished this book in record time because I simply could not put it down! Hazel was such a true-to-herself, quirky character. The kind of person who isn't afraid to laugh out loud. I adored her. Josh is the yin to Hazel's yang. The calm to her storm. The dialogue between these two characters had me alternating between giggling and swooning with each page. Their disastrous double blind dates was hilarious, and I loved how each debacle just brought them closer together. I also admired how Josh supported Hazel being herself, no matter how crazy he found her antics to be. Another aspect of the story that was astounding was the supporting characters. Between Hazel's mom, Josh's mom, and best-friend/sister Emily and her husband, there was never a dull moment. Delving into this story was truly a rare treat!
I'm not usually a fan of rom-coms, because sometimes they can be a bit ridiculous. However, Christina Lauren hit this one out of the park. The characters were lovable, the story-line was engrossing, and there wasn't any unneeded drama to frustrate the plot. Bottom line, you need Josh and Hazel in your life!