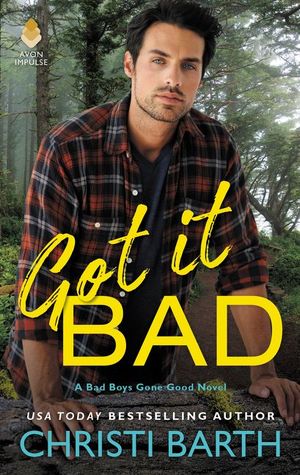 Got It Bad
(Bad Boys Gone Good #3)
by Christi Barth
ebook, 384 pages
Published September 18th 2018 by Avon Impulse
ISBN 0062685678
Kellan Maguire's on the run from the mob, living a secret life. The only bright spot is his U.S. Marshal handler. Yeah, he wants to handle her....a lot. And in spite of all the rules it would break, Federal Marshal Delaney Evans secretly fears she'd risk everything for one night with Kellan. Even though Delaney's career, her entire world, could implode if she admits how important he is to her. And all that is before the biggest complication of all hits...

Don't miss the final Bad Boys Gone Good novel!
Excerpt:
Most of all, Delaney saw Kellan.
She saw the brightness of the early evening sun casting a halo behind his dark head. She saw the azure flecks that rimmed his pupils. The pale corona of blue that she could almost float in. That she wanted to stare at forever to see deep behind the quick smile and automatic friendliness to the intense soul of a man who struggled to balance the love in his heart with what his brain knew to be right and just and fair.
Delaney was hit with the certainty that she never wanted to look away. Never wanted to distance herself from the smart, complicated, thoughtful man he rarely showed in entirety to the rest of the world.
Kellan's tongue danced along the inside of her mouth, his hips moving in a rhythmic echo. His hand caressed down her neck, down over her shoulder to graze the side of her breast. Instantly, Delaney arched into his palm, wanting him to press harder. To take more. But all she got was a small squeeze before his hand continued its slow slide down her body.
His thumb bumped along each rib, leaving goosebumps in its wake. Fingers spread wide, they dug in to the high curve of her ass where it hit the railing. His knee lifted, sweeping her legs across his. Effortlessly Kellan shifted them from standing to balancing Delaney across his lap as he sat on the built-in bench.
"Thank you," he said hoarsely.
"You're welcome? I mean, with that kind of thanks, you are really, seriously welcome." His heartbeat thudded against her bare arm. "But for what? Because I want to do it again."
Reaching up, he cradled her face in his palms. "Thank you for seeing my side of it. Thank you for seeing me as a man with choices that deserve to be respected. Thank you for understanding. Nobody else has. Nobody else has even come close. I didn't even realize how much I needed that until you said the words."
A warm rush of caring radiated from her heart. She couldn't, wouldn't hide it. Or worry about it. About how not-casual this all felt. About how right it had felt to share such a serious discussion. About how right being with Kellan felt.
"I meant them. I am on your side."
"Team Kellan, huh?"
"I think not. That makes us sound like some horrible reality TV show love triangle."
"You're right. I can do better. Got a pen?"
Huh. Guess her purse had slid to the floor of the gazebo at some point, too. Delaney snagged it with her fingertips and handed him a deep green rollerball. Because even field notes deserved a little color.
Kellan leaned over to the bottom of the slats that encircled the gazebo. He drew a heart, and put D+K in the middle of it. And Delaney's own heart melted.
"I'm not the focal point. We're the team. Together. You and me, figuring out what matters, figuring out how to be with each other, how to be there for each other."
"That is beyond romantic. It is ridiculously romantic."
"Too much?" He hovered the pen right over their initials, as if willing to scratch them out.
Delaney snatched the pen. "Not at all. Just because I'm carrying two firearms doesn't mean I don't enjoy a good romantic gesture."
"Then let's go have dinner while we watch the sun set. Tell each other silly secrets. Laugh. Drink some wine."
"You mean have the most perfect first date ever?"
"That's the plan."
"Then I'm going to tell you a secret right now." Delaney put her lips right on his ear. Whispered, "Mission accomplished."
Bad Boys Gone Good Series
About the Author:
USA TODAY bestselling author Christi Barth earned a Masters degree in vocal performance and embarked upon a career on the stage. A love of romance then drew her to wedding planning. Ultimately she succumbed to her lifelong love of books and now writes award-winning contemporary romance, including the Naked Men and Aisle Bound series.

Christi can always be found either whipping up gourmet meals (for fun, honest!) or with her nose in a book. She lives in Maryland with the best husband in the world.


Tour-Wide Giveaway