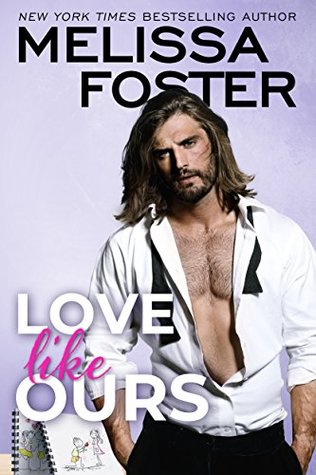 Love Like Ours
(Sugar Lake #3)
by Melissa Foster
Kindle Edition, 252 pages
Published September 11th 2018 by Montlake Romance
ASINB07BK5F3RX
One wrong move, and she meets a guy with all the right ones…

Talia Dalton lives her life on cruise control. Despite her successful career as a professor, she prefers protecting her broken heart to taking chances. She's calm, cool, collected, and steady. Until the morning she takes her eyes off that familiar road and almost runs over the sexiest man she's ever seen. It may not be the best way to start the day, but it might be the type of shake-up she needs.

Male dancer Derek Grant has goals, and nothing is going to get in the way of achieving them. As a graduate student and the sole caretaker of his ailing father, he hasn't much time for relationships. Then Talia crashes into his life. Sweet, pretty—and so buttoned-up that he can't wait to help her cut loose.

For Derek, falling in love was a beautiful accident waiting to happen. And it might be exactly what Talia needs—if she's willing to let go of the past and embrace every surprise Derek has to offer.
Excerpt:
As Derek made his way toward the exit, he passed an open door, and a woman's voice sent a streak of awareness through him. He stopped walking, took a few steps backward, and peered into the room. Sure enough, the Parking Lot Plower stood at the front of the class, looking hot as fuck in her body-hugging white blouse, which was speckled with whatever she'd spilled on it this morning, and a beige skirt. She was tall and slim, with full breasts and legs that went on forever. Her hair was like chocolate silk, hanging loose over her shoulders, framing high cheekbones, a slim, perky nose, and serious eyes. She looked completely in control, confident with an air of refinement that reminded him of classic actresses, the very opposite of how rattled she'd appeared that morning when she'd almost plowed him over in the parking lot. He'd wondered if she was really okay, and he hadn't stopped thinking about her since.
He stepped into the doorway to hear her more clearly, wondering how many guys in the class were actually paying attention and not filling their mental spank banks with images for later. She was either oblivious to the sensual vibes she naturally emitted, or excellent at ignoring that vixenish side of herself as she held her chin up high and stood ramrod straight. The epitome of a professional.
"Over the past twenty years," she said as she paced, "changing geopolitical and socioeconomic conditions have shifted society's constructs of American manhood."
Holy shit. What was she lecturing about?
Her gaze swept over the crowd—over him—to the other side of the room, then quickly darted back to him.
Hello, beautiful. Remember me? The man you almost killed?
Her eyes widened, and she stumbled for words. He slipped off his parka and settled into a seat, no longer hungry. At least not for food.
About Melissa Foster:
Melissa writes sexy and heartwarming contemporary romance, new adult romance and women's fiction with emotionally compelling characters that stay with you long after you turn the last page. Readers adore Melissa's fun, flirty, and sinfully sexy, award-winning big-family romance collection, LOVE IN BLOOM featuring the Snow Sisters, Bradens, Remingtons, Ryders, Seaside Summer, Harborside Nights, Wild Boys and Bad Boys After Dark, and the Montgomerys. Melissa's emotional journeys are lovingly erotic and always family oriented-- perfect beach reads for contemporary romance lovers who enjoy reading about loyal, wealthy heroes and smart, sassy heroines with complex and relatable issues.

Melissa also writes sweet and clean romance under the pen name Addison Cole.

Melissa has painted and donated several murals to The Hospital for Sick Children in Washington, DC. Her interests include her family, reading, writing, painting, friends, helping others see the positive side of life, and visiting Cape Cod.

Melissa is available to chat with book clubs and welcomes comments and emails from her readers. Visit Melissa on social media or her personal website.
Tour-Wide Giveaway:
a Rafflecopter giveaway