Down with Love
(Laws of Attraction #1)
by Kate Meader
Kindle Edition, 237 pages
Expected publication: August 7th 2018 by Loveswept
ASINB077CR1HBQ
Sparks fly when the hot-shot divorce lawyer meets the high-powered wedding planner. The only question is, what kind?

If you ever get married, remember my name: Max Henderson. In my line of work, you acquire a certain perspective on supposedly everlasting unions. . . .

1. Pre-nups are your friend.
2. The person you married is not the person you're divorcing.
3. And I hope you didn't spend much on the wedding because that was one helluva waste of hard-earned cash, wasn't it?

But some guys are willing to take a chance. Like my brother, who thinks he's going to ride off into the sunset with the woman of his dreams in a haze of glitter on unicorns. And the wedding planner—the green-eyed beauty who makes a living convincing suckers to shell out thousands of dollars on centerpieces—is raking it in on this matrimonial monstrosity.

The thing is, Charlie Love is not unlike me. We're both cogs in the wedding-industrial complex. As the best man, I know her game—and I can play it better than her. But after one scorching, unexpected kiss, I'm thinking I might just want to get played.
Excerpt:
"What the hell were you thinking, Charlie?"
"I was thinking Muller is an idiot." He was. He is. "The guy's blind!"
"But he's not deaf, is he? You can't scream insults at game officials and not expect consequences."
"So I should have just zipped my mouth and acted like the quiet little woman?"
"Don't do that."
"Do what?"
"Make this about feminism or getting beaten down by the patriarchy. It's about common sense and respect. Sure, Muller's an idiot and your running commentary was highly entertaining—"
"You thought so?"
He smiles. I wish he hadn't. I wish he'd keep that weapon to himself because it's lethal.
"I thought so. I'm not sure I'd heard some of those terms before. Douchewaffle was my favorite."
Now I'm smiling like a loon. "The truth had to be told, Max."
"Sure, but you had your fun and then when the people who control who stays and who goes got involved, then it was time to dial it back, oh, five hundred percent."
He's right. I know this, but I hate it. I hate feeling like that angry girl again, even if the stakes are as low as screaming invective at a ballgame official. I'm never going to find a man if I can't rein in that part of myself that's unpalatable to the segment of the human race I need to impress.
One of them stands before me. Not that Max Henderson is on my radar as husband material, but he is a sought-after member of the male species. Smart, handsome, upwardly mobile, a Ken-doll model for the guy I'd like to meet.
And Ken's looking at me now, his head tilted, his inquisitive blue eyes narrowing.
"What?" I ask, a little flustered at his scrutiny.
"Something happened just there." He does a corkscrew gesture with his index finger. "You toggled some sort of switch."
I swallow because that's a pretty accurate description of what I just did.
"Sometimes I need to make a conscious effort not to murder the person nearest to me, especially when he's a smug, supercilious, know-it-all douchewaffle."
He laughs. I like his laugh. It tickles a spot in my stomach.
"I'm getting the douchewaffle treatment now? Lumped in with Muller?" He steps in closer. "You know, that security guy had it coming. I just didn't want to see you manhandled."
"Even if I deserved it for shooting my mouth off?"
The mention of my mouth seems to act like a lever for his gaze. It drops to the mouth in question, gives it an imaginary lick, and flashes with a flicker of appreciation.
"He had no right to touch you."
The words are said with an intensity that shocks me because one, it's ten minutes past the event, and two, this is Max Henderson, Mr. Smooth 'n' Slick, who seems to operate at a keel so even I'm not quite sure he's a hundred percent human. The only man in my life who's ever made me feel this protected is the one who saved me all those years ago, who saw my potential. I'm not used to feeling it with the guys I date and certainly not with guys like Max Henderson who are chronically undateable.
"You shouldn't have pushed him," I say.
"Because it landed us in here?" He's closer now, leaning over me like that moment when we met in the Gilt Bar.
"Because you could have gotten hurt."
"Aw, you care, Charlie?"
Yes. But I don't like the renewed smirk in his voice. Neither do I enjoy how his personality can shift so quickly between that drilling-my-soul intensity and the flirt he turns on for every woman.
"Because I'm sure you'd find a way to blame me," I say with a check of my nails. "Maybe sue me for your pain and suffering."
"Like I said, he shouldn't have touched you."
Which is when he touches me. Max rubs a thumb along my jaw, causing my entire body to ignite. My quickly drawn breath is necessary to keep me upright but it's also a mistake because it provides oxygen to that spark inside me and fans the flames of desire to the point I'm in danger of burning up. If this is the effect of one simple touch, how would I survive more?
"He was just doing his job," I murmur.
"And I was just doing mine." That thumb now moves over my chin, trails down my throat, and hovers over the divot above my collarbone. As if he's trying to cover as much ground as possible without involving all his digits. Or his hands. Or all two hundred pounds of rock-solid muscle that I'm now imagining cradled between my legs as he slides in, deep, true, and to the hilt.
"Your job?" My voice sounds annoyingly breathless. "What job?"
"Protecting what's—" I think he rasps out the word "mine" as his mouth descends, stamping a claim over lips that are all too eager to part and let him in. I shouldn't allow this. I shouldn't cling to his hell-those-are-broad shoulders. I shouldn't be moaning my encouragement or reaching up to tunnel greedy fingers through his hair. I shouldn't be making an ass grab to pull him flush because I need that cock I've been dreaming about to notch between my legs and rub there, yes, there.
I've kissed my fair share of frogs, a few earls, even a prince or two. I guess that's all been practice as I worked my way up to the royal court of Max. This guy is King of the Kiss. It shouldn't surprise me that he does it well, just as it shouldn't surprise me that my body is reacting like it's a drought-riven land newly doused in water. Like Max is the answer to a lifelong thirst.
He's wedged his body between my legs, one very clever hand cupping my ass, the other holding my face at an angle that works for him. That theory I had before about him attempting to cover as much ground as possible with a single, teasing finger is now being put to the test. Max's body envelops mine in an all-consuming, cell-invasive manner. It should be terrifying, but it's not.
He's an amazing kisser. Not wet or sloppy, not pushy or aggressive. Max kisses me like this is important to him. To us.
"Charlie."
Max's kiss continues to drug me even while awareness of the world around us attempts to break through. Someone is saying my name. Not Max, who is definitely not talking, thank God, but someone familiar . . .
"Charlie!"
Our mouths separate like those of teenagers caught in a parked car. Oh, God. This can't be happening.
About the Author: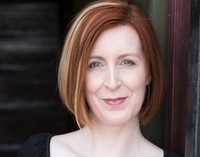 Originally from Ireland, USA Today bestselling author Kate Meader cut her romance reader teeth on Maeve Binchy and Jilly Cooper novels, with some Harlequins thrown in for variety. Give her tales about brooding mill owners, oversexed equestrians, and men who can rock an apron or a fire hose, and she's there. Now based in Chicago, she writes sexy contemporary romance with alpha heroes and strong heroines who can match their men quip for quip.