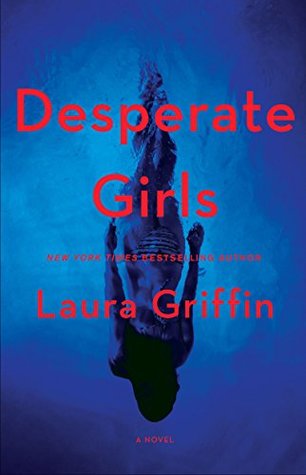 Title
: Desperate Girls
Series
: Wolfe Security #1
Author
: Laura Griffin
Format
: Paperback & eBook, 368 pgs
Published
: Aug. 7, 2018 by Gallery Books
ASIN
: B075RS5N9C
Links
:
Goodreads
|
Amazon
|
B&N
Source
: First Reads GoodReads
Reviewer
: Kimberly
Rating
: 3 out of 5 Wine Glasses
Defense attorney Brynn Holloran is right at home among cops, criminals, and tough-as-nails prosecutors. With her sharp wit and pointed words, she has a tendency to intimidate, and she likes it that way. She's a force to be reckoned with in the courtroom, but in her personal life, she's a mess.

When a vicious murderer she once helped prosecute resurfaces and starts a killing spree to wipeout those who put him behind bars, one thing becomes clear: Brynn needs to run for her life.

With no help from the police, Brynn is forced to take matters into her own hands, turning to a private security firm for protection. But when Brynn defies advice and gets involved in the investigation, even the former Secret Service agent assigned to protect her may not be able to keep her safe. With every new clue she discovers, Brynn is pulled back into the vortex of a disturbing case from her past.

As the clock ticks down on a manhunt, Brynn's desperate search for the truth unearths long-buried secrets and reignites a killer's fury.
Kimberly's Thoughts:
First chair in a big case for her career, Brynn is under a lot of stress. When a serial killer she helped put away escapes from prison and murders the lead attorney that prosecuted his case with Brynn, she not only has her career but life to worry about.
Erik was an active Marine, Secret Service agent, but is currently working in the personal security private sector. He is built and used to high intense and dangerous situations, but not emotional and personal developments.
Brynn and Erik have let work dictate their lives but danger is about to reveal to them what they have been missing.
First in the new Wolfe Security series (there is a small character tie-in from the author's Tracer series) Griffin immediately drops the reader into murder and mystery. This tense start had me on edge, which the author was able to maintain to pretty much the ending.
Our heroine Brynn is a complete workaholic who is stubborn, brusque, and demanding. We get to see heroes, who are usually labeled "alpha", with these traits all the time, so it was refreshing to see a woman with such a forceful personality. However, Brynn veered, especially in the beginning, to oblivious, too stupid to live territory with her insisting she wasn't really in danger and therefore actively working to put her in more danger. Her demands and attitude got a bit repetitive in this regard and hurt her character rather than make her seem tough and smart.
The hero's calm, cool, and collective attitude made him seem smart and capable and when he would lose his grip a little in regards to his attraction to Brynn, it added some great steam to the story. His cool façade did mask his characterization a bit; we don't really get to know him until the later part of the book.
There is a large cast of characters that the author did a great job introducing but she failed to have them conversationally interacting. This would have been a great way to see and get to know the hero more; friendships are great showcases for personalities. The lack of conversation, in favor of courtroom scenes, gave this more of a dry feel.
With the lack of more emotional aspects, the book makes up for it in the murder mystery tone. The tension, wondering, and danger will keep your nerves taunt; the author excelled on the technical, realistic feel of security and the creepy factor of a serial killer on the loose. I would have liked a pov from the villain to add more depth, there was kind of an info dump that provided what felt like a pointless red-herring, and while surprising a last second drama that felt more tagged on than enriching.
The chemistry and romance is weaker but you'll want to sign up for the thriller aspects and tension. The author's writing has charisma and the series set-up will have me checking out the next in the series.