AUGUST 6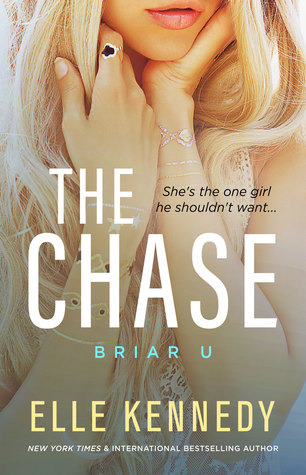 The Chase
(Briar U #1)
by Elle Kennedy
Expected publication: August 6th 2018
AMAZON
AUGUST 7
Bad Reputation
(Bad Bachelors #2)
by Stefanie London
Mass Market Paperback, 384 pages
Expected publication: August 7th 2018 by Sourcebooks Casablanca
ISBN 1492655201
Wes Evans, son of Broadway royalty, just wants to achieve something without riding on his family's coattails. Too bad the whole world is talking about his sex life after the notorious Bad Bachelors app dubs him "The Anaconda." But when he sees a talented ballet dancer, he knows she is exactly what he needs to make his show a success.

Remi Drysdale only had one thought when she fled Australia for New York--never mix business with pleasure again. Ever. She gets the perfect chance to reclaim her career when a handsome stranger asks her to audition for his show. Remi promises herself not to tangle with the guy who holds her career in his hands...no matter how enticing his reviews are on the Bad Bachelors app...
The Reception
(The Wedding From Hell #2)
by J.R. Ward
ebook, 39 pages
Expected publication: August 7th 2018 by Gallery Books
ISBN 1982105372
The Wedding from Hell, Part 2: The Rehearsal Dinner is the exciting second adventure in J.R. Ward's three-part ebook serialization: The Wedding From Hell. This exclusive prequel to her upcoming standalone suspense, Consumed (available in October 2018) takes us to where it all started between arson investigator Anne Ashburn and 'bad boy' firefighter Danny Maguire. The Wedding From Hell is a sexy standalone novella that sets up Consumed's storyline, leaving fans hungry for more and dying to snatch it up.

The Wedding From Hell, Part 2: The Reception: As the wedding from hell continues, Anne and Danny find themselves walking the delicate balance between professional distance and explosive attraction. Will the desire they feel last through the night and change their lives? Or are they doomed to part after one night of passion?
Racked and Stacked
(Blacktop Cowboys #9)
by Lorelei James
Kindle Edition, 320 pages
Expected publication: August 7th 2018 by Berkley
ASINB077CQTXWJ
Opposites don't just attract in the West--they sizzle--and Wyoming has never been hotter than in the latest sexy Blacktop Cowboys® novel from the New York Times bestselling author of Hang Tough.

Growing up with three older brothers, Larissa "Riss" Thorpe defines the term tomboy--a moniker that never mattered to her until she crossed paths with sexy cowboy playboy, Ike Palmer. His declaration that he prefers his women soft and feminine is the one benefit to becoming his business partner. Since Riss is obviously not his type, there's little chance they'll mix business and pleasure when they're in close quarters on the road together.

Former cattle broker Ike Palmer was ready for a new chapter in his life when he partnered with Riss, a contrary redhead who lords her mechanical abilities over him at every turn. Ike raised his three younger sisters; he knows a thing or three about how women work. The problem is...Riss is unlike any woman he's ever met.

With the odds stacked against them, Riss and Ike will have to choose between the stubbornness that keeps them apart and the fiery attraction that could lead to something more...
Getting Lucky
(Lucky #3)
by Carolyn Brown
Paperback, 416 pages
Expected publication: August 7th 2018 by Sourcebooks Casablanca (first published January 1st 2010)
ISBN 1492649511
A fresh start is exactly what Julie Donavan needs. So imagine her dismay when her new next-door neighbor is the twin brother of Graham Luckadeau, the soldier who fathered her child after a one night stand six years ago...

Ever since Graham passed, Griffin has stayed focused on running the ranch. The last thing he needs is a distraction from the woman who moved into the feuding ranch next door. But when his daughter insists she wants to be friends--or better yet, sisters --with the girl who looks like her twin, the sparks begin to fly.
Good Luck with That
by Kristan Higgins
Paperback, 480 pages
Expected publication: August 7th 2018 by Berkley Books
ISBN 045148939X
Emerson, Georgia, and Marley have been best friends ever since they met at a weight-loss camp as teens. When Emerson tragically passes away, she leaves one final wish for her best friends: to conquer the fears they still carry as adults.
For each of them, that means something different. For Marley, it's coming to terms with the survivor's guilt she's carried around since her twin sister's death, which has left her blind to the real chance for romance in her life. For Georgia, it's about learning to stop trying to live up to her mother's and brother's ridiculous standards, and learning to accept the love her ex-husband has tried to give her.
But as Marley and Georgia grow stronger, the real meaning of Emerson's dying wish becomes truly clear: more than anything, she wanted her friends to love themselves.
To Have and to Harley
(Bikers & Brides #1)
by Regina Cole
Mass Market Paperback, 384 pages
Expected publication: August 7th 2018 by Sourcebooks Casablanca
ISBN 1492667951
You may now kiss the biker

Bethany Jernigan owes her bestie. Big time. So when wedding planning overburdens the bride-to-be, Bethany steps in to handle the nitty-gritty. But the guy in charge isn't anything like she imagined. He's gruff, tattooed, and 100% male. His staff is even rougher around the edges, and it's not long before she feels as if she's stepped into some kind of crazy alternate reality.

Are those...bikers? Arguing about wedding favors?

Trey Harding never wanted this to get so out of hand. One little lie somehow snowballed into a world of dresses and flowers and food and holy-hell-he's-in-over-his-head. But it's not like he can confess he's not the wedding planner he's pretending to be--especially now that he's falling for the maid of honor! His charade is becoming a farce, and as engines rev and ribbons fly, Trey's running out of time to figure out how to tell the truth without losing his new family, his crew...or the woman of his dreams.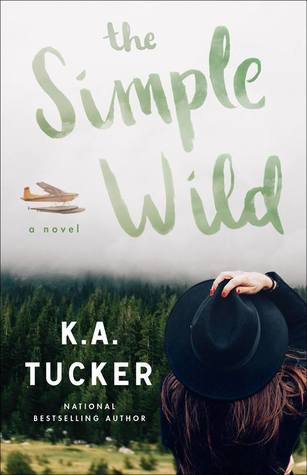 The Simple Wild
by K.A. Tucker
Paperback, 400 pages
Expected publication: August 7th 2018 by Atria Books
ISBN 1501133438
Calla Fletcher wasn't even two when her mother took her and fled the Alaskan wild, unable to handle the isolation of the extreme, rural lifestyle, leaving behind Calla's father, Wren Fletcher, in the process. Calla never looked back, and at twenty-six, a busy life in Toronto is all she knows. But when Calla learns that Wren's days may be numbered, she knows that it's time to make the long trip back to the remote frontier town where she was born.

She braves the roaming wildlife, the odd daylight hours, the exorbitant prices, and even the occasional—dear God—outhouse, all for the chance to connect with her father: a man who, despite his many faults, she can't help but care for. While she struggles to adjust to this rugged environment, Jonah—the unkempt, obnoxious, and proud Alaskan pilot who helps keep her father's charter plane company operational—can't imagine calling anywhere else home. And he's clearly waiting with one hand on the throttle to fly this city girl back to where she belongs, convinced that she's too pampered to handle the wild.

Jonah is probably right, but Calla is determined to prove him wrong. Soon, she finds herself forming an unexpected bond with the burly pilot. As his undercurrent of disapproval dwindles, it's replaced by friendship—or perhaps something deeper? But Calla is not in Alaska to stay and Jonah will never leave. It would be foolish of her to kindle a romance, to take the same path her parents tried—and failed at—years ago. It's a simple truth that turns out to be not so simple after all.
His True Queen
(Smoke & Mirrors Duet #2)
by Jodi Ellen Malpas
Kindle Edition, 1st Edition, 400 pages
Expected publication: August 7th 2018
ASINB07CYTWDDP
The breathtaking conclusion of the Smoke & Mirrors Duology.

A beautiful, defiant princess. A renowned, sinfully gorgeous Hollywood actor.

A love affair that is sure to rock the British Monarchy…and the world.

Their love affair began intensely and passionately. Princess Adeline and Josh Jameson knew any future together was impossible—her status as a princess and his standing as a Hollywood heartthrob dictated that. But the heights of pleasure they could take each other to were wildly unanticipated by them both. Josh's absolute disregard for Adeline's status quickly drew her into his hedonistic world. And her perfectly worn mask and false façade captivated Josh to the point of obsession. The boundaries became blurred. The physical became emotional. Their hearts became entwined.

But a cruel turn of events rips their worlds apart and Adeline is more bound than ever by the protocol and expectations her title commands. The army of royal advisors who guard the secrets and scandals of the Monarchy will go to unthinkable lengths to keep the smoke and mirrors in place…and Josh away from Adeline. She knows the power she possesses comes with agonizing sacrifices. Walking away from Josh devastates her…but it keeps him safe from the corrupt institution that has ruled her life.

Yet Josh refuses to lose the woman who has consumed him so completely, distorted his boundaries, and stripped him of all sensibility.

Will the power of the British Monarchy triumph? Or will their fierce love for each other change the course of history?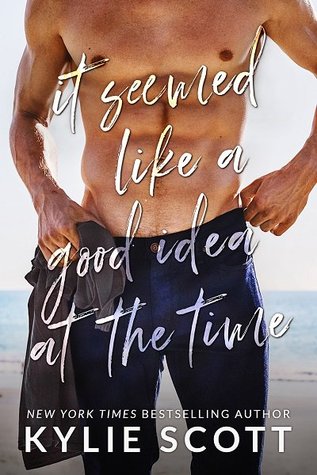 It Seemed Like a Good Idea at the Time
by Kylie Scott
ebook
Expected publication: August 7th 2018 by Kylie Scott
ISBN139780995434356
Returning home for her father's wedding was never going to be easy for Adele. If being sent away at eighteen hadn't been bad enough, the mess she left behind when she made a pass at her dad's business partner sure was.

Fifteen years older than her, Pete had been her crush for as long as she could remember. But she'd misread the situation—confusing friendliness for undying love. Awkward. Add her father to the misunderstanding, and Pete had been left with a broken nose and a business on the edge of ruin. The man had to be just as glad as everyone else when she left town.

Seven years on, things are different. Adele is no longer a kid, but a fully grown adult more than capable of getting through the wedding and being polite. But all it takes is seeing him again to bring back all those old feelings.

Sometimes first loves are the truest.
Down with Love
(Laws of Attraction #1)
by Kate Meader
Kindle Edition, 237 pages
Expected publication: August 7th 2018 by Loveswept
ASINB077CR1HBQ
Sparks fly when the hot-shot divorce lawyer meets the high-powered wedding planner. The only question is, what kind?

If you ever get married, remember my name: Max Henderson. In my line of work, you acquire a certain perspective on supposedly everlasting unions. . . .

1. Pre-nups are your friend.
2. The person you married is not the person you're divorcing.
3. And I hope you didn't spend much on the wedding because that was one helluva waste of hard-earned cash, wasn't it?

But some guys are willing to take a chance. Like my brother, who thinks he's going to ride off into the sunset with the woman of his dreams in a haze of glitter on unicorns. And the wedding planner—the green-eyed beauty who makes a living convincing suckers to shell out thousands of dollars on centerpieces—is raking it in on this matrimonial monstrosity.

The thing is, Charlie Love is not unlike me. We're both cogs in the wedding-industrial complex. As the best man, I know her game—and I can play it better than her. But after one scorching, unexpected kiss, I'm thinking I might just want to get played.
As Dust Dances
(Play On #2)
by Samantha Young
Kindle Edition, 1st Edition
Expected publication: August 7th 2018 by Samantha Young
Original TitleAs Dust Dances
ASINB07D241CSN
The New York Times Bestselling author of the On Dublin Street series and PLAY ON returns to the world of the arts in this intense and emotional standalone romance about love, sacrifice, and surviving both.

Once upon a time Skylar Finch was the lead singer of a hugely successful American pop-rock band. But fame made her miserable. When years of living a lie suddenly ended in tragedy, Skylar fell off the map.

Eighteen months later she's sleeping in a tent in a cemetery in Glasgow, making just enough money to eat by busking on the streets. She manages to avoid recognition, but not the attention of one of Glasgow's ambitious A&R executives.

Killian O'Dea works at Skyscraper Records, Scotland's most successful record label. Raised by his uncle and owner of the label, Killian's upbringing would have been devoid of affection entirely if it wasn't for his loving sister. Killian is unflinchingly determined to bring the label more success than ever, and the young homeless woman who busks on Buchanan Street is going to help him do that. Her music speaks to him in a way he refuses to over-analyze. All he knows is that if it can touch his dark soul, it'll set everyone else's alight.

Skylar makes it clear that she doesn't want to sign with him. But when she experiences the dangerous reality of a woman sleeping rough, Skylar has no one else but Killian to turn to. An undeniable connection forms between them. But Skylar doesn't want the career Killian is trying to forge for her, and when her past comes back to haunt her Killian will be faced with a decision that could ruin him. He must either free Skylar from his selfish machinations and destroy everything he's ever worked for, or lose a woman who has come to mean more to him than he ever thought possible…
Rush
(Gods #2)
by Samantha Towle
Kindle Edition, 1st UK edition, 304 pages
Expected publication: August 7th 2018 by Headline Eternal
ASINB07CKZ6HLN
From Samantha Towle, New York Times bestselling author of Breaking Hollywood and Ruin, comes a new powerful, passionate and dramatic contemporary romance.

"With the first pick in the 2015 NFL Draft, the New York Giants select…"

It's been three years since quarterback Ares Kincaid's NFL dream came true, and he's living the high life. The days of cleaning up after his drunk of a father are long gone, and he has no intention of going back.

A car crash and DUI charge meant a lengthy stint in rehab for Arianna Petrelli, and her dream of being a professional artist slips further away when she's sacked from her position at a gallery. Her need for a job stronger even than her dislike of football, Ari goes to work for her father, the head coach of the New York Giants.

Ares hates alcoholics, which is fine with Ari because she thinks he's a brainless jock. Yet when Ares rescues Ari from a situation with her ex-boyfriend, an unlikely friendship begins – one that quickly becomes more.

But messing around with the coach's daughter can only lead to one thing…trouble.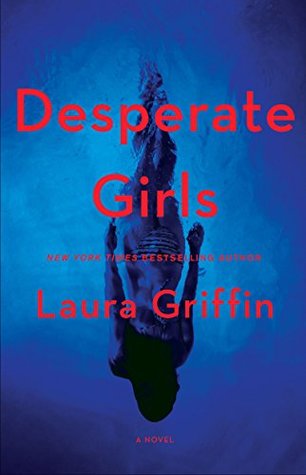 Desperate Girls
(Wolfe Security #1)
by Laura Griffin
Paperback, 368 pages
Expected publication: August 7th 2018 by Gallery Books
Original TitleDesperate Girls
ISBN 1501162411
Defense attorney Brynn Holloran is right at home among cops, criminals, and tough-as-nails prosecutors. With her sharp wit and pointed words, she has a tendency to intimidate, and she likes it that way. She's a force to be reckoned with in the courtroom, but in her personal life, she's a mess.
When a vicious murderer she once helped prosecute resurfaces and starts a killing spree to wipeout those who put him behind bars, one thing becomes clear: Brynn needs to run for her life.


With no help from the police, Brynn is forced to take matters into her own hands, turning to a private security firm for protection. But when Brynn defies advice and gets involved in the investigation, even the former Secret Service agent assigned to protect her may not be able to keep her safe. With every new clue she discovers, Brynn is pulled back into the vortex of a disturbing case from her past.

As the clock ticks down on a manhunt, Brynn's desperate search for the truth unearths long-buried secrets and reignites a killer's fury.
Defending Allye
(Mountain Mercenaries #1)
by Susan Stoker
Kindle Edition, 1st edition, 263 pages
Expected publication: August 7th 2018 by Montlake Romance
ASINB078JDQ9BH
Love is a life-and-death risk for the Mountain Mercenaries in New York Times bestselling author Susan Stoker's explosive series of alpha heroes, hot action, and hard passion…

Ever since his rescue op off the Pacific Coast, Mountain Mercenary Gray Rogers hasn't been able to forget his latest "job"—Allye Martin. Any other woman would have panicked during a rescue, but the wily dancer kept her cool—even after being kidnapped by an elusive human trafficker. And Gray couldn't be happier when a grateful Allye follows him home to Colorado Springs…

For Allye, finding sanctuary in the arms—and bed—of the former Navy SEAL is only temporary. People are disappearing off the streets of San Francisco, victims of the same underground trade that targeted her, and Allye could be the key to dismantling the entire operation. She's willing to do anything to bring them down. Gray isn't—for good reason. But you don't say no to a tough girl like Allye who refuses to play it safe.

Now Gray is risking more than ever before. The Mountain Mercenaries have his back. But is it enough to keep the woman he loves out of harm's way?
Respect
(The Breaking Point #3)
by Jay Crownover
Expected publication: August 7th 2018
Dark Alpha's Hunger
(Reaper #6)
by Donna Grant
ebook, 158 pages
Expected publication: August 7th 2018 by St. Martin's Paperbacks
ISBN 1250138132
Dark Alpha's Hunger is the sixth paranormal romance novel in New York Times bestselling author Donna Grant's Reapers series featuring a brotherhood of elite assassins who wage war on the Fae at Death's behest--and the women who change their hearts.

There is no escaping a Reaper. I am an elite assassin, part of a brotherhood that only answers to Death. And when Death says your time is up, I'm coming for you…

Where Death leads, I follow. Nothing will stop me from my duty – not even the darkness that claims me. It's the music that leads me from the dark, returning me to my brethren and a new foe that has risen. Learning who hunts Thea could be the key to unraveling what we need to know to defeat our enemy. The Half-Fae's music stirs a passion within me that I've never known. For her, I will break my vow of silence. For her…I will risk everything.
Serpentine
(Anita Blake, Vampire Hunter #26)
by Laurell K. Hamilton
Kindle Edition, 1st edition, 496 pages
Expected publication: August 7th 2018 by Berkley
Original TitleSerpentine
ASINB077LY8MJ3
Vampire hunter Anita Blake has managed to overcome everything she faces. But this time there's a monster that even she doesn't know how to fight...

A remote Florida island is the perfect wedding destination for the upcoming nuptials of Anita's fellow U.S. Marshal and best friend Edward. For Anita, the vacation is a welcome break, as it's the first trip she gets to take with wereleopards Micah and Nathaniel. But it's not all fun and games and bachelor parties...

In this tropical paradise Micah discovers a horrific new form of lycanthropy, one that has afflicted a single family for generations. Believed to be the result of an ancient Greek curse, it turns human bodies into a mass of snakes.

When long-simmering resentment leads to a big blowout within the wedding party, the last thing Anita needs is more drama. But it finds her anyway when women start disappearing from the hotel, and worse--her own friends and lovers are considered the prime suspects. There's a strange power afoot that Anita has never confronted before, a force that's rendering those around her helpless in its thrall. Unable to face it on her own, Anita is willing to accept help from even the deadliest places. Help that she will most certainly regret--if she survives at all, that is...
Highland Betrayal
(The Sons of Gregor MacLeod #3)
by Alyson McLayne
Mass Market Paperback, 384 pages
Expected publication: August 7th 2018 by Sourcebooks Casablanca
ISBN 1492654566
Laird Callum MacLean vowed to marry Maggie MacDonnell. But when his father's supposed suicide makes him Laird of a clan, he's too busy unmasking his father's killer to bring her into his dangerous new home.

Maggie's home isn't any safer, so she does what any resourceful Highland lass would do. She escapes―and finds herself toe-to-toe with Callum, who's determined to fulfill his promise. Maggie can't bring herself to trust him with her heart again. But with a traitor still at large, they must rely on each other in every way, or their clans―and their love―will be destroyed.
Brave New Earl
(The Way to a Lord's Heart #1)
by Jane Ashford
Mass Market Paperback, 384 pages
Expected publication: August 7th 2018 by Sourcebooks Casablanca
ISBN 1492663352
An Earl mired in melancholy is no match for a determined woman...

Widower Benjamin Romilly, Earl of Furness, has given up hope of finding happiness. His wife died in childbirth five years ago, leaving him with a broken heart and a child who only reminds him of his loss.

Miss Jean Saunders is a cousin by marriage. She doted on Benjamin's late Countess, and can't bear it when she hears rumors that the Earl is too bereaved to care for his young son. She arrives on the scene to evaluate his fitness as a father, and if necessary, to take his son away.

Jean's sudden eruption into the Earl's household simultaneously infuriates and invigorates him. She may be the only person who can breathe life into his neglected home―and his aching heart...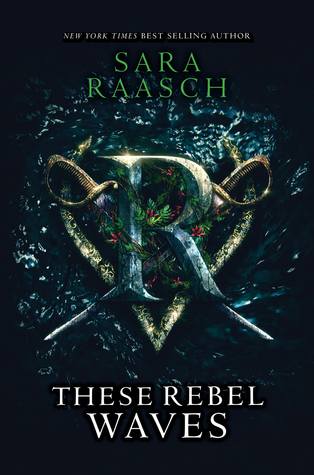 These Rebel Waves
(Stream Raiders #1)
by Sara Raasch
Hardcover, 480 pages
Expected publication: August 7th 2018 by Balzer + Bray
ISBN 0062471503
Adeluna is a soldier. Five years ago, she helped the magic-rich island of Grace Loray overthrow its oppressor, Argrid, a country ruled by religion. But adjusting to postwar life has not been easy. When an Argridian delegate vanishes during peace talks with Grace Loray's new Council, Argrid demands brutal justice—but Lu suspects something more dangerous is at work.

Devereux is a pirate. As one of the outlaws called stream raiders who run rampant on Grace Loray, he pirates the island's magic plants and sells them on the black market. But after Argrid accuses raiders of the diplomat's abduction, Vex becomes a target. An expert navigator, he agrees to help Lu find the Argridian—but the truth they uncover could be deadlier than any war.

Benat is a heretic. The crown prince of Argrid, he harbors a secret obsession with Grace Loray's forbidden magic. When Ben's father, the king, gives him the shocking task of reversing Argrid's fear of magic, Ben has to decide if one prince can change a devout country—or if he's building his own pyre.

As conspiracies arise, Lu, Vex, and Ben will have to decide who they really are . . . and what they are willing to become for peace.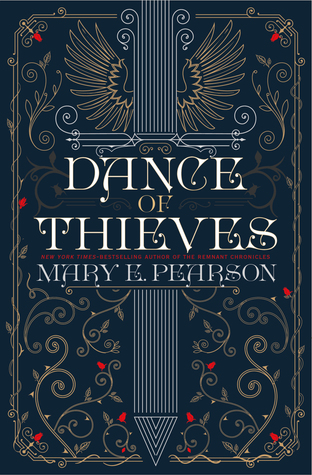 Dance of Thieves
(Dance of Thieves #1)
by Mary E. Pearson
Hardcover, 384 pages
Expected publication: August 7th 2018 by Henry Holt & Company
ISBN 1250159016
A new novel in the New York Times–bestselling Remnant Chronicles universe, in which a reformed thief and the young leader of an outlaw dynasty lock wits in a battle that may cost them their lives—and their hearts.

When the patriarch of the Ballenger empire dies, his son, Jase, becomes its new leader. Even nearby kingdoms bow to the strength of this outlaw family, who have always governed by their own rules. But a new era looms on the horizon, set in motion by a young queen, which makes her the target of the dynasty's resentment and anger.

At the same time, Kazi, a legendary former street thief, is sent by the queen to investigate transgressions against the new settlements. When Kazi arrives in the forbidding land of the Ballengers, she learns that there is more to Jase than she thought. As unexpected events spiral out of their control, bringing them intimately together, they continue to play a cat and mouse game of false moves and motives in order to fulfill their own secret missions.
The Forest Queen
(Mechanica 0.5)
by Betsy Cornwell
ebook, 320 pages
Expected publication: August 7th 2018 by Houghton Mifflin Harcourt
ISBN139781328476760
When sixteen-year-old Sylvie's brother takes over management of their family's vast estates, Sylvie feels powerless to stop his abuse of the local commoners. Her dearest friend asks her to run away to the woods with him, and soon a host of other villagers join them. Together, they form their own community and fight to right the wrongs perpetrated by the king and his noblemen.
Star-Touched Stories
(The Star-Touched Queen #2.5)
by Roshani Chokshi
Three lush and adventurous stories in the Star-Touched world.

Death and Night

He was Lord of Death, cursed never to love. She was Night incarnate, destined to stay alone. After a chance meeting, they wonder if, perhaps, they could be meant for more. But danger crouches in their paths, and the choices they make will set them on a journey that will span lifetimes.

Poison and Gold

Now that her wish for a choice has come true, Aasha struggles to control her powers. But when an opportunity to help Queen Gauri and King Vikram's new reign presents itself, she is thrown into the path of the fearsome yet enchanting Spy Mistress. To help her friends, Aasha will have to battle her insecurities and perhaps, along the way, find love.

Rose and Sword

There is a tale whispered in the dark of the Empire of Bharat-Jain. A tale of a bride who loses her bridegroom on the eve of her wedding. But is it a tale or a truth?
Catwoman: Soulstealer
(DC Icons #3)
by Sarah J. Maas
Hardcover, 304 pages
Expected publication: August 7th 2018 by Random House Books for Young Readers
ISBN 0399549692
When the Bat's away, the Cat will play. It's time to see how many lives this cat really has. . . .

Two years after escaping Gotham City's slums, Selina Kyle returns as the mysterious and wealthy Holly Vanderhees. She quickly discovers that with Batman off on a vital mission, Batwing is left to hold back the tide of notorious criminals. Gotham City is ripe for the taking.

Meanwhile, Luke Fox wants to prove he has what it takes to help people in his role as Batwing. He targets a new thief on the prowl who seems cleverer than most. She has teamed up with Poison Ivy and Harley Quinn, and together they are wreaking havoc. This Catwoman may be Batwing's undoing.
AUGUST 8
Bayside Heat
(Bayside Summers #3)
by Melissa Foster
Paperback
Expected publication: August 8th 2018 by World Literary Press
ISBN139781948004855
Fall in love at Bayside, where sandy beaches, good friends, and true love come together in the sweet small towns of Cape Cod. Bayside Summers is a series of standalone steamy romance novels featuring alpha male heroes and sexy, empowered women. They're fun, flirty, flawed, deeply emotional, always passionate, and easy to relate to.

In BAYSIDE HEAT...
Drake Savage has always done the right thing, especially where beautiful and fiercely determined Serena Mallery is concerned-even when it means keeping his feelings for her to himself. Serena has always wanted more than what their small town of Wellfleet, Massachusetts has to offer, and Drake's roots are so deeply entrenched in the Cape, it's all he can do to watch her pack up her life and move away.

Serena has always had big dreams. As a teenager she dreamed of becoming an interior designer and marrying smart, musically inclined, sexy-as-sin Drake Savage. Now she's finally landed a killer job with a top interior design firm, but though she has spent the last four years working side by side with Drake, he's never made a move. Four years is long enough for her to accept reality, and her new job in Boston is the perfect way to move on.

A weak moment leads to sizzling, sensual kisses, opening a door through which they've both been aching to walk. But Serena's determined not to give up her shot at the career she's always dreamed of, and Drake has loved her for too many years to stand in her way. With true love at their fingertips and a world of unstoppable passion igniting between them, can the two star-crossed lovers find their way to their happily ever after?
AUGUST 13
Man Candy
(Billionaire Bachelors #4)
by Lila Monroe
Kindle Edition
Expected publication: August 13th 2018 by Lila Monroe Books (first published August 2018)
ASINB07DH4MQPN
What's hotter than a sexy man and unlimited chocolate? Indulge in the delicious new rom-com from Lila Monroe!

Private investigator Nick Chambers is six foot two of chiseled, hunky trouble. He needs a fake fiancée to help him go undercover at the hottest candy company around, and he picks... me?!

OK, he thinks I'm the safe, reliable choice. But what he doesn't know is that I've been waiting for the chance to get out from behind my desk and indulge my Bond girl fantasies. Goodbye, Moneypenny. Hello, femme fatale!

It's my chance to take a risk and prove I'm more than just a secretary… but I didn't bank on the sizzlin' hot chemistry and Nick's lick-able abs. And between our wild cover stories, after-hours investigation, and not-so-fake romps, the line between fiction and reality is melting faster than a Hershey's kiss in the summer sun.

Can our delicious fake relationship turn into something real? Or will my sexy sugar rush crash before we can unravel the chocolate conspiracy? Find out in the latest BILLIONAIRE BACHELOR romance from Lila Monroe!
AUGUST 14
Dirty, Reckless Love
(The Boys of Jackson Harbor #3)
by Lexi Ryan
ebook
Expected publication: August 14th 2018 by Ever After, LLC
I'm in love with a man who tried to kill me. At least that's what they tell me . . .

Six weeks ago, paramedics found me unconscious in my apartment. Beaten. Bruised. Hardly breathing. When I woke up, I couldn't remember the last three years or anything about my life in Jackson Harbor. They tell me my fiancé, Colton McKinley, is on the run for what he did to me. They tell me I'm safer if I stay away.

I don't care if my memories ever come back. I want nothing to do with those missing years . . . until a sexy stranger with angry eyes shows up on my doorstep and demands I stop ignoring him.

Levi Jackson is my fiancé's best friend, but seeing him sparks something inside me. As the truth unravels in my mind, I know they're wrong about Colton. My own secrets are far more dangerous than the man I was engaged to.

I return to Jackson Harbor to search for answers and find myself running from a faceless boogeyman and seeking refuge in Levi's arms. And in his bed.

I can't deny my feelings for Levi. But as the pile of lies between us grows, I realize that sometimes the truth can't set us free. Sometimes, it's the very thing that can destroy us.
Richer Than Sin
(Sin #1)
by Meghan March
250 pages
Expected publication: August 14th 2018 by Red Dress Press
From New York Times bestselling author Meghan March comes a brand new saga of forbidden love and second chances.

A Riscoff and a Gable can never live happily ever after. Our family feud is the stuff of legends.
Ten years ago, Whitney Gable caught me off guard with her long legs and grab-you-by-the-balls blue eyes.
I didn't know or care what her name was.
Like any Riscoff worth the family name, I went after what I wanted. We burned like a flash fire until she married another man.
She hates me, and she should.
I objected on her wedding day.
Now she's home, with those same long legs and man-eater stare, but there's no ring on her finger.
They say a Riscoff and a Gable can never live happily ever after . . . but I'm not done with Whitney Gable.
I'll never be done with her.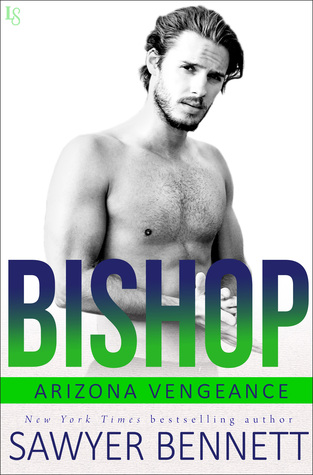 Bishop
(Arizona Vengeance #1)
by Sawyer Bennett
Kindle Edition, 253 pages
Expected publication: August 14th 2018 by Loveswept
ASINB079KT63V4
Meet the Arizona Vengeance, hockey's hottest new team. They're burning up the ice—until a one-night-stand with the coach's daughter freezes one player in his skates.

Bishop Scott, co-captain. Not too shabby, huh? It's all part of my fresh start with the NHL's latest expansion team, and that means new teammates, a new coach, a new city, and a big new contract. Basically, I cannot f***ing wait to show my old squad what they're missing.

But first, I decide to check out the town before the grind begins. Turns out Arizona chicks are totally smokin', and I'm fortunate enough to meet one who's looking for the same thing I am: a night of anonymous, unforgettable, no-strings-attached sex.

Fast forward to the Vengeance arena. It's the last place I expect to see her again—let alone in her own office. Then bells go off and I finally realize who this girl is: Brooke Perron. My new coach's daughter. All of a sudden, we're picking up right where we left off, which means our hands are all over each other. That's when her dad—my boss—walks in. And before I can get a word out, Brooke's introducing me as her fiancé.

Sure, she just saved my ass. So why do I get the feeling Brooke's going to turn my world upside down? Maybe it's because this fake relationship feels way too real. . . .
Outrageous
(Quantum #7)
by Marie Force
Kindle Edition
Expected publication: August 14th 2018 by HTJB, Inc.
ASINB07D94XJRW
She drives him crazy… In more ways than one.

Every time Leah Holt encounters Quantum Production's chief counsel, Emmett Burke, the only thing she can think of is how much she wants to lick him. Everywhere. She's never had that kind of reaction to a man, and the fact that he's a much-older colleague makes her out-of-control attraction to him far more complicated than it should be. Every day, she brings a new legal question to Emmett, hoping to catch his attention and make him see her as a grown woman who wants him desperately. She walks a fine line in trying to remain professional as the assistant to superstar Marlowe Sloane while lusting after Marlowe's sexy attorney.

To Emmett, Leah is a fly buzzing around his head who can't be swatted away. She's always there, looking at him, asking him legal questions that have nothing to do with his specialty in entertainment law and generally driving him mad with her overt sexiness and sassy mouth. He wants to toss her over his desk and run the sass right out of her, which is hardly the way a professional who loves his job should behave in the office—especially with a young, fresh, sexy colleague. As the author of the company's policy on inter-office dating, he's painfully aware of all the reasons he should stay far, far away from her and the tantalizing temptation she represents.

Then Leah gets her chance to step up for Emmett, to help him through an unfortunate "accident" and to show him she's much more than just a smart mouth and a sexy body. When she realizes she has genuine feelings for him—and that those feelings are returned—she wonders if he will take a chance on her or continue to hold her at arm's length. Slowly but surely, she chips away at his resistance, and he begins to crave more of her. But Emmett knows if he's going to let her in, he has to let her all the way in. What will she think when he introduces her to his BDSM lifestyle? Will she still want him the way she does now or will she run away in horror? And what will he do if she runs away?

When Leah confronts a dangerous threat from her past, Emmett is forced to acknowledge that his "annoying little fly" has worked her way firmly into his heart—and his bed.

Also, join the entire Quantum team at the company's vineyard in Napa for Hayden and Addie's wedding!

Contains the full TAME edition in the back for those who want all the romance with a less scorching heat level!
The Prince
(A Wicked Trilogy #3.5)
by Jennifer L. Armentrout
Kindle Edition, 125 pages
Expected publication: August 14th 2018 by Evil Eye Concepts, Incorporated
ASINB0771Q8Q5X
From New York Times and USA Today bestselling author Jennifer L. Armentrout comes a new story in her Wicked series…

She's everything he wants….

Cold. Heartless. Deadly. Whispers of his name alone bring fear to fae and mortals alike. The Prince. There is nothing in the mortal world more dangerous than him. Haunted by a past he couldn't control, all Caden desires is revenge against those who'd wronged him, trapping him in never-ending nightmare. And there is one person he knows can help him.

She's everything he can't have…

Raised within the Order, Brighton Jussier knows just how dangerous the Prince is, reformed or not. She'd seen firsthand what atrocities he could be capable of. The last thing she wants to do is help him, but he leaves her little choice. Forced to work alongside him, she begins to see the man under the bitter ice. Yearning for him feels like the definition of insanity, but there's no denying the heat in his touch and the wicked promise is his stare.

She's everything he'll take….

But there's someone out there who wants to return the Prince to his former self. A walking, breathing nightmare that is hell bent on destroying the world and everyone close to him. The last thing either of them needs is a distraction, but with the attraction growing between them each now, the one thing he wants more than anything may be the one thing that will be his undoing.

She's everything he'd die for….
Wild Hunger
(Heirs of Chicagoland #1)
by Chloe Neill
Kindle Edition, 1st edition, 352 pages
Expected publication: August 14th 2018 by Berkley
ASINB076GR29M5
In the first thrilling installment of Chloe Neill's spinoff to the New York Times bestselling Chicagoland Vampires series, a new vampire will find out just how deep blood ties run.
As the only vampire child ever born, some believed Elisa Sullivan had all the luck. But the magic that helped bring her into the world left her with a dark secret. Shifter Connor Keene, the only son of North American Central Pack Apex Gabriel Keene, is the only one she trusts with it. But she's a vampire and the daughter of a Master and a Sentinel, and he's prince of the Pack and its future king.


When the assassination of a diplomat brings old feuds to the fore again, Elisa and Connor must choose between love and family, between honor and obligation, before Chicago disappears forever.
A Touch of Gold
by Annie Sullivan
Hardcover, 320 pages
Expected publication: August 14th 2018 by Blink
ISBN 0310766354
King Midas once had the ability to turn all he touched into gold. But after his gift—or curse—almost killed his daughter, Midas relinquished The Touch forever. Ten years later, Princess Kora still bears the consequences of her father's wish: her skin shines golden, rumors follow her everywhere she goes, and she harbors secret powers that are getting harder to hide.

Kora spends her days locked in the palace, concealed behind gloves and veils, trying to ignore the stares and gossip of courtiers. It isn't until a charming young duke arrives that Kora realizes there may be someone out there who doesn't fear her or her curse. But their courtship is disrupted when a thief steals precious items from the kingdom, leaving the treasury depleted and King Midas vulnerable. Thanks to her unique ability to sense gold, Kora is the only one who can track the thief down. As she sails off on her quest, Kora learns that not everything is what it seems—not thieves, not pirates, and not even curses. She quickly discovers that gold—and the power it brings—is more dangerous than she'd ever believed.

Midas learned his lesson at a price. What will Kora's journey cost?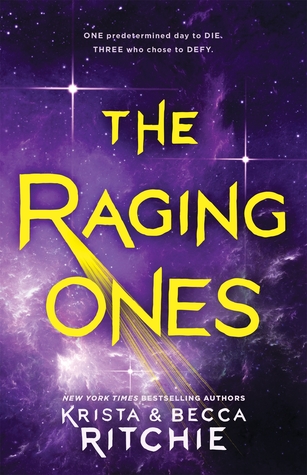 The Raging Ones
(The Raging Ones #1)
by Krista Ritchie, Becca Ritchie
Hardcover, 352 pages
Expected publication: August 14th 2018 by Wednesday Books
ISBN 1250128714
From New York Times bestselling authors Krista and Becca Ritchie, comes The Raging Ones, an edge of your seat sci-fi romance with twists and turns that you will never see coming!

In a freezing world, where everyone knows the day they will die, three teens break all odds.

Franny Bluecastle, a tough city teen, dreams of dying in opulence, to see wealth she's never known. Like the entire world, she believes it's impossible to dodge a deathday.
Until the day she does.

Court Icecastle knows wealth. He also knows pain. Spending five years in Vorkter Prison, a fortress of ice and suffering, he dreams of life beyond the people that haunt him and the world that imprisoned him.

Mykal Kickfall fights for those he loves. The rugged Hinterlander shares a frustrating yet unbreakable connection with Court—which only grows more lawless and chaotic as their senses and emotions connect with Franny.

With the threat of people learning they've dodged their deathdays, they must flee their planet to survive. But to do so, all three will have to hide their shared bond as they vie for a highly sought after spot in the newest mission to space. Against thousands of people far smarter, who'll live longer, and never fear death the way that they do.
AUGUST 20
Darkest Heart
(Dominion #1)
by Juliette Cross
ebook
Expected publication: August 20th 2018 by Entangled Publishing, LLC (Amara)
ISBN139781640636231
Wrong side of heaven...right side of redemption.

Anya—a stoic, blue-winged angelic warrior— was bitten by a demon prince in battle, and now she has precious little time to find a cure for his deadly venom. But the only archangel with the power to stop the dark poison from corrupting her body and soul is missing. She'll have to trust her guide, the outcast high demon Dommiel, who is as handsome as he is dangerous if she has any hope.

An outcast of his own kind, high demon Dommiel stays under cover while the war between angels and demons rages on. But when the only person who ever showed him kindness asks for his help, he has no choice but to try to save the angel. Venturing back into the dens he has avoided for so long, Anya makes him want and feel things he never thought possible.

But Dommiel knows there is no way an angel can ever love a demon…
AUGUST 21
All the Way
(Romancing Manhattan #1)
by Kristen Proby
ebook, 288 pages
Expected publication: August 21st 2018 by William Morrow Paperbacks
ISBN 0062674927
In New York Times and USA Today bestselling author Kristen Proby's brand new Romancing Manhattan series, three brothers get more than they bargain for as they practice law, balance life, and navigate love in and around New York City.

Finn Cavanaugh is known for being a force to be reckoned with in the courtroom. He owns a successful law firm with his brother and brother-in-law in Manhattan. On the rare occasion that he has down time, he spends it at his home in Martha's Vineyard. But when Finn's troubled niece goes to stay with him for the summer in Martha's Vineyard, he's reluctant to take time off from work. That is, until he meets his beautiful new neighbor, London.

London Watson is a Tony Award winning actress on Broadway. When tragedy strikes her family, leaving her alone and injured, she flees Manhattan for Martha's Vineyard. Hoping she can figure out how to pick up the pieces of her life, London is convinced that she'll never be able to return to the stage. But when she meets the charming young girl next door and her sexy uncle, they soon lure London out of her shell as she finally begins to heal from the wounds of her past.

But when London feels confident enough to return to the spotlight, she's dealt another devastating blow. Will the newfound love between London and Finn be enough to conquer all? Or will it be over before it has a chance to grow…?
From Here to You
(Crash and Burn #1)
by Jamie McGuire
Expected publication: August 21st 2018
Blood Cure
(Blood Type #3)
by K.A. Linde
Kindle Edition, 1st edition
Expected publication: August 21st 2018 by Loveswept
ASINB07638F6BH
The stunning conclusion to the Blood Type series finds the world in chaos and turmoil with one final battle left to determine who will survive—humans or vampires.

She had the world on her shoulders. Now she has nothing.

Reyna Carpenter was twenty-one when she became a live-in blood escort for the ruthless and darkly handsome vampire Beckham Anderson. She thought this was just a small price to pay for feeding her brothers back home.

But nothing went as planned. Not even her tumultuous relationship with Beckham. And now she wonders if anything will ever be the same again.

As she finds herself in the midst of a losing rebellion, she and her trusted friends must flee from a city conquered by the vampire elite. With their plans blown to pieces and everything they knew and loved gone, their future hangs in the balance.

Despite all she has lost, Reyna must rise from the ashes, reclaim the life that was stolen—and complete her mission, once and for all.
Nightblood
(Frostblood Saga #3)
by Elly Blake
Hardcover, 448 pages
Expected publication: August 21st 2018 by Little, Brown Books for Young Readers
ISBN 0316273341
Ruby's world has changed more than she ever could have imagined. She's in love with a powerful Frost King. She's the heir to the Fire Throne. And she may be a Nightblood--the spawn of a vengeful deity hellbent on releasing his wraithlike Minax from their prison. Once freed, these beasts will roam the earth, devouring every last person until he or she is nothing but an empty husk. But Ruby is able to control the Minax to a degree, and now she, her beloved Arcus, and her friend Kai must find a way to bring Frostbloods and Firebloods--sworn enemies--together to make a stand against a foe more deadly than any they've faced.

In this heart-pounding finale of Elly Blake's gorgeously written and action-packed Frostblood Saga, the fate of Frostbloods, Firebloods, and all of humanity is at stake.
AUGUST 28
Do or Die Cowboy
(Dark Horse Cowboys #1)
by June Faver, J.D. Faver
Kindle Edition, 352 pages
Expected publication: August 28th 2018 by Sourcebooks Casablanca
ASINB07DD1GSPB
Putting it all on the line for love...Cowboy musician Tyler Garrett has a once-in-a-lifetime chance to put aside his rough-and-tumble rancher's lifestyle and realize his dream. He's on the road to Dallas to record a demo when that dream gets kicked sideways by a beautiful woman on the run.

Leah Benson will do whatever it takes to keep her daughter safe. But when her dangerous past catches up with her, she needs a hero—and luckily for her, Tyler Garrett was born and bred for the role.
Cowboy, Cross My Heart
(Heart of Texas #2)
by Donna Grant
Paperback, 304 pages
Expected publication: August 28th 2018 by St. Martin's Press
New York Times bestselling author Donna Grant takes you deep inside the Texas rodeo scene, where danger and desire ride side by side. . .

Naomi Pierce isn't the type to let a cowboy sweep her off feet. It's not her first rodeo, after all. But when she returns to her Texas hometown, she can't help but be swept up again in the rough-and-tumble world of hard-riding, bronco-busting good-ol'-boys she loved as a girl. She might be here to photograph her Rodeo Queen best friend. But it's one fine-looking cowboy who really captures her eye...

Brice Harper is all man, all muscle, and all heart. From the moment he rides into the stadium, he can't help but notice the beautiful stranger with a camera watching him fromthe stands. It doesn't take a zoom lens to see the sparks of instant attraction. But things really heat up when he meets Naomi up-close--and he discovers that someone is stalking her friend. Brice wouldn't be any kind ofcowboy if he didn't offer to help the ladies out. But can the rough rider keep this spirited shutterbug out of danger--without risking his heart?
Through the Fire
(Rocky Mountain K9 Unit #4)
by Katie Ruggle
Mass Market Paperback, 352 pages
Expected publication: August 28th 2018 by Sourcebooks Casablanca (first published August 7th 2018)
ISBN 1492664588
Kit Jernigan despairs of ever fitting in with her new tight-knit K9 unit. They've been through too much to open their arms to a stranger―and as mysterious fires begin raging across Monroe, she can't convince them to trust her long enough to catch the woman she knows is responsible.
Wesley March, local fire spotter, knows Kit is right, and he's willing to help her prove it. But the more time they spend together, the closer they get...and the more danger they're in. A member of the K9 unit's inner circle is determined to get revenge―no matter who gets burned in the process.
This time, it's personal.
Memento Mori
(Masters & Mercenaries: The Forgotten #1)
by Lexi Blake
Kindle Edition, 1st edition, 452 pages
Expected publication: August 28th 2018 by DLZ Entertainment, LLC
ASINB07B64ZTRT
Six men with no memories of the past
One leader with no hope for the future

A man without a past

Jax woke up in a lab, his memories erased, and his mind reprogrammed to serve a mad woman's will. After being liberated from his prison, he pledged himself to the only thing he truly knows-his team. Six men who lost everything they were. They must make certain no one else gets their hands on the drugs that stole their lives, all while hiding from every intelligence organization on the planet. The trail has led him to an unforgiving mountainside and a beautiful wilderness expert who may be his only hope of finding the truth.

A woman with a bright future

River Lee knows her way around the Colorado wilderness. She's finally found a home in a place called Bliss after years lost in darkness. The nature guide prefers to show her clients the beauty found in the land, but she also knows the secrets the mountains hold. When she meets Jax, something about the troubled man calls to her. She agrees to lead him to the site of an abandoned government facility hidden deep in the forest. She never dreamed she was stepping into the middle of a battlefield.

A love that could heal a broken soul

Spending time with River, Jax discovers a peace he's never known. Their passion unlocks a side of himself he didn't even know he was missing. When an old enemy makes his first move, Jax and River find themselves fighting for their lives. But when his past is revealed, will River be caught in the crosshairs of a global conspiracy?
Dagger's Edge
(Brute Force #2)
by Lora Leigh
Mass Market Paperback, 304 pages
Expected publication: August 28th 2018 by St. Martin's Press
ISBN 1250110343
#1 bestselling author Lora Leigh is back--with a vengeance--in her latest novel of passion and intrigue, Dagger's Edge, featuring the men of Brute Force.

Ivan Resnova wants nothing more than to escape his hard, brutal past. Starting over is not so easy once you've been a powerful crime boss but now, instead of being punished for his alleged crimes, Ivan fears that the one woman he can't forget is in danger of paying the price.

Crimsyn "Syn" Delaney thought the danger she'd faced was over, and that she could resume her life. She never imagined it would return with a vengeance and throw her back into Ivan's world. But when an attempt is made on her life, she needs Ivan more than ever to keep her safe--even if she is in danger of falling deeply and dangerously in love. . .
Stygian
(Lords of Avalon #7)
by Sherrilyn Kenyon
Hardcover, 670 pages
Expected publication: August 28th 2018 by Tor Books
Original TitleStygian
ISBN 1250102685
-MAJOR SPOILER WARNING-
While the books don't have to be read in order, if you haven't read Dragonsworn, this synopsis will contain massive spoilers for DS. We just wanted to warn you!
-MAJOR SPOILER WARNING-


Born before man recorded time, I lived for thousands of years, believing myself to be something I'm not.
Someone I'm not.
Lied to and betrayed by gods, Daimons, and Dark-Hunters, I've struggled to find my way in a world where I've been cursed since the moment a vengeful goddess prematurely ripped me from my mother and planted me into the womb of an innocent woman who thought me her son.
Trained as a slayer and predator, I've learned to fit in and stay low. To become a tool for evil. Until I was sent to kill the one woman I couldn't. My hesitation cost her, her life.
Or so I thought. In an act of betrayal that makes all the others pale in comparison, I've learned that things are not what they seem in this world and that my Phoebe still lives.
Now I will have to travel into the very pits of Hades to try and save her, even as everyone around me attempts to steal what little soul I have left. There's only one person at my back and I'm not sure I can trust her either, for she was born of an enemy race. Yet sometimes the road to redemption is one that singes us to our very core. And if I fail to find the answers I need to save Phoebe, more than just my wife will die.
We will lose the world. Both human and Daimon.
~Urian of the House of Aricles
Magic Triumphs
(Kate Daniels #10)
by Ilona Andrews
Hardcover, 352 pages
Expected publication: August 28th 2018 by Ace
ISBN 0425270718
Mercenary Kate Daniels must risk all to protect everything she holds dear in this epic, can't-miss entry in the thrilling #1 New York Times bestselling urban fantasy series.

Kate has come a long way from her origins as a loner taking care of paranormal problems in post-Shift Atlanta. She's made friends and enemies. She's found love and started a family with Curran Lennart, the former Beast Lord. But her magic is too strong for the power players of the world to let her be.

Kate and her father, Roland, currently have an uneasy truce, but when he starts testing her defenses again, she knows that sooner or later, a confrontation is inevitable. The Witch Oracle has begun seeing visions of blood, fire, and human bones. And when a mysterious box is delivered to Kate's doorstep, a threat of war from the ancient enemy who nearly destroyed her family, she knows their time is up.

Kate Daniels sees no other choice but to combine forces with the unlikeliest of allies. She knows betrayal is inevitable. She knows she may not survive the coming battle. But she has to try.

For her child.

For Atlanta.

For the world.
AUGUST 29
You Promised Me Forever
(Forever Yours #1)
by Monica Murphy
Paperback, 1st Edition
Expected publication: August 29th 2018 by EM Publishing
ISBN139781945522154
I've got it all, they say. I'm the starting quarterback for the best NFL team in the league. I'm rich. I'm famous. I can have any woman I want, any time I want.

Yeah, I've got everything—except for the one who got away. How do you move on from loving the same girl since you were in the seventh grade? She promised me forever until forever got too hard and at nineteen, she dumped me.

By text message.

Now she's walked back into my life. Just as beautiful. Just as sweet. Just as smart. More grown up and incredibly sexy…

We're older now. Supposedly wiser. This time, I'm going to fight for what I want, no matter how hard it gets.

This time, I'm going to make her mine.

Forever.