July 3rd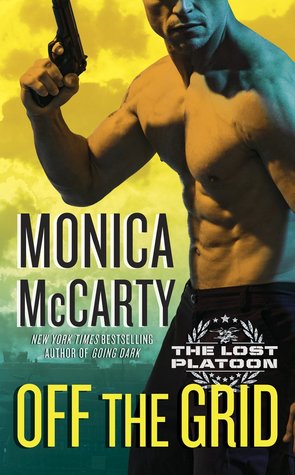 Off the Grid
(The Lost Platoon #2)
by Monica McCarty
Mass Market Paperback, 304 pages
Published July 3rd 2018 by Berkley Jove
ISBN 0399587721
A hunt for dangerous secrets leads to explosive chemistry in this exhilarating romantic suspense novel from the New York Times bestselling author of Going Dark.

A team of Navy SEALs go on a mission and disappear without a trace--they are The Lost Platoon.

Investigative reporter Brittany Blake may have stumbled upon the story of a lifetime in her search for her missing brother. When he seemingly disappears overnight, she refuses to accept the Navy's less-than-satisfying explanation. She begins her own investigation, which leads her to top-secret SEAL teams, covert ops, and a possible cover up...

John Donovan is having trouble biding his time, waiting for his Commanding Officer to figure out who set up their platoon. John's best friend and BUD/S partner, Brandon Blake, was one of the many lives tragically lost in the attack against his team. When Brandon's sister, Brittany, tracks John down, looking for answers, he realizes that she may be their best bet--or bait--for finding out who is targeting SEAL Team Nine.
Strong Hold
(Redemption #5)
by Sarah Castille
Paperback, 384 pages
Published July 3rd 2018 by Sourcebooks Casablanca
ISBN 1492620475
"Shayla?"
For the longest moment Zack's brain couldn't process the sight in front of him.
Seven years, ten months and twenty-seven days. That was how long it had been since he'd seen her.
That was how long it had been since he'd lived a life without regret.

Fight promoter Zack Grayson is on the prowl for a rising star. As the top recruiter of a prestigious MMA promotion company, he wants to take someone where he was never able to go: the top of the professional league. He didn't expect that someone to be the woman he loved...and left.

Top-ranked MMA amateur fighter Shayla "Shilla the Killa" Tyler built walls around her heart when Zack left her seven years ago--and again when her husband turned violent. Now, seeing Zack is nearly enough to send those walls crumbling. But she can't risk the exposure of the limelight, and she definitely can't risk another heartbreak.

As Shayla and Zack grow closer, though, business turns personal. And once their passion unleashes, there's no going back...
Devoted to Pleasure
(Devoted Lovers #1)
by Shayla Black
Paperback, 352 pages
Published July 3rd 2018 by Berkley Books
ISBN 0399587365
The first in an all-new sexy contemporary romance series from New York Times and USA Today bestselling author Shayla Black.

BOUND BY DUTY...

Bodyguard and former military man Cutter Bryant has always done his duty--no matter the cost. Now he's taking one last high-octane assignment before settling down in a new role that means sacrificing his chance at love. But he never expects to share an irresistible chemistry with his beautiful new client.

...TEMPTED BY PLEASURE

As the star of a steamy television drama, Shealyn West knows fame well, but it has come at the expense of her heart. With a blackmailer watching her every move and the threat of career-ending exposure looming, Shealyn hires Cutter to shore up her security and keep her safe, never imagining their attraction will be too powerful to contain.

As Shealyn and Cutter navigate the scintillating line between business and pleasure, they unravel a web of secrets that threaten their relationship and their lives. When danger strikes, Cutter must decide whether to follow his heart for the first time, or risk losing Shealyn forever.
All-American Cowboy
(Holiday, Texas #1)
by Dylann Crush
Paperback, 416 pages
Expected publication: July 3rd 2018 by Sourcebooks Casablanca
ISBN 1492662615
This city boy has it all figured out...
Until he goes toe-to-toe with a fierce cowgirl
who's snagged the home field advantage.

Holiday, Texas is known far and wide as the most celebratory town in the South--and no shindig is complete without one of its founding members. It's a real shame the last remaining Holiday is a city slicker, but what's that old saying about putting lipstick on a pig...?

Beck has no intention of being charmed by some crazy Texas town, but the minute he lays eyes on his grandfather's old honky tonk--and Charlie Walker, the beautiful cowgirl who runs it--he finds himself wishing things could be different. Life's gentler in Holiday. Slower. More real than anything he's ever known. And when he looks into Charlie's eyes, Beck may finally discover what it's like to truly belong.
Wolf's Mate
(Crescent Moon #7)
by Katie Reus/Savannah Stuart
Kindle Edition, 250 pages
Published July 3rd 2018 by KR Press, LLC
ASINB07BZRGH6F
She wasn't supposed to fall for him.

Erica's time away from her pack was just supposed to be fun. Then she met Hudson. Instead of the no-strings attached fling, she ended up falling for him. But they'd promised each other that they'd keep things casual. Instead of risking her heart, she ran. Now she's pregnant—and he's determined to claim her. But the last thing she wants is to be an obligation to him.

Now she's pregnant.

Erica could never be a duty to Hudson, but for some reason that's what she thinks she is. He tried to go slow, to give her space—so he wouldn't scare her off. Now he realizes that was a mistake. It's time for this wolf to claim his mate. Unfortunately a neighboring pack is stirring up trouble for his pack, and his she-wolf is determined to keep walls between them. Walls he intends to bring down once and for all.
To Catch a Texas Star
(Texas Heroes #3)
by Linda Broday
Mass Market Paperback, 416 pages
Published July 3rd 2018 by Sourcebooks Casablanca
ISBN 149265101X
He'll do what it takes to prove his love...

The son of a notorious outlaw, Roan Penny yearns to make his life count...but heroism comes with a price. Left badly injured, only the kindness of a gentle stranger can save him. He longs to be with the captivating beauty―his savior, his Texas star, his Marley Rose McClain―but he knows he'd bring her nothing but trouble.

If only he could convince his heart of that.

Marley's lived a charmed life, and she's determined to spend the rest of her days at her quiet hero's side...but she isn't what she seems. A life-long secret threatens to destroy everything she knows―and everything she could hope to be. As dangerous men threaten to pull her back into the shadows, a desperate Roan must ride hell-bent for leather to save the other half of his heart...before he can lose her light for good.
An Affair with a Spare
(The Survivors #3)
by Shana Galen
Mass Market Paperback, 416 pages
Published July 3rd 2018 by Sourcebooks Casablanca
ISBN 1492638951
He's turned seduction into an art form...

Rafe Beaumont, fifth son of an earl, uses his irresistible charm with the ladies to glean dangerous war secrets. Now he's putting those skills to the ultimate test: capturing an elusive assassin by seducing his daughter. The problem? She's entirely immune to Rafe's flattery.

Never before has Collette Fortier met a man as attractive as Rafe. But her father's life is at stake, and succumbing to Rafe would be disastrous. But when Rafe turns the tables on her, offering support and friendship instead of a fleeting affair, Collette finds herself tempted in ways she never could have imagined...
July 8th
Office Mate
by Katie Ashley
Kindle Edition
Expected publication: July 8th 2018
Thorn

From the first time I played army as a kid, the military has been my life. As an Airborne Major, I'd led my men through two tours in Afghanistan. But when my father was elected president, I became an even greater target for the enemy—a prize for someone to take out. To ensure not only the safety of myself, but of my men, I got stripped of my cammies, shoved into an Armani suit, and placed into a management position at my father's company. After years of trekking through the desert with an assault rifle, I was way out of my area of expertise, which my transition coordinator was more than happy to let me know on a daily, if not hourly basis. The brunette bombshell would be the death of me in more ways than one, especially since I hadn't been with a woman since my last deployment. She's turning out to be one of the greatest foes I've ever done battle with.

Isabel

In the backwoods Georgia town I was born in, you either married right out of high school or got the hell out of town. I chose the second and never looked back. After graduating top in my class, I started working for The Callahan Corporation. Fast forward five years and I was about to become the youngest female manager in the history of my department. And then all the blood, sweat, and tears I'd put into my career were for nothing when the boss's billionaire son was handed my position on a silver platter. Not only that, I was expected to help transition him into the job that was supposed to be mine. Sure, he's easy on the eyes with his chiseled good-looks and impossibly built physique, but I'm not going to let that distract me. I hope soldier boy is good at military strategy because sabotage is the name of the game I'll be playing.
July 9th
Kidnapped by a Rogue
(The Douglas Legacy #3)
by Margaret Mallory
ebook, 320 pages
Published July 9th 2018 by Margaret Mallory
THE DOUGLAS LEGACY
The Douglas sisters, beauties all, are used as pawns in their family's bitter struggle to control the Scottish Crown. But when a Douglas lass is in danger, she'll find she's been left to face it alone.

KIDNAPPED BY A ROGUE
After her brother's dramatic fall from power and banishment for treason, Lady Margaret's husband threw her out to save himself. Now her ambitious brother is back in Scotland with the support of Henry VIII—and a plan to again marry off his beautiful, compliant sister to forge an alliance. But Margaret is determined never to wed again, and she's desperate to escape.

Thanks to his roguish charm and skill with a sword, Finn Sinclair Gordon has managed to survive the treacherous waters between his parents' rival clans—until now. To prove his loyalty, Finn must accept the unsavory task of taking the Douglas chieftain's sister hostage. Oddly, the lass doesn't offer much resistance.

Though Margaret knows better than to trust the devilishly handsome Highland warrior who unwittingly provides her escape, she struggles to fight the unexpected passion that ignites between them. Finn, who likes women for a laugh and a night of pleasure, is blindsided by his fierce desire for this calm and steady lass with a kind heart. Trapped by murderous relatives, they must risk their lives to save each other and prevent a bloody clan war. But will they risk their wounded hearts for love?
July 10th
Free Fall
(Elite Ops #3)
by Emmy Curtis
Paperback, 240 pages
Expected publication: July 10th 2018 by Forever Yours
ISBN 1478947985
From the author of the Alpha Ops series comes an action-packed, super sexy military romance.

A legend among black ops teams, Col. Duke Cameron can't wait to get back in action again-no matter how high the risk. Two of the world's best military pilots are missing after a midair collision, and he's made it his job to find out why.

U.S. Air Force veteran Casey Jacobs loves working for a cutting-edge, high-tech company - until she suspects their newest design might have caused a horrible plane crash. But after a few "accidents," it's clear no one wants her asking too many questions. The only person she trusts to help her is Duke, the sexy secret crush from her flying days who still turns her on like no one ever has.

But someone is watching their every move, making sure they don't uncover the truth. And when the danger turns physical, it's not just their love that's on the line. It's their lives.
Murder Girl
(Lilah Love #2)
by Lisa Renee Jones
Paperback, 272 pages
Expected publication: July 10th 2018 by Montlake Romance
ISBN 1503902617
New York Times bestselling author Lisa Renee Jones returns with the second book in her electrifying series featuring Lilah Love, an FBI profiler who doesn't fight her dark side—she embraces it.

It's Lilah Love's job to inhabit a killer's mind. The unapologetically tough FBI profiler is very comfortable there. But her latest case is making her head spin. It's a string of brutal assassinations carried out across the country, each tied to a mysterious tattoo. Body by body, she's followed the clues all the way back to her hometown. And every step of the way, the killer has been following her.

Here, beneath the glamour of the privileged Hamptons community, is a secret long buried but never forgotten. It's bigger than Lilah. It's powerful enough to escape the reach of the FBI. And it's more personal than anyone can imagine. Because it's hiding in Lilah's own past. To fight it, she's forced to turn to her lethally tempting ex, Kane Mendez. He's an expert at bringing out Lilah's darkest impulses. If she plans to survive, she's going to need them.
The Real Deal
by Lauren Blakely
Paperback, 368 pages
Expected publication: July 10th 2018 by St. Martin's Griffin
ISBN 1250165938
Get ready for your next favorite romantic comedy, THE REAL DEAL!

April Hamilton wants you to know she hasn't been on Craigslist since that time she sold her futon after college. She doesn't even spend that much time online. And even if she did, she would not be looking up personal ads. But going home alone for her family's summer reunion is an invitation for every single relative to butt into her personal life. She simply can't handle another blind date with the butcher, the baker or the candlestick maker from her hometown. So when she finds the Craigslist ad for a boyfriend-for-hire, she's ready to pay to play.

Heading Home and Need a Buffer? I'm the REAL DEAL.

Theo Banks has been running from the past for years. He's this close to finally settling all his debts, and one more job as a boyfriend-for-hire will do the trick. He's no gigolo. Please. He's something of an actor, and he knows how to slip into any role, including pretending to be April's new beau -- the bad boy with the heart of gold.

Even if it means sleeping in close quarters in that tiny little bed in her parents' inn. Even if it means spinning tales of a romance that starts to feel all too true. What neither one of them counts on is that amid the egg toss, the arm wrestling, and a fierce game of Lawn Twister that has them tangled up together, they might be feeling the real deal.

She only wanted to show her family once and for all that she had no need to settle down.

He didn't expect to have the time of his life at her parent's home.

They didn't plan on loving every single second of the game.

But can a masterful game of pretend result in true love?
Kissing Jenna
(Big Sky #2)
by Kristen Proby
Kindle Edition
Expected publication: July 10th 2018 by Ampersand Publishing, Inc.
ASINB07C453R16
From New York Times Bestselling Author Kristen Proby comes the newest installment in her beloved Big Sky Series…

Jenna Hull owns and manages vacation rentals in her hometown of Cunningham Falls, Montana. She's just completed the construction of her most exhausting project, the one she's put her heart and soul into. The inviting, opulent Snow Wolf Cottages are the first ski in/ski out tree houses in the world.

Her biggest dream is about to come true, and she can't let anything distract her.

Christian Wolfe is Hollywood's it actor. If the magazines are to be believed, he's the sexiest man on earth. He's preparing for the biggest movie role of his life, and his agent has booked him in a hot new ski lodge in Montana, tucked away from crazy fans. He can't wait for the break.

But what Christian isn't prepared for is Jenna. With a face that could easily co-star with him in a movie and her ambition to put her stamp on Cunningham Falls, he can't stay away. But even more intriguing than her beauty is the fact that she's not at all impressed with his celebrity status, only turned on by the man behind the fame.

The love they've found is perfect—but time is running out before real life intrudes. Can they survive with both their dreams—and hearts—intact?
I Think I Love You
(Oxford #5)
by Lauren Layne
Kindle Edition, 1st edition
Expected publication: July 10th 2018 by Loveswept
ASINB076NVFTQ4
A game of seduction between two best friends goes deliciously wrong in an irresistible Oxford Novel that brims with wit and sexual tension. Library Journal hails Layne's work as "exemplary contemporary romance."

Brit Robbins knows that dating in New York City is hard—she just hoped to have it mastered by age thirty. But after yet another promising suitor says they have no sparks, Brit decides it's time to torch her dating game and try a new plan. And who better to coach Brit through the art of seduction than the guy who first gave her the "let's be friends" card?

Hunter Cross has always figured there's nothing his best friend Brit can do to surprise him. But Brit's request is a surprise he doesn't see coming—and one he's definitely not prepared for. Hunter and Brit have always been careful to keep things perfectly platonic, but the fake dates and faux flirting are starting to feel like the real deal. And soon Hunter realizes he has taught Brit too well. Not only has she become an expert at seduction, the man becoming thoroughly seduced is him.
Freed
(Rosewood Bay #3)
by Carly Phillips
ebook, 1st edition
Expected publication: July 10th 2018 by CP Publishing
ISBN139781942288954
Fall for the missing Ward sister…

Juliette Collins is privileged and isolated from the world by her over-protective father. She thinks she knows the truth about her history until a file on her father's computer reveals she has sisters she never knew about. A family she's never met. Betrayed, she realizes there's a life waiting for her outside the walls of her daddy's New York City penthouse and Juliet is determined to live it. Against her father's wishes, she heads to a small beach community to meet her siblings… and finds herself way out of her depth instead.

In the personal protection business, Braden Clark thinks nothing of taking on a job to watch over a city girl in town for the summer. If her father wants to know his daughter is safe, it's no problem and an easy way of earning a paycheck. Except Braden doesn't count on falling for the sheltered Juliette. Watching her experience her firsts, getting an apartment, finding a job, meeting up with her lost sisters, soon Braden's brand of protection becomes a little too personal. He's mixing business with pleasure and lying to a woman he's coming to care deeply about.

Sexual attraction burns bright between them and Braden is by her side as she finds herself, her family, and what it means to love... but what happens when she discovers his secret? That he's been paid to watch over her all along?
Awaken the Darkness
(Immortal Guardians #8)
by Dianne Duvall
Kindle Edition, 414 pages
Expected publication: July 10th 2018 by Dianne Duvall
ASINB07CVCVFNR
He awakens encapsulated in dirt with no knowledge of how he came to be there. Riddled with injuries, he can remember neither his past nor who he is. Nor can he remember what he is. But surely no mortal man could survive being buried deep beneath the earth. All he knows with certainty is that the soothing voice and presence of the woman moving around above enables him to endure the agony of his wounds. And he will do whatever it takes to be with her.

When Susan first sees the old two-story house for sale, such warmth and longing fill her that—against all reason—she makes an offer. It will take years of hard work and money she frankly doesn't have to fix up the place. So she can't explain why she bought it. She also can't explain what compels her to spend hours one night, digging in the basement until she unearths a man. A man who still lives and breathes despite having been buried alive. A man whose intense brown eyes glow amber with pain, declaring him far more than ordinary. Susan knows she should keep her distance. He has no memory and possesses gifts that would make most fear him. But as the two work together to unravel the mystery of his past, she finds herself drawn in by his teasing nature and tender touch. So much so that she loses her heart to him even as they find themselves hunted by unknown enemies who are ruthless in their quest to capture them.
Bright We Burn
(The Conqueror's Saga #3)
by Kiersten White
Paperback, 416 pages
Expected publication: July 10th 2018 by Delacorte
ISBN 0525644466
Haunted by the sacrifices he made in Constantinople, Radu is called back to the new capital. Mehmed is building an empire, becoming the sultan his people need. But Mehmed has a secret: as emperor, he is more powerful than ever . . . and desperately lonely. Does this mean Radu can finally have more with Mehmed . . . and would he even want it?

Lada's rule of absolute justice has created a Wallachia free of crime. But Lada won't rest until everyone knows that her country's borders are inviolable. Determined to send a message of defiance, she has the bodies of Mehmed's peace envoy delivered to him, leaving Radu and Mehmed with no choice. If Lada is allowed to continue, only death will prosper. They must go to war against the girl prince.

But Mehmed knows that he loves her. He understands her. She must lose to him so he can keep her safe. Radu alone fears that they are underestimating his sister's indomitable will. Only by destroying everything that came before--including her relationships--can Lada truly build the country she wants.

Claim the throne. Demand the crown. Rule the world.
Lost
(House of Night Other World #2)
by P.C. Cast and Kristin Cast
Hardcover
Published July 10th 2018 by Blackstone Publishing
ISBN 1538440741
Things have settled down at the Tulsa House of Night since Zoey and the gang closed the tear between worlds and sent Other Kevin back to the Other World. Neferet hasn't stirred. Damien and Jack are falling in love all over again. Stevie Rae and Rephaim are back in Tulsa where they belong. The Depot Restaurant is being rebuilt with the enthusiastic involvement of local humans. A new school year has begun, and Zoey's exchange student program with public schools is really taking off. All is well.But if all is well, why is Zoey increasingly withdrawn and moody?Sadly, Stark is sure he knows the answer to that question. Zoey can't stop thinking about following her brother to the Other World, and Stark isn't deluding himself about why. Of course she wants to be sure her brother is okay. Of course she wants to help defeat Neferet in yet another world and be sure the balance between Light and Darkness is restored. But the real reason Z is so drawn to that other House of Night world is because Heath Luck, her childhood sweetheart, is alive in that world-alive and mourning her death.In Lost, we follow Zoey, Stevie Rae, and Rephaim to an alternative version of the House of Night, where dangers take the form of friends and allies are found in the strangest places. Will Z return to our world and leave Heath to his? And if she does, will Stark forgive her for leaving? Find out in the second part of this exciting new House of Night Other World adventure!
Learn about Loss
(Ghosts of the Shadow Market #4)
by Cassandra Clare and Kelly Link
ebook
Published July 10th 2018 by Shadow Market Enterprises
ISBN139780999570531
It is only three years since Tessa Gray lost her beloved husband William Herondale, and she is searching for a reason to live, trying to find the path of being a warlock with the guidance of her friend Catarina Loss. World War 2 rains down destruction on their world, and Tessa and Catarina become nurses who make bargains at the Shadow Market for enchantments to help suffering mundanes. But can Brother Zachariah bear to see the woman he loves risk her life, or might he consider breaking sacred vows to save her from loneliness?
July 16th
Love Machine
by Kendall Ryan
Expected publication: July 16th 2018 by Kendall Ryan
July 17th
Steele
(Daring the Kane Brothers #2)
by Kelly Gendron
ebook, 1st edition, 220 pages
Expected publication: July 17th 2018 by Kelly Gendron
She dared me to take her on and that's exactly what I plan to do…

I'm no stranger to daring things
However, there are a few stunts even I'm smart enough not to try
Jaylyn Rigsby is one of them
But when the raven-haired beauty
The insurance company sent to oversee my stunts
Dared me to take her on, well, now..
Challenge accepted ~ STEELE

My next assignment has a reputation of cutting through the red tape to get what he wants
But I'm good at my job
Steele Kane isn't going to get whatever he wants
Even, if one of the things he wants is me
Case closed ~ JAYLYN

Will Jaylyn be the first to tame this overbearing stuntman, or will Steele hold out and get what he wants?
Rock Legend
(Nothing But Trouble #2)
by Tara Leigh
Paperback, 368 pages
Expected publication: July 17th 2018 by Forever Yours
ISBN 1538712806
Fans of Kristen Callihan, L.J. Shen, and Kylie Scott will scream for this sizzling bad boy rock star romance!

I'm no Prince Charming.

Most people know me as the drummer for Nothing but Trouble. Depending who you ask, I'm also a playboy, a loner, the life of the party, a screw-up, or according to my fans, "The Sexiest Rock Star on the Planet." Apparently, I'm a legend.

Am I surprised? Hell, no. It's a reputation I've earned behind my drum kit and behind closed doors. No one thought foster kid Landon Cox would become famous. Infamous, maybe. Notorious, probably. But successful? Never. No one except Piper Hastings. But I had to make a choice: my woman or my career. I picked fame and fortune... and spent every damn day since pretending I don't regret it.

Now fate's dropped Piper back into my life. I want to believe it's a second chance for me - for us. But while I can give her a few great nights, I can't give Piper a future.

Because there's a difference between a legend and a fairy tale...
Only one of them ends happily ever after.
All Your Perfects
by Colleen Hoover
Paperback, 320 pages
Expected publication: July 17th 2018 by Atria Books
Original TitleAll Your Perfects
ISBN 1501193325
Colleen Hoover delivers a tour de force novel about a troubled marriage and the one old forgotten promise that might be able to save it.

Quinn and Graham's perfect love is threatened by their imperfect marriage. The memories, mistakes, and secrets that they have built up over the years are now tearing them apart. The one thing that could save them might also be the very thing that pushes their marriage beyond the point of repair.

All Your Perfects is a profound novel about a damaged couple whose potential future hinges on promises made in the past. This is a heartbreaking page-turner that asks: Can a resounding love with a perfect beginning survive a lifetime between two imperfect people?
Saving Beck
by Courtney Cole
Hardcover, 304 pages
Expected publication: July 17th 2018 by Gallery Books
ISBN 1501184520
Reminiscent of the beloved novels by Mary Kubica and Jodi Picoult comes a chilling portrayal of a son's addiction and its harrowing effects on both him and his mother from New York Times bestselling author Courtney Cole.

There comes a time when offering your life for your child's doesn't work, when you realize that it'll never be enough.

The cold needle in his warm vein was a welcome comfort to my son at first. But then it became the monster that kept us apart.

Heroin lied, and my son believed. It took him to a world where the last year didn't happen, to a place where his father was still alive. What Beck didn't understand was that it couldn't bring his father back from the dead. It couldn't take away his pain, not permanently.

You think it can't happen to you, that your kids, your family, will never be in this situation.
I thought that too. But you're wrong.

Step into our world, and see for yourself.
Watch my golden boy become a slave to this raging epidemic. Watch me try and save him.

Drug addiction comes with a price.
Trust me, you're not equipped to pay it.

Don't miss this heartwrenching, evocative, yet hopeful novel—it will leave you forever changed.
July 18th
Every Time We Fall In Love
(The Sullivans #18)
by Bella Andre
Kindle Edition
Expected publication: July 18th 2018 by Oak Press, LLC
ASINB07CSRPSHF
Harry Sullivan has always put his family first, even when it meant losing Molly—his one true love. He's never been able to forget her, even after fifteen years. Now that his siblings are all blissfully happy, Harry hopes it's not too late for his own happily-ever-after. But then his doorbell rings…and one look at the teenage girl standing on his doorstep changes absolutely everything.

Molly never thought she'd see Harry Sullivan again, so she's beyond stunned when her fifteen-year-old daughter brings him back into her life. At eighteen, Harry was already strong, sexy, and honorable. And now that he's even more handsome, more brilliant, more loyal and caring? Molly can't stop herself from falling in love with him all over again. Especially when his kisses and the sizzling attraction between them are hotter than ever.

But with more at stake now than they ever thought possible, will they be able to move beyond the mistakes they both made in the past, and fall in love forever this time?

EVERY TIME WE FALL IN LOVE is part of Bella Andre's New York Times and USA Today #1 bestselling series about The Sullivans. While it can easily be read as a stand-alone story, you'll likely enjoy reading the other books, too.
July 23rd
The Naked Truth
by Vi Keeland
Paperback, 300 pages
Expected publication: July 23rd 2018 by Vi Keeland
ISBN 1942215827
From #1 New York Times Bestseller Vi Keeland, comes a new, sexy standalone novel.

It was just a typical Monday.

Until the big boss asked me to make the pitch for a prospective new client.

After two years on shaky ground at work because of my screw up, an opportunity to impress the senior partners was just what I needed.

Or so I thought…

Until I walked into the conference room and collided with the man I was supposed to pitch.

My coffee spilled, my files tumbled to the ground, and I almost lost my balance.

And that was the good part of my day.

Because the gorgeous man crouched down and looking at me like he wanted to eat me alive, was none other than my ex, Gray Westbrook.

A man who I'd only just begun to move on from.

A man who my heart despised—yet my body obviously still had other ideas about.

A man who was as charismatic and confident as he was sexy.

Somehow, I managed to make it through my presentation ignoring his intense stare.

Although it was impossible to ignore all the dirty things he whispered into my ear right after I was done.

But there was no way I was giving him another chance, especially now that he was a client
…was there?
July 24th
Envy
(Eagle Elite #9.5)
by Rachel Van Dyken
Kindle Edition, 4 pages
Expected publication: July 24th 2018 by Evil Eye Concepts, Incorporated
ASINB077PFRJNN
From New York Times and USA Today bestselling author Rachel Van Dyken comes a new story in her Eagle Elite series…

Every family has rules, the mafia just has more....
Do not speak to the bosses unless spoken to.
Do not make eye contact unless you want to die.
And above all else, do not fall in love.
Renee Cassani's future is set.
Her betrothal is set.
Her life, after nannying for the five families for the summer, is set.
Somebody should have told Vic Colezan that.
He's a man who doesn't take no for an answer.
And he only wants one thing.
Her.
Somebody should have told Renee that her bodyguard needed as much discipline as the kids she was nannying.
Good thing Vic has a firm hand.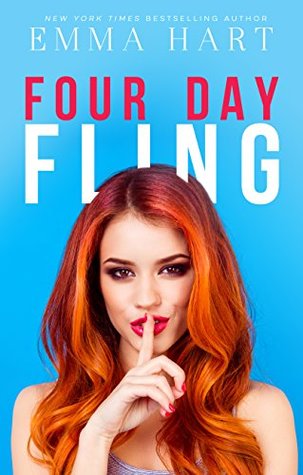 Four Day Fling
by Emma Hart
ebook
Expected publication: July 24th 2018 by Emma Hart
ISBN139781370280148
A standalone romantic comedy of epically awkward proportions, from New York Times bestselling author, Emma Hart.

Imagine this.
You're ready to leave after a one-night stand, and you're figuring out how to—shock horror—leave your number and ask him to be your fake boyfriend for your sister's wedding this weekend.
When he wakes up.
Well, that happened to me. And over coffee and omelets, I found myself a date.

Which was how I ended up arriving at the wedding with a guy I knew nothing about.
I didn't know his last name, or how we met, or how long we'd been dating. I didn't know where he grew up, what he'd majored in in college, or how many siblings he had.
I sure as hell didn't know he was Adam Winters, hotshot hockey player—and not only my father's favorite player, but my little nephew's freakin' idol.
Which means I'm in trouble. Big, big trouble.
My mother is suspicious, my sister is bridezilla on crack, and my grandpa will tell anyone who'll listen about his time in Amsterdam's Red Light District.
Four days.
I have to keep this up for four days, and then Adam and I can return to our regular lives, where we don't have sex whenever we're alone and my family aren't interrogating him over his intentions with me.

At least, that's the plan.
And we all know what happens to those.
Blind Love
(Cowboys & Angels #5)
by Kelly Elliott
Kindle Edition
Expected publication: July 24th 2018 by K. Elliott Enterprises, INC
ASINB07D6TVTXD
Harley and I had our whole lives planned out, until her plans changed, and those plans didn't include me.

After years spent trying to get the love of my life out of my head and repair my too-damaged heart, I thought I was finally moving on…but life sure has a funny way of letting you know when those best-laid plans are about to be turned upside down.

My entire world was rocked when Harley unexpectedly moved back to Oak Springs. Every miserable moment I'd spent trying to get over her and every hour I'd wasted trying to erase her from my life came back to haunt me the minute she walked into my office, fear in her eyes, and asked me for help. Would I…or better yet, could I walk away from her this time after all that she had put me through?

What I really needed to know is would I be able to forge ahead with the future I had so meticulously planned—one that didn't include Harley—or will her return finally open my eyes to a future full of endless possibilities?
AMAZON
July 27th
Break: A Stand-Alone Romance
by Cassia Leo
Kindle Edition
Expected publication: July 27th 2018
ASINB07CZ8YQXG
A humorous and heartbreaking second-chance stand-alone romance from the New York Times bestselling author of the Shattered Hearts Series.

For six years, she was the only one. My best friend. My kitten. My world. Then, I broke us by getting caught in a web of lies.

Hard to believe, after everything we'd been through, I could do what I did to her… in front of 600,000 people. I doubt she'll ever believe I did it because I love her.

Three years later, my music career is booming. I have a movie deal in the next comic book reboot. And now the only parent I have left has been given a death sentence. I have to go home, but going home means facing what I did to her.
July 29th
Playboy
(Manwhore)
by Katy Evans
Kindle Edition
Expected publication: July 29th 2018
ASINB07CRNRQCR
A brand new contemporary romance from New York Times, Wall Street Journal, and USA Today bestselling author Katy Evans.

It started as a game.
We flirted. We played. Most importantly—we won.
Then I discovered who he was: Gambler. Famous playboy. Silver-eyed player who never plays to lose.
…And my best friend's soon-to-be brother in law, Cullen Carmichael.
He needed a good luck charm, I needed a distraction.
So we made a gamble and set off for Vegas—but pretty soon—I was in too deep.
My heart, soul, and body weren't supposed to be part of the deal.
But somewhere between big wins and long nights, my house of cards started to tumble.
What was this devil with those piercing eyes doing to me?
I'd given up on love, but the wicked, all-in Cullen Carmichael was upping the ante and wouldn't stop until he'd won it all.
July 30th
Handle With Care
by Nina Croft
ebook, 250 pages
Expected publication: July 30th 2018 by Entangled: Amara
ISBN 1640636390
What if all you want is the one thing you can't have?

First grade teacher Emily Towson always does the right thing. The sensible thing. But in her dreams, she does bad, bad things with the town's baddest boy: Tanner O'Connor. But when he sells her grandmother a Harley, fantasy is about to meet a dose of reality.

And then he goes and calls her "sensible"...

Tanner can't believe sweet Emily is standing in his shop. Yelling and waving her hands and looking so god damn sexy he's having trouble focusing. He'd spent two hard years in prison, with only the thought of this "good girl" to keep him sane.

He really should send her away...

Before either one thinks though, they're naked and making memories on his tool bench with apparently the oldest condom in history. Now Tanner's managed to knock-up the town's "good girl" and she's going to lose her job over some stupid "morality clause" if he doesn't step up.

But can this bad boy teach his good girl they're perfect for each other in time?
Butterface
(The Hartigans #1)
by Avery Flynn
ebook, 1st edition, 250 pages
Expected publication: July 30th 2018 by Entangled Amara
ISBN139781640634589
It's true. I'm not what most people would call "pretty" and, well, high school was rough. Fast forward ten years and life is good…

Until a bunch of jerks think it's hilarious to put the "butterface" (AKA me) on a wedding Kiss Cam with the hottest guy ever—and that old humiliation hits hard.

I recognize him immediately. The hottest cop in Waterbury and totally out of my league.

But then he kisses me.

And we totally forget the room, the crowd, everything.

Then he tells everyone we've been dating for months.

Soon everything starts to feel too real, from adorable fights over "necessary" tools to fix my broken porch to surviving a free-for-all dinner with his six siblings to picking up where our last kiss left off.

But there's something he's not telling me about why he's really hanging around, and I'm pretty sure it has to do with my mob-connected brothers.

Because this is not a make-over story, and Cinderella is only a fairy tale…
July 31st
Deep Cover
(Love Over Duty #3)
by Scarlett Cole
Kindle Edition
Expected publication: July 31st 2018 by St. Martin's Paperbacks
ASINB0765CBPRS
ARE THEY IN TOO DEEP?

Ex-Navy SEAL Cabe Moss always comes when called to duty―at all costs. Even though the death of his fiancée nearly destroyed him, Cabe won't let his past interfere with any work that has to get done. When his latest task pushes him to team up with FBI Agent Amy Murray, a fierce beauty with the undercover skills to match, Cabe must admit that, for the first time in years, he wants to do more than just complete their mission together…

Amy was born ready for this assignment, but working side-by-side with the the strong, silent, and frustratingly professional Cabe seems to be the biggest challenge of all. But when the sparks begin to fly―and the stakes rise to dangerous heights―the only thing Amy is left worrying about is how she can resist him. Their lives may be in danger, but their hearts hold the biggest risk of all…
Darkest Night
(Wired & Dangerous #2)
by Megan Erickson
Kindle Edition, 320 pages
Expected publication: July 31st 2018 by Forever
ASINB0776RP593
Bodyguard Jock Bosh has one job: keep Fiona Madden safe. Safe from the men who've been hunting her. Safe from the bastard responsible for ruining her life. And with the attraction sizzling white-hot between them, that means keeping Fiona safe from him too.

Fiona has spent the past decade on the run. Her survival is the single greatest weapon she's had against the men out to destroy her. Until Jock. Now, with him by her side, she finally has a chance to bring them down. But when her enemies make their next move and Jock puts himself in the line of fire, Fiona realizes that there's more at stake than just her life-she's also risking her heart.
Wild Like the Wind
(Chaos #6)
by Kristen Ashley
Kindle Edition, 7 pages
Expected publication: July 31st 2018
ASINB079LBNXV7
The brother known as Hound has a reputation. He's all about cracking heads, having a good time, and when the Chaos Motorcycle Club needs someone to do the tough job, they call on him.

But Hound has a secret. He fell in love with a woman years ago. She's untouchable. Unattainable. And even when her status changes, for Hound, it remains the same.

Keely Black had it all early and lost it all not long after. Thrown into an abyss of loss and grief, she's faced a life of raising two sons alone and battling the rage at all that had been ripped from them.

And why.

Words spoken in anger open Hound's and Keely's eyes. For Hound, he sees he's wasted his life loving the wrong woman. Keely sees she's wasting her life not opening herself to the love of a good man.
Maneuver
by Chelle Bliss
Expected publication: July 31st 2018