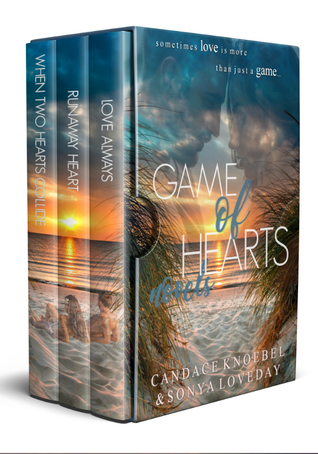 Game of Hearts Novels Boxed Set
by Sonya Loveday & Candace Knoebel
ebook, 843 pages
Published July 23rd 2018 by Sonya Loveday & Candace Knoebel
ASINB07FS6XHN8
Game of Hearts, a three book boxed set from Sonya Loveday and Candace Knoebel.

Sometimes love is more than just a game...
Starting with Love Always, check out this dramatically heartwarming, steamy series. Set sail with Maggie, as she steers Phillip into the open waters of freedom. In Runaway Heart you can skate along with Hannah as she makes her way into the Olympic roller derby team and knocks Ed right off his feet. Then come hang out at the Raven's Den with Charlotte in When Two Hearts Collide. She's brewing up more than just coffee with Charlie, and it's sure to be stronger than anything he's ever had before.

Love Always: Sometimes you have to lose it all to find yourself.
Maggie is a fisherman's daughter with a big heart and a thirst for adventure.
Phillip is the son of a business mogul who walks the straight and narrow. But after a shared night of beer, skinny-dipping, and late-night dancing, an unbreakable bond is formed that can withstand anything. Or can it?

Runaway Heart: One hurricane. Two Strangers. No rules.
Stranded on a tropical island during a hurricane, Hannah and Ed are forced to ride out the storm together. Neither realizing how much of a storm they've brewed up between them until they return home. There's one problem though. An ocean separates them. That is, until fate throws them a second chance. A chance that could either bring them together, or forever tear them apart.

When Two Hearts Collide: Love knows no boundaries when two hearts collide.
Charlie isn't the settling down kind. In fact, he's having too much fun being footloose and fancy-free. Until, out of the blue, he's given a tempting offer he can't refuse. A vacation in The Hampton's. A chance to see Charlotte again after putting the brakes on what could have been one of the best nights of his life. The thought of seeing Charlie again terrifies and excites Charlotte. Try as she might, she hasn't been able to forget him. Things heat up with Charlie's arrival. But shared chemistry isn't always enough to build a forever kind of love, or is it?
About the Authors
Candace Knoebel is a hopeless romantic with an affinity for whiskey and good music. Her love of words began when she met the boy who lived in the cupboard under the stairs. She's a self-proclaimed Lost Girl. Words are her mirror.

With two completed series, her work ranges from paranormal to contemporary, all centered heavily around romance. Currently she lives in Florida with her husband and two children, and has just completed her thirteenth novel, The Taste of Her Words. www.candaceknoebel.com
Sonya Loveday is a full time author. Mother of two teenagers. Wife to an amazing man for 18 years. Dog lover. Cat lover. COFFEE addict. Night Owl. She's a sucker for a good book. Loves the quiet life. Has the bestest best friend in the whole world. Her imagination never shuts off which makes it hard to sleep. The worst cook. Seriously.

To see what's coming up for releases be sure to follow Sonya on her author pages. https://www.sonyaloveday.com/