New York Times best-selling paranormal romance author Felicity Heaton has a special four book cover reveal today for her thrilling new shifter romance series, Cougar Creek Mates. Set in her popular Eternal Mates world, Cougar Creek Mates takes you into the deep Canadian wilderness to a secret place that's home to a cougar shifter pride led by four sexy brothers, each guaranteed to steal your heart and set it racing! With all four books in the series releasing just weeks apart, this is going to be one hot summer.
(Cougar Creek Mates Shifter Romance Series Book 1)
Felicity Heaton
Expected publication: July 28th 2018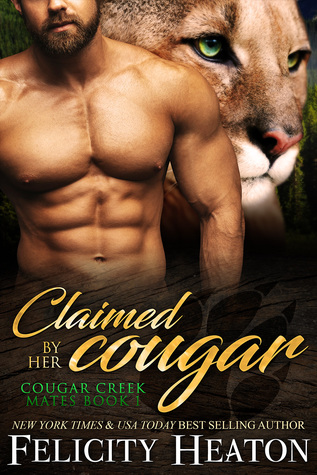 Having lost his parents and mate in a brutal attack on his cougar shifter pride by a hunter organisation, Rath burns with a need to keep humans off his land and out of his life. He'll do whatever it takes to protect his pride from them, but when a lone female wanders into his territory, it isn't a burning need to drive her away he's feeling and it isn't his pride that needs protecting—it's his heart.

Down on her luck, Ivy follows a lead to a spot where she hopes to photograph black bears, but what she discovers there is a mountain of a man who lacks manners and seems determined to drive her off his property—a man who stirs unbidden fire in her veins and a strange sense of home.

With a pride gathering on the verge of happening at Cougar Creek and the air charged with a mating heat, the last thing Rath needs is a human on his land, especially one as beautiful and alluring as Ivy, one who rouses a fierce need to fight for her, but he can't convince himself to let her go… and that proves dangerous for them both.
(Cougar Creek Mates Shifter Romance Series Book 2)
Felicity Heaton
Expected publication: August 18th 2018
In the wake of an Archangel attack on Cougar Creek, Storm is seething with a need for revenge against the hunter organisation and the key to it might be the petite blonde mortal he's locked in his cabin, one he's determined to make sing for him. Only the beauty has a fiery temperament to match his own, and the more time he spends with her, the more she stokes a fire inside him. One that fills him with a startling and undeniable need to make her sing in another way—in his arms
.
Gabriella isn't going to take her captivity lying down. She's going to give the pig-headed brute holding her against her will hell until he finally believes she's innocent. He might be a cougar shifter, but she isn't afraid of him. Or at least she isn't afraid of what he is. The way he affects her, the flames that lick through her whenever they're close, terrifies her though, because the longer she's around the towering sexy-as-sin shifter, the hotter that fire blazes, and it's only a matter of time before it burns away all her restraint.

With the mating heat and the attack bringing cougars back to the creek, Gabriella is a complication Storm doesn't need, but she's one that he wants… because she might just be his one true mate.
(Cougar Creek Mates Shifter Romance Series Book 3)
Felicity Heaton
Expected publication: September 8th 2018
Madness is sweeping through Cougar Creek, and Flint wants no part of it. The fever has two of his brothers in love already, and Flint is damned if he's giving up the bachelor life to tie himself to one female, but when a perimeter sweep has him running into an exotic and enthralling beauty who rouses his instincts as a cougar shifter and a male, the hunt is on.

All Yasmin is interested in is making sure her friend, Ivy, is safe, but the alluring black-haired man with a wicked smile she meets on the path to the creek has her thinking about other things. When an incident at Cougar Creek leads to her revealing a secret, and Flint's persistence pushes her to a rash decision, her entire world is in danger of being turned upside down.

With the gathering in full swing, and males determined to prove their worth to Yasmin, Flint discovers he's not immune to the madness sweeping through the creek, because he'll do whatever it takes to claim victory and win Yasmin's heart… no matter how dangerous it is.
(Cougar Creek Mates Shifter Romance Series Book 4)
Felicity Heaton
Expected publication: September 29th 2018
For the last twenty years, Cobalt has burned with a need of one female, a beautiful raven-haired cougar who captured his heart the moment he set eyes on her. His position as pride protector has been a blessing at past mating gatherings, keeping females away, but this time it feels like the worst of curses, because the female who has bewitched him so thoroughly is taking part for the first time and all he can do is watch as males battle for her.

As much as she hates the way her mother controls everything in her life, Ember is thankful for it as she constantly turns away suitors, unaware of the pain she's sparing Ember from with every male she rejects. Every male who isn't the gorgeous blond with darkness in his eyes and an easy smile she burns for with an intensity that scares her, awakens feelings in her that have her verging on doing something reckless. Damaged goods he might be, dangerous and unpredictable, but with every contest over her that pulls her closer to her doom, she grows more determined to follow her heart, no matter the consequences.

With every fight over the right to Ember, the tethers on Cobalt's feelings twist and threaten to snap, a torment he cannot bear and one that has him willing to risk it all, because a single kiss would make even the harshest punishment worth it. He would die for one moment with her… his fated mate.
ABOUT FELICITY
Felicity Heaton is a New York Times and USA Today international best-selling author writing passionate paranormal romance books. In her books, she creates detailed worlds, twisting plots, mind-blowing action, intense emotion and heart-stopping romances with leading men that vary from dark deadly vampires to sexy shape-shifters and wicked werewolves, to sinful angels and hot demons! If you're a fan of paranormal romance authors Lara Adrian, J R Ward, Sherrilyn Kenyon, Gena Showalter and Christine Feehan then you will enjoy her books too.

If you love your angels a little dark and wicked, the best-selling Her Angel series is for you. If you like strong, powerful, and dark vampires then try the Vampires Realm series or any of her stand-alone vampire romance books. If you're looking for vampire romances that are sinful, passionate and erotic then try the best-selling Vampire Erotic Theatre series. Or if you prefer huge detailed worlds filled with hot-blooded alpha males in every species, from elves to demons to dragons to shifters and angels, then take a look at the new Eternal Mates series.