What I Love about Rodeo
There are so many things I love about rodeo that I could—and have—filled several books (aka the
Texas Rodeo
series). A million tiny details like the scent of wood shavings in a horse stall, the indescribable joy of a perfectly thrown loop, or the way a belt and buckle sets off a nice pair of hips. Lately, though, I've come to appreciate a facet of rodeo and life on the ranch that I've always taken for granted: rodeo makes women stronger.
Unlike other parts of our society, in rodeo and ranching, strength is a highly prized trait in a woman—both physical and mental. From the time we are old enough to be hoisted onto a pony to trot around the arena, we are praised for being ambitious, competitive, aggressive and independent. We are valued as much for what our bodies can accomplish as we are for our appearance. I might've started out by catching my husband's eye, but I captured his heart the first time he saw me sort cows.
The smart, capable, take-no-crap women of the Texas Rodeo books are products of my environment, and none more so than Melanie Brookman of Fearless in Texas. May every reader who ventures into our world steal a page from her book and leave with a little more cowgirl in their blood—and their attitude.

- Kari Lynn Dell




Kindle Edition, 1st edition, 448 pages
Expected publication: April 3rd 2018 by Sourcebooks Casablanca
After her life comes crashing down, Melanie Brookman is determined to claw her way back up again—and this time, she won't make the same mistakes twice. So when her friend sends Wyatt Darrington to help, Melanie keeps him at arm's length. He's exactly the sort of trouble she doesn't need.





Wyatt has the perfect distraction for Melanie: rescue his failing bar. She reluctantly agrees and together they hit the road. As they spend more time with one another, undeniable attraction grows. But Wyatt knows that if she ever found out his closely guarded secret, any chance at happily ever after would be left in the dust...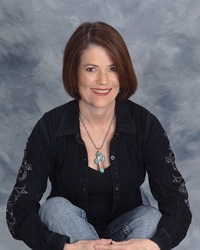 KARI LYNN DELL brings a lifetime of personal experience to writing western romance. She is a third generation rancher and rodeo competitor existing in a perpetual state of horse-induced poverty on the Blackfeet Nation of northern Montana, along with her husband, son and Max the Cowdog. http://www.KariLynnDell.com
a Rafflecopter giveaway