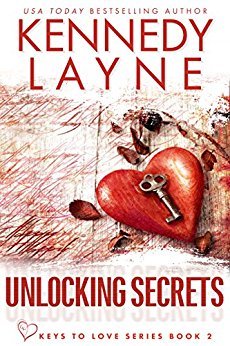 Unlocking Secrets
(Keys to Love #2)
by Kennedy Layne
Kindle Edition
Published March 20th 2018 by Kennedy Layne Publishing
ASINB071CDW8PQ
A grim discovery in Lance Kendall's home proved one thing—the residents of Blyth Lake had a serial killer in their midst. Now Lance had unintentionally put a target on his back. Worst yet, he's made the only woman he ever loved known to a murderer.

A trip down memory lane with the man who'd broken Brynn Mercer's heart wasn't the smartest thing she'd ever done in her life, but their reunion was a slow burn of temptation that she couldn't ignore.

Together, they will only have one chance to correct the past. Will the hidden secrets he uncovered threaten their love or solidify it for a future that has always been out of their reach?

Their homecoming wasn't so welcoming. Four brothers and one sister each gave twelve years of their lives to serve their country and fulfill their family's legacy of service. As each of them return to their home of record, they weren't prepared for what awaited them—an unforgiveable sin that has been hidden for twelve long years. Secrets and lies are concealed in the dark shadows of the very town they were raised in, and the Kendall family will have no choice but to rely on one another to unravel the sinister evil that they all hold the keys to unlock.
Excerpt:
Lance held back from knocking on Brynn's office door. He glanced back to the bar area, noticing the band was starting to set up for their live performance. Tiny was already deep in conversation with their road manager, but Lance didn't doubt Brynn had already covered tonight's song choices.
He'd always known that she would still be in Blyth Lake when he returned, though he honestly thought she'd be married and living on the edge of town in a two-story house with a white picket fence, raising a little girl who was her exact duplicate. There was never a time that he spoke to his parents over the years that he didn't inquire about her and what life had been like for her.
Brynn had made it perfectly clear last night that she didn't think they could reclaim what they'd had in high school. She'd been right even back then when she said waiting would not be a good option for them given the distance and the time they would spend apart.
It hadn't been his intention to try and rekindle their relationship upon returning home. He sure as hell had enough priorities to occupy his time, but he'd held her in his arms last night. It was the first time he'd truly felt he was home since he'd gotten back from the war.
Granted, it was a reception that mirrored many of the other residents' outward greetings.
Yet it wasn't the same. His heart knew the difference.
"You know," Brynn said the moment she swung open her office door, "I can see your shadow underneath the door. How long were you planning on standing out there?"
"Until I figured out how to get you to say yes to my dinner invitation."
And just like that, Brynn closed the door in his face.
Lance was lucky he'd pulled back in the nick of time, or else he would have ended up with a broken nose and an unexpected trip to the hospital. He couldn't help but smile at the fire she just sparked underneath him with the dare she'd laid out before him.
"I don't need luck," Lance announced, opening the door and crossing the threshold with a renewed sense of determination. "It's actually pretty simple, really."
"Oh yeah?" Brynn settled back into her office chair behind her desk, but the tilt of her head and the sparkle in those brown eyes of hers let him know that she was curious about his tactics. "And how is getting me to have dinner with you simple when I've already turned you down, Einstein?"
Lance took a moment to study her, though it was more to give himself time to back off this path he was currently considering launching himself down. It hadn't been his intention to hurt her when they were younger, just as he would never deliberately do so now.
But what was so wrong with wanting to reconnect with her, whether it be a simple friendship or to maybe grow it into something more?
Brynn's pretty pink lips parted as if she were going to say something, only to then close them after reconsideration. The desire to taste her was too strong to resist, and he slowly closed the distance between them.
"What do you think you're doing?" Brynn stood up so abruptly that her chair rolled back into the wall. She held up a finger in warning. "You can stop right there, Lance Kendall. What are you up to?"
"It's simple." Lance did stop when he was mere inches from her. He'd always respected her wishes, and he would continue to do so. "Kiss me."
"Kiss me. If you feel nothing, I'll head to the bar to drown my sorrows, knowing we'll only ever be friends from this moment on." Lance noticed that Brynn stopped breathing, though he was relatively certain that was the start of the reaction he was looking for tonight. "If you feel even the slightest flicker of the flames that are currently burning inside of me, then I get to take you to dinner."
About Kennedy Layne
Kennedy Layne is a USA Today bestselling author. She draws inspiration for her military romantic suspense novels in part from her not-so-secret second life as a wife of a retired Marine Master Sergeant. He doubles as her critique partner, beta reader, and military consultant. They live in the Midwest with their teenage son and menagerie of pets. The loyal dogs and mischievous cats appreciate her writing days as much as she does, usually curled up in front of the fireplace. She loves hearing from readers--find out how to connect with her at www.kennedylayne.com.