Spring Break: Leaving the Hassle to Visit a Castle
What does spring break mean in Ohio? Gray, gloomy, rainy, snowy, and cold. It used to be that when I thought of spring break, warm weather and beaches came to mind. Now, I just think of escaping everything.
For Valentine's Day, my husband surprised me with a few nights at
Ravenwood Castle
in New Plymouth, Ohio. This trip was only for me—so I could have uninterrupted writing time. Away from my dogs, away from my husband, away from home where the dishes and laundry never end.
The castle was nestled on a low Ohio hill, hidden by a thick screen of trees. It was truly everything you think a castle should be.
Only… There was no TV, no wi-fi, and no cell service. None.
I was in such denial that I didn't have wi-fi or cell coverage that I spent ten minutes walking around the property trying to find a signal before admitting that there really wasn't any. In order to let my husband know I arrived at the castle I had to drive ten minutes to get enough signal to make a call.
I can't remember the last time I wasn't connected to outside world. It was odd… and eerie… Almost like my phone was a safety net. But there was nothing to be done about it. I wasn't there to play around on the internet. I was there to get some writing done.
I settled in my room for a weekend of getting some words on the page and an odd thing happened… I kept picking up my phone to check my email and my Facebook—only I didn't have those things. It amazed me how habitual checking my phone had become.
Here's a few of the things I learned from not having wi-fi or cell coverage:
I had more time. I got a lot of writing done in only a day and half. I wrote 7,000 words—a record for me. I edited some of those words too.
I survived without the safety net of a phone. I'm old enough to remember to the days before cellphones and it surprises me to realize how much I depend on my phone.
I had time to read. Because I wasn't on social media I had time to read! Read! Do you know how long it's been since I've had a chance to sit down and read a book? Forever! In case you're wondering… I read Under Her Skin by Adriana Anders. It was soooooo good. I love tortured characters and her book was full of them!
Returning to the regular world after being unplugged at the castle kinda sucked. I avoided Facebook for a few extra days and only got back to it because I had to promote my newest release SAVING MERCY.
Visiting that castle where I was forced to unplug, makes me long for a return trip. I may just make spring break at Ravenwood Castle a yearly tradition.
When was the last time you didn't have cell coverage, or wi-fi?
Published April 4th 2017 by Sourcebooks Casablanca
First in a chilling new paranormal romantic suspense series from award-winning author Abbie Roads





He's found her at last




Cain Killion knows himself to be a damaged man, his only saving grace the extrasensory connection to blood that he uses to catch murderers. His latest case takes a macabre turn when he discovers a familiar and haunting symbol linking the crime to his own horrific past-and only one woman could know what it means.





Only to lose her to a nightmare




Mercy Ledger is brave, resilient, beautiful-and in terrible danger. The moment he sees Mercy, Cain knows he's the one who can save her. He also knows he's beyond redemption. But the lines between good and evil blur and the only thing clear to Cain and Mercy is that they belong together. Love is the antidote for blood-but is their bond strong enough to overcome the evil that stalks them?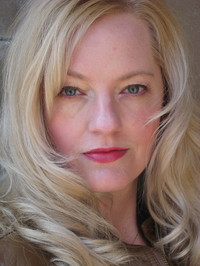 Abbie Roads is a mental health counselor known for her blunt, honest style of therapy. By night she writes dark emotional novels, always giving her characters the happy ending she wishes for all her clients. Her novels have finaled in RWA contest, including the Golden Heart. She lives with her family in Marion, OH. http://abbieroads.com/
Soucebooks is giving away a bundle of Race the Darkness and Hunt the Dawn by Abbie Roads to one reader! US only please. To enter, just fill out the rafflecopter below. Good luck!
a Rafflecopter giveaway