Published April 4th 2017 by Sourcebooks Casablanca
First in a chilling new paranormal romantic suspense series from award-winning author Abbie Roads





He's found her at last




Cain Killion knows himself to be a damaged man, his only saving grace the extrasensory connection to blood that he uses to catch murderers. His latest case takes a macabre turn when he discovers a familiar and haunting symbol linking the crime to his own horrific past-and only one woman could know what it means.





Only to lose her to a nightmare




Mercy Ledger is brave, resilient, beautiful-and in terrible danger. The moment he sees Mercy, Cain knows he's the one who can save her. He also knows he's beyond redemption. But the lines between good and evil blur and the only thing clear to Cain and Mercy is that they belong together. Love is the antidote for blood-but is their bond strong enough to overcome the evil that stalks them?
Excerpt:
He stepped out of the shower, nabbed a towel and dried himself as he walked into the bedroom.
And nearly ran into her.
A towel—a mere piece of cloth—wrapped her body, the edge of it tucked in just above the swell of her left breast. Her skin shone pink from her bath and her hair hung in a tangled wet mess over her shoulders. She'd never looked quite so lovely.
When she didn't say anything he forced his gaze to rise above the towel to her face. Her eyes were aimed downward, toward his—
"Fuck." He'd been standing there just holding the towel in his hand, not even thinking to hide the log—that hadn't gone away—jutting straight out from his body. He slapped the towel over his dick, nearly decapitating it.
"I was…" She swallowed and looked at him. "…looking for something to wear. I didn't want to interrupt you."
She wanted something to wear? His ears heard the words, but all his brain could focus on how easy it would be to get that towel off her. She didn't need to wear anything.
"Cain?" Alarm sounded in her voice. Her eyes widened.
He took a step back, ass-smacked into the edge of the bathroom door.
"You're bleeding."
It wasn't her words, but the concern in her voice that knocked him out of the stupor he'd been in. He glanced down at himself. A rivulet of blood ran down his chest from the gunshot wound high up on his shoulder.
She moved closer to him. He couldn't move away. All he could do was press his ass harder into the wall.
With steady hands, she unhooked the secure edge of her towel, let it swing from one hand in front of her. He caught a glimpse of pink breast and pale thigh, before he clamped his eyes shut. But he'd seen enough. His dick went granite. The unrequited longing painful. He smothered a groan.
She pressed her towel low on his abdomen, so low her hand brushed his—the one covering himself with a towel. His dick leaped, strained for her touch.
She raised the material, stroking up his skin, higher and higher—until she gently pressed it to his wound. "You want me?" Her voice was thick and husky as if she were having a hard time talking.
He forgot how to speak, but his body remembered the universal sign for yes. He nodded. Or at least he tried to. Maybe he was having a stroke or something because suddenly he felt paralyzed. And confused.
"Open your eyes. Look at me."
Disobedience didn't exist. He opened his eyes. She looked at his hand trying to cover his erection, then met his gaze. "I can tell. I just thought I'd ask." A sweet smile—shy as a spring sunrise, and stunning as summer sunset settled on her lips.
She peeked under the towel on his shoulder and he peeked at her body.
Glorious. Long slender muscles and bones. Her breasts weren't large, instead they were perfect with peach colored nipples he longed to taste. The only imperfections—the fading green bruise on her ribs and the filigreed cross scarred into the flesh over her heart.
He pointed at the cross. Jesus. What was wrong with him? He'd forgotten how to use words.
She glanced down at herself and then settled her hand over the raised flesh as if to pledge her allegiance. "It's to protect me. I know it sounds weird, but I felt that if I had this symbol carved into my body I'd be safe from the demons in the world."
She grabbed his free hand and placed it over the scar. The coolness of the damaged flesh imprinted on his palm. She tugged at his other hand—the one covering himself with the towel. No way could he deny her. The material fell from his fingers and she guided his other hand up to the puckered ring around her throat—where his father had cut her neck—and settled it on that scar as well.
A jolt, almost a shudder ran through him at the dual connection. He melted in to her. Merged with her. Became a part of her. Somehow touching those places was more intimate than anything they could do sexually. She had given him her greatest gift. Her vulnerability and trust.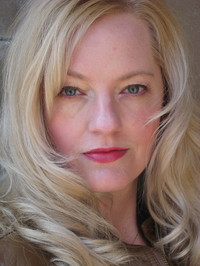 Abbie Roads is a mental health counselor known for her blunt, honest style of therapy. By night she writes dark emotional novels, always giving her characters the happy ending she wishes for all her clients. Her novels have finaled in RWA contest, including the Golden Heart. She lives with her family in Marion, OH.

http://abbieroads.com/
Tour-Wide Giveaway:
a Rafflecopter giveaway