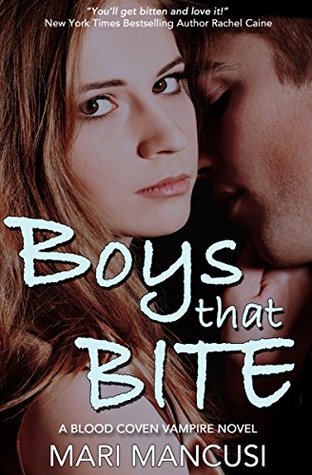 Title
: Boys That Bite
Series
: The Blood Coven Vampires Book #1
Author
: Mari Mancusi
Format
: Kindle, 276 Pages
Published
: 27 Jan 2017 (Amazon Digital Services LLC)
ISBN
: ASIN: B01MT89U06
Links
:
Goodreads
|
Amazon
|
B&N
Reviewer
: Linda
Source
: Amazon
Rating
: 4 out of 5 Wine Glasses
Two sisters—as different as the sun and the rain. For one, getting into the Blood Coven is to die for. But for the other, getting out could be lethal...

When Sunny McDonald gets dragged to Club Fang by her twin sister Rayne, she doesn't expect to find anything besides a bunch of Goth kids playing at being vampires. But when some guy mistakes Sunny for her dark-side-loving sister and bites her on the neck, she finds out that his fangs are real—and deadly.

Now, Sunny has less than a week to figure out how to reverse the bite, or else she's going to end up as the perpetually undead. And not only will she be a vampire, she'll also be bonded to Magnus—the bloodsucker who bit her—forever. And forever is a really long time...
Linda's Thoughts: You know, being bitten by a vampire one week before prom really sucks.

Boys That Bite by Mari Mancusi is the first cute, light and entertaining installment in the author's The Blood Coven Vampires series. This is a series that I've wanted to delve into ever since I first heard about it described as being attractive to Buffy/Angel fans at the Coastal Magic Convention a year ago. Now that the whole series is being re-released in new updated e-book form, this seemed like the perfect time to jump on board. Now I'm wondering why I waited so long to start it, as I was captivated by it all!

As the story opens, we meet sixteen-year-old identical twins, Sunshine "Sunny" and Rayne McDonald. They are five-foot-four with dirty blond hair and brown eyes. However, while they may look similar, they are worlds apart in their natures. Sunny explicitly follows the rules and is an A-student while Rayne … does neither. Sunny has a crush on Jake Wilder at school and is officially on cloud nine as Jake has asked her to go to the prom with him. On the other hand, Rayne is into the Goth scene. She wears nothing but black and even hosts a blog about vampires.

On this particular day, Rayne guilt-trips Sunny into accompanying her to a Goth club, Club Fang, that evening. The scene is not to Sunny's liking, but Sunny is captivated by a hot guy who introduces himself by saying: "Good evening..I'm Magnus..I believe you were expecting me." In reality, Sunny wasn't expecting him, nor the bite on the neck he gave her thinking she was her twin sister, Rayne. From that point on, Sunny's life took a dark turn…

I absolutely loved both Sunny and Magnus. Sunny's essence was genuine wholesome sunshine and her personality and interactions took me back to my high school days. She was easy to relate to. On the other hand, Magnus was the epitome of a tortured hero and swoonworthy. He had been an Arthurian knight and was beyond gallant in his relationship with Sunny. My heart went out to him when it was disclosed how long he'd waited for a blood mate only to be foiled by a mistaken identity crisis. Unfortunately, any romantic relationship between this mis-matched couple seemed doomed from the start. Regardless, I couldn't help but hold out hope for everyone's happiness. Boys That Bite is YA-friendly. There's some kissing, but no hanky panky.

Following please find a few of my favorite quotes from Boys That Bite:

Turning into a vampire is bad enough – I don't need to flunk out of school on top of it. ---


"You are my blood mate," he says simply, finding my hand and squeezing it with his own. "I would die for you."

Gah! A little warning before the touching would be nice. Mainly so I can resist the overwhelming urge to morph into a jiggly pile of Jell-O, thank you very much.

"You'd … die… for me?"" I manage to choke out…. "Technically aren't you already dead?" ---


Hi, my name is Sunny and I'm a bloodoholic.

This is the first book I've ever read by Mari Mancusi but it certainly won't be the last. Mari's writing is top-notch and the world and the characters she has created are incredible. While this is a vampiric paranormal urban fantasy, Mari's spin on the concept is unique. This story is laugh-out-loud funny and action-packed. It kept me riveted from the first sentence through to the surprising twist at the end which left me smiling and craving more. Truly, if you are a fan of the Buffy series, you need to check this series out too! I can't wait to start the next book, Stake That, which will feature Rayne. It appears that Rayne may, in actuality, be a vampire slayer. Oh my!

Suggested Reading Order: Boys that Bite (Book #1) Stake That (Book #2) Girls that Growl (Book #3) Bad Blood (Book #4) Night School (Book #5) Blood Ties (Book #6) Soul Bound (Book #7) Blood Forever (Book #8)