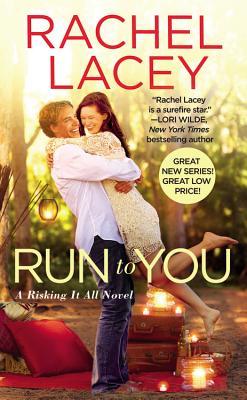 Run to You
(Risking It All #1)
by Rachel Lacey
Mass Market Paperback, 368 pages
Expected publication: August 30th 2016 by Forever
Original TitleRun to You
ISBN 1455537543
ONE LITTLE LIE. A WHOLE LOTTA TROUBLE.

Moments after meeting the most gorgeous guy ever, Gabby Winters promptly gets stung by a zillion yellowjackets and falls-not gracefully-into a stream. Yup, Ethan Hunter is trouble with a capital "hot," and Gabby definitely needs to keep her distance. Except in the small town of Haven, there's nowhere to hide from Ethan's sexy, infectious grin . . . and all the residents are conspiring against her.

At the center of the town's matchmaking is Ethan's grandmother, who's convinced their relationship is a done deal. Rather than break her heart, Gabby and Ethan find themselves cornered into pretending to be falling in love. The problem: there's serious sizzling attraction between them. And if this charade continues, they won't fool just the entire town - they might fool themselves too . . .
Excerpt
If that's hard to format with the italics for the text messages, here's a second option:
"I'm glad you brought me out here." Gabby stepped over a tree root, lifting her skirt with her free hand so that she didn't trip.
Ethan squeezed her left hand. "Me, too. The rock face is right up this way."
They came around a corner and the path opened up to a big rock looming at least thirty feet into the air. There were some creases and cracks in it, but how anyone could scale it with only their bare hands—or why they would want to—was completely beyond her. "You can seriously climb that?"
"I can climb it. Ryan can kick its ass, though."
With a cocky grin, he reached up and hooked his hand into a crack in the rock. He pulled himself up, his biceps flexing most impressively as he climbed. Holy shit, that was sexy. Soon she was left with nothing but a view of his very fine ass. And by the time he'd reached the top, she was so turned on, she could hardly stand it.
"So?" he called from the top. "You going to join me or what?"
"Not a chance. But I will enjoy watching you climb back down."
"Gotta give the lady what she wants." His fine ass reappeared over the edge as he started back down. He took his time on the descent, and if she wasn't mistaken, he might have reached for a few hand and footholds that made him flex his muscles a little more than was strictly necessary.
"You're a show-off," she said when his feet were back on solid ground.
He was a bit out of breath, his bronzed skin glistening with sweat, trademark smile still in place. "No clue what you're talking about."
"No? You really needed to reach all the way to that notch?" She gestured above them. "Instead of the one closer to your shoulder that maybe wouldn't have shown off your lovely biceps quite as well?"
He flexed for her. "What, these old things? And for the record, I totally needed the leverage."
"Mm-hmm." For some reason, she put her hand on his biceps, and oh crap, that was a mistake. His skin was hot beneath her fingers, and his blue eyes blazed into hers.
"Killing me, Gabby," he murmured. "Killing me."
His words sent a bolt of red-hot desire right through her, and she must have made a sound because Ethan sucked in a breath, his gaze locked on her lips. His hands settled on her hips, burning into her skin through the thin fabric of her skirt.
Author Info
Rachel Lacey is a contemporary romance author and semi-reformed travel junkie. She's been climbed by a monkey on a mountain in Japan, gone scuba diving on the Great Barrier Reef, and camped out overnight in New York City for a chance to be an extra in a movie. These days, the majority of her adventures take place on the pages of the books she writes. She lives in warm and sunny North Carolina with her husband, son, and a variety of rescue pets. http://www.rachellacey.com/