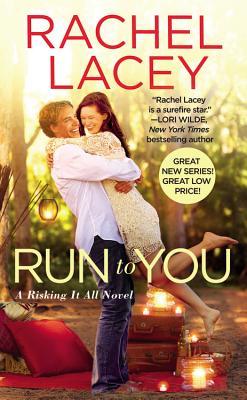 Title
: Run to You
Series
: Risking It All #1
Author
: Rachel Lacey
Format
: Paperback & eBook, 368pgs
Published
: Aug. 30, 2016 by Forever
ASIN
: B01B1W0M8A
Links
:
Goodreads
|
Amazon
|
B&N
Source
: NetGalley
Reviewer
: Kimberly
Rating
: 2.5 out of 5 Wine Glasses
ONE LITTLE LIE. A WHOLE LOTTA TROUBLE.

Moments after meeting the most gorgeous guy ever, Gabby Winters promptly gets stung by a zillion yellowjackets and falls-not gracefully-into a stream. Yup, Ethan Hunter is trouble with a capital "hot," and Gabby definitely needs to keep her distance. Except in the small town of Haven, there's nowhere to hide from Ethan's sexy, infectious grin . . . and all the residents are conspiring against her.

At the center of the town's matchmaking is Ethan's grandmother, who's convinced their relationship is a done deal. Rather than break her heart, Gabby and Ethan find themselves cornered into pretending to be falling in love. The problem: there's serious sizzling attraction between them. And if this charade continues, they won't fool just the entire town - they might fool themselves too . . .
Kimberly's Thoughts:
After getting out of a bad relationship, Gabby decides to spend the summer in the small town of Haven. There she hopes to rediscover herself and her strength. When an angry nest of hornets pushes her into the arms of a sexy stranger, their chemistry may have Gabby going against her no men rule.
Ethan is captivated by the gorgeous woman in a flowing skirt and boots. Their instant chemistry has him wanting to spend more time with her and she provides the perfect opportunity to give his Grandmother the allusion that he's found someone.
With business, family, and ex-boyfriend drama, Gabby and Ethan will have to decide if their instant chemistry is worth more than just a summer fling.
The first in a new series (it does seem to have a couple from a previous book by this author that makes a brief appearance) we are introduced Gabby and Ethan. Gabby is freshly out of a relationship where the ex-boyfriend got physical with her, her parents are distant, clueless, and generally uncaring, and she's looking to find herself and her strength. Ethan is dealing with trying to get his Off the Grid Adventures business off the ground, finding out that his grandmother has an aneurysm that could burst at anytime, and the baggage of having an abusive father who ended up killing his mother. They both had issues but their backgrounds are nothing new we haven't seen in romance and the checking off a list and cliché way they are portrayed, lack of depth, made them seem very been there and done that. The wheel is not getting reinvented here, or improved, or frankly, given any spark.
When our hero and heroine first meet, they are instantly attracted to one another and throughout the book; I'm not sure their relationship really surpassed "you're hot" stage. Gabby sees how close and how much Ethan dotes on his grandmother and Ethan sees Gabby stick up for herself even when she is scared. The trope of them pretending to be in a relationship for the sake of his grandmother, again, is nothing new and while it can obviously work, it was missing some life. They both obviously like one another, so the only obstacle was Gabby not sure she wants to get right back into a relationship, her problem with it just kind of fades away and Ethan thinking he will be just like his father and end up hitting his girlfriend/wife is dragged on. Obviously, it's a heavy issue that Ethan is dealing with but whether through a combination of the over saturation of this trope used in contemporary romance or the lack of depth given to the characters and story, his issue ended up feeling trite and an obvious placed road block to keep the story going.
Gabby and Ethan did interact well and Ethan's two other business partners who are his friends, are clearly set-up for their own books. The interaction and dialogue between our main couple and secondary characters flowed really well and helped to create the small town feeling, giving the story a more cohesive feel. This book and what the series looks to be shaping up to be, could definitely be compared to a Jill Shalvis series with the similarities to characters but with a little less life and spark to them and tamer sex scenes.
Ethan's grandmother will probably end up stealing your heart but the paint by numbers villain ex-boyfriend, forced overreaction by Ethan at the end, and general lack of spark will leave you wanting more. If you're looking for something in the similar vein of Shalvis with tamer sex scenes though, this might work for you.
Suggested Reading order:
Rock with You (Risking It All, #0.5)