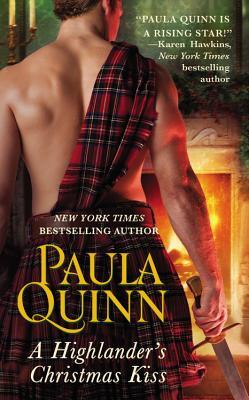 A Highlander's Christmas Kiss
(The MacGregors: Highland Heirs #5)
by Paula Quinn
Paperback, 352 pages
Published September 27th 2016 by Forever
ISBN 1455535303
A STRANGER'S SMILE

Christmas may be coming to Linavar, but Temperance Menzie is far from joyful. Grief-stricken over the death of her father at the hands of the Black Riders, she almost didn't see the wounded stranger in the woods. And now she's determined to give this braw, brooding Highlander the help she couldn't give her father. But there's a secret lurking in the depths of his blue-gray eyes. And Temperance won't rest until she uncovers it . . .

A LOVER'S KISS

A killer for hire. It's the last thing Cailean Grant ever thought he'd become, but being part of the Black Riders was his only way to survive. Now, his guilt grows day by day, along with his desire for the beautiful, brave lass nursing him back to health. As Christmas, the season of miracles, draws near and the truth of his identity threatens to come out, Cailean must risk the only thing he has left to lose-his heart.
She stopped walking and pulled on his hand to stop him as well. "Who am I to you?"
What? What had he said? He realized quickly enough, scowled, and then smiled, giving in to what his heart was telling him. "Ye are—" He paused, not truly sure what to say. He hadn't wanted to care for her, but he did. He'd let her in, but how could he have denied her entrance? She'd been through much, thanks to him, and yet she still smiled, she still sang, she still had compassion to help him heal.
He began again, reaching for her. He pulled her closer and wrapped his arms around her plaid- encased body, shielding her from the wind. "Ye are my candle in the dark." He stopped again to take her in. He smiled. "I'm better at puttin' a quill to m' words than I am at speakin' them."
Her wide, beautiful eyes glittered like the snow dusting the braes. He wanted to lose himself there in the expectant hope that lit her gaze.
"You're doing just fine," she assured him softly. "Continue, please."
He shoved aside everything on his mind but her. What was left scared the hell out him. "I canna—"
She waited in silence while he fought his demon for her. Her hope began to fade to disappointment.
It made him smile to think her hope was to be with him and she was waiting to hear him tell her.
"I canna take my gaze from ye, lass. No matter what I'm doin', m' eyes find their way back to yer rich dark hair fallin' over yer flawless jaw, the relaxed curl of your bottom lip that tempts my legs to bring me to wherever ye are. I lay awake at night imaginin' yer soft inhalations of breath. They fill my heart with something other than mortar and fury. I want to bring ye to me but I'm unworthy of yer dreams. Still, I want to be in them, as ye are in mine."
"You see?" she said breathlessly. "Just fine." She closed her eyes and parted her lips when he dipped his head to hers.
He moved his mouth over hers, basking in the intimacy of kissing her, capturing her short, eager breaths. His senses came alive and he used each one of them to fill himself with her. She tasted like passion and innocence. When he slipped his tongue over hers, she opened her arms and coiled them around his neck, covering them both in his plaid. He listened to her heart beating like ancient drums. Or was it his own heart he was hearing? He withdrew a hairbreadth so he could look at her again. The sight of her dreamy-eyed and wanting more nearly drove him mad. He brushed his nose across her temple to her hair, drinking in the scent of her, like the familiar fragrance of peat and pine. "Ye're bringin' me back to life, lass."
He kissed her again, barely holding back the passion raging inside him to be released.
The MacGregors: Highland Heirs Series
ABOUT THE AUTHOR
New York Times bestselling author Paula Quinn lives in New York with her three beautiful children, three over-protective chihuahuas, and a loud umbrella cockatoo. She loves to read romance and science fiction and has been writing since she was eleven. She loves all things medieval, but it is her love for Scotland that pulls at her heartstrings.