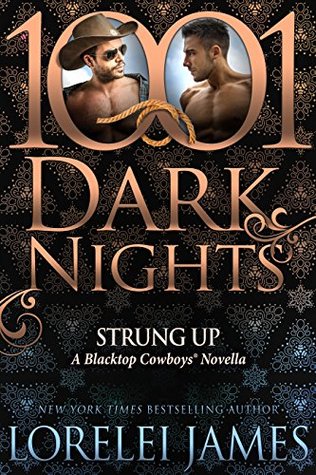 Strung Up
(Blacktop Cowboys #7.5)
by Lorelei James
Kindle Edition, 120 pages
Published September 13th 2016 by Evil Eye Concepts, Incorporated
ASINB018YJC4UW
From New York Times bestseller Lorelei James…

Rancher Creston Grant retreats from the world after he loses the love of his life... Can his former flame, rodeo cowboy Breck Christianson prove he's a changed man who can give Cres a second chance at love?
Excerpt:
Staring into the flames, I brooded about my uncertain future. I didn't trust my ambivalence toward teaching because I was a master at self-sabotage. Maybe I considered this teaching experiment a failure so I had an excuse not to sign on for the next session. Then I could stick with the "I'm a ramblin' man" warning I'd given Cres and return to the blacktop.
But I didn't want to go back on the road. Facing miles of empty highway day after day…I knew firsthand it was as lonely as it sounded.
Loneliness hadn't been an issue since I'd rolled into the Grade A complex. I spent my days surrounded by students and staff and my nights wrapped up in Cres.
I'd been such a fool to think I could work him out of my system. The more time we spent together the more I wanted. Yet Cres hadn't mentioned extending our time.
Maybe because you've done a bang-up job convincing him of your "itchy feet."
Only because he'd been so insistent about never getting into another serious relationship, and I didn't want to be the pathetic hanger-on, trying to convince him that I was worth the risk to his heart, because I wasn't sure I was.
There was some confidence. I'd gotten my mo-jo back in the arena, but I didn't have the same certainty with Cres unless I was fucking him.
Why did this have to be so f*cked up? Why couldn't I just tell him my feelings had changed and I needed more than "just sex?"
About Lorelei James:
Lorelei James is the New York Times and USA Today Bestselling Author of contemporary erotic western romances set in the modern day Wild West and also contemporary erotic romances. Lorelei's books have been nominated for and won the Romantic Times Reviewer's choice Award, as well as the CAPA Award. Lorelei lives in western South Dakota with her family…and a whole closet full of cow girl boots.

From Lorelei: "Why do I have a particular fondness for all things western? Well, I'm a fourth generation South Dakotan, living in the Black Hills, which is chock-full of interesting characters, including cowboys, Indians, ranchers, and bikers. The geographical diversity of the surrounding area showcases mountains, plains, and badlands. Living in and writing about rural settings gives me a unique perspective, especially since I'm not writing historical westerns. Through my fictional world, I can show the ideals and the cowboy way of life are still very much alive."