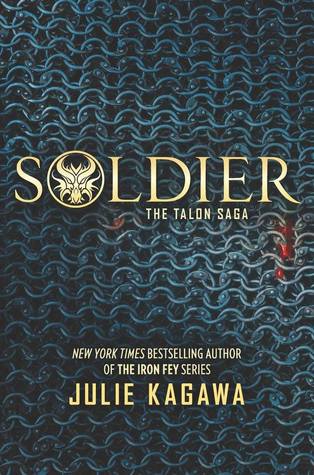 Title
: SOLDIER
Series
: The Talon Saga, Book 3
Author
: Julie Kagawa
Narrators
: Caitlin Davies, MacLeod Andrews, Chris Patton, Tristan Morris
Format
: Unabridged Audiobook, 10 hours and 59 minutes
Published
: 26 April 2016 (Blackstone Audio)
ISBN
: ASIN:B01E9D64T4
Links
:
Goodreads
|
Amazon
|
B&N
|
Audible
Reviewer
: Linda
Source
: Blackstone Audio / Audiobook Jukebox
Rating
: 4 1/2 out of 5 Wine Glasses
The price of freedom is everything.

When forced to choose between safety with the dragon organization Talon and being hunted forever as an outcast, Ember Hill chose to stand with Riley and his band of rogue dragons rather than become an assassin for Talon. She's lost any contact with her twin brother, Dante, a Talon devotee, as well as Garret, the former-enemy soldier who challenged her beliefs about her human side.

As Ember and Riley hide and regroup to fight another day, Garret journeys alone to the United Kingdom, birthplace of the ancient and secret Order of St. George, to spy on his former brothers and uncover deadly and shocking secrets that will shake the foundations of dragons and dragonslayers alike and place them all in imminent danger as Talon's new order rises.
Linda's Thoughts:

My heart seemed to stop. Garret paused, as if gathering his thoughts, or his courage, then took a deep breath. "I know I've made mistakes," he continued, shaking his head. "But there's still the chance for me to fix them. I shouldn't have walked out that night." His brow creased, a flicker of pain and regret going through his eyes. "Ember, I know you can't feel what I do," he said. "I get that. But…I want to be with you. And if that's not possible, I'll be content just to be close. Fighting Talon with you and Riley, helping people, saving other dragons from the Order-there is nothing I want more. And nowhere else I want to be."

SOLDIER by Julie Kagawa is the third installment in the author's wholly fabulous Talon series. This urban fantasy series revolves around TALON, an organization populated by dragons with the stated objective to rule the world and the ability to disguise themselves as humans; and the Order of St. George, a legendary society of dragon-slayer warriors sworn to eradicate the dragons. The two entities have been at war with each other for centuries. When a young red female dragon and a battle-hardened slayer befriend each other, both organizations have been set reeling.

First of all, this is absolutely a series you must read in order. Please do not try to jump in without reading the previous books as you will not enjoy the series as it should be enjoyed. Each book has built upon the previous book. The first book, TALON, introduced the primary characters and setup the storyline. TALON gave us an up-close-and-personal look into Ember Hill aka Firebrand, a young red female dragon. Ember and her twin, Dante Hill, have had a falling out and lost contact with each other as the story has progressed. ROGUE filled in more information and concentrated more on Riley aka Cobalt, a rogue dragon. In the same way, SOLDIER focused on Garret aka the perfect soldier.

This series features a love triangle with Riley and Garret vying for Ember's affection. Her dragon has a split personality. Her dragon-side craves Riley and her human-side yearns for Garret. You should know that I'm biased. I'm firmly Team Garret -he's such a sweetheart- and this book reinforced my feelings even more after Riley went all possessive caveman on Ember herein - but, truly, I'd like to see them all get a happy-ever-after. Garret was at his best in this installment. He declared his love. He was there when Ember and the team needed him but didn't force himself on them. He stayed strong under pressure. He gave his all in supporting Ember and the team, not holding anything back. But... he's human and not a dragon. We'll have to see what Julie does.

Jade, an interesting Eastern Dragon, joins the cast of characters in ROGUE adding some new dragon-y and lifestyle twists! I hope to see more of her and her cohorts in future installments.

I listened to the audio as I have with the prior books. There are four narrators for SOLDER. They all did a superb job, though I have to say that the narrator who voiced Riley grated on me more often than not. However, in all fairness, it could have been because Riley over-dramatically played at caveman for much of this book. He did not take well to Garret's re-appearance. His extreme jealousy did not become him nor further his cause. So I will cut that narrator a bit of slack. I would note that Riley's voice did not irk me in the previous books. Rest assured, that my issue with the voicing of that one character did not take away from my enjoyment of the whole listening experience. The multiple narrators mesh seamlessly and it is easy to always discern which character is speaking. I cannot imagine doing anything other than listening to this series as the audios have been done so well.

Following please find a few of my favorite quotes from this book:

Our enemies-my enemies-wouldn't win. The demon lizards had hurt me for the last time. Now, they had a new foe, and I would make sure they remembered my name when I destroyed them on the battlefield.

I would work hard.

I would excel.

I would become the perfect soldier. ---


One hand traced small circles against my back, and I pressed closer to him, listening to his heartbeat. "I used to think that having nothing to live for made you a better fighter," he murmured. "Turns out I was wrong on a lot of fronts." ---


"Your friends are…interesting," she said, making me snort. "I would hate to see your enemies." She looked back at me, black eyes assessing. "You did not mention that one of the 'friends' you risked your life for was desperately hoping he could rip your head off."

"I was a soldier of the Order," I said wearily. "He's the leader of a rogue dragon underground. I'm sure I've killed a few of his dragons in the past."

'I'm also stupidly in love with the girl he considers his, and we both know it.' ---


"I couldn't," he finally whispered. "You were the one who taught me to live, to take chances. For a while, I convinced myself that we were too different, and that it was better to let you go. But now, I've come to the realization that my life is probably going to be very short. And I want to spend it doing something that matters. With someone that matters. I don't want to regret that I gave up without a fight."

This amazing series will keep you perched on the edge of your seat. It's action-packed, suspenseful, danger-filled, humorous, heartbreaking, but also sweet. Much is revealed in this installment. Those following the series should absolutely not miss it. Be forewarned that the ending of SOLDIER is hardcore earth-shattering brutal. The half-point reduction in my rating is for cruelly breaking my heart into so many pieces. That said, I'm not sorry I read it. In fact, the next installment, LEGION, cannot come soon enough! I have to believe that Julie will pull a miracle out her hat as the trios' story just can't end that way. There is an epilogue with a mind-blowing twist. SOLDIER is an excellent addition to the Talon saga. I highly recommend this series to anyone who enjoys urban fantasies. If you enjoy audio books, you will LOVE it in audio!

Suggested Reading Order: Talon (Book #1) Rogue (Book #2) Soldier (Book #3)

Legion (Book #4) - Expected publication May 2017!

Untitled (Book #5) - Expected publication 2018