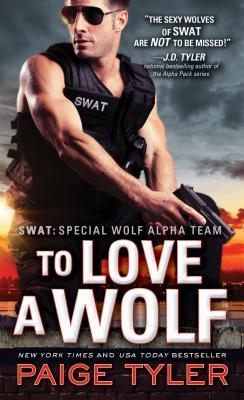 Title
: TO LOVE A WOLF
Series
: SWAT: Special Wolf Alpha Team #4
Author
: Paige Tyler
Format
: Kindle, 352 Pages
Published
: Sourcebooks Casablanca (June 7, 2016)
ISBN
: ASIN: B01AO2077Y
Links
:
Goodreads
|
Amazon
|
B&N
Reviewer
: Linda
Source
: NetGalley
Rating
: 4 out of 5 Wine Glasses
HE'S FOUND THE ONE...

SWAT officer Landry Cooper is certain Everly Danu is The One. The problem is, she has no idea what Cooper really is. And as much as he wants to trust her, he's not sure he can share his deepest secret...

When Everly's family discovers Cooper's a werewolf, her brothers will do anything to keep them apart-they'll kill him if they have to. Everly is falling hard for the ridiculously handsome SWAT officer, and she's not about to let her brothers tell her who she can love... Until Cooper's secret is exposed and she discovers the man she thought she knew is a monster in disguise.

BUT CAN HE KEEP HER?
Linda's Thoughts:

"I'll call you tomorrow," he said softly.

Incapable of speech at the moment, Everly could only nod.

At the door, Cooper turned to give her a grin. "By the way. Best. Date. Ever."

To Love A Wolf Or Not? That is the foolish question and the heroine's answer can be found within the exciting, fast-paced paranormal urban fantasy romance TO LOVE A WOLF by Paige Tyler. It is the fourth book in her SWAT: Special Wolf Alpha Team series, but it can easily be enjoyed as a standalone, if that is your preference. There are captivating interconnected characters who figure prominently in each tale, so just know that the more you read of the series, the greater your pleasure will be increased. TO LOVE A WOLF is the story of ammunitions expert Landry Cooper and Everly Danu.

I was elated to see that TO LOVE A WOLF was Landry's story as he's been on my mind since the previous book. He's such a sweetheart. As the story begins, in a flashback, readers learn about the horrendous incident involving explosives that ended Landry's military career and precipitated Landry becoming a wolf-shifter.

We then flash forward to the present day as serendipity has Landry and Everly meet as they stand in line at the bank. Serious sparks fly between them from the get-go. Then, talk about timing and being in the wrong place at the wrong time! BANG! BANG! BANG! Robbers pick that moment to target the bank and Landry finds that he's the only one standing between the robbers and the innocents in the bank including Everly. His wolf adamantly demands that Everly be protected! Vastly outnumbered, Landry has to safeguard all while concealing his super abilities.

Landry and Everly are a great couple and she is the perfect match for him! He is sweet, charming and a white knight. He's always been the stable, trusted, go-to guy for the team whenever they have problems. Now he finds the tables turned being in a quandary himself and needing assistance.

Everly is very close to her family after having been raised by her father and her three brothers after her mother died. They are understandably very protective of her. That said, of necessity, she is tough and has learned to stand up for herself. Even so, it's still important to Everly to have her family accept Landry. But, when she introduces Landry to them, her family vehemently rejects him leaving her to choose between Landry and her family.

Following please find a few of my favorite quotes from this steamy read:

The way he looked at her was almost predatory, and she was more than happy to be his prey.

"You look beautiful," he said softly. ---


Everly heard people talk about a kiss taking their breath away. She'd always thought that was crap - or poor technique. But when Landry's other hand slid down to cup her ass through the material of her dress while his tongue had its way with hers, she actually went light-headed. But there was no way in hell she was going to stop kissing him. She didn't care if she passed out. So, she wrapped her arms around his neck and gave as good as she got. ---


"You sure this isn't going to hurt you?' she asked.

Landry settled comfortably between her thighs, the head of his very thick cock teasing the opening of her pussy. He lifted a brow, obviously amused at the question.

"I'm pretty sure pain is going to be the last thing on my mind," he said. "In case you didn't know, most people tend to think of sex as kind of pleasurable."

Since it's a SWAT book, we get the pleasure of catching up with the Team! Becker, Xander, Khaki, Jayna and the rest of the extended kith and kin all make appearances! The teasing and heartwarming fellowship that is as natural as breathing to the group always makes me smile!

As an aside, the author discloses in her comments that the inspiration for Landry and Everly was patterned from her and her hubby's own relationship. I thought that was really neat to share and it made Landry's and Everly's story even more special.

Paige is one of my favorite authors. All her SWAT guys are tough, wickedly yummy alphas. Her next book can't come soon enough! Thank goodness, readers don't have long to wait as A WOLF UNLEASHED featuring wolf shifter Alex Trevino's story is coming December 2016! I recommend TO LOVE A WOLF to anyone who enjoys hot and thrilling paranormal romantic suspense! You won't be disappointed!

Suggested Reading Order: Hungry Like the Wolf (Book 1) Wolf Trouble (Book 2) In the Company of Wolves (Book 3) To Love a Wolf (Book 4) A Wolf Unleashed (Book #5) - coming December 2016!