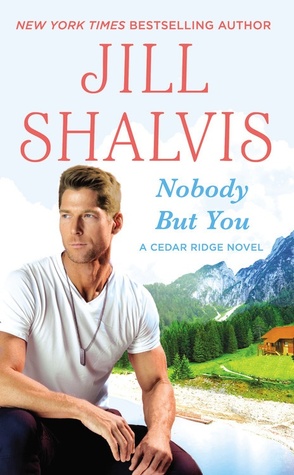 Title
: NOBODY BUT YOU
Series
: Cedar Ridge #3
Author
: Jill Shalvis
Format
: Kindle, 465 Pages
Published
: Grand Central Publishing (March 29, 2016)
ISBN
: ASIN: B0112T4YJA
Links
:
Goodreads
|
Amazon
|
B&N
Reviewer
: Linda
Source
: NetGalley
Rating
: 5 out of 5 Wine Glasses
SOMETIMES YOU CAN GO HOME AGAIN…

After an overseas mission goes wrong, Army Special Forces officer Jacob Kincaid knows where he must go to make things right: back home to the tiny town of Cedar Ridge, Colorado. All he needs to scrub away his painful past is fresh mountain air, a lakeside cabin, and quiet solitude. But what he discovers is a gorgeous woman living on a boat at his dock.

Sophie Marren has nowhere else to go. She's broke, intermittently seasick, and fighting a serious attraction to the brooding, dishy, I'm-too-sexy-for-myself guy who's now claiming her dock. Something about Jacob's dark intensity makes her want to tease—and tempt—him beyond measure. Neither one wants to give any ground . . . until they realize the only true home they have is with each other.
Linda's Thoughts:

"We going to argue about this?" he asked.

"Don't we argue about everything?"

"Good point," he said. "Let's settle this one like adults— in the bedroom, naked."

NOBODY BUT YOU by Jill Shalvis is pure contemporary romance perfection! The ONLY thing that could have made it better would have been if I'd listened to Karen's rendition of it; I hope to enjoy it again when that occurs. Yes, it was that good. Set against the gorgeous Rocky Mountains in the small town of Cedar Ridge, Colorado, this is the story of Army Special Forces Officer Jacob Kincaid and recently divorced Sophie Marren. It is told from the third person point of view. It seems that love is in the air at Cedar Ridge always.

All the characters are completely endearing, realistic and captivating. I have been looking forward to Jacob's story since I started the series with Hud's book and the telling does not disappoint. Jacob is hotter than hot. All the Kincaids have been worried about Jacob as he's not been heard from since he walked away after an argument with Hud, his twin, over ten years ago. Now, Jacob has come home while on forced leave, leasing a quiet cabin on the lake, with the objective of setting things right with his family. He did not plan on meeting a woman who would rock his world.

Jacob suffers from post traumatic stress from his military service and the author addresses it in such a caring way that it adds to and never detracts from the romance. Something in him somehow connects and sees the stress internalized by Sophie from their first hilarious encounter.

Sophie is in dire straits, living on a boat that is her only remaining possession and that she utterly despises, having had her life pulled out from under her. Jacob and Sophie are each such broken individuals that they fit and, together, they make each other somehow better. However, Sophie has written off men entirely and erected a very high wall around her heart.

Following please find a few of my quotes from this delightful romance:




"I'm not really into hurrying," he said.

"What are you into?"

"Slow. Long. Hard. Hot. Dirty…" His teeth sank into her earlobe. "You still in?" ---


"Are you okay?"

"Fan-fricking-tastic. Only way today could get better is if I were scheduled for an appendectomy. Without drugs. In a third-world country." ---


"I've got a gizmo. No batteries required." ---


"I might have to rescind my no-love rule," she said, a cookie in each hand. "Cookies are my sweet spot.'

He smiled. "They're not your only sweet spot."

I have read this series out of order and can attest that each of the books works well as a standalone without any difficulty if that is your preference. There's lots of interactions with previous favorite characters, including all the Kincaids, which will thrill fans of the series, but the story can be thoroughly enjoyed without having ever read any of the other books. Feel free to dive into the series with whichever book snares your fancy.

Everything seems to be tidily wrapped up with this series as all the Kincaid brothers have now found their mates and their sister is engaged. Amazon has the book listed as #3 of 3 in the series. I hope that NOBODY BUT YOU is not the final book in this wonderful series and that there will be more Cedar Ridge books in the future. But, if it is the final, the series has certainly gone out with a spectacular bang.

You know how some books just leave you with a glow? This is one of those books... overflowing with laugh-out loud humor, snarky banter and oodles of sexual chemistry. Jill is one of my very favorite authors. Her books at always highly entertaining and they never fail to leave me with a huge smile on my face. There is nothing that falls short in NOBODY BUT YOU. I highly recommend all the books in this series as they are all funtastic.

Suggested Reading Order: SECOND CHANCE SUMMER (Book #1) MY KIND OF WONDERFUL (Book #2) NOBODY BUT YOU (Book #3)