What scene from NOBODY BUT YOU was the hardest to write?
The reunion between the hero Jacob and his twin brother Hud, given that they hadn't seen each other in years.
Is Jacob Kincaid a boxers or briefs kind of Alpha hero? ;)
Boxer briefs. Or commando. ☺
If you had choose ONE cookie to be your spirit food, which would it be and why?
My spirit cookie at the moment is Lemon Oreos. But last week it was Mint Milanos. I'm fickle like that…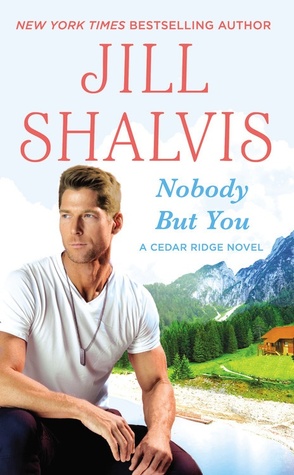 Nobody But You
(Cedar Ridge #3)
by Jill Shalvis
ebook, 368 pages
Expected publication: March 29th 2016 by Grand Central Publishing
ISBN 145558679X
SOMETIMES YOU CAN GO HOME AGAIN…

After an overseas mission goes wrong, Army Special Forces officer Jacob Kincaid knows where he must go to make things right: back home to the tiny town of Cedar Ridge, Colorado. All he needs to scrub away his painful past is fresh mountain air, a lakeside cabin, and quiet solitude. But what he discovers is a gorgeous woman living on a boat at his dock.

Sophie Marren has nowhere else to go. She's broke, intermittently seasick, and fighting a serious attraction to the brooding, dishy, I'm-too-sexy-for-myself guy who's now claiming her dock. Something about Jacob's dark intensity makes her want to tease—and tempt—him beyond measure. Neither one wants to give any ground . . . until they realize the only true home they have is with each other.
Excerpt:
She eyed the bench a long beat but did eventually sit, perching primly as far from him as she could get and yet still be close enough to grab the bottle.
She took the Scotch and drank. Her eyes watered and she coughed as she handed it to him. With a sigh, she leaned back to study the night sky. Her bared throat was slim and creamy smooth. An unexpected temptation. Remembering the flash of pain and vulnerability she'd unwittingly revealed, and that for whatever reason he'd somehow added to it, he spoke. "I'm sorry."
She glanced at him as if she'd never heard a man apologize before in her life. "For…breathing?" she asked. "Having a penis? What?"
"You were upset because you didn't know I was a Kincaid."
She sighed. "That was just me looking for a reason to be mad at you so I wouldn't…"
She bit her lower lip, clearly not wanting to go on.
But now he had to know. "So you wouldn't what?"
"Nothing," she said. "It's just that I'm trying to make better choices."
"Of which I wouldn't be one."
"It's not necessarily your fault," she said. "It's that you're a man."
"And I'm off men right now."
"And on…women?" he asked with admittedly more than a little fascination.
She rolled her eyes. "I'm on no one, but thank you for proving my point on men."
"I get that," he said. "But being off men doesn't seem to be making you very happy, or sound like a whole lot of fun."
"Maybe I don't need fun."
He understood that. He'd felt the same way since Brett died. "What do you need?" he asked, honestly wanting to know more about her.
Instead of answering, she reached for the bottle. He waited until she met his gaze before letting go.
"Nothing," she said a little too quickly. "Everything's…perfect."
"And your glass is half full," he said. "So you've said."
But he didn't believe her. "How about a game?"
Now, that wasn't exactly true. Whether she knew it or not, she'd been playing with his head since he'd first laid eyes on her. "Three truths and a lie," he said.
She stared at him. "As in you tell me three truths and a lie, and I pick out the lie?"
She considered this. "What do I get if I win?"
For the briefest of beats, her gaze dropped to his mouth.
Oh, hell yeah, he thought. Want me…
"My first boyfriend taught me that game," she said.
"What did the winner get?"
Definitely still playing with his head… "Is that what you want, Sophie? A kiss?"
Again she stared at his mouth before dropping eye contact and wrapping that eye-stopping pink robe tighter around her body. "Do you?" she asked.
"Problem is," he said conversationally, "if I kissed you, I don't think I'd be able to stop."
Her mouth literally fell open. The pulse at the base of her throat jumped. And she seemed to lose her words.
He went on. "But you should know, I don't lose. That means you'll have to tell me three truths and a lie." And he'd hopefully get to know more about her.
She closed her mouth to bite her lower lip in what could've been indecision or excitement. Obviously he was hoping for the latter. "But hey, if you're not sure you can handle losing, we can just forget about it," he said.
The challenge lifted her chin and put sparks in her eyes. That's it, babe. Show me what you've got.
Cedar Ridge Series
About Jill Shalvis
New York Times bestselling author Jill Shalvis lives in a small town in the Sierras full of quirky characters. Any resemblance to the quirky characters in her books is, um, mostly coincidental. Look for Jill's bestselling, award-winning books wherever romances are sold and visit her website for a complete book list and daily blog detailing her city-girl-living-in-the-mountains adventures. JillShalvis.com
a Rafflecopter giveaway