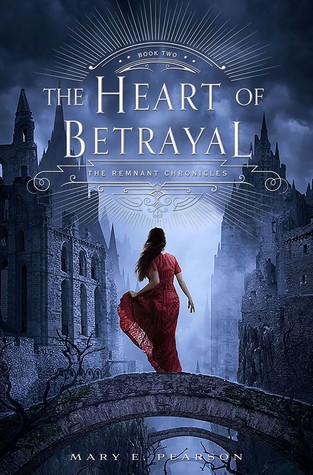 Title:
The Heart of Betrayal
Series:
The Remnant Chronicles #2
Author:
Mary E. Pearson
Format:
Hardcover, 470 pages
Published:
July 7th 2015 by Henry Holt and Co. (BYR)
ISBN:
0805099247
Links:
Goodreads
|
Amazon
|
B&N
Reviewer:
Linda
Source:
Library
Rating:
5 out of 5 Wine Glass
Intrigue abounds in this hotly anticipated sequel to The Kiss of Deception!

Held captive in the barbarian kingdom of Venda, Lia and Rafe have little chance of escape. Desperate to save her life, Lia's erstwhile assassin, Kaden, has told the Vendan Komizar that she has the gift, and the Komizar's interest in Lia is greater than anyone could have foreseen.

Meanwhile, nothing is straightforward: there's Rafe, who lied to Lia, but has sacrificed his freedom to protect her; Kaden, who meant to assassinate her but has now saved her life; and the Vendans, whom Lia always believed to be barbarians. Now that she lives amongst them, however, she realizes that may be far from the truth. Wrestling with her upbringing, her gift, and her sense of self, Lia must make powerful choices that will affect her country... and her own destiny.
Linda's Thoughts:

"I'm not the farmer I claimed to be, but I hope I can make you fall in love with me again, this time as a prince, one day at a time. We've had a terrible start—it doesn't mean we can't have a better ending."

THE HEART OF BETRAYAL by Mary E. Pearson earns an unequivocal five wine glasses from me! The good news is that this sequel is just as addictive as the first. There's romance, magic, intrigue, suspense, danger, surprising twists and murder! Once, again, the story is told in multiple points of view - Lia's, Rafe's, Kaden's and Pauline's. I like that we get into each of their heads and know not only what they say, but what they think and feel. The bad news is that after the cliffhanger at the end of

THE KISS OF DECEPTION

nearly did me in, there's another cruel twist of fate for readers as we're treated to a brutally wicked cliffhanger in this one also which has caused fits of hair-pulling and uncontrolled screaming among the fans! AAAAGH!

THE HEART OF BETRAYAL is the second book in the author's The Remnant Chronicles series. In my opinion, THE HEART OF BETRAYAL would not work well as a standalone. That is not a bad thing as it just means you need to read THE KISS OF DECEPTION first and it was just as fantastic as this book is.

As THE KISS OF DECEPTION ended, Lia and Rafe were incarcerated in the walled city of Venda - the home of Kaden, the Assassin, who had betrayed Lia, and of the Komizar, Venda's barbaric ruler. Things looked bleak for Lia and Rafe as Venda doesn't take prisoners. Desperate times demand desperate measures and, for Lia and Rafe, their only hope is escape. But that will not be a simple task as Venda is secure in the extreme and danger lurks at every turn. However, escape is absolutely essential and it must be soon as the Komizar has plans for Lia that don't bode well.

We still have the love triangle of Lia, Rafe, the Prince she left at the altar, and Kaden, the bad-boy. I'm Team Rafe all the way, so I fully admit to being prejudiced. However, I do believe that Kaden cares for Lia. It's obvious that Kaden is divided over his feelings for Lia and his loyalty to the Komizar. To his credit, he does not abuse her and he saves her life when he claims that she has the gift. However, I cannot get over the fact that he betrayed her and turned her over to the Komizar.

Rafe, on the other hand, is most definitely in love with Lia. Why else would he follow her across the desert and allow himself to be captured and imprisoned with her? It's really too bad that these two didn't meet before the wedding she ran from. All of this pain and suffering could have been averted - but then, there'd be no series. sigh... Rafe has never betrayed her and, well, he's so yummy, there's no way I can see her with anyone else.

Following please find a few of my favorite quotes from this captivating read:

"There are no rules in survival." ---


"He consumed me in a different way- the way his eyes made everything jump inside of me when I looked into them, his laughter, temper, the way he sometimes struggled for words, the way his jaw twitched when he was angry, the thoughtful way he listened to me, his incredible restraint and resolve in the face of overwhelming odds. When I looked at him, I saw the easygoing farmer he could have been, but I also saw the soldier and prince that he was." ---


"I suppose if we're going to fall in love all over again, kissing will be part of it." ---


"It was worth it, Lia," He said. "Every mile, every day. I'd do it all again. I'd chase you across three continents if that's what it took to be with you." ---


"But you're everything I want. Remember that. I love you, Lia. Not a title. And not because a piece of paper says I should. Because I do."

The pacing picks up in THE HEART OF BETRAYAL - though I had no complaints about the pace of the first book. The faster pace, though, seemed to suit this one. The third installment can't come too soon for me though logic is telling me that what seems obvious, cannot be. (That's my way of coping with the durn cliffhanger.) I can't get enough of the fantasy world Mary E. Pearson has created. I thought my heart was going to beat right out of my chest at the ending - it was a heart-pounding, gut-wrenching one for sure! The fate of everyone hangs in the balance. I highly recommend this series to anyone who enjoys YA epic romantic fantasies. If you haven't started the series yet, you might want to wait until the third book is almost available as these two cliffhangers have been ferocious.