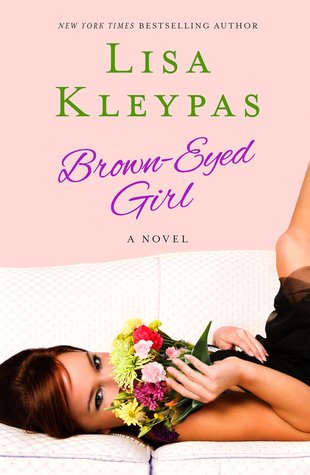 Title
: Brown-Eyed Girl
Series
: Travis Family #4
Author
: Lisa Kleypas
Format
: Paperback & eBook, 304 pages
Published
: August 11, 2015 by Piatkus Books
ASIN
: B00S52XQ56
Links
:
Goodreads
|
Amazon
|
B&N
Source
: Netgalley
Reviewer
: Kimberly
Rating
: 3 out of 5 Wine Glasses
Wedding planner Avery Crosslin may be a rising star in Houston society, but she doesn't believe in love--at least not for herself. When she meets wealthy bachelor Joe Travis and mistakes him for a wedding photographer, she has no intention of letting him sweep her off her feet. But Joe is a man who goes after what he wants, and Avery can't resist the temptation of a sexy southern charmer and a hot summer evening.

After a one night stand, however, Avery is determined to keep it from happening again. A man like Joe can only mean trouble for a woman like her, and she can't afford distractions. She's been hired to plan the wedding of the year--a make-or-break event.

But complications start piling up fast, putting the wedding in jeopardy, especially when shocking secrets of the bride come to light. And as Joe makes it clear that he's not going to give up easily, Avery is forced to confront the insecurities and beliefs that stem from a past she would do anything to forget.

The situation reaches a breaking point, and Avery faces the toughest choice of her life. Only by putting her career on the line and risking everything--including her well-guarded heart--will she find out what matters most.
Kimberly's Thoughts:
Avery is a wedding coordinator whose business she runs with her sister is up and coming. At one of her more affluent weddings she gets the attention of a mother, whose family is basically Texas royalty, who wants her to organize her daughter's wedding; it would be a huge boost for her business. Avery also meets Joe Travis, another member of a Texas royalty family, who just plain wants her. However, after being left at the altar a couple years ago, Avery is gun shy of getting involved again. So with her professional life on the rise and Joe and her friends trying to get her to allow her personal life to flourish too, Avery is being pushed and pulled in many directions.
Brown-eyed Girl is the long awaited fourth book in the Travis family series by Lisa Kleypas. Readers of the series have been chomping at the bit to read about little brother Joe getting his happily ever after. The character of Joe did not disappoint, he oozes so much charm you'd gladly sacrifice your last breathe to drown in it. The story is all from Avery's view point, so I did find myself missing Joe's internal thoughts and feelings; especially, the thinking behind wanting Avery so much. Avery allows the chip on her shoulder from being left at the altar to create a wall between her and Joe. She is at turns dismissive, cold, and hardheaded with not giving Joe a chance. Joe actively pursues her with calling, texting, and approaching her whenever he sees her. He never crosses the line into stalking but I very frequently found myself wondering just what in the world immediately drew him to her and why he kept trying. This is the land of romance, so I'm sure her inner beauty and all was the draw but seriously, Avery gave him no incentive to keep trying.
If Avery's reluctance had lasted for only the beginning of the book, I could have rolled with it but it lasts for over half. A relationship where one person is dragged along kicking and screaming, which basically describes Joe and Avery's, is just not that fun to read about. Quite frankly, I was more interested in Avery's sister Sofia and their employee Steven's relationship. They had the push/pull, feisty banter, and chemistry that made their romance interesting, investing, and believable. I felt their connection much more than Avery and Joe.
There were a couple storyline's swirling around, Joe trying to get Avery to give him a chance, Avery organizing the biggest wedding of her career (the groom is Joe's cousin Ryan and I hope we get his story next), Avery getting the chance to host a TV show in New York, and Sofia and Steven's drama. As you can see, Avery had a lot piled on her professional plate and it tended to steal the spotlight from her and Joe as they didn't get to spend as much time together as I typically like my couples to. It's Kleypas writing, so of course, it is overall good but while the meat of the story felt like it was there, I felt like the heart wasn't.
If you liked the previous books and characters of the series, you'll delight in knowing they make frequent appearances in this. We get updates on their lives; including the good and the bad, which I absolutely loved; Haven and Hardy fans better have tissues nearby. Brown-eyed Girl may not be the best of the series but Joe's charming, sweet, and sexy ways will seduce the pants right off you and should not be missed.