Who doesn't love new books? No one. That's who! LOL We have a great list of upcoming August releases to pick up or add to your TBR list. Check them out!
*This list may be added to throughout the month
Title: Tremaine's True Love
Series: True Gentlemen #1
Author: Grace Burrowes
Format: Paperback & eBook, 416 pages
Published: August 4, 2015 by Sourcebooks Casablanca
ASIN: B00TFZ0D8A
Links: Goodreads | Amazon
Tremaine St. Michael is firmly in trade and seeks only to negotiate the sale of some fancy sheep with the Earl of Haddonfield. The earl's sister,Lady Nita, is pragmatic, hard-working, and selfless, though Tremaine senses she's also tired of her charitable obligations and envious of her siblings' marital bliss. Tremaine, having been raised among shepherds, can spot another lonely soul, no matter how easily she fools her own family. Neither Tremaine nor Nita is looking for love, but love comes looking for them.
In the latest Play-by-Play novel from the New York Times bestselling author of Quarterback Draw, a sexy baseball player is done striking out...

Tucker Cassidy is going through a slump—but not on the field. It's his dating life that's suffering. After having a painful altercation involving his ex-girlfriend's knee, Tucker is convinced it couldn't get worse…until a gorgeous doctor comes to the rescue at his most embarrassing moment.

As the daughter of the owner of the St. Louis Rivers, Dr. Aubry Ross has been around jocks all her life. She knows the ins and outs of all their games, and she isn't interested in playing.

When Tucker repeatedly lands in the hospital where she's working, Aubry starts to think he's getting injured just to see her. Tucker is both funny and sexy, and Aubry is pleasantly surprised to discover he actually respects her job.

When her father disapproves of their relationship, Aubry knows she'd rather lose Tucker than have him lose his job. But Tucker isn't about to let threats of a trade get in the way of a game-changing love…
He's in trouble with a capital T...

There's never been a female on the Dallas SWAT team and Senior Corporal Xander Riggs prefers it that way. The elite pack of alpha male wolfshifters is no place for a woman. But Khaki Blake is no ordinary woman.

When Khaki walks through the door attractive as hell and smelling like heaven, Xander doesn't know what the heck to do. Worse, she's put under his command and Xander's protective instincts go on high alert. When things start heating up both on and off the clock, it's almost impossible to keep their heads in the game and their hands off each other...
Once a member of the Sinclair men's club as their honorary female member, Alyssa Hampstead broke one of the most important rules of the club and gracefully accepted Ian Sinclair's request to leave.

For a reason.

Now, caught between two men she's terrified of, and a father determined to destroy her, she turns to the only safety she's ever known, that of the men's club she forced herself to walk away from.

Only to learn that the very men she's running from are awaiting for her there. And the man determined to destroy her, has just been waiting for her to return –
From the author of Edge of Betrayal—the Edge series returns with the climactic fifth novel, and an all-new explosive, romantic adventure...

In the world of covert operations, Bella Bayne knows how to get the job done. And with her work coming first, her personal life is coming in a distant second. Even though Bella would like nothing more than to ravish the rugged, handsome Victor Temple, she's his superior so it's a strictly hands-off affair.

When Bella gets a solid lead on the location of Dr. Norma Stynger—the twisted mind behind Project Threshold—she must team up with Victor if they are to finally bring justice to the madwoman. But when Norma's daughter risks her life to help the team, Bella is faced with the impossible task of deciding who will live and who will die…
From the author of the New York Times bestselling Bad Boys novels comes the first in a dark, sexy contemporary trilogy.

Is she strong enough to trust the most dangerous man she's ever met? And is he strong enough to let her?

How would I describe myself? Well, I'm Muse Harper. I'm a twenty-something painter who loves red wine, quirky movies, and men with a fatal flaw. But that was before I met Jasper King. He became my fatal flaw. Eight months ago, I had a choice to make—abandon everything I've ever known to protect my family, or stay and risk someone getting hurt. I chose the former. My plan was working just fine until I found out my father had gone missing.

That's when I met Jasper. A bounty hunter with the eyes of a tiger and the nose of a bloodhound, he was supposed to help me find my father. What I didn't know was that meeting him was no accident. Hunting people isn't all that Jasper does. And helping me was only part of his plan. I just wish I'd found out sooner, before my heart got involved. But even then, I don't know if I'd have done things differently.

Now, I have another choice to make—trust the man that I'm falling in love with and hope that he'll do the right thing, or run as far away from him as I can get.
The Shaughnessy brothers—Aiden in particular—have spent the years since their mother's untimely death taking care of each other and trying to make their father proud. And Aiden has managed pretty well so far. But his father is starting to worry he's neglected himself. At the age of thirty-four, he is successful and handsome, and he still has no grandchildren!

Aiden's met plenty of attractive women over the years, but who has the time? It isn't until he meets Zoe, a designer on one of his jobs, that he starts realizing he wants something more...
10th
Down and out with an injury keeping him away from the game, Assassins' defenseman Jordie Thomas lives for the blades of his skates on the ice and the feeling of oblivion off it. With no choice but to heal, he's forced away from the sport that runs through his veins. With everything at stake and darkness setting in, he quickly finds himself spiraling even further out of control. As his life begins to come crashing down around him and his contract with the Nashville Assassins on the line, he's given an ultimatum. Ready or not, Jordie is forced to face his past, the fears that consume him, and the one woman he let walk away.

Kacey King had her professional dreams come true, yet her heart was battered and broken. With an Olympic gold medal around her neck, she's ready to look forward to the future but without the one man she wanted in it. She's missing the key pieces of her heart she left months ago with the only person who was capable of destroying it, causing her to falter in all her plans to move on.

In the game of life, there are winners and losers, and neither Jordie nor Kacey want to be on the losing bench. If only Jordie could convince Kacey he's a changed man and that he wants her right by his side as his MVP for the biggest and best parts of a life they build together. With emotions running high and the game on the line, can two proud people find happiness with each other, or will their hearts and souls be left in the cold? Will they see that sometimes having someone by your side who knows the good, bad, and broken is better than going it alone and losing everything through the back of the net? They are out of time on the game clock and fighting for the win of their lives.

But overtime was made for an Assassin like Jordie.
11th
Title: Better When He's Brave
Series: Welcome to the Point #3
Author: Jay Crownover
Format: Paperback & eBook, 352 pages
Published: August 11, 2015 by William Morrow Paperbacks
ASIN: B00OG9IVNY
Links: Goodreads | Amazon
In New York Times and USA Today bestselling author Jay Crownover's third novel in her sexy, thrilling Welcome to the Point series, a woman's search for repentance leads her to the one man from her past she can't forget as they join forces to save their city—and the explosive love neither can live without.
Titus King has always seen his world in black and white. There is a firm right and wrong in his mind, which is why as a teenager he left behind the only family he'd ever known to make a better life for himself. Now a police detective in one of the worst cities in the country, he can't deny his life has turned into a million different shades of gray.

The new criminal element in The Point has brought vengeance and destruction right to Titus's front door, and walking the straight and narrow seems far less important now. The difference between right and wrong is nothing compared to keeping those he loves alive. To add to his already strained moral compass, the beautiful and mysterious Reeve Black has made her way back to town. This girl might be as dangerous to Titus as the guy trying to destroy the Point but he can't walk away because he needs her—in more ways than one.

Reeve knows all about the threat trying to destroy The Point. She knows how ruthless, how vicious, and how cruel this new danger can be… and instead of running away, she wants to help. Reeve knows that she has a lot to repent for and saving the city, plus the hot cop that she hasn't been able to forget might just be the only way she can finally find some inner peace.

With an entire city poised on the brink of war, Titus and Reeve stand in the crossfire—and it will take two brave souls to fight for the ultimate love.
Consumed by You
(Fighting Fire #3)
by Lauren Blakely
ebook
Expected publication: August 11th 2015 by Entangled: Brazen
ISBN 1633753093
AMAZON | GOODREADS
She's playing with fire...

Dog trainer Cara Bailey wants to find "the one," but fantasizing about her sexy-as-hell client, firefighter Travis Jansen, is getting in the way. Her only option? Get the confirmed bachelor out of her system-in every position possible-so she can settle down with Mr. Right. Starting right now.

Travis doesn't do relationships, so no matter how badly he wants the pretty little brunette, he keeps his distance. Until Cara goes and changes the game. She'll fulfill all of his fantasies if he agrees to walk away when it's over. But when the wildfire between them blazes out of control, it will consume everything-and everyone-in its path...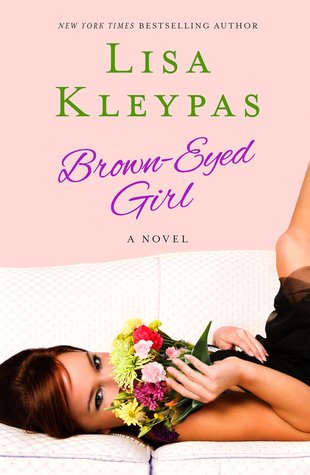 Title: Brown-Eyed Girl
Author: Lisa Kleypas
Series: Travis Family #4
Format: Paperback & eBook, 304 pages
Published: August 11, 2015 by Piatkus Books
ASIN: B00S52XQ56
Links: Goodreads | Amazon
Wedding planner Avery Crosslin may be a rising star in Houston society, but she doesn't believe in love--at least not for herself. When she meets wealthy bachelor Joe Travis and mistakes him for a wedding photographer, she has no intention of letting him sweep her off her feet. But Joe is a man who goes after what he wants, and Avery can't resist the temptation of a sexy southern charmer and a hot summer evening.

After a one night stand, however, Avery is determined to keep it from happening again. A man like Joe can only mean trouble for a woman like her, and she can't afford distractions. She's been hired to plan the wedding of the year--a make-or-break event.

But complications start piling up fast, putting the wedding in jeopardy, especially when shocking secrets of the bride come to light. And as Joe makes it clear that he's not going to give up easily, Avery is forced to confront the insecurities and beliefs that stem from a past she would do anything to forget.

The situation reaches a breaking point, and Avery faces the toughest choice of her life. Only by putting her career on the line and risking everything--including her well-guarded heart--will she find out what matters most.
(The Reawakened #1)
by Colleen Houck
Hardcover, 400 pages
Expected publication: August 11th 2015 by Delacorte Press
When seventeen-year-old Lilliana Young enters the Metropolitan Museum of Art one morning during spring break, the last thing she expects to find is a live Egyptian prince with godlike powers, who has been reawakened after a thousand years of mummification.

And she really can't imagine being chosen to aid him in an epic quest that will lead them across the globe to find his brothers and complete a grand ceremony that will save mankind.

But fate has taken hold of Lily, and she, along with her sun prince, Amon, must travel to the Valley of the Kings, raise his brothers, and stop an evil, shape-shifting god named Seth from taking over the world.

From New York Times bestselling author Colleen Houck comes an epic adventure about two star-crossed teens who must battle mythical forces and ancient curses on a journey with more twists and turns than the Nile itself.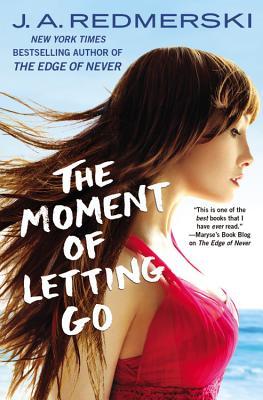 The Moment of Letting Go
by J.A. Redmerski
Paperback, 432 pages
Published August 11th 2015 by Forever
ISBN 1455531537
AMAZON | GOODREADS
You can follow the rules or you can follow your heart...



THE MOMENT OF LETTING GO





Sienna Murphy never does anything without a plan. And so far her plans have been working. Right after college, she got a prestigious job and gained the stability she'd always craved-until work takes her to the sun-drenched shores of Oahu and places her in the path of sexy surfer Luke Everett. For the first time, she lets her heart take control. Drawn to his carefree charm, she makes a spontaneous and very un-Sienna-like decision to drop everything and stay in Hawaii for two more weeks.





Luke lives fast and wild. When he meets Sienna, he's convinced that some no-strings-attached fun is just what she needs. As their nights quickly turn from playful to passionate, Luke can't deny the deep connection he feels. But there's a reason Luke doesn't do long-term. He can't promise Sienna forever, when the enormity of his past has shown him just how fragile the future can be . . .
(The McCarthys of Gansett Island #13)
Expected publication: August 18th 2015 by HTJB, Inc.
Paul Martinez has been run ragged by the demands of managing the family's landscaping business and his mother's battle with dementia. It's been so long since he had sex, he can't remember the last time. The arrival of nurse Hope Russell brought some badly needed help to Paul and his brother Alex in managing their mother's illness, but Hope's presence has sparked a whole new problem for Paul—lusting after one of his employees, something his late father would never condone.

Hope and her young son Ethan badly need this second chance on Gansett Island, and she's determined to make her new job work for both of them. Kissing her boss, however, was not part of the plan. The more time she spends with Paul, the more she admires the way he cares for his mother and the attention he pays to her son. But when Paul finds out about her shameful past, will he still want her and Ethan in his life?

Come back to Gansett Island to find out what's going on with all your favorite characters, including Mac and Maddie, Seamus and Carolina and the rest of the Gansett crew. Weeks before Alex and Jenny's long-awaited wedding, Alex begins to worry that his bride is getting cold feet—or is something else going on? It's September on Gansett where the days are cool, bright and sunny and the nights are hot and sexy! Approximately 90,000 words.
Expected publication: August 18th 2015 by InterMix
Will wedding bells rock out for Louder Than Love's most beloved couple in this Love and Steel novella?

Falling in love with rock star Adrian "Digger" Graves was a dream come true for former librarian Kat Lewis. But with a little help from friends and family—including Kat's adorable daughter, Abbey—Adrian has planned an evening and a proposal beyond her wildest dreams.

The night before, Kat witnessed the triumphant reunion of Adrian's rock band at Madison Square Garden. Tonight, he will escort her to the elegant, ultra-exclusive Library Lion's benefit. It seems like a fairytale, but even fairytales have a deeper, darker side. When old habits return to tempt her knight in shining heavy metal armor, will Kat's happily ever after come crashing back to reality?

THIS IS AN EPILOGUE NOVELLA THAT PICKS UP THE DAY AFTER LOUDER THAN LOVE ENDS. This novella is intended to be read after Louder Than Love. Don't miss the next Love and Steel novel, Softer Than Steel, coming in September 2015 from InterMix.
Expected publication: August 18th 2015 by InterMix
The national bestselling author of The List continues her sinfully addictive Irresistible series…

When it comes to the wolves of Wall Street, Ryan Hamilton is the leader of the pack. But his bravado is all bluff. The bank he works for is up to it's assets in fraud and shady deals. And thanks to pressure from the NYPD and FBI, Ryan is working as both a trader and a whistleblower. His only respite from the tension is when he parades his latest arm candy at a fancy lingerie shop.

Simone Demarchelier owns Irresistible, crafting custom high-end lingerie. So she's more than happy that Ryan is spending a fortune on his women. But she senses that behind the hotshot facade there is something more. Something tortured and sad. And when he flies her out to the Hamptons in the shadow of a summer thunderstorm in order to fix one of her designs, she instead finds herself stuck in the opulent home with a distraught Ryan.

Is Simone the one person who can mend Ryan's heart and soul?
25th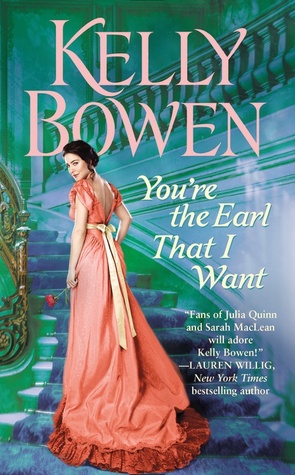 Title: You're the Earl That I Want
Series: The Lords of Worth #3
Author: Kelly Bowen
Format: Paperback & eBook, 384 pages
Published: August 25, 2015 by Forever
ASIN: B00QQQL7KO
Links: Goodreads | Amazon
THE EARL DOTH PROTEST . . .

For businessman Heath Hextall, inheriting an earldom has been a damnable nuisance. The answer: find a well-bred, biddable woman to keep his life in order and observe the required social niceties. But it's always been clear that Lady Josephine Somerhall is not that woman. Once a shy slip of a girl, Joss is now brilliant, beautiful chaos in a ball gown.

. . . BUT THE LADY KNOWS BEST

In her heart, Joss has always loved Heath, the one person she's always been able to count on. That doesn't mean she wants to marry him though. Without a husband, Joss can do as she pleases—and now, it pleases her to solve the mystery of an encoded file given to Heath by a dying man. It's put Heath in peril once, and Joss won't let that happen again. She'll do what she must to ensure the earl's safety. And to remind him that what she lacks in convention, she makes up for in passion.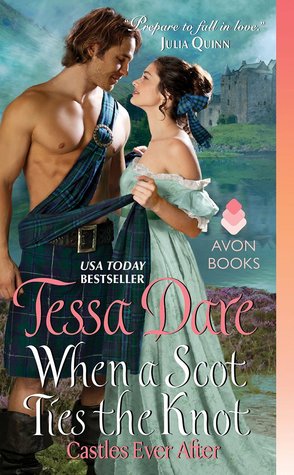 Title: When a Scot Ties the Knot
Series: Castles Ever After #3
Author: Tessa Dare
Format: Paperback & eBook, 384 pages
Published: August 25, 2015 by HarperCollins
ISBN-13: 9780062349033
Links: Goodreads | Amazon
On the cusp of her first London season, Miss Madeline Gracechurch was shyly pretty and talented with a drawing pencil, but hopelessly awkward with gentlemen. She was certain to be a dismal failure on the London marriage mart. So Maddie did what generations of shy, awkward young ladies have done: she invented a sweetheart.

A Scottish sweetheart. One who was handsome and honorable and devoted to her, but conveniently never around. Maddie poured her heart into writing the imaginary Captain MacKenzie letter after letter … and by pretending to be devastated when he was (not really) killed in battle, she managed to avoid the pressures of London society entirely.

Until years later, when this kilted Highland lover of her imaginings shows up in the flesh. The real Captain Logan MacKenzie arrives on her doorstep—handsome as anything, but not entirely honorable. He's wounded, jaded, in possession of her letters… and ready to make good on every promise Maddie never expected to keep.
Title: Tough Love
Series: Ultimate #3
Author: Lori Foster
Format: Paperback & eBook, 554 pages
Published: August 25, 2015 by HQN
ASIN: B00SFSZWVQ
Links: Goodreads | Amazon
She's playing hard to get… to win the MMA fighter of her ultimate fantasies in a sultry new novel from New York Timesbestselling author Lori Foster…

Vanity Baker loves a good, clean match, but she's not above playing a little dirty. She's wanted Stack "The Wolf" Hannigan from day one. Seems as though the best way to corral the famously commitment-phobic fighter is to insist on keeping it casual. And her plan works—deliciously well—until Stack's past steps out of the shadows.

Stack learned early to stay free of attachments. But with sexy, forthright Vanity, he's the one always left wanting more. Then his troublemaking family comes back into the picture, threatening everything Stack cares about—Vanity included. Suddenly he realizes they're much more than friends with benefits. He's ready to go to the mat for her…but will it be in time to protect the woman who's tamed him for good?
Title: Scotsman of My Dreams
Series: MacIain #2
Author: Karen Ranney
Format: Paperback & eBook, 384 pages
Published: August 25, 2015 by Avon
ASIN: B00QFOBLK8
Links: Goodreads | Amazon
In New York Times bestselling author Karen Ranney's second novel in her breathtaking series, an unconventional woman and a former scoundrel embark on a daring mission of desire

Once the ton's most notorious rake, Dalton MacIain has returned from his expedition to America during the Civil War— wounded and a changed man. Instead of returning to his old haunts, he now spends his time at home. But Dalton's peace is disturbed when Minerva Todd barges into his London townhouse, insisting he help search for her missing brother Neville. Though Dalton would love to spend more time with the bewitching beauty, he has no interest in finding Neville, whom he blames for his injury.

Minerva has never met a more infuriating man than the Earl of Rathsmere, yet she is intrigued by the torrid rumors she has heard about him . . . and the fierce attraction pulling her toward him.

Dalton does not count on Minerva's persistence, or the desire she awakens in him, compelling him to discover her brother's fate. But when danger surrounds them, Dalton fears he will lose the tantalizing, thoroughly unpredictable woman he has come to love.
(Immortal Guardians #6)
Expected publication: August 25th 2015 by Zebra
The Immortal Guardians protect the innocent in secret. Sometimes the secret gets out...

U.S. law enforcement agent Heather Lane can read minds. But not the future. The dream of battle and blood that recurs every night must be a fluke, some obscure terror from her own mind. What its significance might be, she can't guess: an attack from seven psychotic vampires at once, only separated from nightmare by an eighth very different immortal. A handsome, brave man fighting at her side, a man she misses when she wakes.

Then the dream comes true. Heather is flung into a war between predators and protectors of humanity, the man from her dreams beside her again. Except now that she's awake, she isn't sure she can trust Ethan, or the shadow organization he represents. The U.S. military doesn't trust either of them. But against an onslaught of evil like the one that's coming, it will take everything they have just to survive...
Mass Market Paperback, 384 pages
Expected publication: August 25th 2015 by Mira
Blake Smiley searched the country for just the right place to call home. The professional triathlete has traveled the world, but Thunder Point has what he needs to put down the roots he's never had. In the quiet coastal town he can focus on his training without distractions. Until he meets his new neighbors and everything changes.

Lin Su Simmons and her teenage son, Charlie, are fixtures at Winnie Banks' house as Lin Su nurses Winnie through the realities of ALS. A single mother, Lin Su is proud of taking charge and never showing weakness. But she has her hands full coping with a job, debt and Charlie's health issues. And Charlie is asking questions about his family history—questions she doesn't want to answer.

When Charlie enlists Blake's help to escape his overprotective mother, Lin Su resents the interference in her life. But Blake is certain he can break through her barriers and be the man she and Charlie need. When faced with a terrible situation, Blake comes to the rescue, and Lin Su realizes he just might be the man of her dreams. Together, they recognize that family is who you choose it to be.
Mass Market Paperback, 384 pages
Expected publication: August 25th 2015 by Avon
Everything's bigger in Big Sky country, including the hearts of the Montana Men...

Champion rodeo rider Dane Bowden is eight seconds from winning under the Vegas lights, one last hurrah before reluctantly returning to his family's Montana ranch. But his bull has other plans. When Dane wakes up, he's sure he's died and gone to heaven . . . because the doctor who comes to his aid is the same girl who saved his life and disappeared years ago.

Bell would do anything for Dane. He's the fantasy that always kept her going. A child genius hidden away by her family, Bell was the secret no one talked about, the girl no one wanted. Despite finding success as a young surgeon, she's still the awkward girl who's never had a boyfriend. So why does Dane, a notorious playboy and sizzling-hot cowboy, insist on taking her on a real date?

Bell is the only woman in Dane's heart. When a rodeo rivalry turns deadly, it's his turn to save Bell's life—because he sure as hell won't lose his guardian angel again.
Expected publication: August 25th 2015 by Gallery Books
A knight in tarnished armor is still a knight.

When you're a defense attorney in Washington, DC, you see firsthand how hard life can be, and that sometimes the only way to survive is to be harder. I, Jake Becker, have a reputation for being cold, callous, and intimidating—and that suits me just fine. In fact, it's necessary when I'm breaking down a witness on the stand.

Complications don't work for me—I'm a "need-to-know" type of man. If you're my client, tell me the basic facts. If you're my date, stick to what will turn you on. I'm not a therapist or Prince Charming—and I don't pretend to be.

Then Chelsea McQuaid and her six orphaned nieces and nephews came along and complicated the ever-loving hell out of my life. Now I'm going to Mommy & Me classes, One Direction concerts, the emergency room, and arguing cases in the principal's office.

Chelsea's too sweet, too innocent, and too gorgeous for her own good. She tries to be tough, but she's not. She needs someone to help her, defend her…and the kids.

And that — that, I know how to do.
Expected publication: August 25th 2015 by Simon Pulse
To everyone who knows him, West Ashby has always been that guy: the cocky, popular, way-too-handsome-for-his-own-good football god who led Lawton High to the state championships. But while West may be Big Man on Campus on the outside, on the inside he's battling the grief that comes with watching his father slowly die of cancer.

Two years ago, Maggie Carleton's life fell apart when her father murdered her mother. And after she told the police what happened, she stopped speaking and hasn't spoken since. Even the move to Lawton, Alabama, couldn't draw Maggie back out. So she stayed quiet, keeping her sorrow and her fractured heart hidden away.

As West's pain becomes too much to handle, he knows he needs to talk to someone about his father—so in the dark shadows of a post-game party, he opens up to the one girl who he knows won't tell anyone else.

West expected that talking about his dad would bring some relief, or at least a flood of emotions he couldn't control. But he never expected the quiet new girl to reply, to reveal a pain even deeper than his own—or for them to form a connection so strong that he couldn't ever let her go…
by Alexandra Ivy, Rebecca Zanetti, Dianne Duvall, Hannah Jayne
Expected publication: August 25th 2015 by Zebra
Four of today's most intriguing paranormal authors entice readers deep into the shadows, where vampires, immortals, and other supernatural creatures heat up the night...

ON THE HUNT by Alexandra Ivy
Mika Tanner has loved Bailey Morrell, a beautiful Healer, since childhood. But his duty as a Sentinel, a supernatural guardian of an ancient race, clashed with her rebellious spirit. Now a dangerous new anarchist group not only threatens life as they know it—but any chance of their being together again...

SCORPIUS RISING by Rebecca Zanetti
While searching for a meteorite, Nora Mendina is arrested by her sheriff ex-husband—who's only gotten hotter than the Nevada desert since she last saw him. When the meteorite breaks open, the few survivors gain extraordinary powers, unleashing a crazed super genius killer. Can Nora and her ex stop the murders…while igniting a new love affair?

PHANTOM EMBRACE by Dianne Duvall
Immortal Yuri Sokolov was born with the ability to see spirits, yet he's never seen one as lovely as Cat Seddon, the woman who haunts his home and his dreams. But amid their star-crossed love, a new danger may have Yuri facing a different kind of eternity.

STAKE OUT by Hannah Jayne
Vampire fashion designer Nina LaShay has a lot on her plate—just two days until fashion week and the model who was flirting with her photographer boyfriend is now a corpse in her studio. But when dead turns into undead and dangerous, Nina must find out who's responsible…before the beautiful baby vamp takes too many bites out of the Big Apple.
(San Francisco Wolf Pack #2)
by Kristin Miller
Expected publication: August 25th 2015 by Entangled Publishing, LLC (Covet)
A paranormal category romance from Entangled's Covet imprint...



This lone wolf falls hard...for his enemy.





Unmated werewolves don't normally live past three hundred years old...and billionaire Jack MacGrath is cutting it close. Sure, he has almost everything-the respect of his peers, a mansion in San Francisco, a private jet, and fast cars. But without a mate, Jack's in trouble. Then he sees her. Gorgeous, proud...and his enemy.





Isabelle Connelly is good at hiding things from her father. Like her success as a painter, or the incredibly intense attraction she has to Jack MacGrath. After all, she's royalty and falling for anyone lesser-to say nothing of a rival pack-would be, er, unseemly. Now she must choose between her duty to her family and her pack...or her perfect fated mate.
27th
Title: Finding Gabriel
Author: Rachel L. Demeter
Format: eBook, 400 pages
Published: August 27, 2015 by Momentum (Pan Macmillan)
ASIN: B00YLWA044
Links: Goodreads | Amazon
Colonel Gabriel de Laurent departed for the war intending to die.

After a decade of bloodstained battlegrounds while fighting in Napoleon's army, Gabriel returns to the streets of Paris a shattered and haunted soul. Plagued by inner demons, he swallows the barrel of his flintlock pistol and pulls the trigger.

But fate has a different plan.

Ariah Larochelle is a survivor. Orphaned at twelve and victim to a devastating crime, she has learned to keep her back to walls and to trust no one. But when she finds a gravely injured soldier washed up on the River Seine, she's moved by compassion. In spite of her reservations, she rescues him from the icy water and brings him into her home.

Now scarred inside and out, Gabriel discovers a kindred spirit in Ariah—and feelings he imagined lost forever reawaken as he observes her strength in the face of adversity. But when Ariah's own lethal secrets unfold, their new love is threatened by ancient ghosts. Can Gabriel and Ariah find hope in the wreckage of their pasts—or will the cycle of history repeat again?

Perfect for fans of Gaelen Foley's Lord of Ice and Judith James's Broken Wing, Finding Gabriel features all the dark romance, searing passion, and historical intrigue of The Phantom of the Opera and Les Misérables.
Melting Point
(Hot in Chicago #1.5)
by Kate Meader
Kindle Edition
Expected publication: August 31st 2015 by Pocket Star
ASINB00W061C6I
AMAZON | GOODREADS
Things are heating up at Engine Co. 6 in this original e-novella from Kate Meader's sizzling Hot in Chicago series! Superhot playboy firefighter Gage Simpson has one particular man on his mind: Brady Smith, a recalcitrant, moody chef who makes Gage melt from the inside out. Features a sexy sneak preview of Playing with Fire!





Firefighter Gage Simpson has it all: the job of his dreams, the family of his heart, and no shortage of hot guys lining up to share his bed. "Fun and easy" is his motto—and it's kept him sunny through a painful upbringing and steered him away from trouble. But when trouble comes knocking in the form of a sexy, scarred, tattooed chef with a harrowing past and zero communication skills, Gage can't help but be drawn to the flame.





Brady Smith isn't fun. And easy isn't in his vocabulary. When cocky Gage swaggers into his restaurant kitchen, the former Marine-turned-five-star-chef is blindsided by the firefighter's beauty. Then confused that this golden guy with the sparkling blue eyes and the body of a god might be interested in him. As desire flares and temperatures rise, Gage and Brady will have to figure out if the heat between them is just a temporary flash—or the beginning of something real.