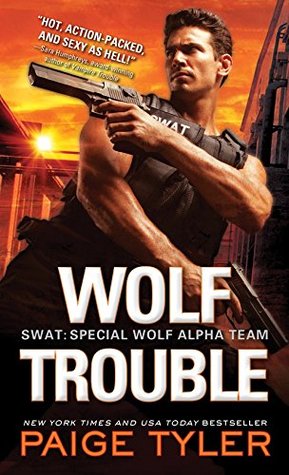 Title:
Wolf Trouble
Series:
SWAT #2
Author:
Paige Tyler
Format:
eBook/Mass Market Paperback, 352 pages
Expected publication:
August 4th 2015 by Sourcebooks Casablanca
ISBN:
1492608505
Links:
Goodreads
|
Amazon
|
B&N
Reviewer:
Linda
Source:
Netgalley
Rating:
4.5 out of 5 Wine Glasses
He's in trouble with a capital T...

There's never been a female on the Dallas SWAT team and Senior Corporal Xander Riggs prefers it that way. The elite pack of alpha male wolfshifters is no place for a woman. But Khaki Blake is no ordinary woman.

When Khaki walks through the door attractive as hell and smelling like heaven, Xander doesn't know what the heck to do. Worse, she's put under his command and Xander's protective instincts go on high alert. When things start heating up both on and off the clock, it's almost impossible to keep their heads in the game and their hands off each other...
Linda's Thoughts:

"Putting a woman on the team would be a nightmare, you know that," he said as he started the engine and put the SUV in gear. "We're werewolves. How the hell do you think we're going to be able to hide that from her and do our job at the same time? And don't even get me started on the whole pheromone thing."

They might be men first, and wolves second, but if there was one thing that could bring the whole Pack to its knees, it was the scent of a woman.

"We won't have to hide what we are if the female cop I bring in is a werewolf," Gage said.

WOLF TROUBLE by Paige Tyler is a steamy, action-packed urban fantasy centered around a SWAT team in Dallas, Texas populated by buff alpha wolf-shifters. This is actually the first book I've ever read by Paige. I met her at the Coastal Magic Convention this past February in Daytona Beach and vowed then to check out her books. Now that I've read one, I'm hooked, and plan to check out more of her books soon!

WOLF TROUBLE is the second book in the author's SWAT series. The first book, HUNGRY LIKE A WOLF, previously garnered a

4.5 Wine Glass review by Crystal

. If you haven't read HUNGRY LIKE A WOLF, don't worry as WOLF TROUBLE works very well as a standalone. But I warn you - it will make you want to go back and read the first one!

This is the story of Senior Corporal Xander Riggs, who is opposed to having a female on the SWAT team, and Khaki Blake, a new wolf-shifter and new SWAT team member under Xander's command. As the story opens, we learn that the Dallas SWAT team is being forced by Human Resources to add a female member so it doesn't appear that they discriminate against women. Adding a human member would cause problems galore for the all-male-shifters team, so a search is made for a female werewolf to fill the role. Khaki Blake jumps at the chance when she's offered the position.

I actually felt sorry for Xander. He was in a quandary. He couldn't stop ogling the new addition to his squad because she smelled too good for him to ignore. He couldn't figure out why the other guys weren't having the same issues. LOL! How the man could be so dense about her being 'The One' for him is beyond me, but Paige makes it all seem believable. In Xander's defense, he does not believe in the philosophy of 'The One.' Xander ineffectively copes with the situation by being distant and even hostile towards Khaki.

Khaki had made the mistake of dating a co-worker at her former position as a police officer in Washington State. When she broke off the relationship, her ex-boyfriend made things extremely difficult for Khaki there. Her fellow officers quit supporting her and backing her up when she needed help. With this new opportunity and clean break, Khaki is determined to prove herself capable of holding her own with the guys on the SWAT team, but she can't stop thinking about her hot squad leader. He smells too good to be true!

The rest of the SWAT team is extremely likable. I mean, who doesn't enjoy reading about a plethora of nice-guy hunky alphas working out and strutting their stuff? There's an assortment of villains not to like with plenty of bad guys vs good guys action.

I really enjoyed reading about the team's rigorous training and the perils they faced without hesitation. When they ditched their shirts and got all sweaty, they exuded testosterone and I lapped it up! The trust and camaraderie between the squad members and the way they bonded was captivating to read. I also liked that we're treated to seeing Khaki's discovery of her inner wolf. You'll have to delve into this highly entertaining book to find out what I mean.

Following please find a few of my favorite quotes from this spicy read:

When you meet 'The One' you'll know it. She'll latch onto your soul like a god with a bone and won't let go. No matter what either of you say or do, it won't change the fact that you're destined to be together. ---


"You want to come in?" she asked softly.

He leveled his gaze at her. "You know what's likely going to happen if I go in there, right?"

She didn't blink. "Yeah. That's why I'm asking." ---


...With a little help from him, she finally had his belt unbuckled and the buttons of his 501s undone.

A moment later she learned two important facts about Xander. For one thing, he didn't wear underwear. And for another, he had an absolutely perfect cock.

Whether you are a fan of imaginative paranormal romances or swexy romantic suspense, this series should be on your must-read list! It's fun, racy and just plum enjoyable! Combine fit alpha characters, witty banter, intense dangerous perils and a sweet and hot romance for a well-balanced tale you won't want to put down. I can't wait to read about the rest of the SWAT team finding 'The One' for them in future installments!

Suggested Reading order:

Hungry Like the Wolf (SWAT, #1) -

Review

|

Purchase

Wolf Trouble (SWAT, #2) -

Purchase

In the Company of Wolves (SWAT, #3) -

PreOrder