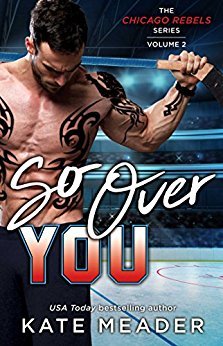 So Over You
(Chicago Rebels #2)
by Kate Meader
Kindle Edition, 400 pages
Published December 4th 2017 by Pocket Star
ASINB06ZXWGRWG
Three estranged sisters struggle to sustain their late father's failing hockey franchise in Kate Meader's sizzling Chicago Rebels series. In this second entry, middle sister Isobel is at a crossroads in her personal and professional lives. But both are about to get a significant boost with the addition of a domineering Russian powerhouse to the Rebels....

Isobel Chase knows hockey. She played NCAA, won Olympic silver, and made it thirty-seven minutes into the new National Women's Hockey League before an injury sidelined her dreams. Those who can't, coach, and a position as a skating consultant to her late father's hockey franchise, the Chicago Rebels, seems like a perfect fit. Until she's assigned her first job: the man who skated into her heart as a teen and relieved her of her pesky virginity. These days, left-winger Vadim Petrov is known as the Czar of Pleasure, a magnet for puck bunnies and the tabloids alike. But back then... let's just say his inability to sink the puck left Isobel frustratingly scoreless.

Vadim has a first name that means "ruler," and it doesn't stop at his birth certificate. He dominates on the ice, the practice rink, and in the backseat of a limo. But a knee injury has produced a bad year, and bad years in the NHL don't go unrewarded. His penance? To be traded to a troubled team where his personal coach is Isobel Chase, the woman who drove him wild years ago when they were hormonal teens. But apparently the feeling was not entirely mutual.

That Vadim might have failed to give Isobel the pleasure that was her right is intolerable, and he plans to make it up to her—one bone-melting orgasm at a time. After all, no player can perfect his game without a helluva lot of practice...
Excerpt #4 (R-rated)
She sat on the bed, yanking off her Joan of Arctic boots while Vadim paced. Back and forth, forth and back, looking up every few seconds to check her progress. Socks off. Another look. Hoodie was history. Another look. Ten seconds between each glance, which meant he was—oh, God—counting off in his head.
She was down to leggings and a tank top.
"Are you going to wear a rut in the carpet, Russian, or a rut in me?"
He stopped, and stabbing his fingers through his hair, spoke with immense effort. "Remove all your clothes immediately."
She swore his erection poked higher in his sweatpants.
"What's wrong, Vadim? Are you afraid you might get overexcited if you peel off my top and get a bra strap sighting? If your fingers graze my skin, will we start to see little Vadim"—she pointed at not-so-little Vadim, now straining to punch through the thin fabric—"weeping his cockhead off? Worried you'll blow before you can get me there?"
She'd been teasing him—mercilessly, she now realized—and he was actually concerned. Nice going, dummy.
He continued. "I am currently running my stats from every season starting five years ago."
"Third year in the NHL. My best season to date."
With a teasing lick of her lips, she accessed her memory banks. "Thirty-eight goals, 64 assists, 19.5 shooting percentage, 8 game-winning beauties."
He halted the pacing and faced her with hands on hips, his expression one of lust battling disbelief.
"Did I just turn you on even more, Russian?"
She winked. Evil, thy name is Isobel Chase.
Apparently this was the last straw. "Why are you torturing me? Do you not realize that if I touch you too soon, I cannot be responsible? It will be fast, brutal, lacking in finesse. This time, I promise to make it right for you."
His admission of vulnerability floored her. To have this power over someone as self-contained as Vadim was both heady and humbling. As for the fast and brutal comment? Slippery warmth gushed between her thighs.
No more games. She gripped the hem of her tank and ripped it off over her head, her nipples tightening against her bra at the blue-fire flare of appreciation in his eyes. Then she stood, turned, and peeled off her leggings.
She might have paused a second just as they cleared her ass. Evil was a good look on her, and let's face it, she had a pretty great ass. His groan filled the room like a prayer.
Still with her back to him, she finished the strip, and was now left in a black satin bra with red bows and a matching high-cut bikini from Addison William's Beautiful collection—Isobel loved the complete, but still sexy, coverage of the pieces designed for full-figured women.
By the sounds she was hearing behind her, she guessed Vadim loved it, too.
Kneeling one leg on the bed, she looked over his shoulder to find him—oh yeah—stroking his erection through his sweatpants. The man was a walking god, all sculpted muscle, his body inked to highlight every ridge and plane to perfection. The spot between her thighs got warmer. Wetter.
"You wear this when you are coaching and tempting me with your black pants?"
She had tempted him in her unsexy sweats? "Sometimes. I like to feel sexy."
"They are—you are—" He placed a hand on her hip, and she sensed both reverence and restraint, but also a heat that burned through everything. "I will make it good for you, I promise."
He sounded so sincere—too sincere—and something tugged in her chest. A curl of regret.
She opened her mouth to respond, but got distracted when he hooked his fingers in the side of her panties and teased them off in a slow, torturous descent. And if it was this bad for her, it had to be killing him. In this position, she felt more exposed than if she had been facing him.
Leaving her panties at her knees, he traced a hand along the ladder of her spine, then circled her hip to clamp that hand over the juncture of her thighs. Yes. Moving her ponytail aside, he nuzzled her neck and applied whisper-soft kisses to her heated skin. Just like in her car, her hips scouted ahead for pleasure, rocking and rolling. Seeking the hardness of his cock behind her, the grind of his fingers between her legs.
One of those magic digits parted her in a delicious swipe. That stroke shot to every extremity. "You are so wet, Bella."
She leaned into his touch, needing more, demanding more, he rubbed harder. Impossibly good. She moaned, encouraging him to take control.
Gripping her hip, he turned her over and pushed her back on the bed. Her panties didn't last, and Vadim lay down beside her, still wearing sweatpants, his erection poking against her thigh. She reached for it, and he swatted her away.
"Not yet, Bella. Let me love you properly first."
Love? Surely, just a translation hiccup. "Oh—okay."
His fingers returned to their holy work. "I want to see your eyes."
In case she faked it, maybe? Now she was starting to doubt. What if she'd placed too much pressure on him, which placed too much pressure on her, and she felt a need to rush them to a conclusion just so they could move past this?
"I know what you're thinking, Bella." Those crystalline blue eyes held hers captive, his expression grave.
"You're thinking that there is a lot of pressure here." He applied a different sort of pressure with one finger, then two inside her. She accommodated the stretch by arching into the exquisite pleasure.
"There—there is. And I'm worried I've set us up to fail."
His mouth descended onto hers, kissing away all the worries. There was a very excellent chance she was going to come with Vadim Petrov for the first time.
"Tell me what feels good, sexy girl."
"What you're doing is fine."
"Good. So good." It was, but maybe if he . . .
"Be honest, Bella. Do you need my mouth on your breasts, my tongue in your pussy? Do you need it slow or fast? Hard or soft?"
She inhaled a couple of sharp breaths. His list of all the awesome gifts he could deliver opened her up. "My clit. Go slow. Build to it. Not too fast." The words gasped from her in staccato bursts, her honesty feeling almost as good his fingers now moving to accommodate her request.
"More like"—she placed his fingers on either side of that sensitive bundle of nerves and guided him to a steady stroke—"this. Avoid my clit until I'm all fired up."
He smiled, the most beautiful thing she'd ever seen. "Let us get you all fired up, Bella."
The Chicago Rebels Series
About the author: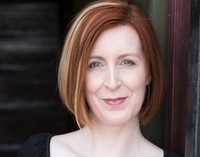 Kate Meader was raised on romance. An Irish girl, she started with Catherine Cookson and Jilly Cooper novels, and spiced it up with some Mills & Boon. Now based in Chicago, she writes romances of her own, where sexy contemporary alpha heroes and strong heroines match each other quip for quip. When not immersed in tales of brooding mill owners, oversexed equestrians, and men who can rock an apron or a fire hose, Kate lives on the web at katemeader.com.
Tour-Wide Giveaway:
Kate Meader will be giving away a $25 Amazon gift card during release week. To enter, please go
HERE
!