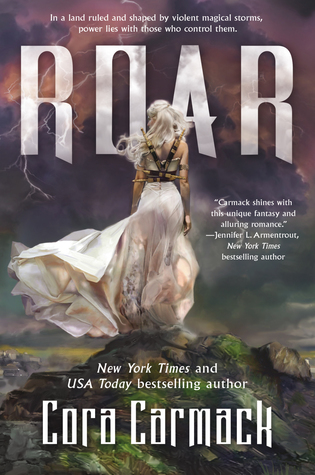 Title
: Roar
Series
: Stormheart #1
Author
: Cora Carmack
Format
: Hardcover, 380 pages
Published
: June 13th 2017 by Tor Teen
ISBN
: 0765386313
Links
:
AMAZON
|
GOODREADS
|
B&N
Reviewer
: Crystal
Source
: Purchased by Reviewer
Rating
: 5 out of 5 Wine Glasses
In a land ruled and shaped by violent magical storms, power lies with those who control them.

Aurora Pavan comes from one of the oldest Stormling families in existence. Long ago, the ungifted pledged fealty and service to her family in exchange for safe haven, and a kingdom was carved out from the wildlands and sustained by magic capable of repelling the world's deadliest foes. As the sole heir of Pavan, Aurora's been groomed to be the perfect queen. She's intelligent and brave and honorable. But she's yet to show any trace of the magic she'll need to protect her people.

To keep her secret and save her crown, Aurora's mother arranges for her to marry a dark and brooding Stormling prince from another kingdom. At first, the prince seems like the perfect solution to all her problems. He'll guarantee her spot as the next queen and be the champion her people need to remain safe. But the more secrets Aurora uncovers about him, the more a future with him frightens her. When she dons a disguise and sneaks out of the palace one night to spy on him, she stumbles upon a black market dealing in the very thing she lacks—storm magic. And the people selling it? They're not Stormlings. They're storm hunters.

Legend says that her ancestors first gained their magic by facing a storm and stealing part of its essence. And when a handsome young storm hunter reveals he was born without magic, but possesses it now, Aurora realizes there's a third option for her future besides ruin or marriage.

She might not have magic now, but she can steal it if she's brave enough.

Challenge a tempest. Survive it. And you become its master.
Crystal's Thoughts:
Cora Carmack weaves a captivating and complex world of magic and mayhem in this must-read Y.A. fantasy,
Roar
.
"You are lightning made flesh. Colder than falling snow. Unstoppable as the desert sands riding the wind. You are Stormling, Aurora Pavan. Believe it."
Aurora, also known as Rora and Roar, is the princess of a powerful kingdom. One that can control the skies itself. Born without that magical ability though, Aurora has had to live her life behind closed doors. Never allowing anyone close for fear that they'll learn her terrible secret. Allying herself with another powerful kingdom in marriage is the only way to protect her people when her mother is gone. When she learns that her intended is keeping his own dangerous secrets though, Aurora questions all that shes been told and embarks on an unimaginable journey of wonder and discovery.
With rich story-telling, a dynamic setting, and alluring characters I was immediately drawn into the pages of
Roar
. Told in third person, through varying characters, readers get a comprehensive view of the story. The mythology captured my attention right away. Stormlings, people that are born with the ability control the storms, at their own peril, to protect others. Stormhunters, those that are born without magic but who don't let that stop them from taming the beasts with sheer determination. And then the storms themselves, seemingly insentient beings of nature who's sole purpose is destruction. It put to mind one of my favorite series, the Weather Warden series by Rachel Caine. Gripping and imaginative.
Aurora herself was an imperfect heroine with a heart of gold and a strength that surprised even herself. I really enjoyed the growth of her character and the vacillating niches of her personality that were represented in each of her names. Aurora was the cultured and confident princess, while Rora was more of the scared little girl hiding inside. Roar was the brave, inquisitive young woman full of determination but also constantly learning from the world around her. I think Roar was the true character of the story and I saw her as the potential for Aurora. Then there is Cassius, someone who is definitely not what he seems and whom I still have many questions about. He's Aurora's intended, the heir to another throne; a powerful and sometimes brutal Stormling. I'm looking forward to learning more about him, I think he might surprise us. And we can't forget about Kiren, A.K.A. Locke. Fierce and lovable, he's the kind of hero that arouses the butterflies in your stomach. Each character, including many more that I haven't mentioned, are completely organic. I can't say that there was one that didn't capture my attention.
With an abundance of action and intrigue to keep the plot moving along at a steady clip, a burgeoning romance that was well balanced with the conflict in the story, and vivid world-building,
Roar
was a delightful read and one of my favorites of the year. A definite recommendation for young adult fantasy fans and just flat-out good!