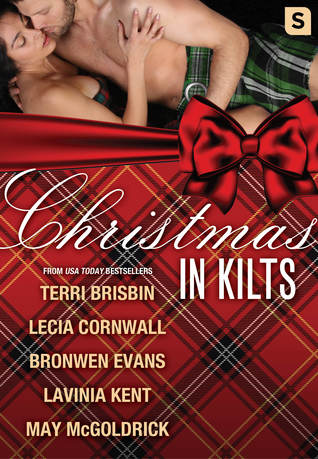 Title
: Christmas in Kilts
Author
: Terri Brisbin, Lecia Cornwall, Bronwen Evans, Lavinia Kent & May McGoldrick
Format
: Kindle, 494 pages
Published
: 31 October 2017 (Swerve)
ISBN
: ASIN: B0746M7X9W
Links
:
Goodreads
|
Amazon
|
B&N
Reviewer
: Linda
Source
: NetGalley
Rating
: 4 out of 5 Wine Glasses
Tis the season to fall in love! These five bestselling authors bring you great tiding of highlanders and romances this holiday season!

A HIGHLANDER'S HOPE by Terri Brisbin
A village harlot who would never dream she could have a different life meets a Highlander visitor for the holidays who brings with him an offer and hope!

LEFTOVER MISTLETOE by Lavinia Kent
What happens when a highlander finds himself stranded, maybe kidnapped, with an English lady around Christmas... maybe the mistletoe will help answer that question.

A SCOT FOR CHRISTMAS by Bronwen Evans
She's ready to embrace her life and future as a spinster, he's trying to have one last hurrah before he gives into his family's wishes and proposes marriage to his neighbor, but fate has other ideas when the lady and the Scot meet at a holiday house party in the wilds of Scotland.

SWEET HOME HIGHLAND CHRISTMAS by May McGoldrick
A chance encounter between a ship's captain and a desperate aunt trying to keep custody of her young niece leads to a little magic during the holidays.

A HIGHLAND CHRISTMAS WAGER by Lecia Cornwall
When a snowstorm forces a charming lass hiding a broken heart to take shelter in a castle with three fine Highland lairds just days before Christmas, there's a game afoot—who will be the first to win a kiss and maybe her heart.
Linda's Thoughts:

Christmas in Kilts is an impressive compilation of Christmas romances featuring kilted hotties by five fabulous authors! I'm a sucker for sexy Highlanders and love to read Christmas romances year-round – so this collection of festive Scottish tales caught my eye.

"There was no need to rush so, Iain," she whispered, merriment filling her voice. "Ye could have taken off yer boots first." A HIGHLANDER'S HOPE by Terri Brisbin

While I did enjoy this tale, I had issues with both primary characters. Iain is a widower and he has his heart set on Robena, a known prostitute, to be his next wife. I did not take exception to her profession. To me, the hero was flawed because he remained with his clan even though they objected to his new wife; AND the heroine, because she continued to adhere to her profession, long past her initial chance to make a new life with the man she loved. You will have to decide if their HEA appears to be permanent.

"We must get you out of that wet dress," Barran said. "Should I turn my back? I'll certainly get the fire going, but that won't help enough if you stay in that wet dress. Take it off."

She kept her head lowered and spoke quietly. "I can't."

"You can't?"

"I need a maid, and even with one, I doubt she could manage."

A deep sigh. "You can't get out of your dress." LEFTOVER MISTLETOE by Lavinia Kent

A rugged Highlander on a mission to save his sister from a bad marriage and an English lady who has never been without her tea find themselves stranded in a remote cabin. This was one of my favorites in this collection with a plethora of humor and steamy times.

"Tha thu mo bheatha aisling," he whispered. "You are my life's dream." A SCOT FOR CHRISTMAS by Bronwen Evans

Brooding, tortured Dougray, our hero, is still in love with his ex-wife who tragically died. Emma, our heroine, has accepted that she will forever be a spinster. However, Emma craves one scandalous fling with a man she trusts to fill her heart with hot memories before she goes into seclusion with nothing but lonely nights in her future. Can she convince Dougray to give her that one sensational night of passion? While I initially wanted to shake some sense into Dougray, I enjoyed this couple's journey to an HEA.

"My name is Captain Gregory Pennington, but to my friends I'm just Penn."

"Well, I'm Ella, which is what everyone called me. Except Grandfather. He has a number of names for me that Fie says I mustn't repeat." SWEET HOME HIGHLAND CHRISTMAS by May McGoldrick

A young woman is determined to accept a marriage with her despicable cousin so that she can retain custody of her sister's child whom she's loved and raised since infancy. However, the young niece sets her scheming matchmaking sights on a capable and sexy ship's captain instead. I laughed and swooned. This was another of my favorites in this compilation.

"Why, Laird MacAulay, I daresay you're trying to steal a kiss."

He blinked, and the spell was broken. He turned away to stack the firewood he'd cut. "Nay, I'll not steal one, Meggie MacLeod. I'd rather have one that's freely given. Those kind of kisses are sweeter than stolen ones." ---

"I wouldn't presume to reach under a lady's skirts with cold hands, though I doubt they'd be cold for very long." A HIGHLAND CHRISTMAS WAGER by Lecia Cornwall

A Highland lass is forced to seek shelter at Gleanngala Castle – the last place in the world she wants to be. Add in three Highlanders who enter into a wager on who will first successfully finagle a kiss from her, and this story held my interest while I pulled for her to select the nice guy from the three.

Christmas in Kilts is a star-studded anthology teeming with brawny Highlanders and feisty lasses and overflowing with passion and romance. I enjoyed them all, some more than others. Regardless, these festive novellas are a wonderful way to warm up on a cold evening.