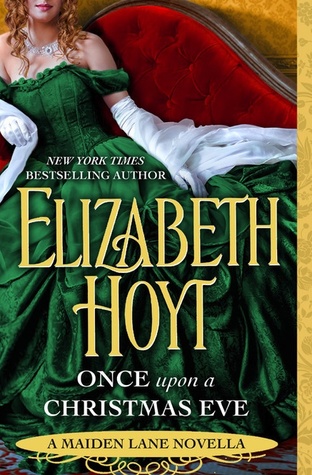 Title
: Once Upon a Christmas Eve
Series
: Maiden Lane #12.6
Author
: Elizabeth Hoyt
Format
: eBook, 96pgs
Published
: Dec. 5, 2017 by Forever Yours
ASIN
: B01DSTTRIK
Links
:
Goodreads
|
Amazon
|
B&N
Source
: NetGalley
Reviewer
: Kimberly & Linda
Adam Rutledge, Viscount d'Arque, really rather loathes Christmas. The banal cheerfulness. The asinine party games. And, worst of all, the obligatory trip to the countryside. His grandmother, however, loves the holiday—and Adam loves his grandmother, so he'll brave the fiercest snowstorm to please her. But when their carriage wheel snaps, they're forced to seek shelter at the home of the most maddening, infuriating, and utterly beguiling woman he's ever met.

Sarah St. John really rather loathes rakes. The self-satisfied smirks. The sly predatory gazes. Oh, and the constant witty banter rife with double meaning. But in the spirit of the season, she'll welcome this admittedly handsome viscount into her home. But as the snowstorm rages, the Yule log crackles, and the tension rises, Sarah and Adam find themselves locked in a fiery, passionate kiss. If love is the true meaning of Christmas, it's the one gift this mismatched pair can't wait to unwrap.
Kimberly's Thoughts:
Disillusioned early on about rakes, Sarah St. John has always given Adam Rutledge, Viscount d'Arque, the cold shoulder. When he shows up unexpectedly at her home and is forced to spend Christmas, the complicated feelings she's always had, start to get even more complicated.
Adam would do anything for his grandmother; even spend a week celebrating Christmas at the St. John residency. Thinking to entertain himself challenging Sarah, he soon finds it backfiring on him, as he's the one left feeling outgunned.
The last installment in the Maiden Lane series, you could easily pick this up as a standalone; you would miss an early glimpse of d'Arque in a previous book but there is really no connection to the series overall.
Sarah St. John should have been utterly forgettable.
This is a novella slightly under 100pgs and I'm here to tell you that you're going to end up feeling cheated. The weather is cold, there is a search for some holly and an ending Christmas Eve ball but I did think this lacked a solid holiday read feel. However, this doesn't matter because the reason for the season is d'Arque. Nothing else. The absolute caring way he treats his grandmother was shown brilliantly and provided some depth of character. His sheer sexiness though, steals the show. He's able to keep himself rather emotionally contained, except when he gets around Sarah and then we get to see cracks form in the façade; I live for the cracks. He's sexy, smooth, sparking, and a bit unraveling when he's with her and I loved every second of it.
Sarah St. John loathed rakes.
Sarah was the perfect combination of stiff and melting when she was around d'Arque. Her past hurt helps us understand why she tries to keep d'Arque at a distance but it also ends up feeling rushed and forced as the emotional pain isn't given enough room to develop with the small page count. I loved how she stepped up to d'Arque's challenging but also how she softened to his touch. Her family round out the secondary characters and I missed seeing more interactions with her sisters as I think this would have filled out her character even more.
"Careful, sweetheart," he rasped in her ear, his breath brushing her neck, and it was strange because she could've sworn there was real concern in his voice. "you nearly fell at my feet just then."
There's some mini trials and tribulations going on in this novella but the core of the story and why you're going to want to read it, is the interaction between Sarah and d'Arque. They are the couple who give you shivers up and down your spine. They snap, spark, crash, and melt together in a way that make you want to reread their story as soon as you finish. I will spend more time of my life than is healthy wishing the author had chosen to write a full length novel for them. There's a point where d'Arque says:
"I want you." He fought to keep his voice level. Civilized. "In every way."
The way this is dragged out of him had me thinking of Sebastian St. Vincent. In a full novel, I think d'Arque would have seriously challenged St. Vincent in the eyes of many romance readers for favorite rake.
Hoyt is very good at small impactful emotions and outside the main couple's relationship, there is a scene where Sarah's sister starts to blame herself for a man's actions and after her family support, their mother says the line:
"I shall have to warn my friends about him.".
This may be a case of what's in the news timing but this little scene hit me in the feels. The women's network; created out of necessity, caring, and bravery. In the past and present, sometimes we women have been the only recourse and this added scene is again one of the numerous reasons I read romance, it understands, tells, and celebrates us women.
Look, issues get brought up and moved on from quickly (d'Arque's parents' death) and the ending is so outrageously abrupt. Seriously, Hoyt gives us one of my favorite proposal lines ever and then slammed me into a "the end" wall. I loved what Hoyt gave me of d'Arque almost as much as I hated how little she gave me of d'Arque. At the end of the day though, if you're looking for a quick escape, d'Arque won't disappoint.
He broke their kiss and laid his forehead against hers. "Make me stop."
"I can't," she whispered.
"Then we're doomed," he said, his voice husky and low. "For I'm unable to stop myself. I want you. Day and night and all the time in between. I want you."
4 out of 5 Wine Glasses!

Linda's Thoughts:

"Tell me, Miss St. John, are you on the hunt for a husband?"

Once upon a Christmas Eve is the first I've ever read by Elizabeth Hoyt. The story is well-written, akin to a fairy tale, and set against a brutal snowy landscape in Upper Hornsfield, England at Christmastime in 1741. Headlining each chapter are excerpts from The Frog Princess which I found highly entertaining. I enjoy Christmas reads year-round, so, when I saw that this festive historical romance from an author I want to read was available, I had to pick it up! This is the story of Adam Rutledge, the Viscount d'Arque, and Sarah St. John.

Adam dislikes Christmas but he dotes on his grandmother, so he braves a fierce snowstorm to accompany her to the countryside where the ton prefer to celebrate the holiday. Unfortunately, on their way, their carriage wheel breaks, forcing them to seek haven at the nearest shelter, which just happens to be the home of Miss Sarah St. John.

Sarah loves Christmas and is looking forward to celebrating it at home with her parents and those they've invited to stay with them over Christmas – including a few eligible bachelors that her mother believes may be suitable husbands for Sarah.

Both Adam and Sarah are likeable. They each sport chips on their shoulders. For all that she wants nothing to do with rakes, she's suitably impressed by how much Adam cares for his frail grandmother. The love he shows for his grandmother serves to break the ice between the couple. Their story is quick, fun, sweet and steamy with many laugh-out-out moments.

Supporting characters are colorful. Adam's grandmother ranks as my favorite secondary character in the tale. I was pulling for her to recover and feel better quickly. She wanted only the best for Adam and for him to have someone by his side when she eventually leaves him.

Following please find a few of my favorite quotes from Once upon a Christmas Eve:

"I'm afraid I'm rather used to females making themselves shameless for me." ---


He smelled the scent of roses and it nearly maddened him.

Or perhaps he was already mad.

"Run now," he whispered.

She stared at him, refusing to move.

"Very well," he snarled, and took her into his arms. ---


She was lost.

He broke their kiss and laid his forehead against hers. "Make me stop."

"I can't," she whispered.

"Then… we're doomed," he said, his voice husky and low.

Once upon a Christmas Eve seems to work well as a standalone even though it's number 12.6 and, it appears, the final installment in the author's Maiden Lane series. It may be that, if I had read the previous books, I'd not have felt apprehension at the rush at which the couple's initial dislike transforms so quickly to sparks of chemistry, morphing lightning-fast into insta-love. I have read that Adam was introduced a few books back in the series. As a newbie to the series, their relationship came across as hurried. It's possible that I may have rated the story slightly higher if the characters had a prior history which would have partially allowed for their almost insta-love. That said, if that history does exist, it was not divulged in this tale.

Still, I enjoyed their story. I have no doubt that fans of this series would find this novella to be a must-read. This book certainly did not turn me off from reading future books of hers; just the opposite, as my interest has been piqued and I hope to check out more of her books in the future!
3.5 out of 5 Wine Glasses!
SUGGESTED READING ORDER
: