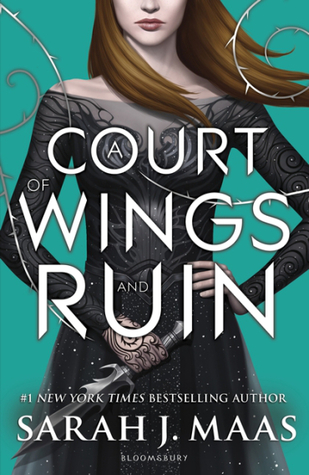 Title
: A Court of Wings and Ruin
Series
: A Court of Thorns and Roses #3
Author
: Sarah J. Maas
Format
: Hardcover (720 pages)
Published
: May 2, 2017 (Bloomsbury USA Childrens)
ISBN
-10: 1619634481
ISBN
-13: 978-1619634480
Links
:
Goodreads
|
Amazon
|
B&N
Reviewer
: Linda & Crystal
Source
: Library & Reviewer Purchased
Rating
: 5 out of 5 Wine Glasses
Looming war threatens all Feyre holds dear in the third volume of the #1 New York Times bestselling A Court of Thorns and Roses series.

Feyre has returned to the Spring Court, determined to gather information on Tamlin's manoeuvrings and the invading king threatening to bring Prythian to its knees. But to do so she must play a deadly game of deceit – and one slip may spell doom not only for Feyre, but for her world as well.

As war bears down upon them all, Feyre must decide who to trust amongst the dazzling and lethal High Lords – and hunt for allies in unexpected places.

In this thrilling third book in the #1 New York Times bestselling series from Sarah J. Maas, the earth will be painted red as mighty armies grapple for power over the one thing that could destroy them all.
Linda's Thoughts:

To the stars who listen – and the dreams that are answered.

A Court of Wings and Ruin by Sarah J. Maas is the veritably epic conclusion to the author's amazing A Court of Thorns and Roses trilogy. It is breath-taking, brilliant, enthralling, thrilling and immensely entertaining. All of our favorite characters from the series are herein plus a few new ones join the fray. Rhys, Feyre, Cassian, Azriel, Lucien, Nesta, Elain, Mor, Amren and others are all front and center fighting in the war against King Hybern, who is evil personified.

This is absolutely a series you must read sequentially. There is no way you can plunge into this installment without having read the previous books and fully appreciate how wonderful it is. The solution is no big deal. Just grab all three books, take everything off your calendar and binge.

Following please find a few of my favorite quotes from A Court of Wings and Ruin:

"Will it ever stop?" he mused, more to himself than me as another finger joined the one sliding in and out of me with taunting, indolent strokes. "Wanting you – every hour, every breath." ---


For long minutes, we stood there. Until I said, "Let's go find somewhere to eat – outside."

"Hmmm." He showed no sign of letting go.

I looked up at last. Found his eyes shining with that familiar, wicked light. "I think I'm hungry for something else," he purred.

My toes curled in my boots, but I lifted my brows and said cooly, "Oh?"

Rhys nipped at my earlobe, then whispered in my ear as he winnowed us up to our bedroom, where two plates of food now waited on the desk. "I owe you for last night, mate."

He gave me the courtesy, at least, of letting me pick what he consumed first; me or the food.

I picked wisely. ---
"What we think to be our greatest weakness can sometimes be our biggest strength." ---
"I would have waited five hundred more years for you. A thousand years. And if this was all the time we were allowed to have... the wait was worth it." ---
"It is the family you make, not the one you are born into, that matters."

This whole book is one favorite scene for me, but Rhys' speech before the final battle brought me to tears. I cannot think about it without dissolving again.

I will add that this is not a YA book. There's a few steamy sex scenes – which I LOVED, but would not be appropriate for the younger set.

Truly, no review I can write can do this book – or series - justice. Maas is an extraordinary story teller. Every book in this series is magnificent. The storylines are emotional, addictive and unpredictable, the characters are to love and the fantasy world is vividly detailed. I wanted to inhale this last book – each word, each glance, each scene. Yet, I knew that each page I read took me closer to the end which I dreaded. This is how a romantic fantasy series should conclude -teeming with love and hope for the future – and bringing everything full circle. Thank you, Sarah J. Maas.

***Thunderous Applause***

I've since read wondrous news from Maas that made me very happy. While Rhys' and Feyre's story has indeed come to a warmly satisfying conclusion, Maas will be continuing the series with a bridge novella releasing in 2018! I cannot wait for A Court of Frost and Starlight coming May 2018!

Crystal's Thoughts:

Sarah J. Maas is a master story teller without compare. With A Court of Thorns and Roses, she has weaved together an intricate and enthralling world like no other. The journey that these characters have embarked on from the beginning has been an epic and unforgettable adventure. Reaching the end of

A Court of Wings and Ruin

, the last book in this trilogy,

feels like loosing a dear friend but I couldn't help the smile that graced my face when I finally reached that hard-earned happily ever after.

"I see all of you, Rhys. And there is not one part that I do not love with everything I am."

Feyre and Rhys have been to hell and back again, but their tale is far from over. In

A Court of Wings and Ruin

, they will be tested one last time, and not everyone will withstand these new perils. All of our favorite characters play vital roles in this final battle, ending the rule of the heinous King Hybern. This story and it's characters, each and every one, encompassed so much emotion, it literally took my breath at times. The danger, the strategies, Feyra and Rhys' cunning, the love that surrounds them...

"I would have waited five hundred more years for you. A thousand years. And if this was all the time we were allowed to have... the wait was worth it."

Feyre's character is one forged of fire and Rhy's couldn't be more perfect for her, and her for him. I was literally in tears by the last few chapters, pausing at the end of each one, dreading the return because I knew the story would end that much sooner. Mass' lyrical writing kept the words flowing from the pages and the spellbinding world drew me in further with each new word, the plot so gripping that I couldn't turn the pages fast enough. Each character, no matter how much I loved or despised them, still had the ability to enchant. I hope that we can still continue to see Feyre and Rhys in the following novels, and am eagerly anticipating the bridge novella for the series' spin-off,

A Court of Frost and Starlight

.

A Court of Thorns and Roses is a series that I can promise you, the characters will capture you, heart and soul. Will not not find a more beautiful, heart-breaking, nerve-racking and all-eclipsing tale. If you haven't picked up one of these books, and they should be read in order, then you are truly missing out! I have re-read the entire series several times already, and each time is like the first - a mesmerizing delight.

Suggested Reading Order: A Court of Thorns and Roses (Book #1) A Court of Mist and Fury (Book #2) A Court of Wings and Ruin (Book #3)

The series will continue with more tales in the land of Prythian!

A Court of Frost and Starlight (Book #3.5)

– To be narrated by Feyre and Rhys - Coming May 2018!