3rd
Title
: The Scot Beds His Wife
Series
: Victorian Rebels #5
Author
: Kerrigan Byrne
Format
: Paperback & eBook, 416pgs
Published
: October 3, 2017 by St. Martin's
ASIN
: B06XKFVBSK
They're rebels, scoundrels, and blackguards—dark, dashing men on the wrong side of the law. But for the women who love them, a hint of danger only makes the heart beat faster.

Gavin St. James, Earl of Thorne, is a notorious Highlander and an unrelenting Lothario who uses his slightly menacing charm to get what he wants—including too many women married to other men. But now, Gavin wants to put his shady past behind him...more or less. When a fiery lass who is the heiress to the land he wishes to possess drops into his lap, he sees a perfectly delicious opportunity...

A marriage most convenient

Samantha Masters has come back to Scotland, in a pair of trousers, and with a whole world of dangerous secrets from her time spent in the Wild West trailing behind her. Her only hope of protection is to marry—and to do so quickly. Gavin is only too willing to provide that service for someone he finds so disturbingly irresistible. But even as danger approaches, what begins as a scandalous proposition slowly turns into an all-consuming passion. And Gavin discovers that he will do whatever is necessary to keep the woman he has claimed as his own...
Lady Charlotte's First Love
(The Sutherland Sisters #2)
by Anna Bradley
Kindle Edition
Published October 3rd 2017 by Lyrical Press
ASINB01MS5B7EF
From spirited young woman to reckless widow, the beautiful Marchioness of Hadley remains a force to be reckoned with. But beneath her antics lies a broken heart . . .

Since her husband's tragic death, Lady Charlotte Hadley has embarked on a path of careless behavior and dangerous hijinks from which no one can divert her . . . until suddenly, her first—and only—true love reenters her world. Their fiery romance was so scandalous Charlotte had no choice but to marry another, more suitable man. Surely now they are both free to pick up where they left off . . .

Julian West has returned to London a hero after making a name for himself in battle at Waterloo. Every woman is vying for his attention—except the one who stole his heart. No matter, Julian has other obligations. But when Charlotte's sister, Eleanor, charges him with protecting the widow from ruin, what ensues is another kind of battle—one that leads a chase from London's bars and brothels to the finest country estate as Julian and Charlotte untangle a host of secrets, regrets, and misunderstandings. For could it be that the love they've forced themselves to forget is exactly what they need to remember? . .
Highland Promise
(The Sons of Gregor MacLeod #1)
by Alyson McLayne
Mass Market Paperback, 384 pages
Expected publication: October 3rd 2017 by Sourcebooks Casablanca
ISBN 1492654507
Five boys destined to become Highland lairds are fostered together as brothers. Darach, Lachlan, Callum, Gavin and Kerr fight for their clans, for each other, and for their own true loves.

When forced to choose between duty and honor...

Darach MacKenzie vowed never again to let a woman near his heart after his betrothed betrayed him. It sparked an intense feud between his clan and the Frasers. With all-out war on the wind, Darach can't be distracted—not even by a sweet and charming lass who desperately needs his help.

This Highland Laird will find a way to have both...

When Darach rescued Caitlin MacInnes from the clutches of vile Laird Fraser, she vowed to never let men or misery rule her life again. With Darach and the MacKenzie clan, Caitlin finally feels safe. But when Laird Fraser shows up to claim what's rightfully his, or go to war, Darach will have to use all his brawn and brains to protect Caitlin—even if it means losing his heart.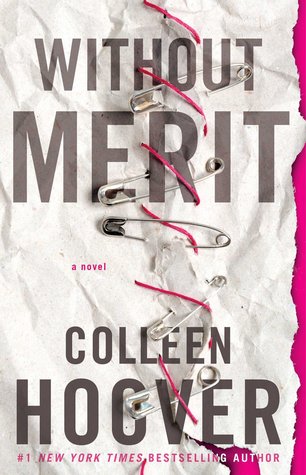 Without Merit
by Colleen Hoover
Kindle Edition, 384 pages
Expected publication: October 3rd 2017 by Atria Books
Original TitleWithout Merit
ASINB01NCIBSK9
Not every mistake deserves a consequence. Sometimes the only thing it deserves is forgiveness.

The Voss family is anything but normal. They live in a repurposed church, newly baptized Dollar Voss. The once cancer-stricken mother lives in the basement, the father is married to the mother's former nurse, the little half-brother isn't allowed to do or eat anything fun, and the eldest siblings are irritatingly perfect. Then, there's Merit.

Merit Voss collects trophies she hasn't earned and secrets her family forces her to keep. While browsing the local antiques shop for her next trophy, she finds Sagan. His wit and unapologetic idealism disarm and spark renewed life into her—until she discovers that he's completely unavailable. Merit retreats deeper into herself, watching her family from the sidelines when she learns a secret that no trophy in the world can fix.

Fed up with the lies, Merit decides to shatter the happy family illusion that she's never been a part of before leaving them behind for good. When her escape plan fails, Merit is forced to deal with the staggering consequences of telling the truth and losing the one boy she loves.
Holiday Spice
(The Shaughnessy Brothers #6)
by Samantha Chase
Mass Market Paperback
Expected publication: October 3rd 2017 by Sourcebooks Casablanca
ISBN 1492616370
Darcy Shaughnessy has gotten used to her overbearing brothers chasing away any man she wants to date. But a chance meeting with a brooding -- and deliciously handsome -- artist is about to make this holiday season one to remember.

There's only one thing Benjamin Tanner loves more than his woodcarving: solitude. Then he gets snowed in with Darcy in his cozy cabin in the woods, and their heated feelings begin to melt the icy barrier between them.

With Ben's need for privacy and Darcy's love of family and social life, will opposites still attract once the snow clears and the holiday festivities come to an end?
One Summer Night
(At the Shore #1)
by Caridad Piñeiro
Paperback
Expected publication: October 3rd 2017 by Sourcebooks Casablanca
ISBN 1492649643
Smart, mainstream contemporary romance from bestselling author Caridad Pineiro. Millions of people visit the Jersey Shore every year, for beaches, boardwalks, sand, sun, and summer fun. This romantic series features families that go back generations on the shore, their ties to New York City, and their love for the Shore, and each other.

An offer that's impossible to accept...

Maggie Sinclair has tried everything to save her family's business, including mortgaging their beloved beach house on the Jersey shore. But now, she's out of options.

The Sinclair and Pierce families have been neighbors and enemies for almost thirty years. That hasn't stopped Owen Pierce from crushing on Maggie, and he's determined to invest in her success. Now he has to convince her that he's more than just trouble with a capital T...
Tell Me
by Abigail Strom
Paperback, 252 pages
Published October 1st 2017 by Montlake Romance
ISBN 1542046513
Shy bookstore owner Jane Finch grew up hiding in the margins of her own life while her vibrant, adventure-loving sister, Samantha, dominated every plotline. She's made peace with it, unlike Sam's business partner, Caleb, who's always nudging Jane to go after what she really wants. Why should she care what blunt, brash Caleb thinks? They've never had much in common, except for Sam.

After tragedy strikes, they don't even have that.

Caleb can't quite remember when Sam's little sister stopped being like a surrogate sibling to him and became just…Jane. She's the most intriguing woman he's ever met, and so much sexier and stronger than she thinks. On the emotional journey to honor Sam's memory, the spark they've tried to deny becomes an inferno. This journey was meant to be an ending, but will they discover an unexpected new beginning?
Merry and Bright
by Debbie Macomber
Hardcover
Expected publication: October 3rd 2017 by Ballantine Books
ISBN 0399181229
Christmas is the season of the heart, and #1 New York Times bestselling author Debbie Macomber is here to warm yours with a delightful holiday novel of first impressions and second chances.

Merry Knight is pretty busy these days. She's taking care of her family, baking cookies, decorating for the holidays, and hoping to stay out of the crosshairs of her stressed and by-the-book boss at the consulting firm where she temps. Her own social life is the last thing she has in mind, much less a man. Without her knowledge, Merry's well-meaning mom and brother create an online dating profile for her--minus her photo--and the matches start rolling in. Initially, Merry is incredulous, but she reluctantly decides to give it a whirl.

Soon Merry finds herself chatting with a charming stranger, a man with similar interests and an unmistakably kind soul. Their online exchanges become the brightest part of her day. But meeting face-to-face is altogether different, and her special friend is the last person Merry expects--or desires. Still, sometimes hearts can see what our eyes cannot. In this satisfying seasonal tale, unanticipated love is only a click away.
A Season of You
(Cloud Bay #2)
by Emma Douglas
Paperback
Expected publication: October 3rd 2017 by St. Martin's Press
ISBN 1250111005
It's Christmastime in the quaint island town of Cloud Bay, where love is always in season...

Will Fraser has believed in love at first sight since the day he first laid eyes on Mina Harper five years ago. There was only one problem: She was happily married. Then, when Mina's husband was killed by a drunk driver, Will figured she'd want nothing to do with a guy who owns a whiskey distillery. So he's kept his feelings locked away, knowing that not even a Christmas miracle would be enough to melt Mina's heart. . . Mina believes her days of true love are behind her. Since losing her husband she's kept to herself, content to do her own painting and stay out of the limelight that comes with her famous family. But when, after a freak accident, Will comes to her rescue, Mina can't quite get him out of her mind. As curiosity turns into a fling during Cloud Bay's first Christmas Festival, she finds it harder to convince herself that her feelings for Will are just mistletoe-inspired. Could Mina be ready to lay the past to rest and finally admit that what she really wants for Christmas--and forever--is Will?
Bad for Her
(Bad Boys Gone Good #1)
by Christi Barth
ebook, 432 pages
Expected publication: October 3rd 2017 by Avon Impulse
ISBN 0062685635
Doctor Mollie Vickers loves the tight-knit community of her tiny Oregon town. But she's not a fan of the limited dating options. Sleep with a guy who tried to copy off her in junior high? Pass. Mollie's sex life is flatlining… until a deliciously handsome man she's never seen before stops to help her fix a flat tire.

As an ex-mobster, Rafe Maguire's no saint. But he's trying to turn over a new leaf. Although he probably shouldn't kiss the hot doctor on the side of the highway. Or suggest a no-strings fling with a woman he has no business pursuing. Rafe's life is too complicated for love—his new WITSEC-provided identity doesn't fit him at all and there's a U.S. Marshal watching his every move. He can't tell Mollie the truth… but their chemistry is scorching and being good doesn't mean he can't be a little bad.

Mollie can't resist the guy who looks rough, talks tough, and is loyal to the bone. But it's obvious Rafe is keeping secrets. When the truth comes out, Mollie must decide if she could ever love an ex-mobster… or if this bad boy has truly gone good.
Bad Reputation
(Bad Boys of Sports #1)
by Nicole Edwards
Kindle Edition, 1st edition, 276 pages
Expected publication: October 3rd 2017 by Loveswept
ASINB01N6OVQRJ
Meet the most wanted players in sports . . . one ridiculously hot alpha male at a time.

Chase: With a nickname like "Sin," it's no wonder they call me the bad boy of hockey. Opponents curse me. Fans scream my name—in the arena and in other, much more private places. Penalties or not, I'm not afraid to dish out a little pain. But pleasure? That's my weakness. And no one knows it better than my best friend, Cassie Desrosiers. I'd have to be blind not to notice her rocking body and teasing grin. So when she invites me along on a trip to Vegas, my curiosity isn't the only thing that's aroused.

Cassie: Chase Barrett is a world-class A-hole. As his best friend, I'm allowed to call him on his BS. Who else is going to do it? Certainly not the puck bunnies swooning at every flex of his biceps. Everyone knows that Chase is the love-'em-and-leave-'em type. There's no such thing as commitment for the king of casual hookups. So why should I care? Maybe because all work and no play makes me a sexually frustrated girl. It's time to put the hockey stud at my beck and call to good use . . . but after a week in Vegas with Chase, I might never want to go back to the real world.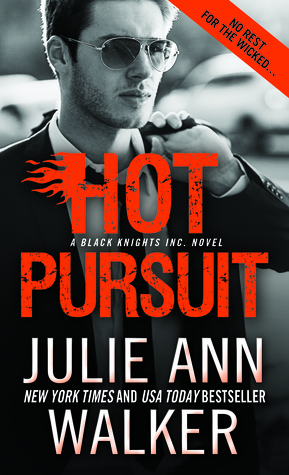 Hot Pursuit
(Black Knights Inc. #11)
by Julie Ann Walker
Mass Market Paperback, 384 pages
Expected publication: October 3rd 2017 by Sourcebooks
He puts the hot...

Christian Watson, a former SAS officer and current BKI operator, never thought he would return to England after a terrible turn of events forced him to abandon his homeland. But now he's back on British soil where old enemies are determined to do him in. Fighting for his life is pretty much SOP for Christian. Doing it with the beautiful, bossy Emily Scott in tow is another matter entirely.

In hot pursuit.

Emily lost her coveted job at the CIA because of a colleague turned rogue, and now she has just one rule when it comes to men: they're for recreational purposes only. But when she and Christian are thrust into very close quarters while evading two mysterious men who want Christian dead, she can't help but question all her ideas about love and life lived on the edge. Battling the bad guys is hard enough, battling her feelings for Christian just might prove impossible.
A.L.F.A. Mates
(A.L.F.A. #1-3)
by Milly Taiden
Paperback
Expected publication: October 3rd 2017 by Berkley Books
ISBN 0399585834
The Alpha League Federal Agency is sworn to protect humanity from paranormal threats and now the first two novels in New York Times bestselling author Milly Taiden's sexy A.L.F.A. series are available for the first time in one print volume!
Drop Dead Gorgeous
(Bite Nights #2)
by Juliet Lyons
Mass Market Paperback, 352 pages
Expected publication: October 3rd 2017 by Sourcebooks Casablanca
ISBN 1492645338
SWIPE RIGHT FOR MR. BITE

Mila Hart's first experience with the hot new vampire dating site is a complete disaster. Turns out, her date is wanted for murder! But things turn around when she's rescued by dashing vampire cop Vincent Ferrer. Dangerous and drop dead gorgeous, he's just the vampire hottie Mila was hoping for.

Haunted by his past, Vincent can't risk falling in love again, even if Mila charms him more than anyone he's ever met. But when the killer from Mila's first date seeks her out, Vincent is the only one who can protect her. Protecting his heart is a different story...
Dreaming of a White Wolf Christmas
(Heart of the Wolf #23)
by Terry Spear
Mass Market Paperback
Expected publication: October 3rd 2017 by Sourcebooks Casablanca
ISBN 1492645176
In the first installment of Terry Spear's bold, sexy White Wolf series, a romance writer's life is changed forever when a white puppy bites her and turns her into an Arctic wolf shifter.

May all your Christmas wolves be bright...
Romance writer Candice Mayfair never missed a deadline in her life--until the playful bite of a werewolf puppy accidentally turns her into an Arctic wolf shifter. Talk about a life-changing event! Candice is at the end of her rope with the unpredictable shifting, a strong desire to howl, and the need to vacuum constantly to keep the shedding fur under control.

Enter werewolf private investigator Owen Nottingham. Owen has a new mission: convince the pretty she-wolf she needs to join his pack in time for Christmas...and be his mate. It's the only way he can think of to keep her safe...
10th
The Highlander Is All That
(Untamed Highlanders #3.5)
by Sabrina York
Kindle Edition
Expected publication: October 10th 2017 by St. Martin's Paperbacks
ASINB0746MVRWN
Elizabeth St. Claire has always been hard to please. Dreaming solely of Highlander men her whole life, no prancing London Lord can stand a chance at winning her heart...

… But perhaps a Scotsman can.

Elizabeth watches intrigued as the Highlander of her dreams, a Scotsman named Hamish Robb, arrives to oversee her season at the behest of her cousin, the Duke of Caithness. Elizabeth doesn't hide her feelings for the striking Scot. But Hamish, determined to obey his order to protect the St. Claire sisters, steadfastly rejects her every seducing lure.

Believing that the debutante Elizabeth deserves a better, wealthier man, Hamish continues to turn away from her affection, even though he doesn't exactly want to. Can this Highlander Scot resist the tempting seductress' attempts to win his heart?
Fairytale
by Danielle Steel
Hardcover, 288 pages
Expected publication: October 10th 2017 by Delacorte Press
ISBN 1101884061
The perfect book for the holidays: Cinderella set amid the wine-making estates of modern-day Napa Valley, complete with an evil Parisian stepmother.

Deeply in love, Christophe and Joy Lammenais built Chateau Lammenais into a small but renowned Napa Valley winery and an idyllic home where they raised their beloved daughter, Camille, who takes on increasing responsibilities for the estate they all treasure. But after Joy's early death from breast cancer just after Camille's graduation from Stanford, a lonely Christophe soon falls prey to the machinations of a sophisticate from his native France—who moves, with her two reprobate sons, to consolidate her power over Camille and the property when Christophe is killed in a plane crash. With a French "fairy godmother" on the scene, however, the son of a neighboring vintner to assist, and a grand Harvest Ball on the horizon, lovely Camille may make some potent magic of her own…
Can't Walk Away
(Nashville Dreams #1)
by Sandy James
ebook, 368 pages
Expected publication: October 10th 2017 by Forever Yours
ISBN139781455595594
In Nashville the stars shine a little brighter, songs sound a little sweeter, and love lasts a lifetime.

Young, rich, and better looking than a man has a right to be, successful songwriter Brad "Hitman" Maxwell was once Nashville's biggest celebrity. Then a heartbreaking loss and a shocking betrayal caused his light to go out. Now, instead of pouring his soul into song, he pours beers at Words & Music. His bar is the perfect escape--a place to forget his past--until the night she takes the stage...

Savannah Wolf used to dream of becoming Nashville's hottest star. Now, as a young single mom, she dreams of a steady income and being home to tuck her daughter into bed. So when Brad Maxwell offers her the gig of a lifetime--playing as the headliner at Words & Music--Savannah discovers the best of both worlds. And she refuses to ruin this opportunity by falling for her sexy boss. Except that Brad suddenly starts writing music again... music inspired by her.
In Pieces
(Something More #2)
by Danielle Pearl
Paperback, 336 pages
Expected publication: October 10th 2017 by Forever
ISBN 1455568317
Three years ago she was left in pieces . . .

Most college freshmen love the newfound freedom of living on campus, but none of them craves it like Beth Caplan. One ill-fated night when she was fifteen left her locked in a posh prison of private tutors. It's for the best, everyone said, and maybe it was. But after years of hard work and healing, the one person who never thought of her as broken could be the one to break her all over again. And Beth can't seem to stay away now any more than she could all those years ago. As soon as David March learned his best friend's little sister was enrolling at his school, he promised to look after her, and promised himself he'd keep a safe distance. But the sweet little girl he'd grown up with has transformed into a gorgeous young woman, and she's attracting attention from people she shouldn't-like the ex who nearly destroyed her and a strange new student with a disturbing habit of showing up wherever Beth goes. But for David, the most troubling discovery is realizing that he doesn't just want Beth to be safe. He wants her to be his.
Game On
(Hometown Players #6)
by Victoria Denault
Paperback, 320 pages
Expected publication: October 10th 2017 by Forever Yours
ISBN 1538727013
"I don't break hearts. I break headboards . . . "

When it comes to scoring in the pro hockey league, Alex Larue is crushing it-with the hot puck bunnies. He's the life of the party, the guy with all the jokes . . . and the one whose Party Guy mask keeps the real him well hidden. The last thing he needs is anyone finding out about his troubled past, or the nightmares that haunt him still.

Brie Bennett is less than impressed by Alex from the moment she meets him. And even though he insists on volunteering at the charity she runs, she doesn't trust him. He's hiding something...but so is she. She's not just the rich, privileged New York princess he thinks she is. The animosity between them is undeniably addictive and as their worlds keep colliding it becomes supercharged with something else - attraction. But if they stop playing games and let each other in, they both might lose.
Closer to You
(Haven, Montana #1)
by Jill Sanders
Paperback, 284 pages
Expected publication: October 10th 2017 by Montlake Romance
ISBN 1542047382
New York Times bestselling author Jill Sanders strikes gold with a sizzling series about oil-rich playboys whose hearts are up for grabs.

No one's more surprised than Tyler McGowan when he discovers he has a knack for running the family's oil business—a role he took on after his father's sudden passing. Now, to keep the old man's legacy afloat, Tyler's giving up his playboy ways and settling into small-town life. But his newfound resolve is tested when trouble strides into his office in five-inch heels.

Kristen Howell has spent the last five years working her way up the corporate ladder. And somehow it's landed her smack-dab in the middle of nowhere: Haven, Montana. It's her job to convince the head of McGowan Enterprises to sell. But the tall and rangy hunk is proving to be exceedingly stubborn—and overwhelmingly hot. When someone attempts to derail her negotiations, Kristen is ready to get down and dirty. But the sparks she and Tyler are throwing near the oil field may be dangerously combustible…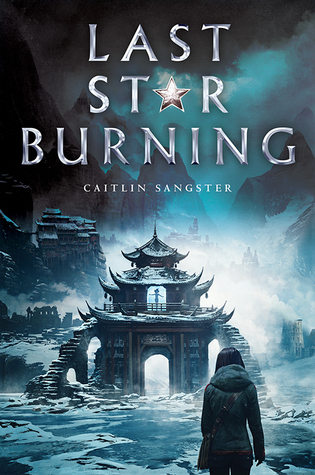 Last Star Burning
(Last Star Burning #1)
by Caitlin Sangster
Hardcover, 400 pages
Expected publication: October 10th 2017 by Simon Pulse
ISBN 1481486136
Sev is branded with the mark of a criminal—a star burned into her hand. That's the penalty for being the daughter of the woman who betrayed their entire nation.

Now her mother's body is displayed above Traitor's Arch, kept in a paralyzed half sleep by the same plague that destroyed the rest of the world. And as further punishment, Sev is forced to do hard labor to prove that she's more valuable alive than dead.

When the government blames Sev for a horrific bombing, she must escape the city or face the chopping block. Unimaginable dangers lurk outside the city walls, and Sev's only hope of survival lies with the most unlikely person—Howl, the chairman's son. Though he promises to lead her to safety, Howl has secrets, and Sev can't help but wonder if he knows more about her past—and her mother's crimes—than he lets on.

But in a hostile world, trust is a luxury. Even when Sev's life and the lives of everyone she loves may hang in the balance.
The Consort
(Ascension #3)
by K.A. Linde
Expected publication: October 10th 2017
17th
Title
: Duke of Desire
Series
: Maiden Lane #12
Author
: Elizabeth Hoyt
Format
: Paperback & eBook, 352pgs
Published
: October 17, 2017 by Grand Central Publishing
ASIN
: B01MXDBTK3
A LADY OF LIGHT

Refined, kind, and intelligent, Lady Iris Jordan finds herself the unlikely target of a diabolical kidnapping. Her captors are the notoriously evil Lords of Chaos. When one of the masked-and nude!-Lords spirits her away to his carriage, she shoots him . . . only to find she may have been a trifle hasty.

A DUKE IN DEEPEST DARKNESS

Cynical, scarred, and brooding, Raphael de Chartres, the Duke of Dyemore, has made it his personal mission to infiltrate the Lords of Chaos and destroy them. Rescuing Lady Jordan was never in his plans. But now with the Lords out to kill them both, he has but one choice: marry the lady in order to keep her safe.

CAUGHT IN A WEB OF DANGER . . . AND DESIRE

Much to Raphael's irritation, Iris insists on being the sort of duchess who involves herself in his life-and bed. Soon he's drawn both to her quick wit and her fiery passion. But when Iris discovers that Raphael's past may be even more dangerous than the present, she falters. Is their love strong enough to withstand not only the Lords of Chaos but also Raphael's own demons?
He dreams of her. Would lay down his life for her.

But beautiful Ellie Hammond's off-limits.

Everybody knows the bodyguard rules: Never lose focus, never let them out of your sight, and never, ever fall in love.
Title
: Most of All You
Author
: Mia Sheridan
Format
: Paperback & eBook, 352 pgs
Published
: October 17, 2017 by Forever
ASIN
: B01MUPZ4WW
A broken woman . . .

Crystal learned long ago that love brings only pain. Feeling nothing at all is far better than being hurt again. She guards her wounded heart behind a hard exterior, and carries within her a deep mistrust of men who, in her experience, have only ever used and taken.

A man in need of help . . .

Then Gabriel Dalton walks into her life. Despite the terrible darkness of his past, there's an undeniable goodness about him. And even though she knows the cost, Crystal finds herself drawn to Gabriel. His quiet strength is wearing down her defenses and his gentle patience is causing her to question everything she thought she knew.

Only love can mend a shattered heart . . .

Crystal and Gabriel never imagined that the world that had stolen everything from them would bring them a deep love like this. Except fate will only take them so far and now the choice is theirs: Harden their hearts once again or find the courage to shed their painful pasts.
Dignity
(The Breaking Point #2)
by Jay Crownover
Expected publication: October 17th 2017
Acquisition
(Takeover Duet #1)
by Chelle Bliss
Paperback
Expected publication: October 24th 2017 by Everafter Romance
ISBN 1635761069
A Sexy, Driven CEO. A Ruthless, Handsome Rival. And a Sexy, Uninhibited Weekend.
Ambitious, high-powered CEO Lauren Bradley is on her way to making her company the leader in its industry. Her team is on the verge of new cutting-edge technology that will revolutionize travel and catapult Interstellar Corp to new heights. Lauren has one problem standing in her way--the threat of a takeover by Cozza Industries, a rival company.

After hours of planning and strategizing, Lauren heads for a drink to let off some steam, only to meet a handsome stranger. Wanting to be someone different for the night, she gives him a fake name and fake profession and has a liberating one-night stand. When Lauren is ambushed the next day by executives from Cozza Industries, she meets the reclusive CEO of the company, Antonio Forte, who makes it known he'll stop at nothing to get rid of his competition. He's arrogant, controlling, and sexy as hell. She can't stand him. The only problem is...he is the man she had a toe-curling one-night stand with the night before.

Lauren wants to keep her company, Antonio wants both Lauren and her company, and neither is prepared to lose. In an effort to level the playing field, Antonio proposes a forty-eight-hour truce where they shed their CEO titles and give in to their attraction to one another. Needing more time to find a way around the takeover, Lauren agrees, but a deal to spend two days together with no rules may have ramifications that neither of them expects.
Pulled Under
(Walker Security #2)
by Lisa Renee Jones
Paperback
Expected publication: October 24th 2017 by Everafter Romance
ISBN 1682303926
The next installment in the steamy and alpha-packed Walker Security series by New York Times Bestselling Author Lisa Renee Jones.

Born into a wealthy family he rebelled against, Asher dived into the world of rock n roll, drugs, and women. A blond, tattooed, bad boy, he is the chameleon of Walker Security. A man who manages to switch from rocker leather hotness to perfectly fitted suits. Even effortlessly blending into the underground grunge of the cities. Because he's lived that world, almost lost himself to that world, until he ends up helping Royce Walker, then a Federal Agent, and now his boss at Walker Security. Royce thinks Asher has conquered his darkness. Some days he thinks he has, too. Some days, he knows he never will.

Present day: When several women end up dead from a new drug on the streets, Walker Security is hired to help the police solve the crimes that have the city in turmoil. Asher goes undercover in the club scene for answers, easily calling on that darkness to fit right in. Why is it that only women are dying? What is this drug they've never seen before? Who is behind it? And why does everything lead back to a prima donna on the Upper East Side, whom Asher just saw in a nightclub in leather and lace? The very same woman he took to his bed?

Asher will face a woman seeking vengeance, whose past is a little too similar to his to feel right. Or maybe it's a little too similar to be anything but right. But he'll have to keep her alive to find out, despite her best efforts to put herself in harm's way at every chance.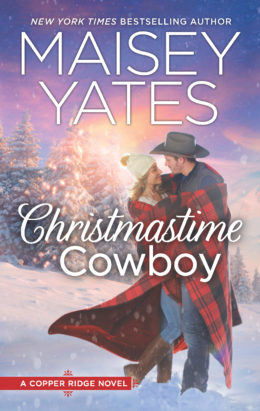 Christmastime Cowboy
(Copper Ridge #10)
by Maisey Yates
Mass Market Paperback, 384 pages
Expected publication: October 24th 2017 by Harlequin Books
Original TitleChristmastime Cowboy
ISBN 1335013318
It's Christmas in Copper Ridge, and love is waiting to be unwrapped…

Falling for a bad boy once is forgivable. Twice would just be foolish. When Sabrina Leighton first offered her teenage innocence to gorgeous, tattooed Liam Donnelly, he humiliated her, then left town. The hurt still lingers. But so does that crazy spark. And if they have to work together to set up her family winery's new tasting room by Christmas, why not work him out of her system with a sizzling affair?

Thirteen years ago, Liam's boss at the winery offered him a bribe—leave his teenage daughter alone and get a full ride at college. Convinced he wasn't good enough for Sabrina, Liam took it. Now he's back, as wealthy as sin and with a heart as cold as the Oregon snow. Or so he keeps telling himself. Because the girl he vowed to stay away from has become the only woman he needs, and this Christmas could be just the beginning of a lifetime together…
30th
Fault Lines
by Rebecca Shea
ebook, 1
Expected publication: October 30th 2017 by Rebecca Shea Author LLC (first published 2016)
ISBN 1975712285
At eleven he was my first crush. At sixteen he became mine. At nineteen he broke my heart and destroyed me. That was ten years ago and the last time I saw Cole Ryan.

They say you never get over your first love...I beg to differ. I left my shattered heart buried in a town I never expected to return to. I erased every thought of him and buried the memories never to be found.

I moved on...now ten years later I have the perfect life, the perfect fiancé, the perfect career. Everything I ever wanted until I'm forced to go back and face my past and the man that destroyed me.

He won't stop until I know the truth no matter how hard I fight it. In the end, lies will be uncovered, hearts will be broken, and my life as I've come to know it destroyed.
31st
Title
: The Highlanders Princess Bride
Series
: The Improper Princesses #3
Author
: Vanessa Kelly
Format
: Paperback & eBook, 432pgs
Published
: October 31, 2017 by Zebra
ASIN
: B01MZHRAW6
In Vanessa Kelly's enchanting series, three young women descended from royalty overcome their scandalous beginnings to win the hearts of the ton's most eligible men . . .

The illegitimate daughter of the Prince Regent might be expected to pursue various dubious professions. Actress, perhaps, or artist's model. Even courtesan. Victoria Knight, however, has become a governess—a respectable choice, until she travels to Scotland to meet her new charges. The younger brothers of Nicholas Kendrick, Earl of Arnprior, aren't children at all. They're brawny, wild Highland men. As for the Earl, he's handsome, guarded, and far too compelling . . . especially for a woman hiding a dark secret.

Nick needs a proper teacher to transform his unmarriageable brothers—and a sensible,
straight-laced wife for himself. Miss Knight seems to fit the bill on both counts. But he soon discovers there is more to Victoria than he thought. It's not just her notorious origins, or the danger that's followed her all the way to Scotland. It's the fiery loyalty beneath that sedate façade. This, the real Victoria, is the woman Nick is starting to desire so desperately. And what an earl wants, he'll use every seductive means to get . . .
Title
: Wilde in Love
Series
: The Wildes of Lindow Castle #1
Author
: Eloisa James
Format
: Paperback & eBook, 416 pgs
Published
: October 31, 2017 by Avon
ASIN
: B01MYDK4ME
Lord Alaric Wilde, son of the Duke of Lindow, is the most celebrated man in England, revered for his dangerous adventures and rakish good looks. Arriving home from years abroad, he has no idea of his own celebrity until his boat is met by mobs of screaming ladies. Alaric escapes to his father's castle, but just as he grasps that he's not only famous but notorious, he encounters the very private, very witty, Miss Willa Ffynche.

Willa presents the façade of a serene young lady to the world. Her love of books and bawdy jokes is purely for the delight of her intimate friends. She wants nothing to do with a man whose private life is splashed over every newspaper.

Alaric has never met a woman he wanted for his own . . . until he meets Willa. He's never lost a battle.

But a spirited woman like Willa isn't going to make it easy. . . .
Title
: The Scot's Bride
Series
: The MacGregors: Highland Heirs #6
Author
: Paula Quinn
Format
: Paperback & eBook, 384 pgs
Published
: October 31, 2017 by Forever
ASIN
: B01MUSPX6P
AN IRRESISTIBLE SCOUNDREL
Highlander Patrick MacGregor likes his life just the way it is. Fighting for his coin, enjoying a woman's charms, and bearing no responsibility at all? Aye, that's the life for him. That is, until Patrick sees her-a raven-haired beauty with eyes as dark as midnight. Patrick swore never to fall in love. Not even with a lass as wild as he...especially when she's from a rival clan.

AN UNDENIABLE DESIRE
Charlotte Cunningham knows Patrick is trouble the moment she sets eyes on him. Her only goal is to escape the possibility of marriage. Any marriage. But as the summer days turn into sultry nights, enticing her beyond reason, Charlie is forced to choose between the freedom she craves and the reckless rogue she can't forget.

In the New York Times bestselling tradition of Lynsay Sands, Hannah Howell, and Karen Hawkins comes a new book in Paula Quinn's new sinfully sexy Scottish romance series.
Title
: The Bride Who Got Lucky
Series
: The Cavensham Heiresses #2
Author
: Janna MacGregor
Format
: Paperback & eBook, 368 pgs
Published
: October 31, 2017 by St. Martin's
ASIN
: B06Y5DYVCT
He would do anything to protect her. Even marry her…

The son of a cold-hearted duke, Nicholas St. Mauer isn't one to involve himself in society…or open his own heart to anyone. But driven by honor, the reclusive Earl of Somerton feels obliged to keep a watchful eye on Lady Emma Cavensham. She possesses a penchant for passions unbecoming a woman that finds Nick in constant peril of losing his well-structured solitude. She even dared kiss Nick once―an utterly unladylike, and delightful, lapse…

Emma can't deny the appeal of the earl's attention, and occasional affection, but she has no need for a man. There are worse fates than spinsterhood, as Emma knows too well. She still mourns the loss of her dear friend Lena, and is determined to prove Lena's husband responsible for her death before he lures another innocent woman into a brutal marriage. But as Emma pursues her prey, a compromising moment upends all her plans. Now, with gossip swirling and her reputation in tatters, Nick may be the only man brave enough to join in Emma's cause. . .and fight for her heart.
Title
: The Right Kind of Rogue
Series
: The Cavensham Heiresses #2
Author
: Valerie Bowman
Format
: Paperback & eBook, 320 pgs
Published
: October 31, 2017 by St. Martin's
ASIN
: B06Y5SDVDB
Can two star-crossed lovers come together―until death do they part?

Viscount Hart Highgate has decided to put his rakish ways behind him and finally get married. He may adore a good brandy or a high-speed carriage race, but he takes his duties as heir to the earldom seriously. Now all he has to do is find the right kind of woman to be his bride―ideally, one who's also well-connected and well-funded. . .

Meg Timmons has loved Hart, the brother of her best friend, ever since she was an awkward, blushing schoolgirl. If only she had a large dowry―or anything to her name at all. Instead, she's from a family that's been locked in a bitter feud with Hart's for years. And now she's approaching her third London season, Meg's chances with him are slim to none. Unless a surprise encounter on a deep, dark night could be enough to spark a rebellious romance. . .for all time?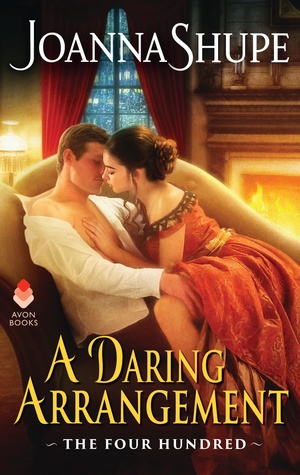 A Daring Arrangement
(The Four Hundred #1)
by Joanna Shupe
ebook, 384 pages
Expected publication: October 31st 2017 by Avon
ISBN 0062678906
Set in New York City's Gilded Age, Joanna Shupe's Avon debut introduces an English beauty with a wicked scheme to win the man she loves—and the American scoundrel who ruins her best laid plans…

Lady Honora Parker must get engaged as soon as possible, and only a particular type of man will do. Nora seeks a mate so abhorrent, so completely unacceptable, that her father will reject the match—leaving her free to marry the artist she desires. Who then is the most appalling man in Manhattan? The wealthy, devilishly handsome financier, Julius Hatcher, of course….

Julius is intrigued by Nora's ruse and decides to play along. But to Nora's horror, Julius transforms himself into the perfect fiancé, charming the very people she hoped he would offend. It seems Julius has a secret plan all his own—one that will solve a dark mystery from his past, and perhaps turn him into the kind of man Nora could truly love.