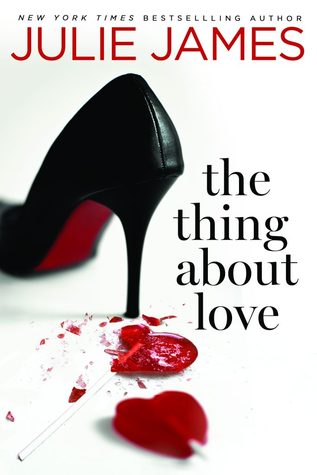 Title
: The Thing About Love
Series
: FBI/US Attorney Series, Book 7
Author
: Julie James
Narrator
: Karen White
Format
: Unabridged Audiobook (12 hrs and 15 mins)
Published
: April 18, 2017 (Tantor Audio)
ISBN
-10: 1494553678
ISBN
-13: 978-1494553678
Links
:
Goodreads
|
Amazon
|
B&N
|
Audible
Reviewer
: Linda
Source
: Publisher
Rating
: 5 out of 5 Wine Glasses
Two undercover FBI agents can hide who they are from everyone but each other in the latest novel from the New York Times bestselling author of Suddenly One Summer.

FBI agents Jessica Harlow and John Shepherd have a past. The former lawyer and cocky Army ranger clashed during their training at Quantico, gladly going their separate ways after graduating from the Academy. Six years later, the last thing either of them expects is to run into each other again–assigned to work as partners in a high-profile undercover sting.

For both of them, being paired with a former rival couldn't come at a worse time. Recently divorced from a Hollywood producer and looking for a fresh start, Jessica is eager to prove herself at her new field office. And John is just one case away from his dream assignment to the FBI's elite Hostage Rescue Team. In order to nail a corrupt Florida politician, they'll have to find a way to work as a team–a task that becomes even trickier when they're forced to hole up at a romantic, beachfront resort as part of the investigation. Suddenly, the heat behind their nonstop sparring threatens to make the job a whole lot more complicated. . .
Linda's Thoughts:

Her eyes widened. "Ooh… was it hate sex? I've always wanted to have hate sex."

The Thing About Love by Julie James unquestionably ranks as one of my favorite audios I've listened to this year! It stars two FBI agents in a sweet, funny, light-hearted, believable, seductive, well-written done-right story line . It's an enemies-to-lovers trope tale and it's hot… and sexy… and funny… and, well, just gloriously perfect! Even though this is the seventh book in the author's FBI/US Attorney series, this installment - like the other books in this series - works entirely well as a stand alone, if that is your preference.

This is the story of Jessica Harlow and John Shepherd. They first meet at the Quantico FBI training facility where the two are highly competitive and quickly draw wrong first impressions of each other. After graduation, they happily go their separate ways expecting never to see the other again.

Fast forward to six years later as they find themselves both assigned to the Chicago office as partners on a high profile undercover case located in Jacksonville. Thank goodness, they are both professionals and their personal feelings for each other will not be factors as they work their case. If you believe that, I have land for sale in the middle of a yet-to-be-discovered ocean.

Jessica and John are written excellently! They are each likable and genuine. Both are driven to excel in whatever they do. Jessica is newly divorced and looking for a fresh start in the Chicago FBI office. John has recently separated from his long-time girlfriend after discovering her cheating on him with his best friend. Actually, they could each write a book on relationship hard knocks. Their constant need to compete with each other makes for some highly entertaining laugh-out-loud moments. Their chemistry is fantastic and their witty banter is both giggly and swoony. Julie has written this story alternating their viewpoints so readers get the inside track inside their heads. I couldn't get enough of watching them interact from the sidelines.

It was a truly tough job to pick a few favorite quotes from this listen as the whole book qualified. But, I persisted and honed my choices down to just a few. Just know that there are a slew more where these came from.:

"Since you're obviously in need of something to do, instead of shouting at me through this whole drill, isn't there some tree you could fell with your bare hands, or a boulder somewhere that needs tossing?" ---

"I have a slight oral fixation." ---

He growled low in his throat. "I don't think I can do this the nice way, Jessica." ---

"When do you leave?" she asked.

His fingers paused. "Labor Day weekend."

So soon. Only two and a half weeks away. She nodded, going for a joke. "Good. That's about when I was planning on getting sick of you, anyway."

"Pfft. I'm already counting down the minutes until I can make my escape from this room."

"It's your room."

Karen White is one of my favorite narrators. I'm ecstatic that she's narrating this series. Not surprisingly, she aces every aspect of The Thing About Love! She nails the personality of both main characters with authentic, consistent and realistic-sounding male and female voices. Her pacing couldn't be better. The end product is polished and professional. I literally could not put this audio down and I'm sure those around me on a pedestrian bridge that I frequently walk wondered what was going on as I burst out laughing at the hilarious banter throughout. I further confess to listening to some of this audio in my hot garage because I didn't want to hit stop. Karen's performance, without a doubt, added to my enjoyment of this read. If you are an audiophile, I would highly recommend that you elect to listen to The Thing About Love. Julie and Karen are a pairing made in heaven!

I sure wish Julie could write faster as I can't get enough of her books! I absolutely adored this book and would listen to it again. If you are looking for a highly suspenseful read, don't pick it up. But, if you enjoy sexy, feel-good contemporary romances with just the right amount of angst, do yourself a favor and check out The Thing About Love!

Suggested Reading Order: SOMETHING ABOUT YOU (Book #1) A LOT LIKE LOVE (Book #2) ABOUT THAT NIGHT (Book #3) LOVE IRRESISTIBLY, (Book #4) IT HAPPENED ONE WEDDING (Book #5) SUDDENLY ONE SUMMER (Book #6) THE THING ABOUT LOVE (Book #7)