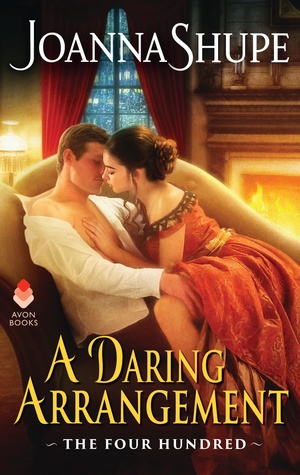 Title:
A Daring Arrangement
Series:
The Four Hundred #1
Author:
Joanna Shupe
Format:
ebook, 384 pages
Expected publication:
October 31st 2017 by Avon
ISBN:
0062678906
Links:
Goodreads
|
Amazon
|
B&N
Source:
NetGalley
Reviewer:
Crystal
Rating:
4 out of 5 Wine Glasses
Set in New York City's Gilded Age, Joanna Shupe's Avon debut introduces an English beauty with a wicked scheme to win the man she loves—and the American scoundrel who ruins her best laid plans…

Lady Honora Parker must get engaged as soon as possible, and only a particular type of man will do. Nora seeks a mate so abhorrent, so completely unacceptable, that her father will reject the match—leaving her free to marry the artist she desires. Who then is the most appalling man in Manhattan? The wealthy, devilishly handsome financier, Julius Hatcher, of course….

Julius is intrigued by Nora's ruse and decides to play along. But to Nora's horror, Julius transforms himself into the perfect fiancé, charming the very people she hoped he would offend. It seems Julius has a secret plan all his own—one that will solve a dark mystery from his past, and perhaps turn him into the kind of man Nora could truly love.
Crystal's Thoughts:
Joanna Shupe transport readers to America's revolutionary and ornate Gilded Age with the first book in her newest series from Avon Romance,
A Daring Arrangement
.
After being shipped off to America by her father, the Earl, Lady Honora Parker devises a cunning plan for her return. First she must find a notorious rake to pose as her fiance, then her father is sure to send her back to England...and back into the arms of her love. Convincing the wild and sinfully handsome financier, Julius Hatcher to go along with her plans is easy, keeping their engagement purely fictional is turning out to be the difficult part.....
I didn't realize how many fake engagement stories I have read recently until now! While you would think that trope would get a bit dull,
A Daring Arrangement
was a lively story filled with larger than life characters that kept me glued to the pages. Add in the ritz and glamour of the 1890's, the hauteur of New York's elite, and the frenzy of America's investment age, and you end up with the kind of historical romance that I love to read! If you've read Joanna Shupe's Knickerbocker Club series, then this setting might be familiar to you, but not to worry - the author gives a fresh new twist to the flamboyant wealth of the time. As well as diligent comparisons between English and American societies, and insights to the time period that are sure to please. I could easily picture the opulent, highbrow ball rooms, the debauchery of Sherry's, and Julius' wonder of a french castle while reading.
Nora and Julius were independent and witty characters, each with a plan of their own. I loved watching these two come together. Their attraction was instant, but their romance was slow building - unfolding with each new page. Julius never wanted to marry and have a family, his father dug that seed in deep, but he's never been so drawn to another either. Nora has already found love, that's what has led her to her current predicament, but what she is beginning to feel for Julius goes well beyond what she ever felt for her paramour, Robert. These two fight their feelings so hard, Nora is full of self-recrimination for her fickle feelings while Julius is bent on finding vengeance for his father's death. The tension between these two is strung tight and when it finally snaps it is an absolute delight.
(Ha, I rhymed.)
There were times throughout the story that Julius seemed uncaring and self-centered, which didn't endear his character to me at first, but then he'd come to Nora's rescue during one of her more ridiculous and naive plans to gain her father's attention, and you saw what laid under that thick, unemotional wall he exhibited. Again, Nora had some harebrained ideas to which she never thought out the consequences of, but she was a smart and spunky character that I enjoyed. Her aunt and uncle also lent some humor and intrigue to the story, and the underlying mystery surrounding Julius' father gave readers quite the puzzle to piece together.
All in all,
A Daring Arrangement
was fun, engaging read with a smart and sexy couple. I definitely recommend this title for historical romance fans, especially those readers who enjoy a look into early American history. I look forward to more from this series!