Nalini Singh's Silver Silence is finally here this month! Eeeeee! I simply loved meeting the StoneWater Bears, and I don't think Psy-Changeling fans will be disappointed with the start of the Trinity spin-off. I'm looking forward to the start of Cora Carmack's Stormheart series, Roar. It feels like us readers have been waiting FOREVER for The Sweetest Burn (Broken Destiny #2) by Jeaniene Frost release! Literally dying for June 27th to get here. Which releases are you looking forward to the most this month?
*This list may be updated throughout the month.
4th
Sworn to Protect
(Rescue Ops #1)
by Diana Gardin
ebook, 368 pages
Expected publication: June 4th 2017 by Forever Yours
ISBN 1455571547
To keep her safe, he'll have to uncover all her secrets...





Rayne Alexander. A face I never thought I'd see again, and one I never could forget. Nine years ago, she left town-and me--without a backward glance. But now she's back, with a haunted look in her eyes and a feisty attitude that didn't exist when we were teenagers. Seeing this grown-up--and sexy--Rayne is something I wasn't prepared for... and it's bringing up feelings I'd thought I'd buried years ago.





Although I want to demand answers from Rayne, working on black ops at Night Eagle Security has taught me that it's sometimes better to keep my mouth shut. So when I catch her hiding a photo of a little boy, I'm curious. When I see her jump as her phone rings, I'm concerned. But the second I notice a car following her home, I know she's hiding something. Something dangerous. And while I may not know why she left or why she's back, if there's someone out there Rayne is afraid of, I'll make damn sure that threat is eliminated.
5th
Snow's Seduction
(A Snow White Werewolf Tale)
by Kristin Miller
ebook, 89 pages
Published June 5th 2017 by Entangled Publishing LLC
ISBN139781633759541
Hair black as a raven's coat, skin as white as snow, lips as read as, blabitty-blah, blah, blah. If one more person calls me sweet and innocent, I'm losing my head.

I've got more pressing matters to think about. Like the fact that our wolf pack is in serious debt. If I can't find a way to secure financing for our estate, we'll lose our shifting sanctuary. My stepmother—wonderfully wicked as she is—has come up with a plan: seduce a rich jeweler who's visiting for the weekend. And then, when he agrees to bond with me and make me his forever, we'll be saved. Not such a bad deal, considering he's crazy hot, and I've had a crush on him forever.

One problem: I'm not a temptress, not by a long shot. It's a good thing my childhood best friend, Hunter, has come back into the area. He's always been a playboy and knows how to get what he wants. He agrees to teach me the rules of seduction, but before long, I realize I'm the one being played.
6th
Wolf Hunt
(SWAT: Special Wolf Alpha Team #6)
by Paige Tyler
Paperback, 352 pages
Expected publication: June 6th 2017 by Sourcebooks Casablanca
ISBN 1492642347
A STORM IS BREWING...

Remy Boudreaux is back in his hometown, New Orleans. He's there with three of his fellow Dallas SWAT officers for a week of training with the NOLA PD. On the eve of a tropical storm, Remy and his buddies prowl the French Quarter. One tantalizing scent captures Remy's senses, forcing him to follow until he is face to face with Triana Bellamy—his beautiful high school crush.

After reconnecting, Remy and Triana are close—very. Remy struggles to keep things casual. Ever since his partner—and first love—was killed on the job, he's kept women at a distance.

But when a mysterious wolf pendant ropes them both into danger, Remy's protective instincts kick in. He may have to reveal his true self...and hope Triana accepts him.
A Touch of Frost
by Jo Goodman
Paperback
Published June 6th 2017 by Berkley Books
ISBN 0399584277
RESCUE ME

After his train is robbed at gunpoint, Remington Frost awakens from a blow to find the bandits gone...along with the woman he was shadowing for protection. No stranger to risk, Remington will do what it takes to bring Phoebe Apple to safety and her kidnappers to justice. But ransoming Phoebe is just the start of trouble...

Phoebe is shocked to learn that her mysterious rescuer is none other than Remington Frost, the son of her sister's new husband. Home at Twin Star Ranch, she falls happily into western life--and cautiously in love with Remington. But danger hides close to home, and their romance illuminates a web of secrets and betrayal that may put the rancher and his intended bride past the point of rescue.
A Sky Full of Stars
(The Shaughnessy Brothers #5)
by Samantha Chase
Paperback
Expected publication: June 6th 2017 by Sourcebooks Casablanca
ISBN 1492616346
The stars are about to align in the newest Shaughnessy brothers romance!





WHEN WORLDS COLLIDE




Brilliant astrophysicist Dr. Owen Shaughnessy feels more connected to the cosmos than to people. He's great with calculations, but when he leads a team of scientists to study a famous meteor shower, he doesn't factor in his free-spirited artist assistant Brooke Matthews.





LOVE CAN DAZZLE YOU




Polar opposites in personality, the friction between them threatens to derail the project. But the beauty and mystery of the night sky draw Owen and Brooke together―and she's going to surprise him in ways the stars never could.
13th
Title: The Reluctant Highlander
Author: Amanda Scott
Format: Paperback & eBook, 350pgs
Published: June 13, 2017 by Open Road Media Romance
ASIN: B01N3RTF83
An uncertain bride looks for love with a man as wild and mysterious as his Highland home in this new Scottish romance from a USA Today bestselling author.



Ordinarily, Lady Fiona Ormiston wouldn't think of forming an alliance with an ungroomed, barbaric Highlander, despite the protection he offers. But now, by request of the king, Sir Adham MacFinlagh, a brazen stranger and outsider unlike anyone she has met before, is to be her husband. Torn from solitude and the comfort of her family to make a home with the rugged knight, Fiona surrenders to Adham's powerfully passionate—and shockingly tender—touch, only to discover her new husband's family ties may lie with an enemy of the king.





A sense of duty may have brought Adham to the marriage bed, but it's his powerful feelings for his beautiful, willful wife that will be his undoing. Ultimately, the bold knight will have to decide: Does his allegiance lie with his blood ties to the man who hopes to bring down the king or with the bride who has stolen his heart?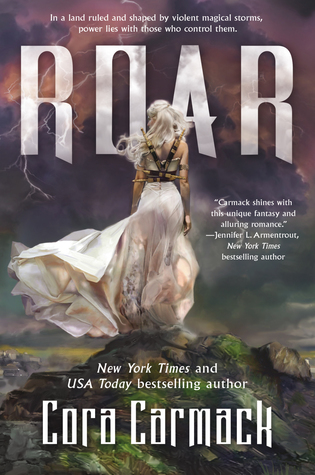 Roar
(Stormheart #1)
by Cora Carmack
Hardcover, 380 pages
Expected publication: June 13th 2017 by Tor Teen
ISBN 0765386313
In a land ruled and shaped by violent magical storms, power lies with those who control them.

Aurora Pavan comes from one of the oldest Stormling families in existence. Long ago, the ungifted pledged fealty and service to her family in exchange for safe haven, and a kingdom was carved out from the wildlands and sustained by magic capable of repelling the world's deadliest foes. As the sole heir of Pavan, Aurora's been groomed to be the perfect queen. She's intelligent and brave and honorable. But she's yet to show any trace of the magic she'll need to protect her people.

To keep her secret and save her crown, Aurora's mother arranges for her to marry a dark and brooding Stormling prince from another kingdom. At first, the prince seems like the perfect solution to all her problems. He'll guarantee her spot as the next queen and be the champion her people need to remain safe. But the more secrets Aurora uncovers about him, the more a future with him frightens her. When she dons a disguise and sneaks out of the palace one night to spy on him, she stumbles upon a black market dealing in the very thing she lacks—storm magic. And the people selling it? They're not Stormlings. They're storm hunters.

Legend says that her ancestors first gained their magic by facing a storm and stealing part of its essence. And when a handsome young storm hunter reveals he was born without magic, but possesses it now, Aurora realizes there's a third option for her future besides ruin or marriage.

She might not have magic now, but she can steal it if she's brave enough.

Challenge a tempest. Survive it. And you become its master.
Silver Silence
(Psy-Changeling Trinity #1)
by Nalini Singh
Kindle Edition, 496 pages
Expected publication: June 13th 2017 by Berkley
ASINB01M0CQL24
New York Times bestselling author Nalini Singh introduces a bold new chapter in her extraordinary paranormal romance saga with the Psy-Changeling Trinity series. Wild passion will encounter the darkest of betrayal...

Control. Precision. Family. These are the principles that drive Silver Mercant. At a time when the fledgling Trinity Accord seeks to unite a divided world, with Silver playing a crucial role as director of a worldwide emergency response network, wildness and chaos are the last things she needs in her life. But that's exactly what Valentin Nikolaev, alpha of the StoneWater Bears, brings with him.

Valentin has never met a more fascinating woman. Though Silver is ruled by Silence—her mind clear of all emotion—Valentin senses a whisper of fire around her. That's what keeps him climbing apartment buildings to be near her. But when a shadow assassin almost succeeds in poisoning Silver, the stakes become deadly serious…and Silver finds herself in the heart of a powerful bear clan.

Her would-be assassin has no idea what their poison has unleashed...
The Darkest Promise
(Lords of the Underworld #13)
by Gena Showalter
ebook
Expected publication: June 13th 2017 by Harlequin HQN
ISBN 1488023190
New York Times bestselling author Gena Showalter returns with a sizzling Lords of the Underworld story about an iron-willed sovereign and the somber beauty who melts him with a glance

Possessed by the demon of Misery, Cameo isn't allowed to experience joy. If she dares, her memory is wiped clean. With no other recourse, she sneaks into a land more fantastical than any fairy tale, determined to find the one man with the key to her redemption.

Lazarus the Cruel and Unusual rules his kingdom with a single unwavering focus: to build his army and annihilate his enemies. Nothing distracts him - until Cameo. He is relentless in his quest to make her smile and seduce her into his bed.

As dark forces conspire against them, threatening to destroy the fragile bond they've forged, the once-calm Lazarus grows crazed. Every heart-stopping kiss and wicked touch causes Cameo to teeter on the brink of happiness. But if she falls, she risks forgetting him forever
The Story of Us
by Tara Sivec
Paperback, 336 pages
Expected publication: June 13th 2017 by Forever Yours (first published June 11th 2017)
ISBN 147892019X
From USA Today bestselling author Tara Sivec comes an emotional, breathtakingly romantic new book about the power of first love and the promise of second chances.

How much can a man take before he breaks?

1,843 days. That's how long I survived in that hellhole. They tried to break me, but I resisted. And I owe it all to the memory of warm summer nights, the scent of peaches, and the one woman who loved me more than I ever deserved to be loved. Now, I'll do anything to get back to her.

Only Shelby Eubanks isn't the girl I left behind all those years ago. She's someone else, a stranger. My Shelby-my little green-eyed firecracker-would never give up her dreams, would never disappear into her mother's ambitions. But I won't give up on her. On us. I may be broken, and scarred, and not the man I used to be, but I will do whatever it takes to remind her of the story of us.
Royal Treatment
(Royal Scandal #3)
by Parker Swift
Paperback, 288 pages
Expected publication: June 13th 2017 by Forever Yours
ISBN 1455598100
All this duke needs is his duchess...

For five blissful months I've been engaged to Dylan Hale, the most handsome, commanding, and wickedly sexy duke in England. For five months I've woken up next to the man I love, indulged in secret trysts, and submitted to every delicious desire. Even better? We've managed to keep it hidden from everyone. That means no paparazzi scandals, no snide comments from Dylan's mother, and no harsh public scrutiny. It's been heaven, but with Dylan's royal responsibilities looming, our time alone is running out. And while I can't wait to be Dylan's wife, I'm terrified that becoming Dylan's duchess might mean losing myself.
More Than Need You
(More Than Words #2)
by Shayla Black
Expected publication: June 13th 2017 by Shelley Bradley, LLC
20th
Hunted
(Killer Instinct)
by Cynthia Eden
Paperback
Expected publication: June 20th 2017 by Harlequin Intrigue
ISBN 133572107X
The chase is on in New York Times bestselling author Cynthia Eden's latest installment in the Killer Instinct series!
Josh Duvane's SEAL training not only hardened his body, but also his mind. Though his latest investigation as part of the FBI's Underwater Search and Evidence Response Team is pushing him to his limits. The Sandy Shore killer taunts local police as Josh recovers his victims off the coast of Florida. Of all the women taken, only Casey Quinn has survived. As this unrelenting psychopath stalks her every move, Josh is all that stands between her and certain death. Now it's time for him to turn the tables and use every ounce of training to stop the killer from having the last laugh...
The Pleasures of Passion
(Sinful Suitors #4)
by Sabrina Jeffries
Mass Market Paperback, 400 pages
Expected publication: June 20th 2017 by Pocket Books
Original TitleThe Pleasures of Passion
ISBN 1501144464
When Niall Lindsey, the Earl of Margrave, is forced to flee after killing a man in a duel, he expects his secret love, Brilliana Trevor, to go with him, or at the very least wait for him. To his shock, she does neither and sends him off with no promise for the future. Seven years and one pardon later, Niall returns to England disillusioned and cynical. And being blackmailed by the government into working with his former love to help catch a counterfeiter connected to her father doesn't improve his mood any. But as his role as Brilliana's fake fiancé brings his long-buried feelings to the surface once again, he wonders who is more dangerous—the counterfeiter or the woman rapidly stealing his heart.

Forced to marry another man after Niall was exiled, the now widowed Brilliana wants nothing to do with the reckless rogue who she believes abandoned her to a dreary, loveless life. So having to rely on him to save her father is the last thing she wants, much less trusts him with....But as their scheme strips away the lies and secrets of their shared past, can she let go of the old hurt and put her pride aside? Or will the pleasures of their renewed passion finally enable them both to rediscover love?
Lost and Found Sisters
(Wildstone #1)
by Jill Shalvis
ebook, 400 pages
Expected publication: June 20th 2017 by William Morrow Paperbacks
ISBN 0062448129
From New York Times bestselling author Jill Shalvis comes her first women's fiction novel—an unforgettable story of friendship, love, family, and sisterhood—perfect for fans of Colleen Hoover, Susan Mallery, and Kristan Higgins.

They say life can change in an instant…

After losing her sister in a devastating car accident, chef Quinn Weller is finally getting her life back on track. She appears to have it all: a loving family, a dream job in one of L.A.'s hottest eateries, and a gorgeous boyfriend dying to slip an engagement ring on her finger. So why does she feel so empty, like she's looking for a missing piece she can't find?

The answer comes when a lawyer tracks down Quinn and reveals a bombshell secret and a mysterious inheritance that only she can claim. This shocking revelation washes over Quinn like a tidal wave. Her whole life has been a lie.

On impulse, Quinn gives up her job, home, and boyfriend. She heads up the coast to the small hometown of Wildstone, California, which is just a few hours north, but feels worlds apart from Los Angeles. Though she doesn't quite fit in right away, she can't help but be drawn to the town's simple pleasures…and the handsome, dark-haired stranger who offers friendship with no questions asked.

As Quinn settles into Wildstone, she discovers there's another surprise in store for her. The inheritance isn't a house or money, but rather something earthshattering, something that will make her question everything she thought she knew about herself, about her family. Now with a world of possibilities opening up to Quinn, she must decide if this new life is the one she was always meant to have—and the one that could finally give her the fulfillment she's searched so long for.
Protected by Love
(Montana Heat 0.5)
by Jennifer Ryan
Kindle Edition
Expected publication: June 20th 2017 by Avon Impulse
Original TitleHer Dangerous Protector
ASINB018QM88KC
It was more than another blind date . . .

It was DEA Agent Caden Cooke's third chance to impress beautiful chef Mia Martin. He'd already stood her up twice, and was shocked she was even giving him another chance. For Caden, taking down the bad guys is important, but Mia's made it clear there's no excuse for his bad behavior. So he's vowed to make it worth her while with an apology he's cooked up just for her.

From the moment they meet, it's clear this isn't just another fix up. The sparks flying between them are undeniable; the tension is electric. Then, suddenly, the best moments of their lives turn treacherous when a drug dealer set on revenge puts their lives in danger. And Mia and Caden quickly realize they will do anything to protect the other—and live for the love neither of them expected.
Gone to Dust
(Gravediggers #2)
by Liliana Hart
Paperback, 384 pages
Expected publication: June 20th 2017 by Pocket Books
ISBN 1501150057
The Gravediggers aren't exactly what they seem. They're the most elite of the world's fighting forces—and all they have in common is that they've been betrayed by the countries they've died for. Because they are dead. To their country, their military, and their families.

Sometimes the dead do rise....

Miller Darling is one of the most popular romance novelists of her time. Not bad for a woman who doesn't believe in romance. She's as logical as they come, and she doesn't believe in happily-ever-afters. What she does believe in is family, so when her brother disappears, she doesn't think twice about packing her bag and her laptop and heading out to find him.

Elias Cole lived and breathed the life of a Navy SEAL. Now he's "dead" and his hero's honor tarnished. The only thing keeping him sane are the men who are like him—The Gravediggers—and the woman who makes his head spin. He's never met anyone like Miller Darling. Her smart mouth and quick wit keep him on his toes, and damned if he doesn't find that appealing.

When Miller receives a package from the brother who abandoned her asking for help, it's clear she's in over her head with the mess he's gotten himself into. She needs a professional, and Elias is just the man for the job. Only her brother is a former SEAL—the man who left his team to die—and Elias is more interested in vengeance than saving his life.
27th
Title: Love with a Scottish Outlaw
Series: Highland Weddings #3
Author: Gayle Callen
Format: Paperback & eBook, 384pgs
Published: June 27th, 2017 by Avon
ASIN: B01LZD5YFU
Love is worth any risk in this seductive finale of USA Today Bestselling Author Gayle Callen's Highland Wedding series…



The last thing clan chief Duncan Carlyle expects to encounter in the rain-soaked highlands was Catriona Duff, daughter of the corrupt earl responsible for the price on his head. Yet Duncan finds himself sheltering the beauty who claims to have lost her memory. Catriona could be the key to stopping her father, but only if Duncan can keep her identity—and his dangerously powerful desire—to himself.





Duncan may have rescued Catriona, but the gruff outlaw clearly doesn't trust her. She's moved by his mission to rescue kidnapped children, but hiding in a network of caves means living in close quarters with everyone—including Duncan. And even as Catriona struggles to remember her past, the present draws her ever closer to this enigmatic man…and to the secret that could change everything.
Title: The Day of the Duchess
Series: Scandal and Scoundrels #3
Author: Sarah MacLean
Format: Paperback & eBook, 400 pgs
Published: June 27, 2017 by Avon
ASIN: B01JFYFU6U
The one woman he will never forget…


Malcolm Bevingstoke, Duke of Haven, has lived the last three years in self-imposed solitude, paying the price for a mistake he can never reverse and a love he lost forever. The dukedom does not wait, however, and Haven requires an heir, which means he must find himself a wife by summer's end. There is only one problem—he already has one.



The one man she will never forgive…


After years in exile, Seraphina, Duchess of Haven, returns to London with a single goal—to reclaim the life she left and find happiness, unencumbered by the man who broke her heart. Haven offers her a deal; Sera can have her freedom, just as soon as she finds her replacement…which requires her to spend the summer in close quarters with the husband she does not want, but somehow cannot resist.



A love that neither can deny…


The duke has a single summer to woo his wife and convince her that, despite their broken past, he can give her forever, making every day The Day of the Duchess.
Title: The Highland Commander
Series: Lords of the Highlands #2
Author: Amy Jarecki
Format: Paperback & eBook, 384pgs
Published: June 27, 2017 by Forever
ASIN: B01LL8BR4C
She cannot resist the man behind the mask...





As the illegitimate daughter of a Scottish earl, Lady Magdalen Keith is not one to partake in lavish balls or other frivolities. Yet at her father's urging, she agrees to dance with the battle-weary officers at this year's holiday masquerade. It's practically her civic duty! But when one such officer-whose dashing good looks cannot be disguised by a mere mask-sweeps her off her feet and into his arms, the innocent lass can't help herself. Her lips are his for the taking.But will he betray his country for a kiss?





Navy lieutenant Aiden Murray has spent too many months at sea to be immune to the charms of this lovely beauty. Even after he returns to his ship, she lives in his dreams. But when he discovers Maddie's true identity-and learns that her father is accused of treason-will the brawny Scot risk his life to follow his heart?
A Most Unlikely Duke
(Diamonds in the Rough #1)
by Sophie Barnes
ebook, 384 pages
Expected publication: June 27th 2017 by Avon
ISBN 0062566814
He never thought he'd become a duke, or that the secrets of his past would cost him his greatest love...

Raphe Matthews hasn't stepped foot in polite circles since a tragedy left his once-noble family impoverished and in debt. The bare-knuckle boxer has spent the last fifteen years eking out an existence for himself and his two sisters. But when a stunning reversal of fortune lands Raphe the title of Duke of Huntley, he's determined to make a go of becoming a proper lord, but he'll need a little help, and his captivating neighbor might be just the woman for the job…

After her sister's scandalous match, Lady Gabriella knows the ton's eyes are on her. Agreeing to tutor the brutish new duke can only lead to ruin. Although she tries to control her irresistible attraction to Raphe, every day she spends with him only deepens her realization that this may be the one man she cannot do without. And as scandal threatens to envelop them both, she must decide if she can risk everything for love with a most unlikely duke.
Three Weeks with a Princess
(The Improper Princesses #2)
by Vanessa Kelly
Mass Market Paperback, 352 pages
Expected publication: June 27th 2017 by Zebra
ISBN 1420141112
In Vanessa Kelly's captivating series, three young women are descended from royalty--in the most improper way. But that doesn't stop them from pursuing lives rich in adventure. . .

Lia Kincaid, illegitimate daughter of the Duke of York, comes from a long line of notorious women. Raised by her grandmother, formerly mistress to the late Marquess of Lendale, she has little hope of a respectable marriage. But the new marquess, her childhood friend, Jack Easton, would make a very desirable protector . . . if he weren't too honorable to take her to bed.

It's bad enough being saddled with a title he never desired. Now Jack must resist the beautiful woman he desires far too much. Duty calls, and he is duty-bound to choose a wealthy bride. But then Lia makes another outrageous suggestion: asking Jack to devise some tests to find her the perfect paramour. Tests that involve flirting, kissing, and other pleasurable pursuits. Tests that, in a matter of weeks, could transform friendship into the ton's greatest scandal, igniting a passion even duty can't deny. .
Title: A Stardance Summer
Series: Highland Grooms #3
Author: Emily March
Format: Paperback & eBook, 320 pgs
Published: June 27, 2017 by St. Martin's
ASIN: B01N7EXNY1
Lili Howe took a leap of faith when she decided to join the Tornado Alleycats, her elderly landlady's all-female glamour-camping club. Lili's always given everything to her career, putting herself on track to become her CPA firm's youngest partner. But now that Lili's carefully planned future is shattered, she's willing to let summer work its magic on her―at all costs.





There's never a dull moment at Stardance Ranch, the Colorado resort Brick Callahan built from the ground up. Still, a late night skinny-dipping session involving a bunch of "glamping" grannies. . .with his best friend's kid sister Lili among them? He couldn't have made up such story if he tried. The undeniable mutual attraction between Brick and gorgeous, spirited Lili is a reminder that life is full of surprises. But when Brick's ex-girlfriend suddenly shows up, he's faced with a desperate choice: Do right by a woman he once loved or take a chance on Lili. . .and do everything he can to win her heart?
The Sweetest Burn
(Broken Destiny #2)
by Jeaniene Frost
Kindle Edition, 304 pages
Expected publication: June 27th 2017 by HQN Books
ASINB011IAE6NW
The breathtaking second novel in New York Times bestselling author Jeaniene Frost's Broken Destiny series finds Ivy and Adrian rekindling their alliance—and passion—as the struggle for the fate of the world begins…

Conquering a supernatural realm turned out to be easier than getting over a broken heart. But her initial victory has made Ivy a target for revenge, forcing her to reunite with the dangerous—and dangerously sexy—Adrian. Ivy isn't sure which will be harder: finding the hallowed weapon that will repair the crumbling walls between the demon and human realms, or resisting Adrian, who's decided that come hell or high water, he will make Ivy his.

At first, Adrian tried to resist his feelings for Ivy. Now, determined to break the curse that dooms their love, he's vowed to save her and to have her. If only he can persuade her to forgive his past sins. But defying destiny—and surrendering to the smoldering desire between them—will bring consequences and sacrifices they never imagined…
Raw Need
(Larson Brothers #2)
by Cherrie Lynn
Kindle Edition
Expected publication: June 27th 2017 by Swerve
ASINB06XC6J8H7
Zane Larson has done everything he set out to do: conquered past demons, saved lives through his music, and toured the world as the frontman for one of the most popular rock bands in the world. This life—and an escape through music—was supposed to be everything he's ever wanted, but after meeting Rowan, Zane's no longer sure…

Soon after her husband's death, Rowan Dugas learned she was pregnant. With grief and uncertainty her only companions, Rowan was only able to find an escape through music; specifically Zane Larson's hypnotic voice. But after meeting the sexy lead singer of her favorite band, Rowan can hardly believe he's interested in her. But Zane also has a painful connection to her unborn child - Zane's brother is responsible for her husband's death.

Torn between the only family she has left, and a life with Zane unlike anything she's dared to dream about, Rowan's decision will change her fate forever. This new title from New York Times bestselling author Cherrie Lynn is a heart wrenching, emotionally intense story that will leave readers breathless.
Until It Fades
by K.A. Tucker
Kindle Edition, 368 pages
Expected publication: June 27th 2017 by Atria Books
ASINB01J1XU87G
Twenty-four-year-old truck stop waitress and single mother Catherine Wright has simple goals: to give her five-year-old daughter a happy life and to never again be the talk of the town in Balsam, Pennsylvania: population two thousand outside of tourist season.

And then one foggy night, on a lonely road back from another failed attempt at a relationship, Catherine saves a man's life. It isn't until after the police have arrived that Catherine realizes exactly who it is she has saved: Brett Madden, hockey icon and media darling.

Catherine has already had her fifteen minutes of fame and the last thing she wants is to have her past dragged back into the spotlight, only this time on a national stage. So she hides her identity. It works.

For a time.

But when she finds the man she saved standing on her doorstep, desperate to thank her, all that changes. What begins as an immediate friendship quickly turns into something neither of them expected. Something that Catherine isn't sure she can handle; something that Catherine is afraid to trust.

Because how long can an extraordinary man like Brett be interested in an ordinary woman like Catherine…before the spark fades?
Expected publication: June 27th 2017 by St. Martin's Paperbacks
ISBN 125010405X
Luca Rizzoli was nearly destroyed by a brutal betrayal that cost him his family. Now a ruthless crime boss in the city of sin, he lets nothing touch his frozen heart--until a smoldering encounter with a beautiful stranger ignites his passion. One night isn't enough for a man who takes what he wants, but his mysterious temptress has slipped away.

For two years police detective Gabrielle Fawkes has lived for revenge. But a night of indulgence with a sexy stranger changes everything. Powerful, charming, and deliciously dangerous Luca, has his own private reasons for offering to help her pursue the drug lord who killed her husband. There's a lot Luca isn't telling her and the more she finds out the less she wants to know.

When Gabrielle becomes the target of the drug lord she has vowed to hunt down, she must do the unimaginable: place her life in a mobster's hands. To save her, Luca must break his Mafia ties--or risk losing Gabrielle forever.
Paperback, 320 pages
Expected publication: June 27th 2017 by St. Martin's Paperbacks
ISBN 1250083419
A LONE STAR LOVER

Callie Reed doesn't need a man to protect her. An expert sharpshooter and renegade hacker, this Texas-born spitfire's got the skills and the courage to stand up to any danger―no matter how deadly. But when she becomes the target of a shadowy organization known as the Saints, Callie is forced to team up with the one man she can't outshoot: the gorgeous, and infuriating, Lone Star legend named Wyatt Loughman…

A Delta Force Colonel with a rock-hard body and stone-cold heart, Wyatt has been teasing and tormenting Callie since they were playmates on his family's ranch. Of course, he's wildly attracted to the fiery, strong-willed Callie. But he's always hidden his feelings behind a wall of Texas tough and military cool, even as he's burning up with desire. Can Wyatt save Callie's life―without putting her love in the line of fire?
Call to Engage
(Team Poseidon #2)
by Tawny Weber
Mass Market Paperback, 384 pages
Expected publication: June 27th 2017 by Harlequin Books
ISBN 0373801963
The Poseidon team are hard-bodied, fiercely competitive Navy SEALs. But when a sensitive mission goes disastrously wrong, three of the team's finest will have to trust their hearts and instincts to uncover the truth…

Lieutenant Elijah Prescott should be spending his precious leave somewhere with sun, surf and scantily clad women. Instead, he's heading home with two goals in mind. Figure out exactly how his last assignment went to hell and almost killed him—and reconnect with the woman who might offer salvation.

Ava Monroe has streamlined her life, eliminating every source of pain—including a marriage touched by tragedy. One glimpse of her ex and those good intentions turn to bad-girl desires. Her strategy: get over Elijah by getting under him again, sating herself until she can finally let go. But as betrayal within the rank of the SEALs turns deadly, there's no denying that her heart and her life are on the line. Elijah is the only man who can protect both…
We're giving away your choice of one of June's new book releases to one reader! To enter, just be a RBtWBC follower (We offer lots of follow options!) and fill out the Rafflecopter below. Good luck! *Book must be $7.99 or under and available on Amazon Kindle, winner's choice will be in kindle format.