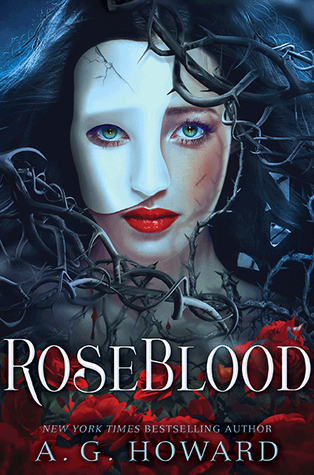 Title
: ROSEBLOOD
Author
: A.G. Howard
Format
: Kindle, 432 Pages
Published
: January 10, 2017 (Amulet Books)
ISBN
: ASIN: B01CRG1TUO
Links
:
Goodreads
|
Amazon
|
B&N
Reviewer
: Linda
Source
: NetGalley
Rating
: 3 out of 5 Wine Glasses
In this modern day spin on Leroux's gothic tale of unrequited love turned to madness, seventeen-year-old Rune Germain has a mysterious affliction linked to her operatic talent, and a horrifying mistake she's trying to hide. Hoping creative direction will help her, Rune's mother sends her to a French arts conservatory for her senior year, located in an opera house rumored to have ties to The Phantom of the Opera.

At RoseBlood, Rune secretly befriends the masked Thorn—an elusive violinist who not only guides her musical transformation through dreams that seem more real than reality itself, but somehow knows who she is behind her own masks. As the two discover an otherworldly connection and a soul-deep romance blossoms, Thorn's dark agenda comes to light and he's forced to make a deadly choice: lead Rune to her destruction, or face the wrath of the phantom who has haunted the opera house for a century, and is the only father he's ever known.
Linda's Thoughts:

He'd walked as a ghost in the gloomy bowels of this opera house for so long, darkness had become his brother, which was fitting, since his father was the night, and sunlight their forgotten friend.

Roseblood by A.G.Howard is marketed as a supernatural YA fractured retelling of the Phantom of the Opera. It was hands-down a must-read for me because I'm a huge fan of the author's Splintered series and the classic tale of the Phantom of the Opera has always been a favorite of mine. That said, I struggled with Roseblood and am torn about my feelings for the book.

Rune Germaine, a Texas teenager, has a mysterious operatic affliction. Her mother believes that proper music instruction will help her. As the story opens, Rune is reluctantly traveling with her mother to a French arts conservatory boarding school outside of Paris that, decades before, was the opera house depicted in Gaston Leroux's novel, The Phantom of the Opera. While there, Rune meets Thorn, a masked violinist, and discovers the two have an otherworldly connection. When romance blossoms between them, Thorn has to decide whether he will adhere to the dark agenda the Phantom tasked him with which will result in Rune's demise or to face the wrath of the only father he's ever known.

As opposed to being a fractured retelling, Roseblood feels more like a sequel to the original Phantom of the Opera. The writing is dark and slow-building; but also vivid, original, imaginative, and, near the end, pulse-pounding. I never considered quitting because, hey, it's written by one of my favorite authors, and it truly is, in hindsight, an epic read. But, I was bored through much of it. Part of me feels that while the story line is intricately detailed and phenomenally and powerfully fabulous, the characters felt more like tools of the plot line. I liked the characters, but I didn't form the strong attachment with them that would allow me to FEEL through them.

Following please find a few of my favorite quotes from Roseblood:

Ever since I was small, opera has been a living, breathing part of me.

The problem is that as I've grown, it's become more demanding… an entity that controls me. Once a song speaks to my subconscious, the notes become a toxin I have to release through my diaphragm, my vocal cords, my tongue. ---


Maybe being here won't be so bad after all… as long as I can avoid the music, the bloodthirsty diva duo, and the phantom's shadow lurking around every corner. ---


Ironically, the first time he played it, he experienced his first dream vision with his own 'flame jumelle', Rune – and saved her from drowning. Thereafter he decided that must be the magic the instrument held: the ability to bring two souls together when they needed each other the most. ---


Guard your throats and hide your eyes. He's not dead, you fools. Legends never die.

I wanted to be swept away by this story, but I wasn't. Am I glad I read it? Yes. It left me awestruck and filled with wonder. Unfortunately, I wasn't captivated by it until the last third of the book. It's creative and well-written, but the characters felt flat. The ending was perfect. If you are a fan of the original Phantom of the Opera or of the author, you may like Roseblood, but I am leery of recommending it to everyone.