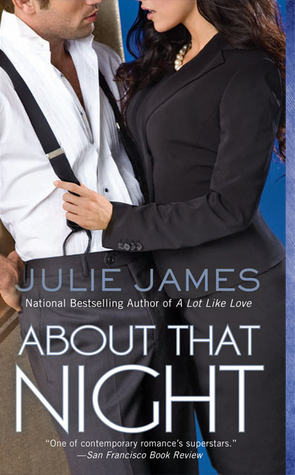 Title
: ABOUT THAT NIGHT
Series
: FBI/US Attorney #3
Author
: Julie James
Narrator
: Karen White
Format
: Unabridged Audiobook, 10 hours and 45 minutes
Published
: Tantor Audio, 9/17/2012
ISBN
: ASIN: B009C0LG70
Links
:
Goodreads
|
Amazon
|
B&N
|
Audible
Reviewer
: Linda
Source
: Library
Rating
: 5 out of 5 Wine Glasses
He's Playing Games

Though Rylann Pierce tried to fight the sparks she felt for billionaire heir Kyle Rhodes the night they met, their sizzling chemistry was undeniable. But after being stood up on their first date, Rylann never expected to see him again. So when she finds herself face-to-face with Kyle in a courthouse nine years later, she's stunned. More troubling to the beautiful assistant U.S. attorney is that she's still wildly attracted to him.

But She's Making The Rules

Just released from prison, Kyle Rhodes isn't thrilled to be the star witness in a high-profile criminal case—but when Rylann comes knocking at his door, he finds she may be the one lawyer he can't say no to. Still as gorgeous and sharp-tongued as ever, she lays down the law: she doesn't mix business with pleasure. But Kyle won't give up on something he wants—and what he wants is the one woman he's never forgotten.
Linda's Thoughts:
"You are just as annoyingly cocky as you were nine years ago."
"Yes," Kyle's gaze fell to her lips. "And we both know how that turned out."
This romantic suspense series continues to excel! ABOUT THAT NIGHT by Julie James and voiced by Karen White is pure perfection. Even though it's the third installment in Julie's FBI/US Attorney series, it can be enjoyed as a stand-alone if that is your preference; just know that there are characters that overlap with the previous books.
ABOUT THAT NIGHT is the story of famous 'tech god' twitter terrorist and ex-con Kyle Rhodes and beautiful Assistant U.S. Attorney Rylann Pierce. The two have history. Nearly a decade ago, they spent a total of about thirty minutes together as Kyle walked Rylann home giving her his own shirt off his back when she was cold. They shared a spectacular kiss which neither has been able to forget. After promising to see her again the next day, he was a no-show. Fast-forward to present day…
The characters are realistic and likable. Their second chance at romance is sweet and steamy. The plot is solid. Catching up with previous favorite characters in this series is a treat. This story has a permanent place on my keeper shelf!
Following please find a few of my favorite quotes from ABOUT THAT NIGHT:
"I don't mind hot and spicy. Actually find that appealing in a girl … And chicken wings."
Rylann turned her head and stared at him. "Did you really just compare me to chicken wings?"
"You say that like it's a bad thing. Chicken wings are the bomb."
---
"Then his gaze shifted to the wild bush sprouting from her head. "Wow. Did I do that to your hair?" He looked oddly pleased at the thought.
Rylann made a mental note to throw a flat iron in her purse the next time she had sex in the shower with a billionaire ex-con. Not that there was going to be a next time. "Not all of us are lucky enough to have freakishly perfect, shampoo-commercial hair. This is what happens when I get wet."
His expression turned wicked. "I know exactly what happens when you get wet, counselor."
Yep, she'd walked right into that one."
---
"The Kyle Rhodes who walked me home and gave me the shirt off his back would do the right thing no matter how pissed he was at my office. So if that guy is hanging around this penthouse anywhere, tell him to call me."
Karen White is the narrator for About That Night. She's one of my favorite narrators. I actually originally found this author and this awesome series because I was looking for other books voiced by Karen to listen to. I've lost count of the new authors I've happily discovered due to Karen. That said, it's no surprise that she utterly nails this audio. Her delivery is natural. Both her female and male voices sound genuine and they remain consistent throughout. Her pacing is perfect. The production is professional. Truthfully, there aren't enough superlatives to describe Karen's performances. She's awesome.
As I reviewed my notes in preparation for writing this review, I found myself swooning over this listen again. It's huge to say that I would not hesitate to listen to this entire series again… and again. It's that GREAT! Julie James is one of contemporary romances' superstars. Pair her with Karen White and the combo can't be beat! If you enjoy contemporary romances with some who-dun-it spice, do yourself a favor and dive into this amazing series!
Suggested Reading Order:
SOMETHING ABOUT YOU (Book #1)
A LOT LIKE LOVE (Book #2)
ABOUT THAT NIGHT (Book #3)
LOVE IRRESISTIBLY, (Book #4)
IT HAPPENED ONE WEDDING (Book #5)
SUDDENLY ONE SUMMER (Book #6)
THE THING ABOUT LOVE (Book #7)