It's the month of LOVE and we have plenty of must-read romances to share with you for February! Some books that you need to add to your buy-list are; Dare to Lie (Scotty's book!) by Jen McLaughlin, Wintersong by S. Jae-Jones (If you loved Labyrinth, then you won't want to miss this one!) and Gilded Cage (Fantasy YA) by Vic James. I'm looking forward to reading Fake Fiancée by Ilsa Madden-MillsWhich myself, and also The Hollows prequel, The Turn by Kim Harrison. Also, Molly McAdams' Blackbird. Anything by MM is an automatic must-read for me! Which releases are you looking forward to the most this month?
*This list may be updated throughout the month.
6th
Fake Fiancée
by Ilsa Madden-Mills
Paperback, 248 pages
Published February 6th 2017 by CreateSpace Independent Publishing Platform
ISBN 1542779308
A new standalone romance from Wall Street Journal Bestselling Author Ilsa Madden-Mills...

They say nothing compares to your first kiss,
But our first kiss was orchestrated for an audience.
Our second kiss…that one was REAL.
He cradled my face like he was terrified he'd f*ck it up.
He stared into my eyes until the air buzzed.
Soft and slow, full of sighs and little laughs,
He inhaled me like I was the finest Belgian chocolate,
And he'd never get another piece.
A nip of his teeth, his hand at my waist...
And I was lost.
I forgot he was paying me to be his fake fiancée.
I forgot we weren't REAL.
Our kiss was pure magic, and before you laugh and say those kinds of kisses don't exist…
Then you've never touched lips with Max Kent, the hottest quarterback in college history.

Get ready for breathtaking kisses, dreamy football players, a heroine who yearns for the guy she can't have, and a hero who will do anything for the girl he loves...
Wolf Moon
(Moon #7)
by Lisa Kessler
ebook, 320 pages
Published February 6th 2017 by Entangled Publishing, LLC (Select Otherworld)
ISBN139781633758650
As the last Pack member without a mate, Luke Reynolds has become an outsider. When he takes a job as the head horse trainer Sedona, Arizona, he's looking forward to starting a new life. But everything changes the night he finds beautiful woman stranded on the side of the highway.

Raven Wood has been bitten and turned against her will. Luckily, her spirit is stronger than most, and she has every intention of escaping the Sedona Pack. Somehow. The sexy lone wolf who rescues her might be just the answer she's looking for.

But the Sedona Pack Alpha has a mission, and unless Luke and Raven can stop him, they'll lose everything.
7th
Dare to Lie
(The Sons of Steel Row #3)
by Jen McLaughlin
Mass Market Paperback, 336 pages
Expected publication: February 7th 2017 by Berkley
ISBN 0451477618
As an undercover DEA agent in the most powerful gang in Boston, Scott Donahue accepts the risks of living a double life. But when Tate Donovan, leader of the Sons of Steel Row, assigns Scotty to take his place in a bachelor's auction sponsored by his sister's sorority, he's exposed to a whole new level of danger. Even though Tate makes it very clear—Skylar is off limits—the second Scotty sees her, he's a goner. But how does he tell Sky she's falling for a man who doesn't exist?

Sky can't resist Scotty's cool confidence or the raw, edgy power oozing from his perfect body. She's always been the good girl, but he brings out the bad in her. And even though she knows so little about who he really is, Sky's willing to take the biggest risk of all. But putting her heart on the line is no guarantee that Scotty won't slip through her fingers...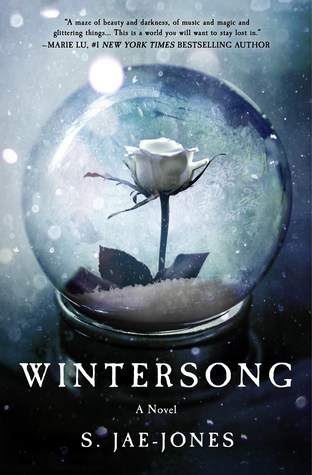 Wintersong
by S. Jae-Jones
Hardcover, 448 pages
Expected publication: February 7th 2017 by Thomas Dunne
ISBN 1250079217
Beware the goblin men and the wares they sell.

All her life, nineteen-year-old Liesl has heard tales of the beautiful, mysterious Goblin King. He is the Lord of Mischief, the Ruler Underground, and the muse around which her music is composed. Yet, as Liesl helps shoulder the burden of running her family's inn, her dreams of composition and childish fancies about the Goblin King must be set aside in favor of more practical concerns.

But when her sister Käthe is taken by the goblins, Liesl journeys to their realm to rescue her sister and return her to the world above. The Goblin King agrees to let Käthe go—for a price. The life of a maiden must be given to the land, in accordance with the old laws. A life for a life, he says. Without sacrifice, nothing good can grow. Without death, there can be no rebirth. In exchange for her sister's freedom, Liesl offers her hand in marriage to the Goblin King. He accepts.

Down in the Underground, Liesl discovers that the Goblin King still inspires her—musically, physically, emotionally. Yet even as her talent blossoms, Liesl's life is slowly fading away, the price she paid for becoming the Goblin King's bride. As the two of them grow closer, they must learn just what it is they are each willing to sacrifice: her life, her music, or the end of the world.
Tangled in Texas
(Texas Rodeo #2)
by Kari Lynn Dell
Mass Market Paperback, 416 pages
Expected publication: February 7th 2017 by Sourcebooks Casablanca
ISBN 1492631973
It took 32 seconds to end his career. But it only took 1 to change his life.

Thirty-two seconds. That's how long it took for Delon Sanchez's life to end. One minute he was the best bronc rider in the Panhandle and the next he was nothing. Knee shattered, future in question, all he can do is pull together the pieces…and wonder what cruel trick of Fate has thrown him into the path of his ex, the oh-so-perfect Tori Patterson.

Tori's come home after her husband's death, intent on escaping the public eye. It's just her luck that Delon limps into her physical therapy office, desperate for her help. All hard-packed muscle and dark-eyed temptation, he's never been anything but a bad idea. And yet, seeing him again, Tori can't remember what made her choose foolish pride over love…or why, with this second, final chance to right old wrongs, the smart thing would be to run from this gorgeous rodeo boy as fast as her boots can take her.
The Turn
(The Hollows 0.1)
by Kim Harrison
448 pages
Expected publication: February 7th 2017 by Gallery Books
Kim Harrison returns to her beloved Hollows series with The Turn, the official prequel to the series that will introduce fans and readers to a whole new side of Rachel Morgan's world as they've never seen it before!

Can science save us when all else fails?

Trisk and her hated rival, Kalamack, have the same goal: save their species from extinction.

Death comes in the guise of hope when a genetically modified tomato created to feed the world combines with the government's new tactical virus, giving it an unexpected host and a mode of transport. Plague takes the world, giving the paranormal species an uncomfortable choice to stay hidden and allow humanity to die, or to show themselves in a bid to save them.

Under accusations of scientific misconduct, Trisk and Kal flee across a plague torn United States to convince leaders of the major paranormal species to save their supposedly weaker kin, but not everyone thinks humanity should be saved.

Kal surreptitiously works against her as Trisk fights the prejudices of two societies to prove that not only does humanity have something to offer, but that long-accepted beliefs against women, dark magic, and humanity itself can turn to understanding; that when people are at their worst that the best show their true strength, and that love can hold the world together as a new balance is found.
Guilty Pleasure: Part 1
by Lora Leigh
Kindle Edition, 116 pages
Expected publication: February 7th 2017 by St. Martin's Paperbacks
(first published January 5th 2010)
ASINB01N74PYW2
Previously released and available as a full-length novel, Guilty Pleasure is now available as a three-part e-serial for those who want to savor the pleasure…

Welcome to The Club. A secretive, select group where uninhibited desires and forbidden fantasies run wild, in the first part of #1 New York Times bestselling author Lora Leigh's novel Guilty Pleasure.

Marty Mathews has always known about the secret, forbidden pleasures that the women she grew up with enjoy. Women whose husbands or lovers are members of the exclusive Club, where they take a selected "third" into their beds. And there is one man—a dangerous, forbidden man—who is part of this world and who has haunted Marty's dreams for years....
Title
: The Duke
Series
: Victorian Rebels #4
Author
: Kerrigan Byrne
Format
: Paperback & eBook, 385pgs
Published
: Feb. 7, 2017 by St. Martin's
ASIN
: B01IA6FN9S
He is noble, notorious, and takes no prisoners...

They say that now His Grace, Collin Talmage, Duke of Trenwyth has only one hand, he might finally be a mere mortal, but no one seems willing to test the theory. Rich as Midas, big as a Viking, beautiful as Adonis, and lethal as a feral wolf, he is the English Empire's golden son. But now he's lost everything. Most of his family died in a terrible accident, his protégé and closest friend betrayed him on the battlefield, and his left hand was cut off while he was a prisoner of war. The only thing that's kept him going until now is the memory of a night spent in the arms of a mysterious raven-haired woman almost a year ago…

Imogen Pritchard is a nurse by day, but a fallen woman—and a spy—by night. Seduced on the job years ago by a Duke who mourned for the loss of his family, Imogen has never shaken the memory of the man's despair—or the fathomless depths of pleasure he brought to her. But as the threat of betrayals, blackmail, and secrets abound, Imogen and Collin are thrown back together in a dizzying swirl of dangerous games and earthshattering desire. But can their love overcome the everything that threatens to tear them apart?
Born of Vengeance
(The League #10)
by Sherrilyn Kenyon
Hardcover
Expected publication: February 7th 2017 by St. Martin's Press
A fate worse than death . . .

Bastien Cabarro survived the brutal slaughter of his entire family only to have his wife pin their murders on him. Made Ravin by The League, he is now a target for their assassins-in-training to hunt and kill. The average life expectancy for such beings is six weeks. But defying the odds is what this Gyron Force officer does best, and Bastien won't rest until he lays his betrayers in their graves.

Ten years later, he has one chance to balance the scales of justice, provided he relies on his former wingman— the very sister of the woman who testified against him.

Major Ember Wyldestarrin joined the outlaw Tavali the day Kirovar fell into the hands of a tyrant, and she and her team were left on an outpost to die under a barrage of enemy fire. The last thing she wants is to be involved in politics again. But if she doesn't bring Bastien in, her sister will pay the ultimate price. Now she has to find some way to betray her former wingman (and fiance) before he catches on and kills her. Even so, treachery doesn't come easy to a woman who took a loyalty oath to protect her homeworld and comrades-in-arms.

Yet as she tries to do right by her family, she learns that Bastien doesn't just hold the key to the fate of Kirovar, he is vital to The Sentella-League war, and to the entire Tavali nation. If she hands him over, three nations fall. If she doesn't, her entire family dies. Their fates are all in her hands, and time for all of them is quickly running out.
Crossing Hearts
(Cross Creek #1)
by Kimberly Kincaid
Paperback, 342 pages
Expected publication: February 7th 2017 by Montlake Romance
ISBN 1503941701
Hunter Cross has no regrets. Having left his football prospects behind the day he graduated high school, he's happy to carry out his legacy on his family's farm in the foothills of the Shenandoah. But when a shoulder injury puts him face-to-face with the high school sweetheart who abandoned town—and him—twelve years ago, Hunter's simple life gets a lot more complicated.

Emerson Montgomery has secrets. Refusing to divulge why she left her job as a hotshot physical therapist for a pro football team, she struggles to readjust to life in the hometown she left behind. The more time she spends with Hunter, the more Emerson finds herself wanting to trust him with the diagnosis of MS that has turned her world upside down.

But revealing secrets comes with a price. Can Hunter and Emerson rekindle their past love? Or will the realities of the present—and the trust that goes with them—burn that bridge for good?
One More Kiss
(Shaughnessy: Band on the Run #1)
by Samantha Chase
Paperback, 352 pages
Expected publication: February 7th 2017 by Sourcebooks Casablanca
ISBN 1492616400
Matt Reed was living the dream until a bad career move sends him back to his hometown for much-needed privacy. Instead, he finds someone he never expected: the woman whose steamy kiss he remembers like it was yesterday.

Vivienne Forrester finally has her life in order... until Matt moves back to town. She doesn't want to think about the time she threw caution to the wind with him, but running into him everywhere, it's impossible not to...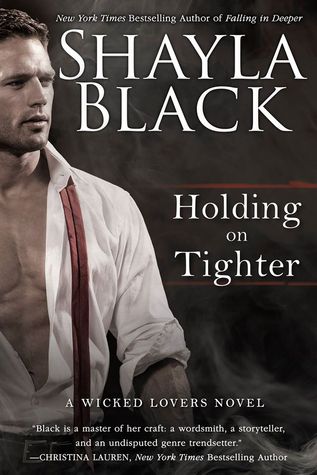 Holding on Tighter
(Wicked Lovers #12)
by Shayla Black
Paperback, 368 pages
Expected publication: February 7th 2017 by Berkley Books
ISBN 0425275485
Jolie Quinn is a woman in charge. Her no-nonsense attitude has made her a rising star in the fashion world and her brand a household name among the Dallas elite. Nothing will stop her from achieving her goals—not even the gorgeous British security contractor who seems just as interested in seeing her personal assets as he is in protecting her professional ones.

After a tragedy left him broken, Heath Powell made a rule of staying unattached. But Jolie challenges him in a way he can't ignore, and he isn't used to backing down from a confrontation—especially when the reward for winning could feel so good. As passion blazes between them, the stubborn, confident beauty arouses more than his desire. She touches his heart.

When a mysterious enemy threatens Jolie and her company, Heath is the only person Jolie can trust to help. But working with him to save her business might put her dangerously at risk of falling in love…
Just Once
(The Brooklyn Brotherhood #2)
by Addison Fox
ebook
Expected publication: February 7th 2017 by Swerve
ISBN 1250114225
Detective Daphne Rossi needs to figure out a way to get her career out from under her family s overbearing shadow, and she may have just found her solution in genius computer whiz Landon McGee . . .

In exchange for looking deeper into a robbery at Landon s software firm, Daphne asks for a deal of her own: she needs him to play her boyfriend. A couple months of hand-holding around her family to get them off her back, and both Daphne and Landon walk away with what they want.

Just as their fake relationship starts heating up for real, a family secret shakes Landon to the core. As Landon struggles to find what is real in his life, and come to terms with the people he thought he knew, can he find solace in the one woman he thought he didn t know at all?
14th
Gilded Cage
(Dark Gifts #1)
by Vic James
Hardcover, 368 pages
Expected publication: February 14th 2017 by Del Rey Books
ISBN 0425284158
Not all are free. Not all are equal. Not all will be saved.

Our world belongs to the Equals — aristocrats with magical gifts — and all commoners must serve them for ten years. But behind the gates of England's grandest estate lies a power that could break the world.

A girl thirsts for love and knowledge.

Abi is a servant to England's most powerful family, but her spirit is free. So when she falls for one of the noble-born sons, Abi faces a terrible choice. Uncovering the family's secrets might win her liberty, but will her heart pay the price?

A boy dreams of revolution.

Abi's brother, Luke, is enslaved in a brutal factory town. Far from his family and cruelly oppressed, he makes friends whose ideals could cost him everything. Now Luke has discovered there may be a power even greater than magic: revolution.

And an aristocrat will remake the world with his dark gifts.

He is a shadow in the glittering world of the Equals, with mysterious powers no one else understands. But will he liberate—or destroy?
Guilty Pleasure: Part 2
by Lora Leigh
Kindle Edition, 103 pages
Expected publication: February 14th 2017 by St. Martin's Paperbacks
(first published January 5th 2010)
ASINB01MTMY9X4
Previously released and available as a full-length novel, Guilty Pleasure is now available as a three-part e-serial for those who want to savor the pleasure…
FBI Agent Marty Matthews has been assigned to shadow the man she has lusted after for years. She's ached for him to touch her. Burned for him to consume her. She's been a thread away from losing all control, and succumbing to her deepest desires, in the second part of #1 New York Times bestselling author Lora Leigh's novel Guilty Pleasure.

When Khalid's name is cleared, Marty is no longer forced to follow the man she so desperately desires. And once the chains are thrown off their blaze of heat, passion will rule completely…
Title
: Wildfire
Series
: Fire #3
Author
: Anne Stuart
Format
: Paperback & eBook, 290pgs
Published
: Feb. 14, 2017 by Montlake
ASIN
: B01J9QK82U
Her power-hungry husband takes pleasure in her pain, but she's done playing the victim.

Three years ago, ex-operative Sophie Jordan made the mistake of falling in love—and marrying—her target. Now she's paying for it tenfold. Her husband might be one of the sexiest men alive, but he's also a psychopath. She's been a virtual prisoner, and the time has come for retribution—and escape.
Undercover agent Malcolm Gunnison has his orders: get intel from Sophie's arms-dealer husband, then kill him. He plans to get rid of her, too, if she gets in his way, but he's unprepared when she gets under his skin instead. Whose side is she on? And what is she hiding behind those mesmerizing eyes?
Sophie vowed to never fall for another man again, but this sexy undercover agent is different. With danger mounting, can Malcolm and Sophie trust each other—and their growing passion—enough to get out of this operation alive?
Firestorm: Volume 1: A Dragon Romance
(Dark Kings)
by Donna Grant
Kindle Edition, 94 pages
Expected publication: February 14th 2017 by St. Martin's Paperbacks
ASINB01NCNEM24
Volume One of an exclusive four-part volume by New York Times bestselling author Donna Grant.

He could barely breathe as he watched her…

Dimitri is a dragon shapeshifter who lives to protect the secret of the Dragon Kings from the human race. Bound by a bond stronger than blood to the Kings, Dimitri uses his strength and prowess to defend a thousand-year-old secret. But when an oh-so-sexy, slightly absent-minded archaeologist wanders into his midst, his entire world is turned upside-down.

Read all four parts of this sensational volume and look for the full volume of Firestorm in March 2017.
Riveted
(Saints of Denver #3)
by Jay Crownover
Paperback, 368 pages
Expected publication: February 14th 2017 by William Morrow
From the New York Times bestselling author of the Marked Men books comes the next installment in the Saints of Denver series.

Everyone else in Dixie Carmichael's life has made falling in love look easy, and now she is ready for her own chance at some of that happily ever after. Which means she's done pining for the moody, silent former soldier who works with her at the bar that's become her home away from home. Nope. No more chasing the hot as heck thundercloud of a man and no more waiting for Mr. Right to find her; she's going hunting for him...even if she knows her heart is stuck on its stupid infatuation with Dash Churchill.

Denver has always been just a pit stop for Church on his way back to rural Mississippi. It was supposed to be simple, uneventful, but nothing could have prepared him for the bubbly, bouncy redhead with doe eyes and endless curves. Now he knows it's time to get out of Denver, fast. For a man used to living in the shadows, the idea of spending his days in the sun is nothing short of terrifying.

When Dixie and Church find themselves caught up in a homecoming overshadowed with lies and danger, Dixie realizes that while falling in love is easy, loving takes a whole lot more work…especially when Mr. Right thinks he's all wrong for you.
Never Better
(Dark Obsession #3)
by Charlotte Stein
ebook, 240 pages
Expected publication: February 14th 2017 by Charlotte Stein
Original TitleNever Better
ISBN 1101882794
What if your worst nightmare was the only thing you wanted?

Lydia worries she'll never recover from a violent assault at the hands of an intruder. Therapy isn't working and her friends aren't a comfort. All she can think about is how helpless and afraid she was.

Then she meets Isaac.

He's everything she wants to be: cool, calm and controlled. Trauma doesn't seem to affect him. Emotions don't bother him. And best of all, he's prepared to teach her. He shows her how to fight. How to defend herself. How to guard her heart.

But Isaac soon finds he can't guard his heart from her. She's starting to make him see all the things he's been missing, in his closed off and far too brutal life. The only problem is:

He has a terrible secret.

And if he lets himself give in to the desire that's building between them, her world may well be torn apart again.
20th
Title
: Pretty Face
Series
: London Celebrities #2
Author
: Lucy Parker
Format
: eBook, 264 pgs
Published
: Feb. 20, 2017 by Carina
ASIN
: B01LZXMCYA
Highly acclaimed, award-winning author of Act Like It Lucy Parker returns readers to the London stage with laugh-out-loud wit and plenty of drama

The play's the fling

It's not actress Lily Lamprey's fault that she's all curves and has the kind of voice that can fog up a camera lens. She wants to prove where her real talents lie—and that's not on a casting couch, thank you. When she hears esteemed director Luc Savage is renovating a legendary West End theater for a lofty new production, she knows it could be her chance—if only Luc wasn't so dictatorial, so bad-tempered and so incredibly sexy.

Luc Savage has respect, integrity and experience. He also has it bad for Lily. He'd be willing to dismiss it as a midlife crisis, but this exasperating, irresistible woman is actually a very talented actress. Unfortunately, their romance is not only raising questions about Lily's suddenly rising career, it's threatening Luc's professional reputation. The course of true love never did run smooth. But if they're not careful, it could bring down the curtain on both their careers…
Silver Edge
(Straight Edge)
by Ciara Knight
Kindle Edition, 233 pages
Expected publication: February 20th 2017 by Entangled: Embrace
ASINB01NAYNAGR
All I've ever wanted is to fit in.

But no one can ever see past how weird I am. Bright lights? Can't stand them. Loud noises? Definitely sends me over the edge. And touching? Forget about it.

At least, until I met Drake.

From the moment I walked into that nightclub, I finally felt like I belonged somewhere. And when Drake touched me, it didn't send me into a tailspin of sensations that I couldn't stand. It actually felt…nice. Like something I could get used to. And it doesn't hurt that he's probably the hottest guy I've ever seen.

But now someone wants to close the club down. And since I promised Drake that I'd help him keep it open, I'm going to have to find a way to tap into whatever that inner strength thing is that everyone always talks about. And fast. But what happens if I can't?
Nova
(The Renegades #2)
by Rebecca Yarros
Expected publication: February 20th 2017
21st
Reignited
(Reawakened 0.5)
by Colleen Houck
Paperback, 80 pages
Expected publication: February 21st 2017
A sibling rivalry.
A forbidden romance.
A spell that changes everything.

In Heliopolis secrets abound and passions ignite as chaos rises.

From the New York Times bestselling author of the Tiger's Curse series and Reawakened comes a novella full of celestial marvel, passion, betrayal, and evil that will grow to reign over humanity forever.

Before Lily and Amon met, before the cosmos was in chaos and needed three brave brothers to fight off evil, there were four siblings who helped rule the earth.

Each sibling had a special gift. Osiris, the god of agriculture, helped mortals to grow and thrive in their natural environment. Isis, the goddess of creation, fostered health and wellness. Nephthys, the seer, was able to keep the balance between all living beings and the universe. But Seth, the youngest sibling, was left without any special powers. The Waters of Chaos, which granted each god's talent, were running dry, and Seth was paying the price.

As time passed, however, Seth's determination and willfulness resulted in a very special gift, one that should have granted him the ability to enact wondrous change. But Seth's competitive childhood gave him a heart so cold and vacant that instead, his gift brought about great evil.

Seth was now the god of unmaking, the creator of disorder and destruction. And he was ready to seek his revenge, dominating all who got in his way.
Mastering Her Senses
(Blasphemy #2)
by Laura Kaye
Expected publication: February 21st 2017 by Laura Kaye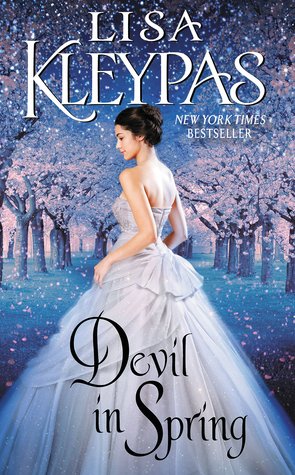 Title
: Devil in Spring
Series
: The Ravenels #3
Author
: Lisa Kleypas
Format
: Paperback & eBook, 228pgs
Published
: Feb. 21, 2017 by Avon
ASIN
: B01FD92384
An eccentric wallflower…

Most debutantes dream of finding a husband. Lady Pandora Ravenel has different plans. The ambitious young beauty would much rather stay at home and plot out her new board game business than take part in the London Season. But one night at a glittering society ball, she's ensnared in a scandal with a wickedly handsome stranger.

A cynical rake…

After years of evading marital traps with ease, Gabriel, Lord St. Vincent, has finally been caught-by a rebellious girl who couldn't be less suitable. In fact, she wants nothing to do with him. But Gabriel finds the high-spirited Pandora irresistible. He'll do whatever it takes to possess her, even if their marriage of convenience turns out to be the devil's own bargain.

A perilous plot…

After succumbing to Gabriel's skilled and sensuous persuasion, Pandora agrees to become his bride. But soon she discovers that her entrepreneurial endeavors have accidentally involved her in a dangerous conspiracy-and only her husband can keep her safe. As Gabriel protects her from their unknown adversaries, they realize their devil's bargain may just turn out to be a match made in heaven...
Firestorm: Volume 2: A Dragon Romance
(Dark Kings)
by Donna Grant
Kindle Edition
Expected publication: February 21st 2017 by St. Martin's Paperbacks
ASINB01MT0TG0O
Volume Two of an exclusive four-part volume by New York Times bestselling author Donna Grant.

"I was affected by magic, and you saved me again. And I ached for you."

When Dr. Faith Reynold stumbles upon an ancient skeleton that appears it comes from a dragon, she's completely taken aback. A woman of science, there's no way in her mind that this mythological creature can exist. But when a devilishly handsome man named Dimitri intercepts her path to uncovering the truth, Faith's curiosity turns into all-consuming passion. The dragon shapeshifter has captured her heart and soul…

Read all four parts of this sensational volume and look for the full volume of Firestorm in March 2017.
Havoc
(Mayhem #4)
by Jamie Shaw
Kindle Edition
Expected publication: February 21st 2017 by Avon Impulse
ASINB01J16RJGQ
When Hailey Harper left her family farm to enroll in veterinary school, she had a plan: keep her head down, ace her classes, and most importantly… don't upset the uncle paying her tuition. Translation? Don't piss off his dramatic, self-absorbed daughter, Danica, even if she's a nightmare to live with.

Falling in love with her cousin's rock star ex-boyfriend was definitely not part of the plan.

As the drummer of a now-famous rock band, Mike Madden could have any girl he wants. He's sweet, funny, romantic, talented—and the only guy that's ever made Hailey's heart do cartwheels in her chest. The more she gets to know him, the harder she falls, but Hailey knows they can never be more than friends… because Danica wants him back, and she'll fight dirty to win.

Mike is falling for Hailey too, but Danica's threats and his rock star life—music video shoots, international tours, obsessed fans—could tear them apart before they've even begun. Hailey isn't sure she's the one for him, but Mike's waited years for a girl like her… and he'll do anything to prove it.
Royally Matched
(Royally #2)
by Emma Chase
ebook, 276 pages
Expected publication: February 21st 2017 by Emma Chase, LLC
Original TitleRoyally Matched
ISBN 0997426233
Some men are born responsible, some men have responsibility thrust upon them. Henry John Edgar Thomas Pembrook, Prince of Wessco, just got the motherlode of all responsibility dumped in his regal lap.

He's not handling it well.

Hoping to help her grandson to rise to the occasion, Queen Lenora agrees to give him "space"—but while the Queen's away, the Prince will play. After a chance meeting with an American television producer, Henry finally makes a decision all on his own:

Welcome to Matched: Royal Edition.

A reality TV dating game show featuring twenty of the world's most beautiful blue bloods gathered in the same castle. Only one will win the diamond tiara, only one will capture the handsome prince's heart.

While Henry revels in the sexy, raunchy antics of the contestants as they fight, literally, for his affection, it's the quiet, bespectacled girl in the corner—with the voice of an angel and a body that would tempt a saint—who catches his eye.

The more Henry gets to know Sarah Mirabelle Zinnia Von Titebottum, the more enamored he becomes of her simple beauty, her strength, her kind spirit... and her naughty sense of humor.

But Rome wasn't built in a day—and irresponsible royals aren't reformed overnight.

As he endeavors to right his wrongs, old words take on whole new meanings for the dashing Prince. Words like, Duty, Honor and most of all—Love.
His Cowboy Heart
(Montana Men #6)
by Jennifer Ryan
ebook, 416 pages
Expected publication: February 21st 2017 by Avon
ISBN 0062435418
Bound by honor and by love…

That's a Montana Man

Ford Kendrick has often dreamed of the day that Jamie Keller would come home to Montana. After high school, she needed to leave—and he, duty-bound to rescue his family's ranch, pushed her to go. The Army made Jamie a hero, but Ford still sees the gorgeous, loving woman who lit up his whole world.

Every day since she left, Jamie has longed for Ford. One glimpse confirms it: the sexy, dangerous-looking cowboy left a hole in her heart that nothing else can fill. Yet the battle scars she bears—inside and out—won't let her trust anyone enough to get close.

Ford wants to bring Jamie back to the life they dreamed of building. But locked somewhere in her memories is a dark truth that threatens her safety. It's a battle Ford won't let her fight alone, not when he's determined to keep her by his side, now and always…
Damage Control
(Dirty Money #2)
by Lisa Renee Jones
Paperback, 304 pages
Expected publication: February 21st 2017 by St. Martin's Griffin
ISBN 1250083834
Wall Street meets the Sons of Anarchy in Damage Control, the smoldering, scorching next novel in the explosively sexy Dirty Money series.

The only thing more dangerous than a dark secret is a damaged heart…

Shane Brandon has been pushed to the brink, torn between his corrupt family and his explosive, all-consuming desire for Emily Stevens, who he now knows is not who, and what, she seems. Has he trusted the wrong person? Will she, not his brother Derek, be the ultimate destruction of his family Empire?

Emily tries to run from Shane, but he will stop her, confront her, force her to reveal all — one hot touch and kiss at a time, under every intimate detail of who this woman is, and what she wants, is exposed. But as he tears away the dangers of the unknowns with the woman in his bed, and in his heart, The Martina Cartel has set their sights on his company, his family, and the one piece of leverage they believe he won't gamble with: Emily.
27th
Too Wilde to Tame
(Wilde Security #5)
by Tonya Burrows
ebook
Expected publication: February 27th 2017 by Entangled Publishing, LLC (Ignite)
ISBN139781633758452
For three years, ballet teacher Natalie Taggart has lived across the hall from grumpy, reclusive, sexy Greer Wilde. Save for a handful of hellos and the occasional heated glance, they never spoke to each other.

Until the morning Greer lands on her doorstep, bleeding, beaten, and bullet-riddled.

Greer doesn't need or want her help. He has only one goal: revenge. And nobody—not his brothers, and certainly not his too-hot-for-his-sanity next-door neighbor—is going to get in his way.
Title
: Sweet Victory
Series
: Fighting for Love #4
Author
: Gina L. Maxwell
Format
: Paperback & eBook, 400 pgs
Published
: Feb. 27, 2017 by Avon
ASIN
: B01CNL807S
Confident but distrustful Sophie Caldwell needs help if she's going to save her family business. Her grandma left one rule for Sophie to maintain ownership from her uncle before she's thirty: get married. But how does she get her uncle off her ass when she's only twenty-seven and hasn't had a boyfriend in years?

Lean, cut, British-born MMA fighter Xander James has never lost a fight, and he's not about to start now. On the brink of a comeback to be a UFC champion, his landlord wants to take away his last chance by shutting down his gym. No. Hell no. Fortunately, his landlord's niece has a problem of her own. Time for a proposal she can't refuse.
Falling for the Bad Girl
by Nina Croft
ebook
Expected publication: February 27th 2017 by Entangled Publishing LLC
ISBN139781633758667
As a second generation detective, Nathan Carter is a cop, through and through, one who definitely sees things in black and white. But his work ethic—and libido—are thrown off balance when he heads up the case against jewel thief, Regan Malloy. Because with one sizzling look, she's got him hot and hard. And he's been that way, ever since.

Growing up, Regan's favorite hobby was learning to crack safes, and she was very, very good at it. Still, she'd always tried to keep to the straight and narrow, and only strayed when she believed a friend was in desperate straits. Now she's out of prison and starting over. If only she could forget that she'd spent the last three years fantasizing about the stunningly gorgeous detective who locked her away.

It's inevitable that they meet up again—in bars, hotels…and hotel beds. Despite their differences, they can't keep their hands off each other. Still, it's just desire. If they give it enough time, it'll burn itself out. Because a good boy and a bad girl can't possibly make it work. Can they?
28th
Blackbird
(Redemption #1)
by Molly McAdams
Expected publication: February 28th 2017
Chain Reaction
(Bodyguard #3)
by Tara Wyatt
Paperback, 384 pages
Expected publication: February 28th 2017 by Forever
SHE NEEDS A LOVER AND A FIGHTER

Blonde. Beautiful. Talented. Alexa Fairfax is practically Hollywood royalty. But growing up in a family of legendary movie stars also puts her in the spotlight for danger. And after she discovers a plot more deadly than any movie script, Alexa desperately needs a bodyguard. A man like Zack De Luca. A true friend with a good heart, a protective nature—and the hard, chiseled muscles to back it up.

Zack has always been wildly attracted to Alexa. But since he's training day and night to be an MMA fighter, he's afraid his gorgeous friend will only distract him from his goal. Indescribably sweet and irresistibly sexy, Alexa needs Zack to pretend to be her boyfriend after her life is threatened. Now this fighter-in-training will have to fight his own intense feelings—to keep their little charade from turning into a major disaster . . .
Cheater
(Curious Liaisons #1)
by Rachel Van Dyken
Expected publication: February 28th 2017
Title
: Passion Favors the Bold
Series
: The Royal Rewards Duo #2
Author
: Theresa Romain
Format
: Paperback & eBook, 368pgs
Published
: Feb. 28, 2017 by Zebra
ASIN
: B01GBAG4Z2
DESPERATE MEASURES

Georgette Frost's time is almost up. On her twenty-first birthday, the protections outlined in her late parents' will are set to expire. With prospects for employment or marriage unfavorable at best, she decides to leave London and join her brother, Benedict, on a treasure hunt for gold sovereigns stolen from the Royal Mint.

DANGEROUS LIAISONS

Lord Hugo Starling has always felt protective of his friend Benedict's sister, Georgette. So when he discovers her dressed in ragged boy's clothes, about to board a coach for parts unknown, he feels duty bound to join her search. But mystery piles upon mystery as they cross England together, not least of which is the confounded attraction between them. As Georgette leads him to a reward he never expected, Hugo realizes he's embarked upon the adventure of a lifetime…
Title
: A Lady's Code of Misconduct
Series
: Rules for the Reckless #5
Author
: Meredith Duran
Format
: Paperback & eBook, 400pgs
Published
: Feb. 28, 2016 by Pocket Books
ASIN
: B01HMXRXWK
A DEAL WITH THE DEVIL...

Trapped in the countryside, facing an unwanted marriage and the theft of her fortune, Jane Mason is done behaving nicely. To win her freedom, she'll strike a deal with the most dangerous man she knows—a rising star in politics, whose dark good looks mask an even darker heart.

...NEVER GOES TO PLAN.

The bitter past has taught Crispin Burke to trust no one. He'll gladly help a lovely young heiress, provided she pays a price. Yet when a single mistake shatters his life, it is Jane who holds the key to his salvation. And in a world that no longer makes sense, Crispin slowly realizes that she may be the only thing worth fighting for...
Windswept
(Wales #2)
by Deborah Martin, Sabrina Jeffries
Mass Market Paperback, 384 pages
Expected publication: February 28th 2017 by Pocket Books (first published April 1st 1996)
Original TitleWindswept
ISBN 1451665555
Originally written under the pseudonym Deborah Martin, this unforgettable tale of mystery, treasure, and passion is back in print at last and newly revised for today's audience!

Welsh widow Catrin Price is haunted by a family death curse. Any man whom she marries without first drinking from an ancient Druid chalice sold by her ancestor long ago is unquestionably doomed. But when she hunts it down to purchase it, the chalice's former owner ends up dead. Who will believe her innocent with the man's treasure in her hands? Now she lives in fear of discovery, afraid to trust, afraid to give away her heart…

Even Newcome, a scholar struggling to overcome a difficult past, travels to Wales to find the mysterious woman last seen with his murdered friend. So when the lady proves to be a beautiful yet shy creature who shares his love of Welsh mythology, he's torn between believing her guilty and trusting the passion blazing between them. But as unscrupulous men seek the chalice for their own devious purposes, will Catrin and Evan let their wall of mistrust stand between them? Or will they defeat their enemies together and embrace the love intended for them since time immemorial?
Sinful Scottish Laird
(Highland Grooms #2)
by Julia London
Hardcover, 384 pages
Expected publication: February 28th 2017 by Harlequin Books
Original TitleSinful Scottish Laird
ISBN 0373803915
A young widow puts her sexy suitors to the test in New York Times bestselling author Julia London's scintillating return to the idyllic Scottish Highlands.

Widowed and forced to remarry in three years' time or forfeit her son's inheritance, Daisy Bristol, Lady Chatwick, has plenty of suitors vying for her hand and her fortune. But a letter from a long-lost love sends Daisy and her young son to her Scottish Highland estate to buy time for his return. Along the way she encounters the powerful Cailean Mackenzie, laird of Arrandale and a notorious smuggler, and she is utterly and unwillingly bewitched.

Cailean has no use for any Sassenach in his glen. But Daisy's brazen, flirtatious nature and alluring beauty intrigue him. When her first love appears unexpectedly at her estate, Cailean knows that a passionate woman like Daisy cannot marry this man. And to prevent the union, Cailean must put his own life at risk to win her heart.
The Bastard Billionaire
(Billionaire Bad Boys #3)
by Jessica Lemmon
Expected publication: February 28th 2017
Renegade's Pride
by B.J. Daniels
Paperback, 384 pages
Expected publication: February 28th 2017 by Harlequin Books
ISBN 0373789262
Trouble has come back to town, and this time, he's not leaving without her

In the nine years since Trask Beaumont left Gilt Edge, Lillian Cahill had convinced herself she was over him. But when the rugged cowboy suddenly walks into her bar, there's a pang in her heart that argues the attraction never faded. And that's dangerous, because Trask has returned on a mission to clear his nameand win Lillie back.

Trask gets the showdown he's after when his boss's body is recovered from a burning house. Hawk, Lillie's marshal brother, believes Trask's homecoming isn't coincidental to the murder, but Lillie isn't so sure. Something is urging her to give bad boy Trask a second chance, even if it leaves her torn between her family and the man she never stopped loving.
We're giving away your choice of one of February's new book releases to one reader! To enter, just be a RBtWBC follower (We offer lots of follow options!) and fill out the Rafflecopter below. Good luck! *Book must be $7.99 or under and available on Amazon Kindle, winner's choice will be in kindle format.
a Rafflecopter giveaway