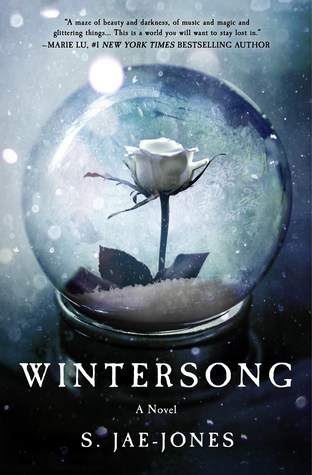 Title:
Wintersong
Author:
S. Jae-Jones
Format:
Kindle/Hardcover, 448 pages
Published:
February 7th 2017 by Thomas Dunne
ISBN:
1250079217
Links:
Goodreads
|
Amazon
|
B&N
Source:
NetGalley
Reviewer:
Crystal
Rating:
4.5 out of 5 Wine Glasses
Beware the goblin men and the wares they sell.

All her life, nineteen-year-old Liesl has heard tales of the beautiful, mysterious Goblin King. He is the Lord of Mischief, the Ruler Underground, and the muse around which her music is composed. Yet, as Liesl helps shoulder the burden of running her family's inn, her dreams of composition and childish fancies about the Goblin King must be set aside in favor of more practical concerns.

But when her sister Käthe is taken by the goblins, Liesl journeys to their realm to rescue her sister and return her to the world above. The Goblin King agrees to let Käthe go—for a price. The life of a maiden must be given to the land, in accordance with the old laws. A life for a life, he says. Without sacrifice, nothing good can grow. Without death, there can be no rebirth. In exchange for her sister's freedom, Liesl offers her hand in marriage to the Goblin King. He accepts.

Down in the Underground, Liesl discovers that the Goblin King still inspires her—musically, physically, emotionally. Yet even as her talent blossoms, Liesl's life is slowly fading away, the price she paid for becoming the Goblin King's bride. As the two of them grow closer, they must learn just what it is they are each willing to sacrifice: her life, her music, or the end of the world.

Crystal's Thoughts:
S. Jae-Jones sweeps readers away on a enchanting journey through the court of the Goblin King where nothing is at it seems, and reality is but an illusion. Where time passes in years, not in hours, and a young woman must battle her way through the darkness in order to find the light within her, and the song that lives in her heart.
Liesl is a young woman who spent her childhood dreaming in the woods and entertaining a woodland boy with her music and her spirit. As Liesl grew though, the more burdened she became by her responsibilities to her family and each new load slowly whittled away at her soul. She soon forgot the woodland boy, and her promises to him. In time, she also forgot her music and those magical pieces of herself. That boy never forgot her though, he waited everyday for her to remember him until finally he could wait no more...
"Once there was a little girl who played music for a little boy in the wood."
A poetically beautiful tale full of magic, music, darkness, and light,
Wintersong
captivated me with that first sentence. Exquisitely written, S. Jae-Jones creates a rich and vibrant world set around enchanting characters that will capture you, heart and soul. While the first half of the story is fast and chaotic, a whirlwind of settings and emotions, the second half of the story is sedately paced, and more intimate as Liesl discovers all of those hidden facets of the Goblin King...and those within herself that she has kept buried for some many years. The Goblin King is a frightening, yet seductive creature with many layers to his persona. At first you hate him for his ruthlessness, his heartlessness...but then you begin to understand him and hate Liesl for her selfishness and intolerance. A riot of emotions encompass Liesl's trek through the Underground and above. Bursting with passion, and heartbreak, you can't help but empathize with Liesl as she falls down the rabbit hole, and the Goblin King with his centuries of loneliness and forced traditions.
While Liesl is not your typical sultry heroine, her beauty comes from within, once she allows it to shine. Like I mentioned already, my feelings for her tottered throughout the story, and while I enjoyed that her character was so different then most, it was laminated on quite a lot throughout. I pitied the poor girl for it. That doesn't stop the Goblin King from seeing the internal beauty that shines from within Liesl though, and this leads to some interesting adult situations. I say interesting, because not all of them gave you that happy, swoony feeling. However, it added a few tender and passionate aspects to the story-line.
The only thing keeping
Wintersong
from 5 stars is the ending. It's not one that you could call a, "Happily Ever After". It left me with an ache in my heart, and a yearning for so much more. I really hope that this is not the end of Liesl and the Goblin King. I will definitely be keeping an eye on this author for more stories in the future. If you loved the movie,
Labyrinth
, then you're going to fall in love with this enchanting retelling of the Goblin King. Though it is entirely different at it's core, it has enough magic and mayhem, as well as some of the alluring David Bowie in the Goblin King's character, that made that movie such a sensation. Young adult, new adult, and fans of fae inspired tales should not hesitate in picking up
Wintersong
today!