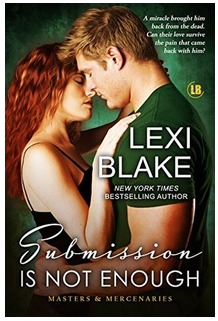 Submission is Not Enough
(Masters and Mercenaries #12)
by Lexi Blake
ebook
Published October 25th 2016 by DLZ Entertainment LLC
A fallen hero reborn

Theo Taggart lost everything the night he died. His family, his beautiful Erin, and worst of all, he lost himself. A twisted doctor brought him back from the brink of death, but reprogrammed his identity to serve her will. Rescued by his brothers, he must fight to reclaim the man he was and the life, and love, that were stolen from him.

A love worth fighting for

Erin Argent thought she'd lost Theo forever. When he walked back into her life, it was nothing short of a miracle. Months of torture and conditioning at the hands of Dr. Hope McDonald have done damage to Theo that may never be mended. He has no memory of her or the life they shared. Breaking through to him, and helping him rediscover all he lost, will be the toughest mission she's ever faced. Luckily for Theo, Erin loves a good fight.

Their reunion under siege

Unfortunately, Hope is far from done with Theo Taggart. Obsession with her prize experiment, she will do anything to get him back. If the only way to finally break him of his past life is to kill Erin and his son, then she's only too happy to oblige…
EXCERPT
Theo took the stairs as quickly as he could. He knew where he was going, but he wasn't going to think about it. For the first time since he'd gotten home, he didn't care about his past or figuring out who he'd been. He wanted. He wanted something right now and that felt good.
She'd been right. There wasn't a place for guilt here.
He strode up the stairs, her weight comforting in his arms. Yeah, he wasn't going to think about that either. He was going to enjoy it, not wonder why his body remembered her when his mind would not.
"Hey, is everything okay?"
Damn it. Case was standing at the top of the stairs, obviously having come out of the privacy rooms. His wife was at his side, her face flushed. Mia had sex hair. Good for them. Red was about to have sex hair, too. Lots of filthy sex hair. "Everything's great. Night."
Case put a hand on his shoulder. "Whoa. I thought you were going to take this slow, brother."
"If you don't get your hand off him right this second, Taggart, I am going to ensure that you never have children," Red said, her eyes narrowing on his brother. "You won't be able to cock block anyone because you won't have a damn cock. Am I clear?"
Case's hands came up immediately as though he knew that tone and was not going there. "Trying to help."
"Three is clean and has plenty of condoms. We're taking a monitor turn up here. I checked all the rooms." Mia grinned at him. She actually was helpful. "Have fun and we'll see you at home."
He didn't bother to look back. Case could give him a lecture later. He wasn't waiting anymore. He'd waited forever. Even when he couldn't remember her face, he'd known she was there. He'd felt her, or rather he'd felt her absence.
Could he truly be with a woman whose name he couldn't think without hurting her?
It didn't matter. He wasn't making those decisions tonight. He was enjoying her. His sub. He was bringing her pleasure and he probably should do a good job of it because his sub was fucking mean.
And fragile. He'd seen the moment she'd thought he was rejecting her. He'd watch her skin flush and her body start to turn in on itself. She was such a mix of strength and need. It was intoxicating. He wanted so badly to be the man who gave her what she needed.
Affection. Pleasure. Comfort.
Love—he wasn't thinking that word tonight. Nope. Pleasure was way better.
He kicked out lightly at the partially open door number three. It looked like Mia had done her job. The room was perfectly clean, the lighting soft and romantic. The best thing about this room though was the complete lack of any of his friends or family being here.
It was him and her, and that was exactly what he wanted. No Ian. No Li. No Kai asking them hundreds of questions. Him and her and the night.
He tossed her on the bed and stood back, looking down at her. "Tell me why you thought I was rejecting you."
The instant she hit the bed, she was up on her knees. So graceful. So deadly. What the hell was this woman like out in the field? She moved like a predator, but the look on her face was pure sarcasm. "Uhm, your words. That's what sealed it for me. 'I don't want to do this' is generally considered a rejection."
Somehow she managed to put an unsaid "dumbass" on the end of her sentences. Not all of them. She'd been perfectly sweet most of the night, but she could turn it on when she wanted to. "I didn't mean that. When I said the words, I watched you change. Why? You're good at slapping people down. I wouldn't have said that until today."
"Because I've been careful around you," she admitted.
"Why? You think I'm delicate?"
Her lips curled up. "I don't think you're delicate. I think I'm a lot to take, but I also am starting to believe I was wrong. You like me rough."
"I like you a lot." More than he could ever tell her
Need to start at the beginning?
Masters and Mercenaries Series
About Lexi Blake:
New York Times and USA Today bestselling author Lexi Blake lives in North Texas with her husband and three kids. She began writing at a young age concentrating on plays and journalism. It wasn't until she started writing romance that she found success. Lexi believes in happy endings no matter how odd the couple, threesome or foursome may seem. http://lexiblake.net/index.html