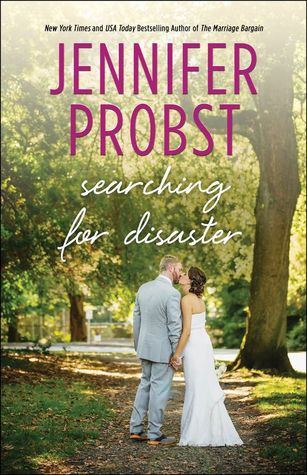 Searching for Disaster
(Searching For #4.6)
by Jennifer Probst
ebook, 208 pages
Published October 10th 2016 by Pocket Star
ISBN 1501142518
The next highly anticipated novella in the Searching For series, a romantic spin-off of the Marriage to a Billionaire series from New York Times bestselling sensation Jennifer Probst.

When Isabella MacKenzie tries to move on from her disastrous past, Officer William Devine is determined to show her that love is the only way to heal. This sexy enovella, the final installment in Jennifer Probst's heartwarming Searching For series, follows the high-powered women of the popular matchmaking agency Kinnections, located in the small, picturesque town of Verily, NY.
EXCERPT
HE REMINDED HER of every delicious, forbidden, dirty action that could be committed under a tangle of sheets. And tonight, he was going to be hers. Isabella MacKenzie barely kept from licking her lips in anticipation of a feast. His golden movie-star looks should have put her off. She wasn't into pretty boys. She liked her men dark, dangerous, and tatted up. This one had no mar on his dusky-brown skin, and his white-blond hair gleamed like a halo gifted by the angels. He leaned against the wall, drinking a beer, a serene expression on his features. The party was loud and wild, with hookups galore played out amidst the screaming of alternative music, but he seemed untouched by his surroundings. He barely even glanced at the lineup of girls looking to offer themselves up for a night of forgetfulness. Her gaze flicked over his outfit. She preferred leather and old, tight Levi's. This one wore darkwashed designer jeans and a button-down ice-blue shirt with large cuffs pulled up to show a fancy design. His shoes were camel colored with ties and also looked expensive. Definitely a mystery. One she wouldn't mind figuring out. Because the demons had come for her again. Tickling her skin, whispering in her ear. That empty ache in her gut urged her forward, to do something to forget and take away the restlessness consistently taunting her. A night of forgetful, rowdy sex would help. And this time she wouldn't take the drugs. She didn't need them. Her best friend, Raven, was already suspicious, and she didn't want to lie. God knows she'd been lying enough to her own family. It wasn't fair to put that on the last relationship she had left. Yes. This man would help her quiet the voices. She headed across the room, making sure her generous hips swayed with enticement. It had become so easy now to become someone else. The seductress was like second nature, especially since she enjoyed her body and the pleasures it brought. She bucked the ridiculousness of the terms slut and whore, refusing to let civilization or stupid male viewpoints take something precious from her. Izzy enjoyed sex and picked who she wanted, when she wanted. It never lasted long anyway, but that was her choice. Her terms. She wasn't like her siblings, who craved a permanent relationship and ideals of love that didn't exist. She lived for the now and the excitement of dawn, where new possibilities always existed.
She stopped in front of him, cocking her head. His gaze had lit with a touch of interest. Up close, his eyes were pale, pale blue and so clear they reminded her of a still, serene lake touched with ice. His hair fell in thick, burnished, messy waves streaked with a dozen colors of light. His features were as classic as his clothes. Square chin. High cheekbones. Arched brows. Long, elegant nose. His lips were full and lush and looked so soft, she imagined her thumb skating over the plump flesh. Up close, he was even more beautiful, and her breath caught just a bit in admiration, as it would in front of Michelangelo's statue of David. Or Chris Hemsworth as Thor. "You don't belong here." His gaze flicked over her, then swept back up again, lingering. "What gave it away?" She shrugged. "You look bored. And you're too dressed up." He regarded her with an honest curiosity she savored. "I think you're underdressed." Izzy grinned at his pointed stare, which was taking in her beaded black crop top and low-cut jeans showing off her belly ring. She'd worked on her uncontrolled curls with a ruthless precision until the pin-straight strands framed her face with a bit of an edge. She sported purple streaks today because it matched her nail polish. "Usually that isn't considered a problem." His slight frown told her maybe it was. Interesting. "You don't go to college here, do you?" The SUNY upstate campus was rural, with a solid education and a huge reputation for epic parties. Raven had dragged her here for the weekend for some type of art-and-wine festival in town, and they'd ended up hooking up with a cool group who invited them to crash at the dorms. Tammy and Rick were the party couple in the crew, quickly offering up Tammy's room to Izzy. Raven wanted to skip the college parties and head into town, so she'd left Izzy on her own for tonight. "No. I graduated, but my brother lives in the dorms, so he invited me. You?" "Nope. I just get invited to the parties." They stared at each other for a moment. Izzy noticed immediately the instant connection simmering underneath the dialogue. Yes, there was chemistry. And he was different from the others. "How old are you?" she blurted out. "Twenty-three." He glanced at the red Solo cup she held. "Tell me you're drinking age." Her lips curved in amusement. "I am. Is that important to you?" "That you're able to drink?" She stepped forward, testing. "That we follow the rules." His eyes darkened. The sounds around her dimmed to a foggy slur. "Nothing wrong with rules," he said softly. "Nothing wrong with breaking them either." The simmer caught and flared. Her heart ramped up as sweet sexual arousal sung in her blood, loosening her limbs and quieting her mind. How she loved the beginning of the chase; the excitement of the unknown gave her the perfect edge. "What's your name?" he asked. "Izzy." "Short for Isabella?" She nodded. "Yours?" "William." "Do they call you Willy?" She gave him credit. Those gorgeous lips twitched in a half smile. "Not if they want to live. Friends call me Liam for short." "Well, Liam. I'm crashing at a friend's place down the hall. It's quieter there. Want to go?" Fascinated, she watched an array of emotions flicker across his face. "Is it safe to invite strange men to your room?" With another man, she'd give in to the anger that he was judging her. But with him, she got the impression he really cared and didn't want her hurt. He seemed like the oldest twenty-three-year-old she'd ever met. "Are you safe?" "Yes." "Then let's go." She didn't turn back to check if he was following. Threading through the crowds with expert ease, she exited and headed down the narrow hallway, where students spilled out, talking and laughing in a rowdy parody of American Pie. She paused at the door with the plastic rose wrapped around the handle and went inside. He followed her in.
Searching For Series
AUTHOR INFORMATION:
Jennifer Probst wrote her first book at twelve years old. She bound it in a folder, read it to her classmates, and hasn't stopped writing since. She took a short hiatus to get married, get pregnant, buy a house, get pregnant again, pursue a master's in English Literature, and rescue two shelter dogs. Now she is writing again.

She makes her home in Upstate New York with the whole crew. Her sons keep her active, stressed, joyous, and sad her house will never be truly clean.

She is the New York Times, USA Today, and Wall Street Journal bestselling author of sexy and erotic contemporary romance. She was thrilled her book, The Marriage Bargain, was ranked #6 on Amazon's Best Books for 2012. She loves hearing from readers. Visit her website for updates on new releases and her street team at www.jenniferprobst.com.