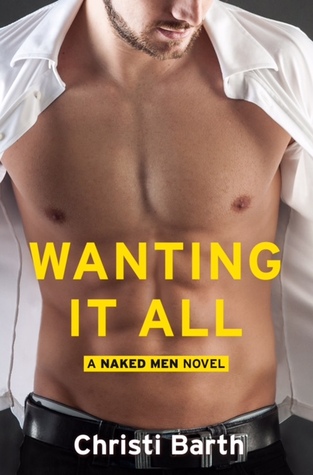 Wanting It All
(Naked Men #2)
by Christi Barth
ebook, 224 pages
Published August 9th 2016 by Loveswept
ISBN139781101965214
In the follow-up to Risking It All, hailed by Lauren Layne as "the perfect escapist read," the heartthrobs of the Naked Men blog and podcast get a little too real about friendship, love, and sex. For one wealthy bachelor, the trouble starts when all three collide. . . .

After narrowly surviving a bus crash in high school with his best friends, science geek Knox Davis resolved to become so successful that he could have anything and everything he wants. Now he's über-wealthy, a huge business success, and a notorious ladies' man. Knox refuses to limit himself to one woman, but when his latest conquest—a blond beauty from the Alaskan bush—challenges his superficial ways, Knox begins to see the world through her eyes, and finds he likes what he sees.

A nurturer at heart, Madison Abbott wants to put down roots. She left Alaska to meet Mr. Right—and to track down Logan, the half-brother she's never met. Instead, she finds Knox. Although the sexy-as-sin bachelor may not seem like marriage material, Madison's starting to think that Knox is The One. But Knox refuses to settle down, especially once he learns that Madison is his best friend's little sister. Now it's up to her to convince Knox that she's everything he really wants.
One second, Madison was seeing red, frustrated at Knox's obstinacy and refusal to even consider her points. The next, she was seeing a whole different kind of red. The red of velvet wallpaper in bordellos, of red satin sheets, of the pulsing color that painted the backs of your eyelids when your heart pumped too hard. The red of passion.
Because she didn't care that they'd been in the middle of an argument. This thing happened when Knox touched her: suddenly nothing else mattered. So when he grabbed her arms and took her mouth, that was it. Their fight didn't matter. The wind lifting the back of her skirt didn't matter.
Madison had devoted her life to books. She knew the sweeping tales of passion from the symbolically sexy Psalm 45 in the Bible through Shakespeare and the Brontë sisters to D. H. Lawrence and the bodice rippers of the seventies. Madison respected those tales as art. She also acknowledged them as vastly overblown. Sex was fun. Satisfying. It couldn't possibly reach the heights portrayed in literature, though.
Or so she'd thought until being kissed by Knox Davies. The man was a master. His lips firm, his tongue demanding as it swept inside on her first surprised gasp. The gasp that turned into a moan. Because he was doing these stroking motions with his tongue on top of hers that literally, literally made her panties wet.
He smelled of some undoubtedly expensive cologne that made her think of moss and woods after a summer rain. No, it made her think about rolling around on damp moss with Knox naked on top of her.
Every time his tongue moved along the sensitive inside of her cheek, or twining with the tip of her own tongue, little zaps of heat and electricity sparked from her mouth outward. Outward to every single erogenous zone she had, and some she hadn't actually known about before today. Like pinpricks of bliss in the center of her palms, her nipples, the soles of her feet, all jolting to her core.
As close as they were, it wasn't close enough. Madison hooked her left leg around his ankle. That brought their lower bodies together the same as the top half. So close that his massive erection throbbed against her belly. She let out a moan. That got him to let go of her arms and clamp on tight to her ass. Such big hands. Such a strong, rhythmic kneading of her muscles while the tips of his fingers settled along the lace between her thighs.
Now Madison could grab on tight. She thrust her hands through that short, spiked-up brown hair. Tugged just hard enough to be sure he knew that she could give as good as she got from him. When she moaned, he wrenched his mouth down to nibble at the edge of her jaw.
Madison flexed her fingers. Pushed him down to her neck as she arched and offered it to him. The man latched on with vampiric interest. And God, Madison had never craved a hickey before the way she did now. Not just want—need. She needed him to suck harder, to lick faster, to burn up right along with her. To lose his slick control the same way every swipe of his tongue demolished hers.
Pulling back to look her in the eyes, he stated, "You really pissed me off."
Don't miss the rest of the Naked Men series!
About the Author:
Christi Barth earned a Masters degree in vocal performance and embarked upon a career on the stage.

A love of romance then drew her to wedding planning. Ultimately she succumbed to her lifelong love of books and now writes contemporary romance.

Christi lives in Maryland with her husband. http://www.christibarth.com