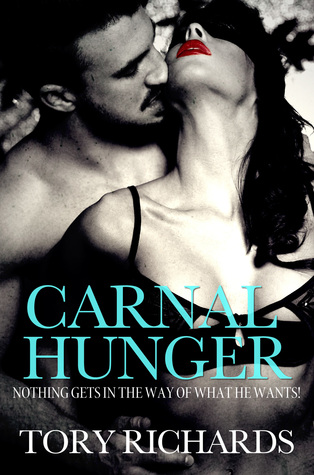 Carnal Hunger
by Tory Richards
ebook
Expected publication: August 25th 2016 by Smashwords Edition
ISBN139781310156168
Straight out of prison and into the president's chair of the Mad Dogs' MC! VD's set for taking the reins but he's not ready for the impact one curvy little brunette has on his libido the second they lock eyes. It's instant, it's hot and it's consuming! It's the forever after kind of shit he's not looking for, especially when the trouble heading the club's way threatens to rip them apart.
Excerpt -
Vince braced me against his motorcycle as his hands lifted my sleep shirt and zeroed in on my breasts. I cried out softly, arching into his rough palms, biting my bottom lip when he leaned forward to take a breast into his mouth. Once again I buried my fingers into his hair, holding him tightly as he tortured my nipples until I was twisting and moaning uncontrollably. God, I loved what he was doing to me, what he was making me feel! The more he sucked and tugged on my nipples, the wetter I grew between my legs. My clit was a throbbing bundle of nerves.
As if sensing it, Vince dropped to his knees. "I need to taste this pussy."
My eyes grew big. "Vince−"
"Relax, darlin', we're well beyond the light."
I realized that he was right when I glanced back at the house and noticed that the kitchen light didn't reach where we were. Relaxing a little, I gave him full rein to do whatever he wanted and right then he was burying his face against my pussy and breathing it in. The sight fucking turned me on. The feel of his hot breath against my clit could have made me come. In the next instant his fingers curled into the waistband of my cotton briefs and he tugged them down my legs.
"I don't want to see you in cotton panties again," he growled, tossing them aside after I stepped out of them. He was going to be disappointed, because cotton was all I owned. It didn't matter in the next second, because he was parting the folds of my pussy and attacking my clit.
"Oh, Jesus!" I cried out, arching into his face. I was so close to climaxing, and the way Vince was working his tongue in and out of my body, it wouldn't take long for me to lose control. "Vince!"
"Sweet tasting pussy, baby," he mumbled from his knees. His hands went to my thighs. "Spread those pretty legs more for me." Without hesitation I did what he wanted, gasping sharply when he replaced his tongue with his fingers. Fuller, rougher penetration, and a thumb on my clit, set me off like a fire cracker.
"Vince!" I screamed, lower body braced against his bike and hoping like hell that it didn't tip over because my hips were convulsing like a rodeo rider on a bull. I threw my head back as I rode out one of the most intense orgasms I'd ever had. Eight years worth, without a man anyway, stored up for this one moment of total, mind-blowing bliss. "Oh, God!"
"That's it, darlin', soak my fingers with your cream."
When I could move again I glanced down at Vince. His fingers were still buried inside me, and I watched him remove them in a slow glide that caused me to twitch because he raked them over my still sensitive clit. He stood finally, and, locking eyes on me, brought one of his fingers to his mouth and licked it clean. I could only watch, spellbound, as I'd never seen anything so hot, and then he put the other finger, the one he hadn't cleaned, to my lips.
I didn't occur to me to resist. Vince was too compelling, too dominant. I opened my mouth and he slipped his finger inside, and I sucked it clean under his careful scrutiny. When I was done he wrapped a hand around the back of my neck and pulled me into him for a rough, passion-filled kiss. It wasn't long before we were right back where we had started, trying to consume one another in a clash of tongues, teeth, and roaming hands. This time, when Vince thrust his throbbing cock against me, I reached for the front of his pants.
I barely had the buckle undone when I found myself being spun around and pushed down and over Vince's bike with my ass in the air. "What are you doing?" I started to get up, but he put a hand on my back to keep me there. "Vince, the bike−"
"Don't worry about the bike, baby." I could tell that he was undoing his zipper with his free hand because I felt his movements against my bare bottom. "Worry about the feel of my dick inside your sweet cunt." I caught my breath when I felt his bare, hot, cock rubbing over my bottom and then between my thighs.
I was going insane with his teasing. I wanted to reach back there, grab his cock, and jam it inside me. Wiggling to get my message across didn't seem to be working. "Vince, fuck me already!"
He laughed roughly. "You asked for it, darlin'." He parted my folds and penetrated my body with one deep plunge.
I sucked in a breath at the stretch and burn, the tightness filling me. Vince's deep, long-winded groan sounded like an animal in pain, and I knew that he was feeling the same thing that I was. I clenched my internal muscles around him, feeling his shudder vibrate through my body.
"Fucking hell, darlin', you're tight."
I clenched again, smiling.
"Don't you want to come?" I teased, clenching again.
He groaned. "If you don't stop squeezing my dick you're going to be sorry."
His threat didn't worry me. "What will you do?"
"You don't want to fucking know."
He pulled out to the very tip of his head and I immediately felt the emptiness. Then he slammed back inside me, not holding anything back. If I thought he'd filled me before, the feel of his head jabbing my cervix opened my eyes, as well as my mouth, in a pleasant shock.
The man was going to kill me! I retaliated by squeezing his cock as hard as I could. With a snarl he leaned over my back and put his mouth against my ear. "I'm gonna fuck you so hard you won't walk straight for a week."
Author Bio
Tory Richards is a fun-loving grandma who writes smut. Born in Maine, she's lived most of her life in Florida where she went to school, married, and raised a daughter. Penning stories by hand and then on a manual typewriter at the age of thirteen, Tory was a closet writer until the encouragement of her family prompted her into submitting to a publisher. She's been published since 2005, and has since retired from Disney so she can focus on family, traveling, and life in general. http://www.toryrichards.com