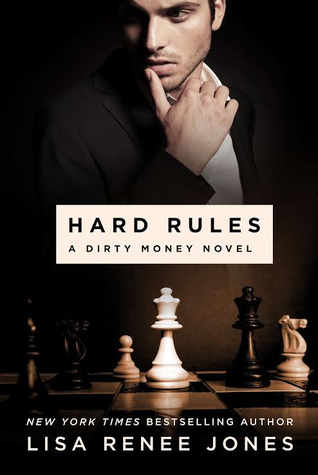 Hard Rules
(Dirty Money #1)
by Lisa Renee Jones
Paperback, 304 pages
Expected publication: August 9th 2016 by St. Martin's Griffin
ISBN 1250083826
Wall Street meets the Sons of Anarchy in the smoldering, scorching first novel in the explosively sexy new Dirty Money series from New York Times bestselling author Lisa Renee Jones.




How bad do you want it?




The only man within the Brandon empire with a moral compass, Shane Brandon is ready to take his family's business dealings legitimate. His reckless and ruthless brother, Derek wants to keep Brandon Enterprises cemented in lies, deceit, and corruption. But the harder Shane fights to pull the company back into the light, the darker he has to become. Then he meets Emily Stevens, a woman who not only stirs a voracious sexual need in him, but becomes the only thing anchoring him between good and evil.




Emily is consumed by Shane, pushed sexually in ways she never dreamed of, falling deeper into the all-encompassing passion that is this man. She trusts him. He trusts her, but therein lies the danger. Emily has a secret, the very thing that brought her to him in the first place, and that secret that could that destroy them both.
Excerpt:
"We meet again," he says, his voice a soft purr of seduction, and his eyes are still a perfect steel gray just like the tie that matches his suit.
"Yes, I . . ." I swallow hard. "I'm sorry. I didn't see you."
"I'm not sorry and I did see you."
"You . . . what?" I step back, his hands falling from my waist.
Mine slide away from his chest, where I wouldn't have minded them lingering a little longer, but that would be bad. And inappropriate, which is exactly what I'm trying never to be again.
He glances at the guard. "Is there a problem, Randy?" he asks, and good gosh, no won der I ended up in that exchange with him this morning. The man is the definition of "tall, dark, and handsome."
"The lady is looking for her cell phone," Randy explains, "and Lost and Found is closed for the night."
Shane arches a brow at the man. "Closed? How does Lost and Found close?"
My thoughts exactly, but I bite my tongue, considering "Randy" had actually displayed quite a lot of patience with me, considering I'd asked the same question in a far more pushy way.
And Randy is actually looking quite uncomfortable, his reaction indicating that Shane is more than a random hot guy in this building who likes his coffee ridiculously strong. "I'm the only guard on duty," Randy explains. "I can't leave the desk."
"I'll watch it for you," Shane states, and it's not an offer. It's an expectation. Everything about this man is a smooth command that manages to be sexy, not obnoxious. A rare skill few men, or women, successfully harness, though I've known many who tried and failed.
"Yes sir," Randy says. "I'll be back in five minutes."
The guard rushes away, leaving me stunned at his quick departure while Shane rests an arm on the counter and faces me. "You ran away today."
My eyes go wide. "That's the way to get right to the point. And for your information, I had someplace to be."
"You didn't even take your coffee with you."
"I didn't have time to drink it," I say quickly, no stranger to thinking on my feet.
"You're kind of intimidating," I counter.
Amusement lights his gray eyes. "You aren't intimidated by me."
"Are you saying you are intimidating to others?" I challenge.
"To some I am, but not to you."
"You base this assessment on what, exactly?"
"Anyone intimidated wouldn't be brave enough to say they are." He closes the distance between us, the scent of him, autumn leaves and spice, teasing my nostrils. "Are you intimidated now?" he asks, the heat in his eyes blisteringly hot.
"No," I say, suddenly warm all over, when lately, everything has made me cold. "I'm not intimated."
"Good news," the guard announces, jolting me back to a reality that does not include hot strangers who could find out more than I want them to know. I quickly take a broad step backward, distancing myself from Shane, to face Randy.
"You found my phone?" I ask, hopeful.
"I found a phone," he confirms. "I need you to confirm the first number in the contacts."
I hesitate, but having no other option, admit, "There are no numbers in my phone at all."
"You are correct," the guard says, sliding the phone onto the counter. "I've never known anyone to have no contacts in their phone."
"It's new," I explain, picking it up and slipping it inside my purse, and realizing it's a lame excuse, I add, "I need to sync my numbers. Thank you." I rotate to face Shane to find him staring at me with the kind of interest and curiosity I'm not in a position to invite. "And thank you," I add, motioning toward the door. "I should go."
"I was about to go grab dinner and a drink at one of the restaurants nearby. Join me."
"I really should get home," I say, trying not to sound as regretful as I am. I'm flattered, but then, what woman wouldn't be with this man?
"I have plans in the morning," I counter, and it's true. I'll be waiting for the phone to ring and thinking about how much I wish I'd said yes to his invitation.
He glances at the guard, who quickly takes a hint and murmurs, "Good evening," before stepping back behind his post and busying himself.
The instant he's gone, Shane once again closes the space between us, this time bringing us intimately close, and I think he might touch me. I want him to touch me. "Here's how I see us meeting again: The odds are next to zero. That means you have to have dinner with me."
"Have to? Is that some rule or something?"
"Not just a rule. A hard rule I just made up."
"Does making up rules work often?"
"Yes. Is it working now?"
Yes, I think, but instead, I say, "I wish I could."
"You can. Just say yes, Emily."
Emily. I hate that name, but he has somehow not only remembered it, but made it silk and seduction. He is silk and seduction, a magnificent man who no doubt has so many woman lining up that I am a mere flicker on the screen. And actually, that isn't a bad thing. In fact, it's freedom. This is about tonight. Just tonight. He won't want to know my past or my future. He's looking for a diversion, and the truth is, if I spend one more night alone, trapped in guilt, worry, and my fast- looping replay of how I got to this point, I might go insane.
"Emily," he prods, using that name again, my name, and I swallow hard. "Say—"
"Yes," I supply. "Yes, I'll have dinner and drinks with you."
Lisa Renee Jones Bio:
New York Times and USA Today bestselling author Lisa Renee Jones is the author of the highly acclaimed INSIDE OUT series, which is now in development for a television show to be produced by Suzanne Todd of Team Todd (Alice in Wonderland). Suzanne Todd on the INSIDE OUT series: Lisa has created a beautiful, complicated, and sensual world that is filled with intrigue and suspense. Sara's character is strong, flawed, complex, and sexy - a modern girl we all can identify with. I'm thrilled to develop a television show that will tell Sara's whole story - her life, her work, her friends, and her sexuality.

In addition to the success of Lisa's INSIDE OUT series, she has published many successful titles. The TALL, DARK AND DEADLY series and THE SECRET LIFE OF AMY BENSEN series, both spent several months on a combination of the New York Times and USA Today bestselling lists. Lisa is presently working on a dark, edgy new series, Dirty Money, for St. Martin's Press.
Prior to publishing Lisa owned multi-state staffing agency that was recognized many times by The Austin Business Journal and also praised by the Dallas Women's Magazine. In 1998 Lisa was listed as the #7 growing women owned business in Entrepreneur Magazine.

Lisa loves to hear from her readers. You can reach her at www.lisareneejones.com and she is active on Twitter and Facebook daily.
a Rafflecopter giveaway