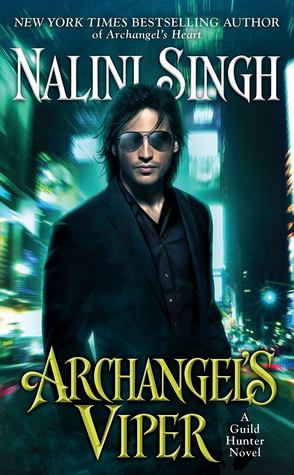 Title:
Archangel's Viper
Series:
Guild Hunter #10
Author:
Nalini Singh
Format:
Mass Market Paperback, 361 pages
Published:
September 26th 2017 by Berkley
ISBN:
0451488245
Links:
Goodreads
|
Amazon
|
B&N
Reviewer:
Crystal
Source:
NetGalley
Rating:
4 out of 5 Wine Glasses
Enter New York Times bestselling author Nalini Singh's breathtakingly passionate Guild Hunter world with the story of a woman who isn't a vampire or an angel…or human…

Once a broken girl known as Sorrow, Holly Chang now prowls the shadowy gray underground of the city for the angels. But it's not her winged allies who make her a wanted woman—it's the unknown power coursing through her veins. Brutalized by an insane archangel, she was left with the bloodlust of a vampire, the ability to mesmerize her prey, and a poisonous bite.

Now, someone has put a bounty on her head…

Venom is one of the Seven, Archangel Raphael's private guard, and he's as infuriating as he is seductive. A centuries-old vampire, his fangs dispense a poison deadlier than Holly's. But even if Venom can protect Holly from those hunting her, he might not be able to save himself—because the strange, violent power inside Holly is awakening…

No one is safe.
CRYSTAL'S THOUGHTS:
Forged in fire, Holly Chang (A.K.A. Sorrow) was first introduced in book one. The victim of the demented archangel, Uram, Holly was irrevocably changed by his blood and no one knows the full scope of those changes. But someone dearly wants to...and is willing to pay good money for the rare treasure they see her as...Finding out who is behind the price on her head, will take Holly to the gritty underworld of the Angel's and Vampires, a life far outside of the Tower. Good thing Holly knows all about the darkness within.
Venom, one of Raphael's illustrious Seven, has been charged with helping Holly uncover the one who hunts her, and protecting her from not only those anonymous players, but from the darkness she carries. A darkness that not only calls to him despite how hard he fights it, but one that he shares. An otherness that he can relate to.
Archangel's Viper
spans the time that Elena and Raphael are in Morocco for the Cadre meeting during
Archangel's Heart
. Holly and Venom are uncovering who is hunting Holly while also discovering her burgeoning powers. The story takes readers on a smart and sexy thrill ride though the streets of New York. I loved all of the little intricacies woven into the plot. The breathtaking action and the irresistible characters, inside and outside of the Tower, kept me turning the pages.
Individual, I really liked Holly and Venom, they challenged each other nicely. Venom always seemed to be one of the more darker members of the group, so I was glad to see that Holly could bring out a lighter side in him despite her own internal demons. I enjoyed learning more about his character, his making, and the consequences of it. I would have liked to see more of the growth that Holly/Sorrow experienced in the background of the first nine books though, her acceptance of the person she is today. Holly's power and potential has been a mystery until now, and she truly is a bad-ass.
As a couple though, and I hate to say this considering Singh is usually such a master at balancing action, intrigue, and romance... However, I found
Archangel's Viper
to be lacking in the romantic department. Venom and Holly were a fun 'enemies turned lovers' couple. The snarky banter and lively dialogue between the two were potent, and I think they really complemented each other. Their relationship was slow burning though and I never felt that
spark
between them. Yes, there was an attraction, some minor tension, and definitely a few hot sexy times, but it was missing that true soul-deep connection. That, "I can't live without you" vibe, which kept me from falling head over flip-flops for them.
The plot took an unexpected twist that called Raphael and Michaella onto the pages as something is pulling Holly away, an entity that is so gruesome I found myself cringing while reading. It seemed crazy but totally understandable knowing the history between Uram and Michaella. I apologize if I am being a little vague in my review but I don't want to spoil anything. Just know that while unexpected, it totally isn't and fits into the over-all series arc well! lol
Bottom line; The Guild Hunter series from author Nalini Singh, is a series that I always eagerly anticipate the releases to. With dynamic world building, vivid characterizations, and compelling story-lines, I know that Singh will deliver a story that will stick with me for a long time to come and
Archangel's Viper
was no exception. I recommend that you read this series in order, and it will very-much be worth it. Pinky swear. Because while this book focuses on one main couple, there is so much going on in the background, and with other characters, you're going to miss some substantial story-line if you just jump in here. I encourage you to pick up this series today!
Suggested Reading Order:
Angels' Blood (Guild Hunter, #1)