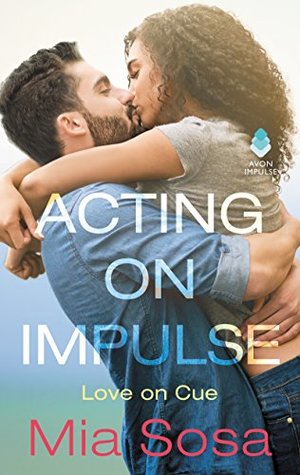 Title
: Acting on Impulse
Series
: Love on Cue #1
Author
: Mia Sosa
Format
: eBook, 288pgs
Published
: Sept. 19, 2017 by Avon Impulse
ASIN
: B01N4JZ3NL
Links
:
Goodreads
|
Amazon
|
B&N
Source
: Edelweiss
Reviewer
: Kimberly
Rating
: 2.5 out of 5 Wine Glasses
After a very public breakup with a media-hungry politician, fitness trainer Tori Alvarez escapes to Aruba for rest, relaxation, and copious amounts of sex on the beach—the cocktail, that is. She vows to keep her vacation a man-free zone but when a cute guy is seated next to her on the plane, Tori can't resist a little harmless flirting.

Hollywood heartthrob Carter Stone underwent a dramatic physical transformation for his latest role and it's clear his stunning seat mate doesn't recognize the man beneath the shaggy beard and extra lean frame. Now Carter needs help rebuilding his buff physique and Tori is perfect for the job. It doesn't hurt that she makes his pulse pound in more ways than one.

Sparks are flying, until a pesky paparazzo reveals Carter's identity. Tori is hurt and pissed. She wants nothing to do with another man in the limelight, but she's still got to whip him into shape. Can Carter convince Tori he's worth the threat to her privacy that comes with dating a famous actor, or will Tori chisel him down to nothing before he even gets the chance?

Grab the popcorn…
Kimberly's Thoughts:
Tori isn't having the best week after a public break-up with her boyfriend. She decides a trip to Aruba for some rest, relaxation, and no drama is needed.
After losing a bunch of weight for a movie role, Carter decides that a week of rest, relaxation, and no drama is needed.
From the moment Tori and Carter meet on the plane bound for Aruba, rest, relaxation, and no drama go right out the window.
First in the Love on Cue series, Acting on Impulse was a fun fast-paced contemporary jaunt. Written in the currently popular first person pov chapter switching from hero and heroine, we also got a bit of fourth wall breaking. The writing style has a bit of write like you talk feel and there are moments where the hero and heroine seem to acknowledge an outside audience with comments directed at the reader. While this style can give the reader more of an inclusive feeling, I personally like to remain a certain distance with more of a look-in at a story than inclusion in one.
"You should know this, though. I will always take no for an answer, but the minute you say otherwise, you're mine, and I won't hold anything back."
Carter, our hero, was an affable, relaxed, and slightly goofy guy. With an insta-attraction bit, as soon as he sees our heroine he starts calling her his future wife in his mind. The pressure of being in Hollywood and the guard he must constantly have up around people made up most of the background depth for him. We get a little more personality out of him in his interactions with his friend who is also his agent, his younger sister, and family visit. On the whole though, I'm not sure he really popped out of the light and fun model hero.
Our heroine Tori had more spark and life and the character you're going to really enjoy. She was a capable and strong heroine who you'd want as a friend. Since the author wrote her so self-assured it felt really forced when Tori would shy away from a relationship with Carter because of her ex's past action of announcing their break-up publically. She had a very straightforward personality and it was a little disappointing to have her seemingly act out of character with forced angst turning away from Carter.
Even though Carter starts off thinking Tori is his future wife, his trust in others somewhat holds him back and with Tori letting her past relationship taint her future one, our couple had a hot for but keep arms length away relationship for the majority of the book. It wasn't until around the 60% mark that I felt like things started rolling. The author did a credible job of rounding out the story with some family drama for Tori and professional drama for Carter that helped add dimensions to our characters. There was a hint at secondary romance between Carter's friend/agent and his younger sister and Tori's roommate/friend and boss that did peak my interest.
All in all, this was a quick read with a nice hero, great heroine who got tweaked a bit to create some angst, and some steamy action scenes. The first person pov with fourth wall breaking and insta-attraction weren't to my personal likes but was still fun to escape into for a couple hours.