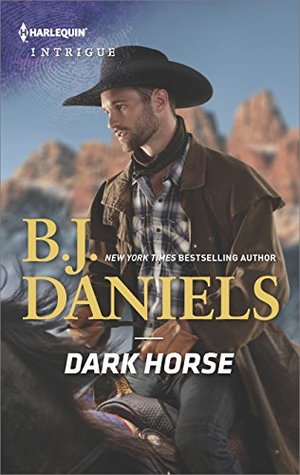 Title
: Dark Horse
Series
: Whitehorse, Montana: The McGraw Kidnapping #1
Author
: B.J. Daniels
Format
: Kindle, 256 pages
Published
: 1 August 2017 (Harlequin Intrigue)
ISBN
: ASIN: B01N5EKAGP
Links
:
Goodreads
|
Amazon
|
B&N
Reviewer
: Linda
Source
: NetGalley
Rating
: 4 out of 5 Wine Glasses
Burdened by family secrets, this cowboy rides alone

For twenty-five years, the case of the McGraw twins kidnapping has remained unsolved. As the eldest son, Cull oversees the McGraw horse ranch, wary of prying eyes. So when true-crime writer Nikki St. James comes forward with new information, Cull can't believe his father invites her onto the compound. His family has suffered enough—he's not about to let St. James snoop and ruin them completely. But Nikki finds the eldest McGraw's protectiveness as endearing as it is aggravating. After all, this case is personal to her, too… And her secrets can set the truth free—if they don't destroy the McGraws first.
Linda's Thoughts: "Remember what I told you about family secrets." People will kill to keep them, she thought now as she looked at Marianne McGraw. The woman's rocking didn't change as Nikki stepped deeper into the room."

Dark Horse by B.J. Daniels is the hair-raising, heart-rending debut in her new suspense-packed Whitehorse, Montana: The McGraw Kidnapping trilogy. I've been excited to read this book since reading the sneak preview that was previously included in Outlaw's Honor. That chilling snippet actually gave me goose bumps at the time and the picture in my mind of the woman in the rocker holding those baby dolls has remained with me since. I'm happy to report that this full-length book did not disappoint!

As Dark Horse begins, we meet Nikki St. James, a successful true crime author. Nikki is determined that her next case will involve unraveling the heart-breaking disappearance of two babies from their crib twenty-five years ago. Nikki has a close-to-her-own-heart ulterior motive in pursuing this particular story as Nikki's father was tried and convicted of the twins' kidnapping. Nikki's mother still firmly believes that Nikki's father was innocent. Nikki is bent on both clearing her father's name and giving the family answers.

Nikki has reached out to the twins' father, Travers McGraw, and he has given Nikki carte blanche in her investigation. She will be staying at the McGraw's horse ranch and will have full access to whatever she needs. The rest of the family, including Cull McGraw, our hero, are less than impressed. Cull has no patience for dealing with yet another reporter. He's worried about his ailing father's health and plum tired of the constant household quarrels. Even so, the desire of the entire family to move on from the ghosts that have haunted them for a quarter of a century is palpable.

There is a clean romance included, but it seems superfluous to the who-done-it. There is little build-up to the development of the relationship and it seemingly happens overnight. That said, I liked both the characters and their HEA is warmly satisfying.

As with her other books, B.J. simultaneously develops multiple plotlines. In Dark Horse, B.J. has interwoven a subplot centering around Whitehorse's sheriff. It will be interesting to see where B.J. takes this…

Following please find a few of my favorite quotes from Dark Horse:

"Don't you want to know the kind of woman I am?" When he said nothing, she continued. "I'm like your father. When I start something I finish it."

Cull seemed to consider that before he turned toward her, his lips quirking into a grin as his eyes blazed with challenge. "Is that right?"

Before she could react, he grabbed her and dragged her to him. His mouth dropped to hers in a demanding kiss as he pushed her back against the barn wall. ---


"I have a suspicious mind, and murder is kind of my business." ---


"The first thing we're going to do is buy you a pair of cowboy boots, woman."

She laughed. "That's the first thing?"

Cull dragged her into another kiss, this one hotter than the last.

"Maybe not the first thing."

I can't wait to read the rest of this trilogy and to see the mystery finally solved. In addition, the other McGraw's brother's stories are begging to be told. One brother, Ledger, is in love with a woman married to an abuser. AND the other brother, Boone, is unhappy and downright ornery; He will need a special woman to grab his attention and fix his attitude.

A plethora of tense and downright creepy moments along with the intense desire to discover what happened twenty-five years ago kept me turning the pages into the early morning hours. My primary focus remains on the sixty-four-thousand-dollar question surrounding the kids' disappearance, and, if they are still alive, where they are today. If you enjoy thrilling western romantic suspense, I would encourage you to check out B.J. Daniels' books. Each one has been a winner and Dark Horse is no exception.

Suggested Reading Order: Dark Horse (Book #1) – Cull McGraw's story! Dead Ringer (Book #2) – Ledger McGraw's story coming Sept 2017! Rough Rider (Book #3) – Boone McGraw's story coming Oct 2017!